Fourth of July is one of those holidays I love to entertain for. It's always perfect barbecue and day-drinking weather and who doesn't love fireworks. The 10-year-old in me still can't help but get overly-excited at firework finales. To celebrate one of my favorite holidays, I partnered with Boursin and put together an elegant and red-white-and-blue fruit and cheese spread with homemade star-shaped crackers. These flatbread type crackers are naturally colored with beets and go perfect with Boursin® Pepper Cheese. My favorite combination is a slice of the Pepper Boursin on the beet and pepper cracker, topped with fruit and honey– pepper, honey and cheese is an incredible combination! These crackers are very easy to make too. The ingredients are combined in a food processor and they bake for about 5 minutes and they are left in the oven for about 30 minutes to crisp up in the residual heat. If you don't want to bother with the star-shapes you can also roll out and bake each piece into large oval flatbreads and break them into smaller pieces for a more rustic cracker. Either way, pair these with some Boursin Pepper Cheese and summer berries and you have yourself a classy and delicious Fourth of July spread!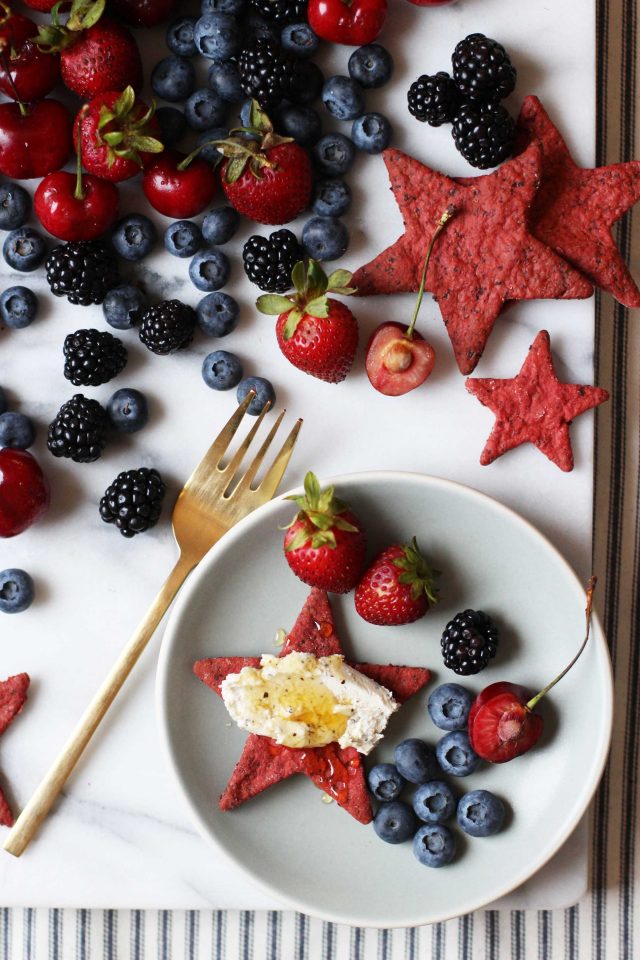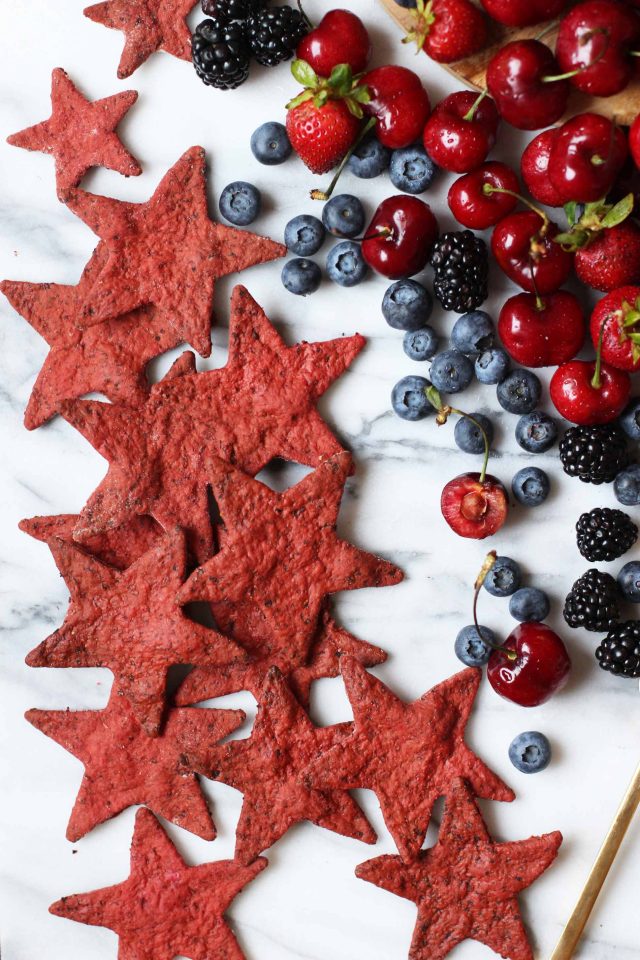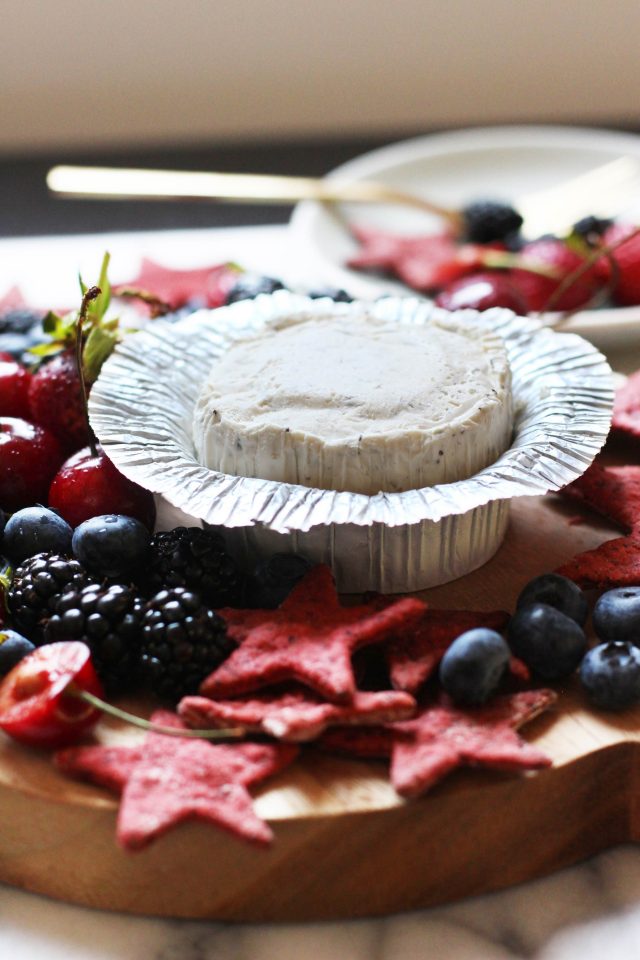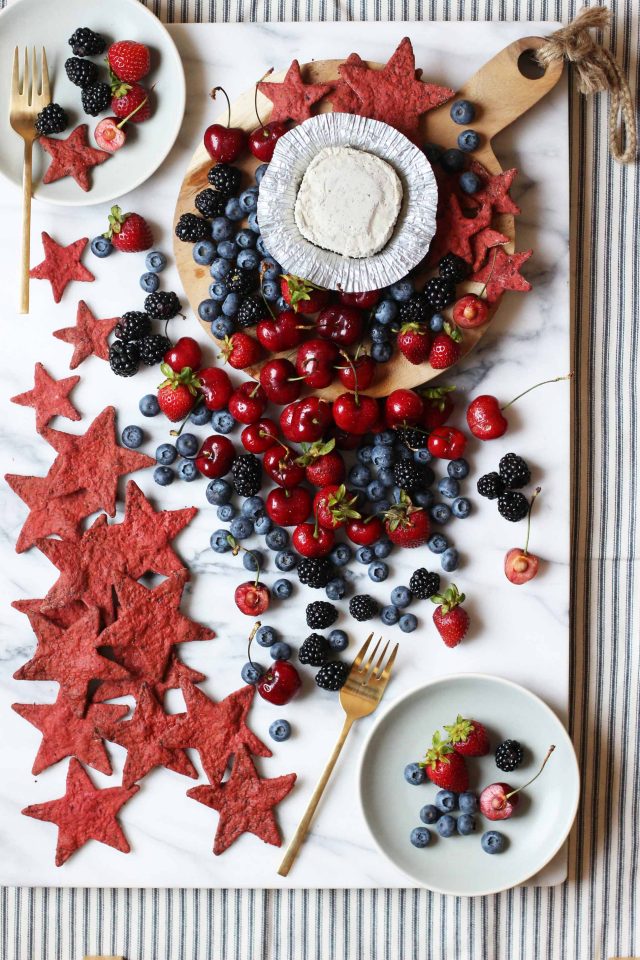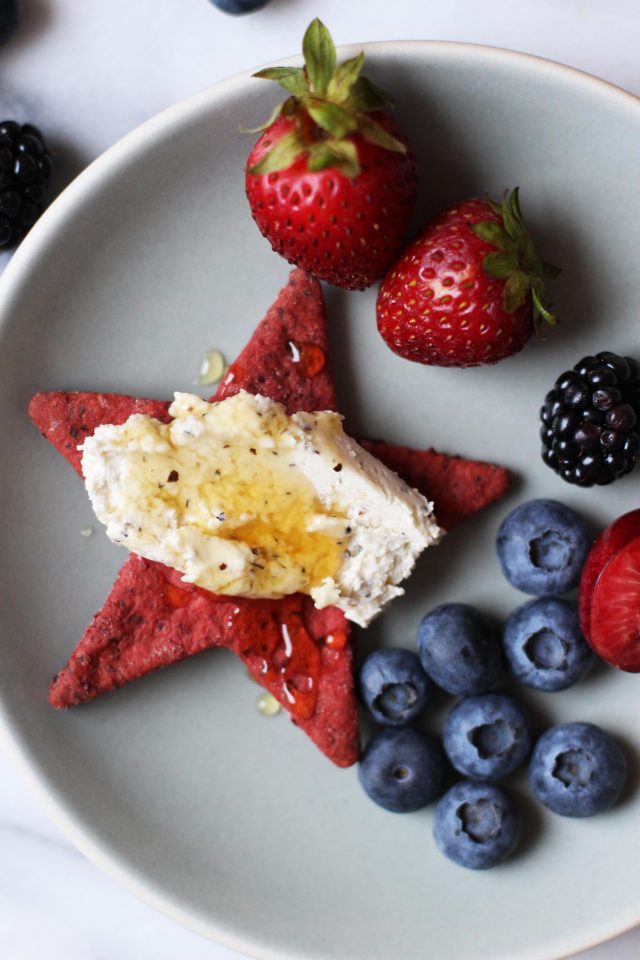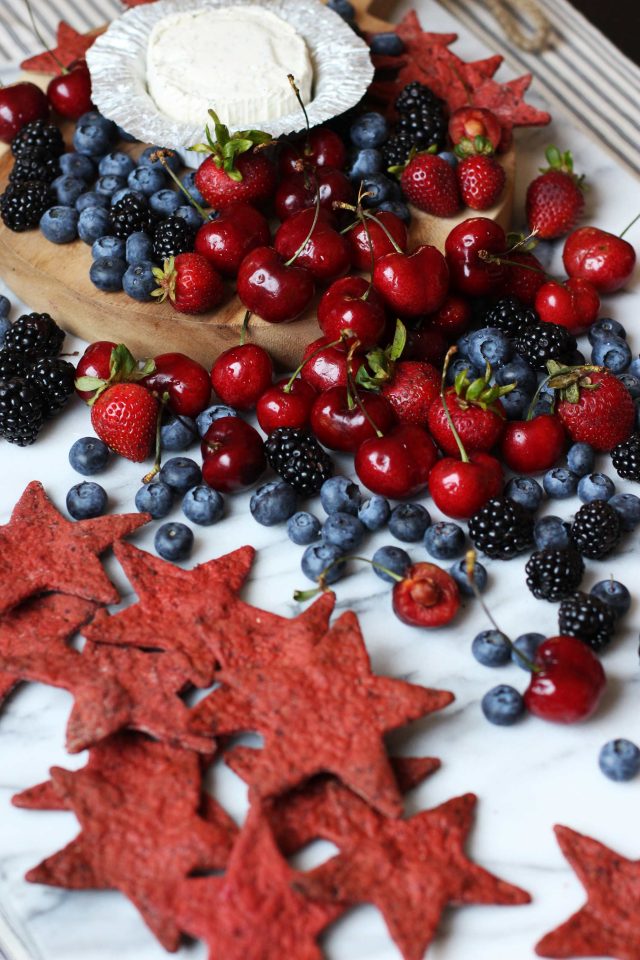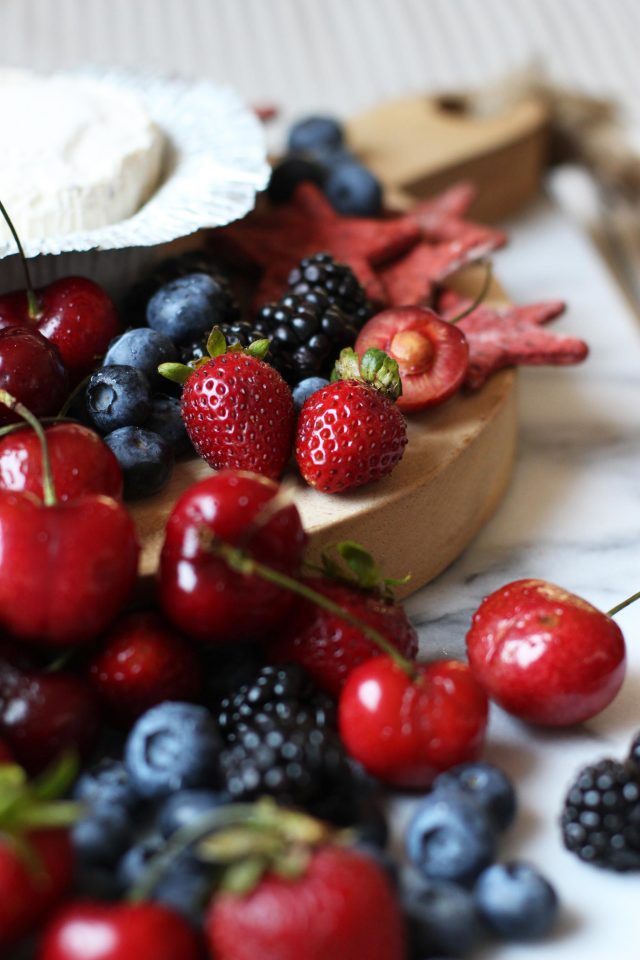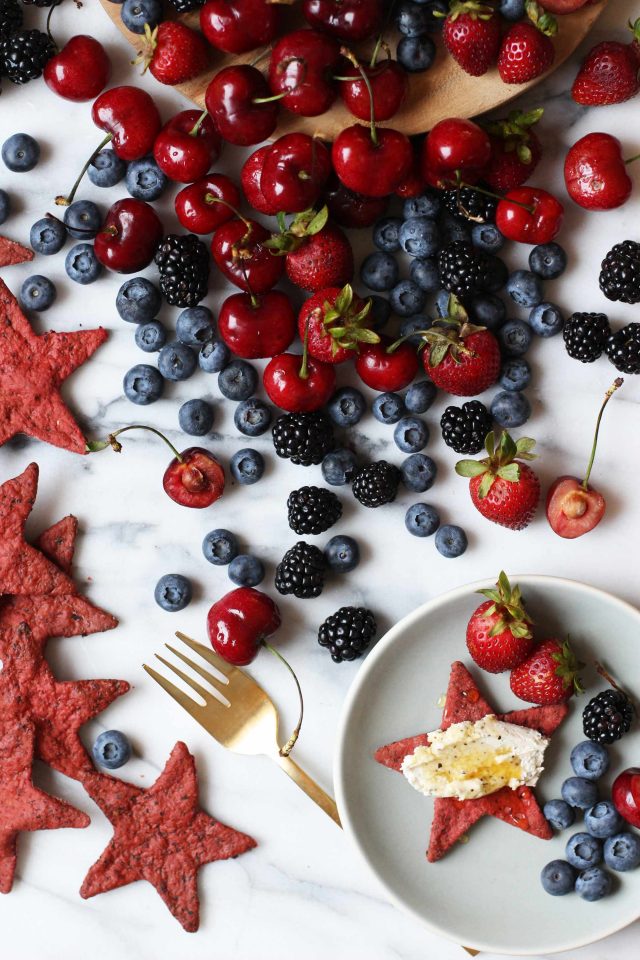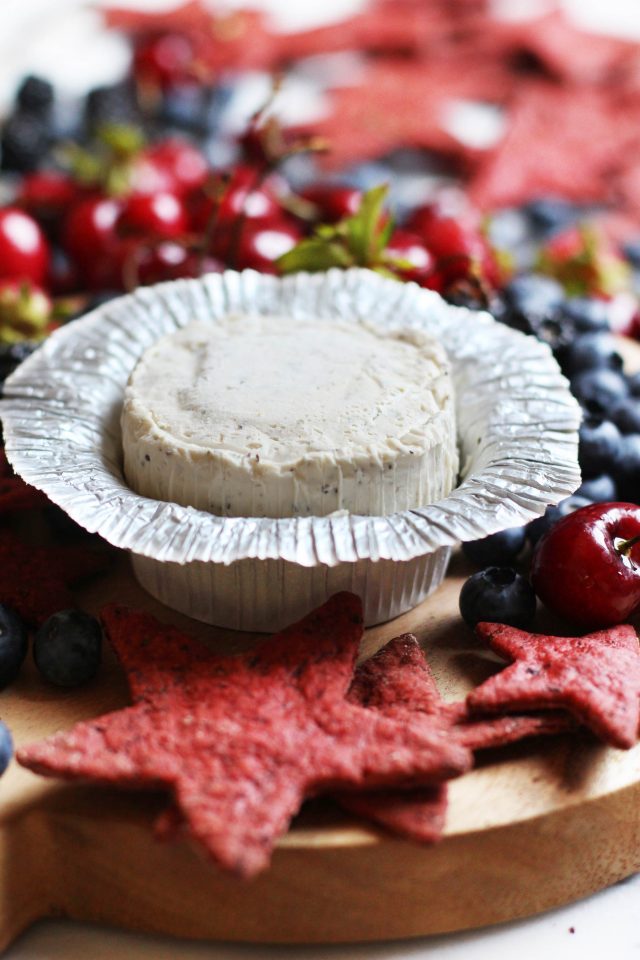 BEET AND BLACK PEPPER STAR CRACKERS

Ingredients:

1 3/4 cups of all purpose flour
1 cup of raw red beets, grated
1/4 cup of extra virgin olive oil
1/4 cup of water
2 teaspoons of salt
1/2 tablespoon of black pepper
summer fruits like strawberries, blackberries, blueberries and cherries
honey

Directions:

Add the grated beets to a food processor and pulse a few times so there are little bits of beets.
Add flour, olive oil, salt and pepper and pulse a few times. Pulse again and add the 1/4 cup of water a little at a time until the dough forms into a ball and is moist but not sticky. I used the whole 1/4 cup of water.
Pull dough out onto a floured surface and let it rest for 10-15 minutes. Cut into 4 equal pieces and roll into a ball.
Preheat the oven to 450 degrees. Roll each ball out with a rolling pin on a lightly floured surface the layer is about 1/6 inch thick. Using a star shaped cookie cutter cut out stars and transfer each one on a parchment lined cookie sheet. You can also bake the sheet of dough and break them into small rustic crackers instead of using cookie cutters.
For about a 2″ inch star, bake for 5 minutes. If the stars are smaller bake for a shorter period of time about 3-4 minutes. If you are baking the entire 1/4 piece of the dough, bake for about 5-7 minutes. Remove them from the oven onto a wire rack and continue baking the rest until you baked off all the dough. Roll the scraps into another ball to get more stars.
After you finish the last batch, place all the crackers back onto the baking sheet (it's okay if they're a little crowded and overlap a little) and close the oven door with the heat off and leave the crackers to harden and dry in the residual heat for about 30-40 minutes.
Store in air tight containers or ziplock bags.
Serve with Boursin Pepper cheese and summer fruits. Drizzle a little honey over a star cracker with a slice of Boursin.
(images by HonestlyYUM. Sponsored by Boursin. Opinions are our own.)