I'm not sure why banana bread is one of those recipes that I always think of as ordinary and unforgettable. Perhaps because it's a simple recipe to make and hard to screw up? It's one of those things that my mom, who is not a baker, will ask me how to make once every two or three years when she's feeling adventurous in the kitchen. But, every time I have a good slice of banana bread I remember how much I really love it. It's insanely moist, has a natural sweet banana flavor and that dense and thick pound-cake like crust around the edge that I can't resist. Why aren't I making banana bread more often?! Well, when I saw this banana tahini bread recipe on Bon Appetite from the New York coffee shop and luncheonette, El Rey, I knew I had to give this twist on banana bread a try. Instead of using tahini, which is white sesame seed paste, I decided to use black sesame paste, a flavor that I am totally and completely obsessed with (I'm talking to you, black sesame ice cream). Black sesame paste is not widely available, but it is very easy to make a paste out of black sesame seeds, which are available at any Japanese or Asian market. It is hard to describe the flavor of black sesame paste but it reminds me of a more fragrant and roasted peanut butter– a perfect combination with banana. If you haven't had banana bread in a long time and are generally indifferent about it, give this recipe a try. You are going to love it!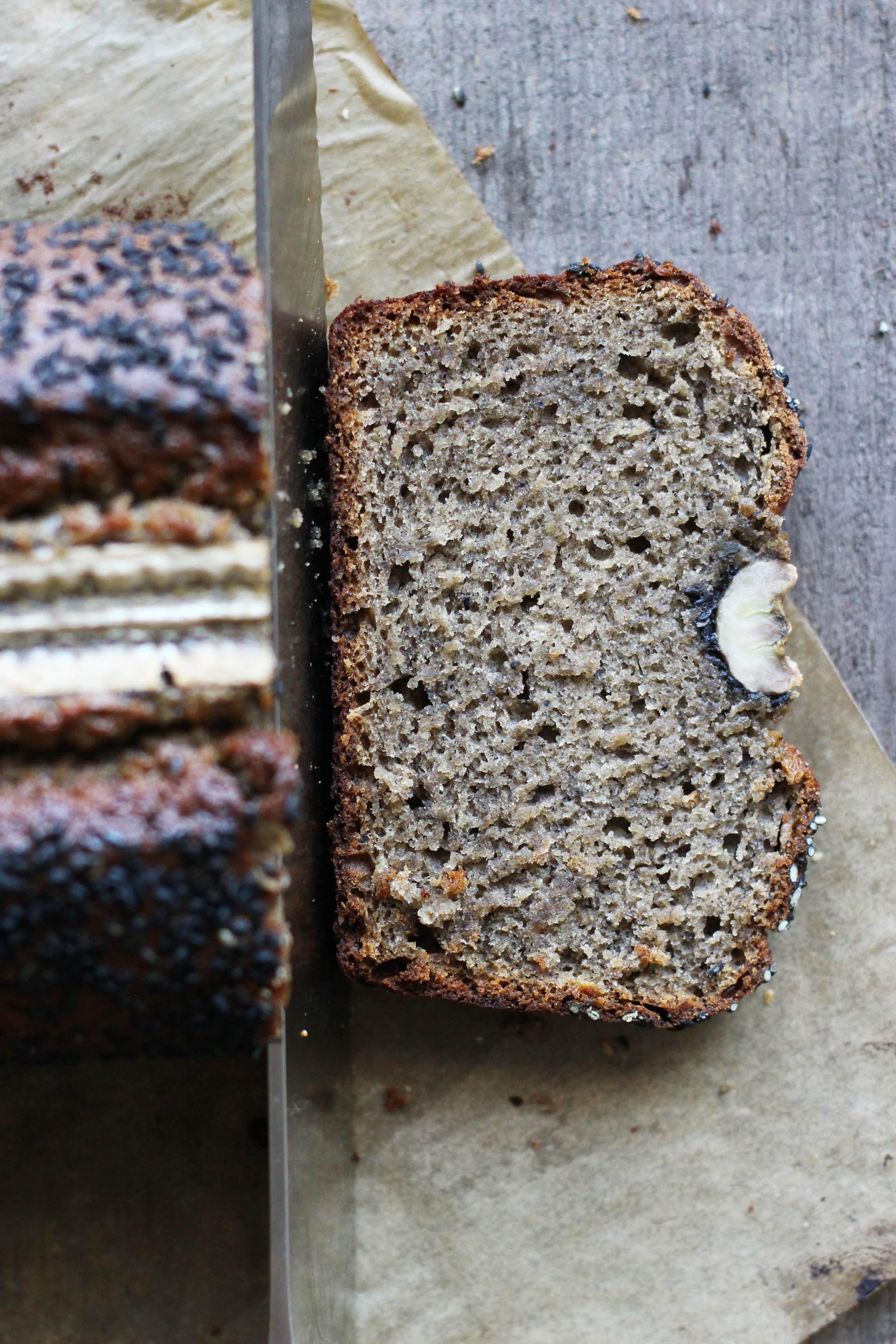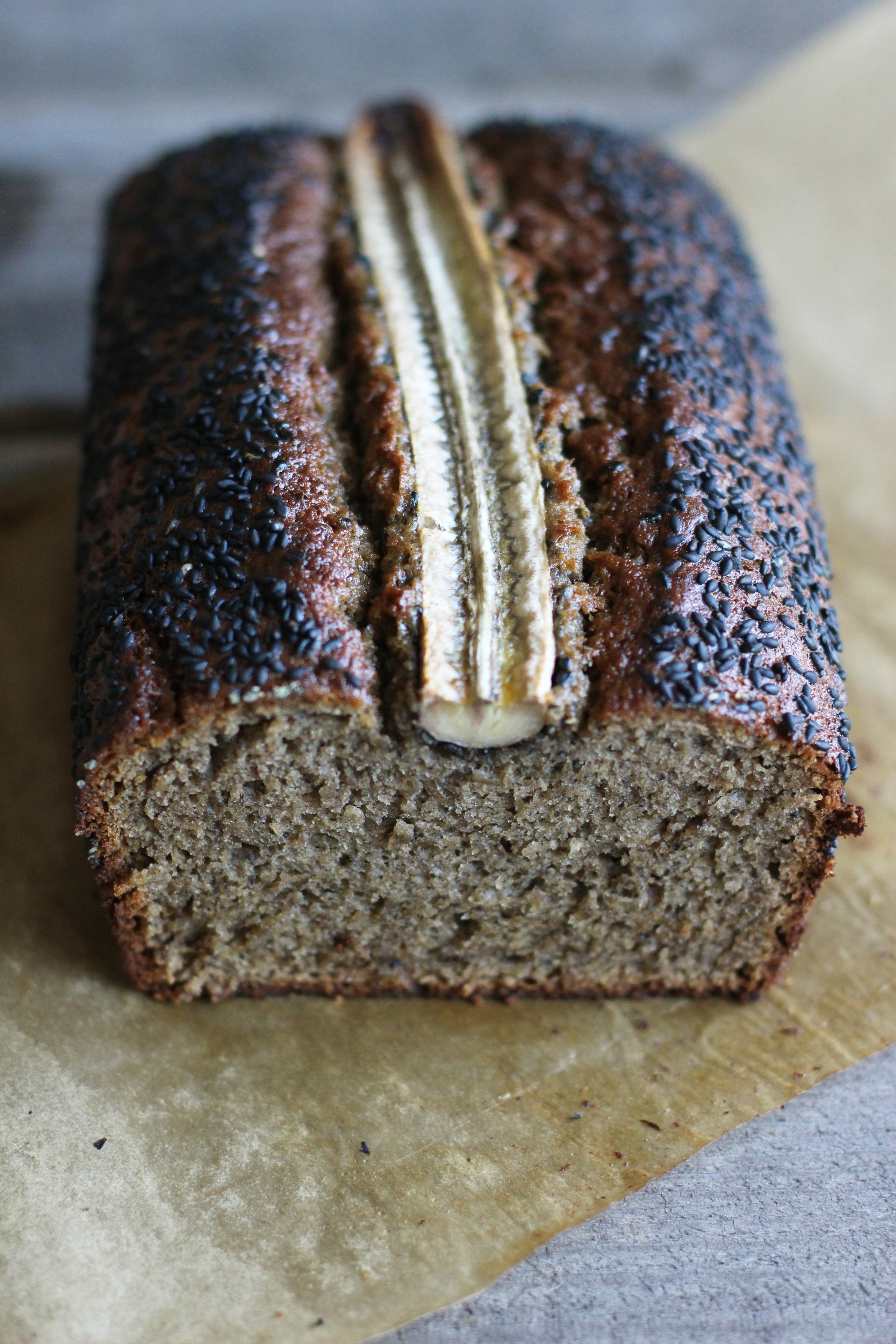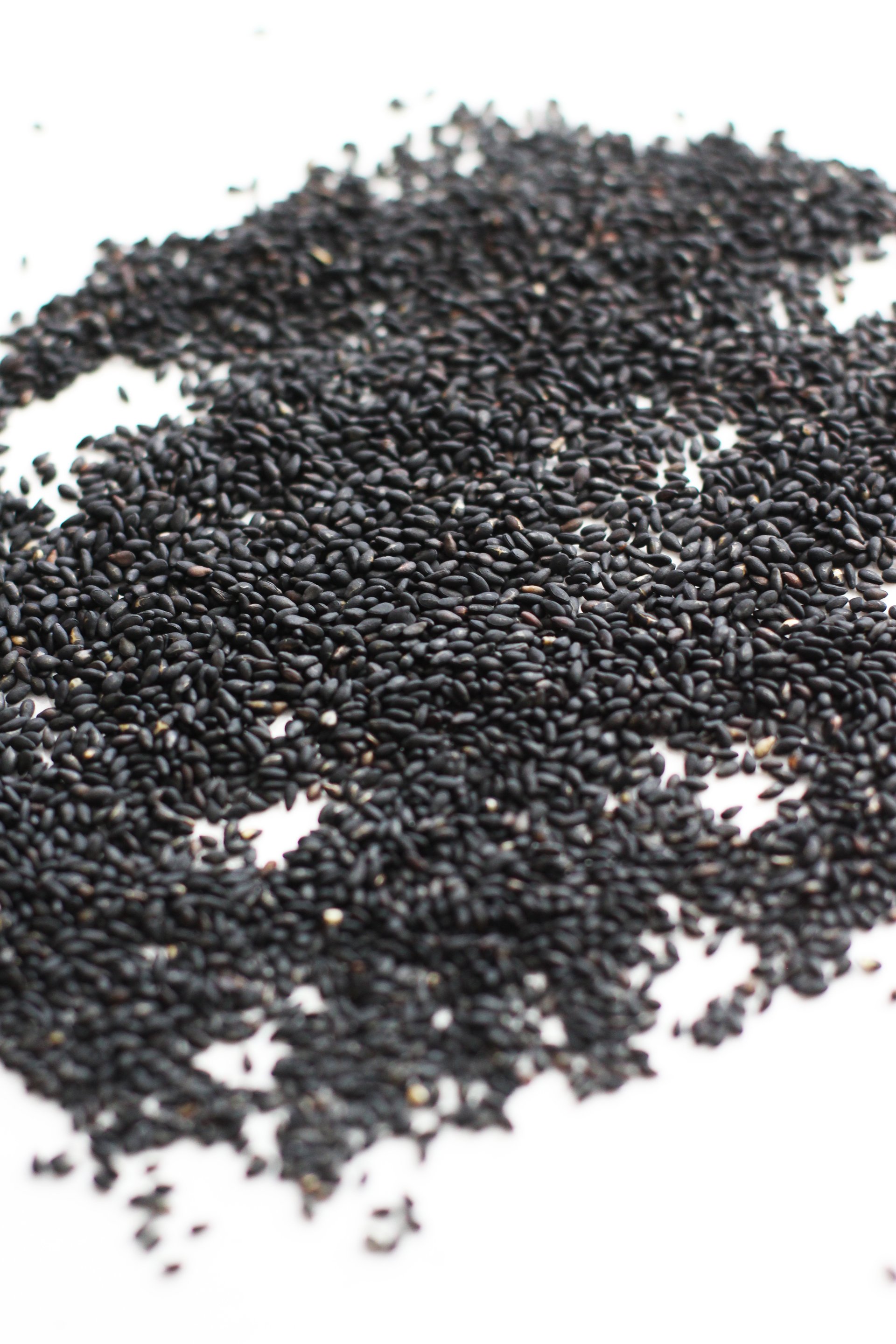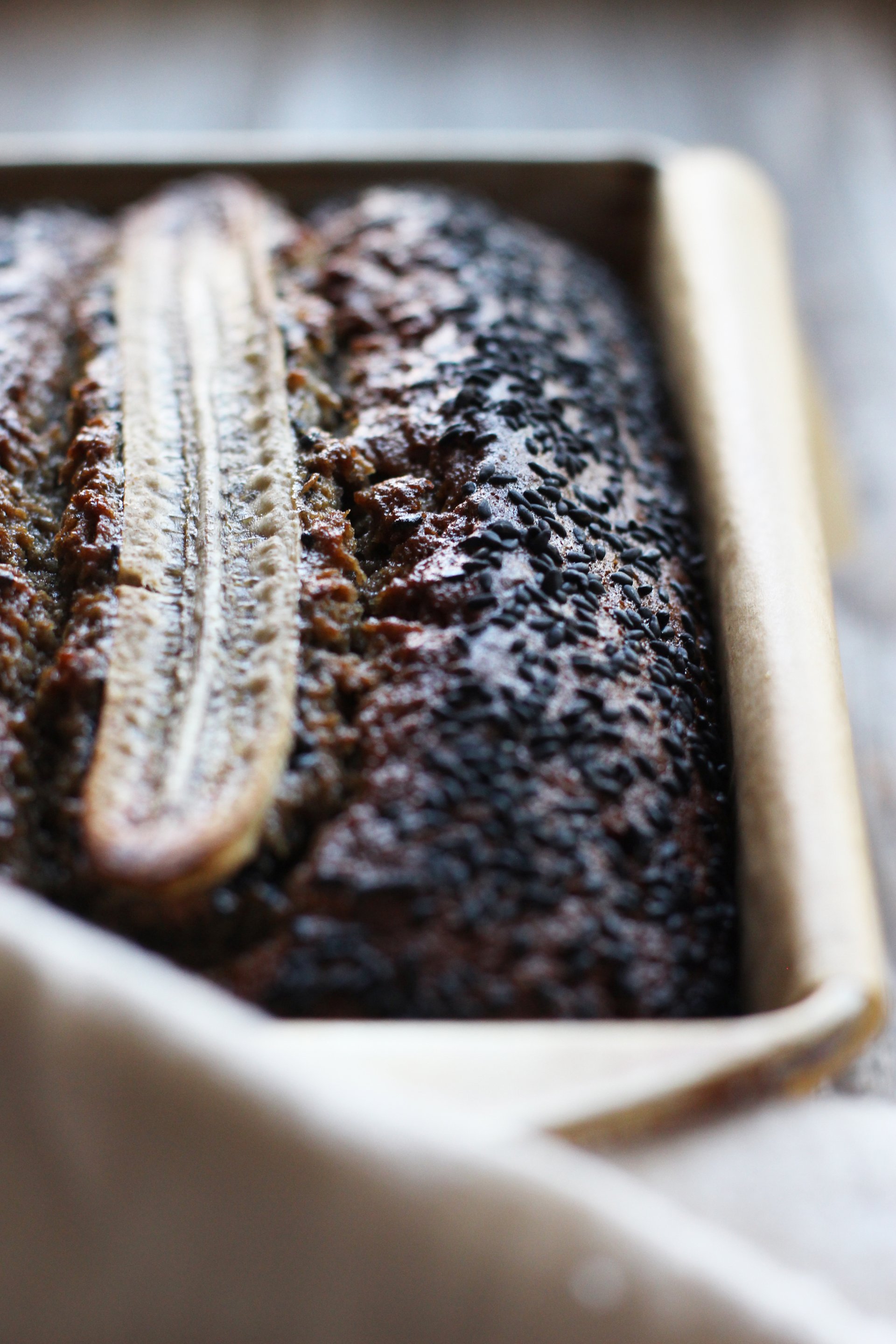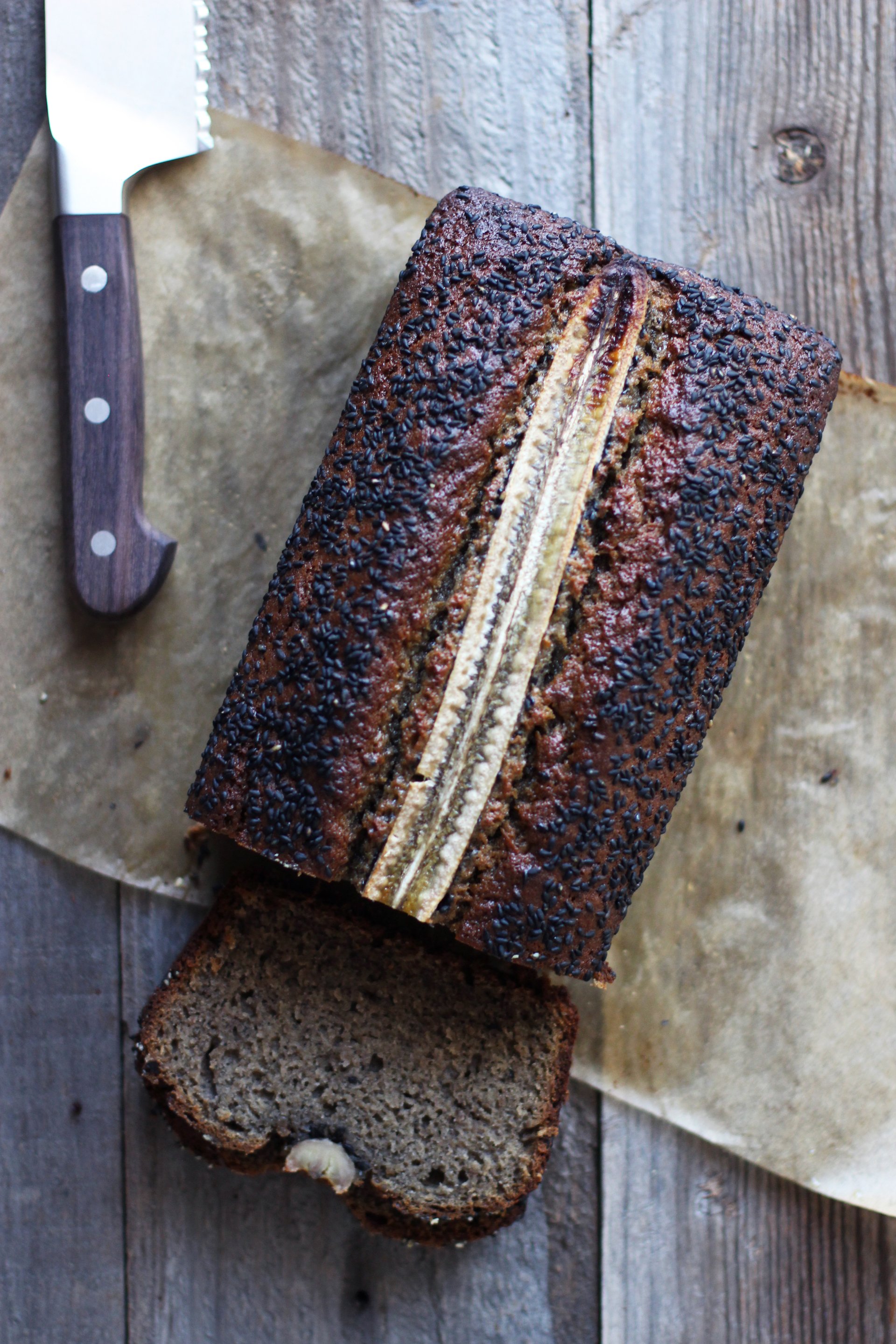 BLACK SESAME BANANA BREAD

Ingredients:

3 tablespoons of black sesame seeds, plus more for topping the bread with
3 tablespoons of honey
4 very ripe bananas, plus half a banana cut lengthwise for topping the bread with
1 3/4 all purpose flour
3/4 teaspoon baking powder
1/2 teaspoon baking soda
1/2 teaspoon kosher salt
2 large eggs
1/2 cup grapeseed (or vegetable) oil
1 tablespoon of vanilla extract
2 cups (lightly packed) brown sugar

Directions:

Preheat the oven to 350 degrees. Lightly toast the black sesame seeds in a pan over medium heat until fragrant, but be careful not to burn them.
In a food processor, add the black sesame seeds and blend until the seeds turn into fine grain. As you process the oils will release from the seeds and the paste will begin to clump up (about one to two minutes with the processor running). Add the honey and process until you have a smooth paste.
Add the bananas into the food processor and blend until you have a smooth puree.
Transfer the puree into a bowl and whisk in the brown sugar, eggs, oil and vanilla extract until smooth and combined.
In a separate bowl, whisk the flour, baking powder, baking soda and salt together.
Whisk in the flour mixture into the wet puree by adding 1/3 of the flour at a time and incorporate gently using a whisk before adding more flour. Slowly and gently whisk until flour is completely combined.
Oil a 9×5 inch loaf pan and line with parchment paper. Pour batter into the oiled and lined pan and sprinkle the top with black sesame seeds. Gently lay the banana slice, slice side up, over the top of the batter. Bake for about 60-70 minutes or until a toothpick comes out clean.