Ah Super Bowl Sunday– an anything goes food day! This fried chicken sandwich was inspired by my love for buffalo wings, the sauce for which is much easier to make than you'd think. It's a mixture of Frank's RedHot sauce and butter that is coated over a fried chicken wing. I marinated the chicken breast in a mixture of buttermilk and Frank's and top the sandwich off with a little more Frank's. The soak in the buttermilk tenderizes the chicken and keeps it moist and tender. The best part of this sandwich is just love how crunchy and crispy the breading turned out. Adding a bit of buttermilk and hot sauce to the dredging flour gives you those crunchy salty fried nook and crannies that are the highlight of fried chicken. The whole thing comes together on a buttered brioche slathered in a blue cheese mayo and topped with a tangy carrot and celery slaw. You will love the texture and flavors of this fried chicken sandwich!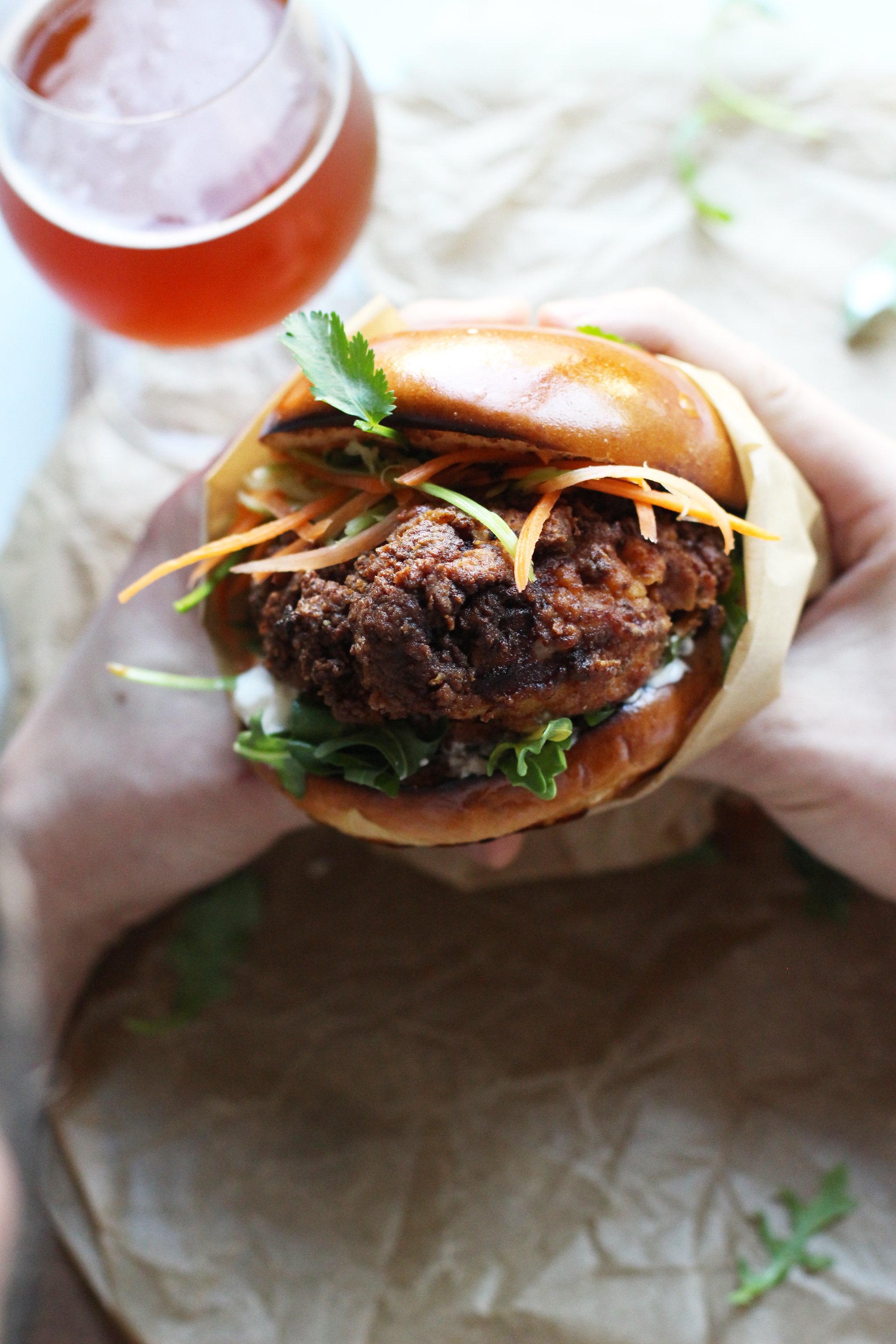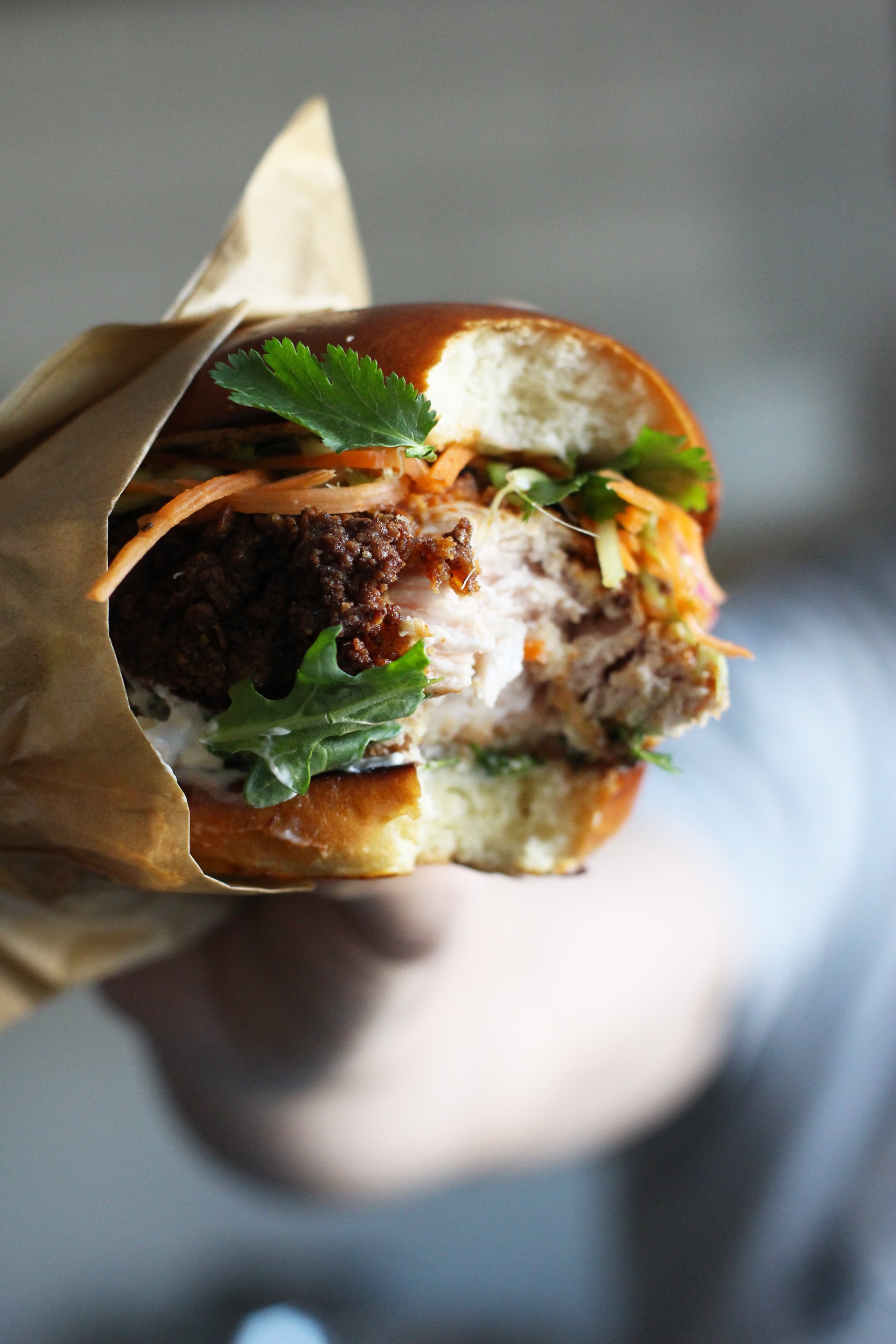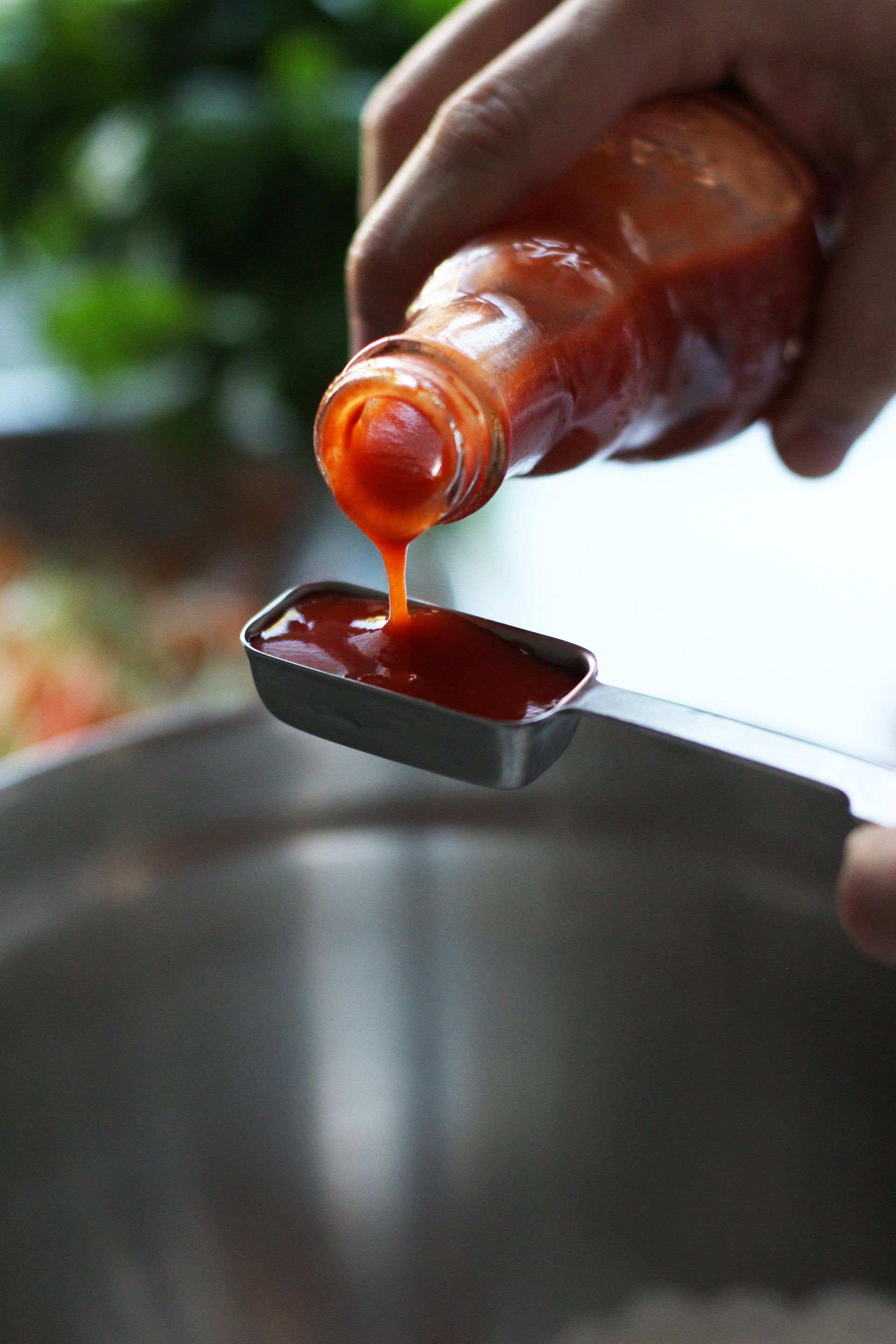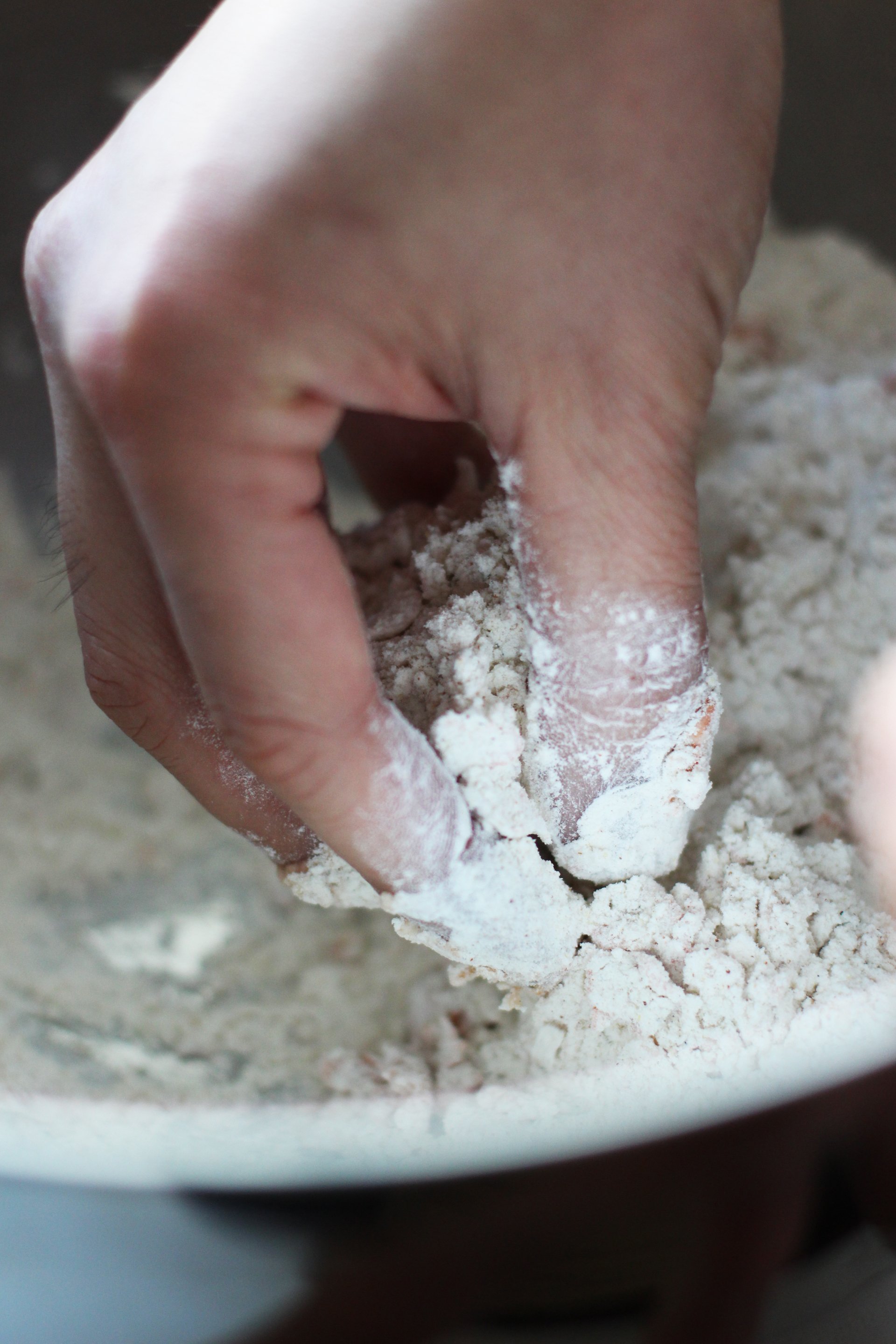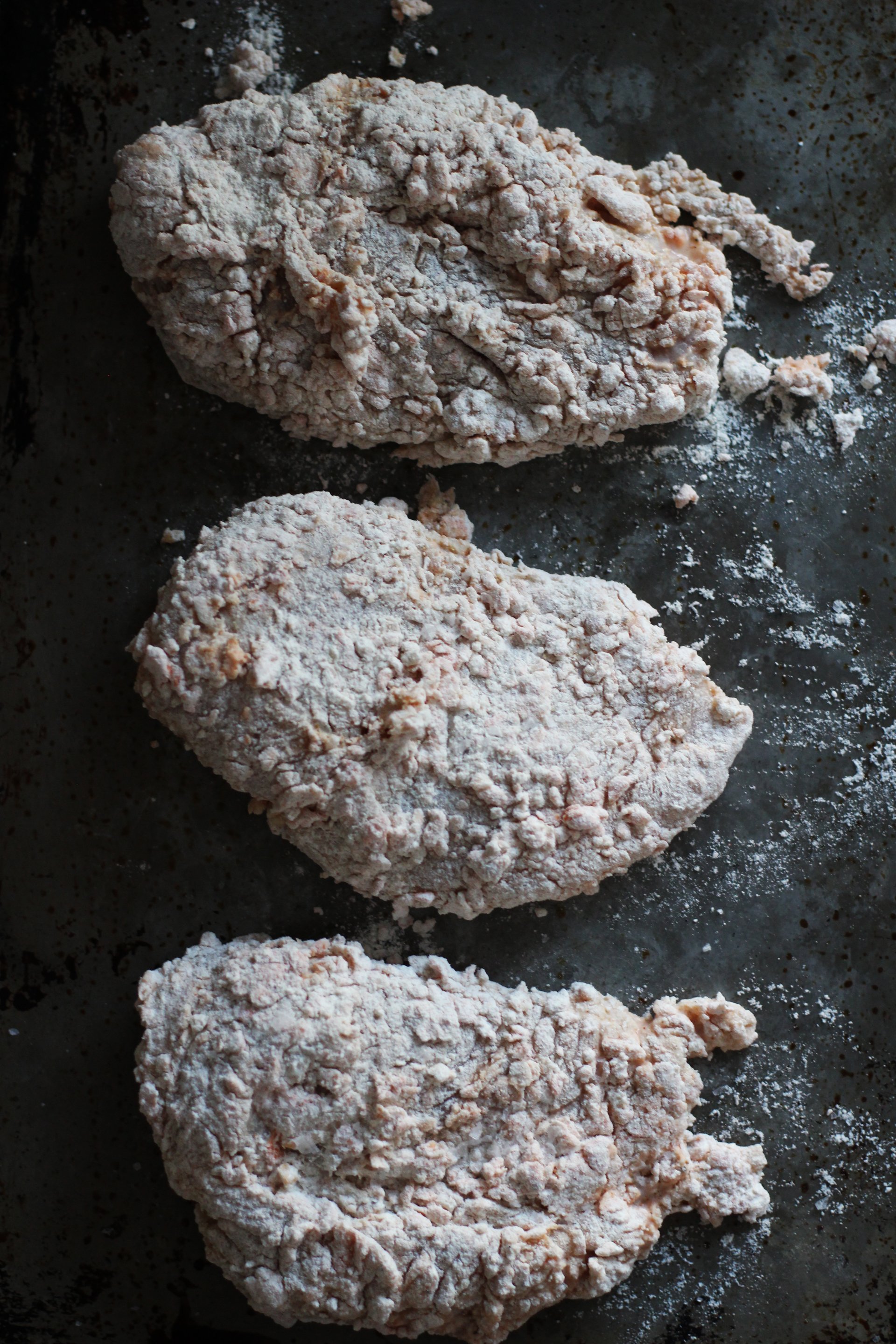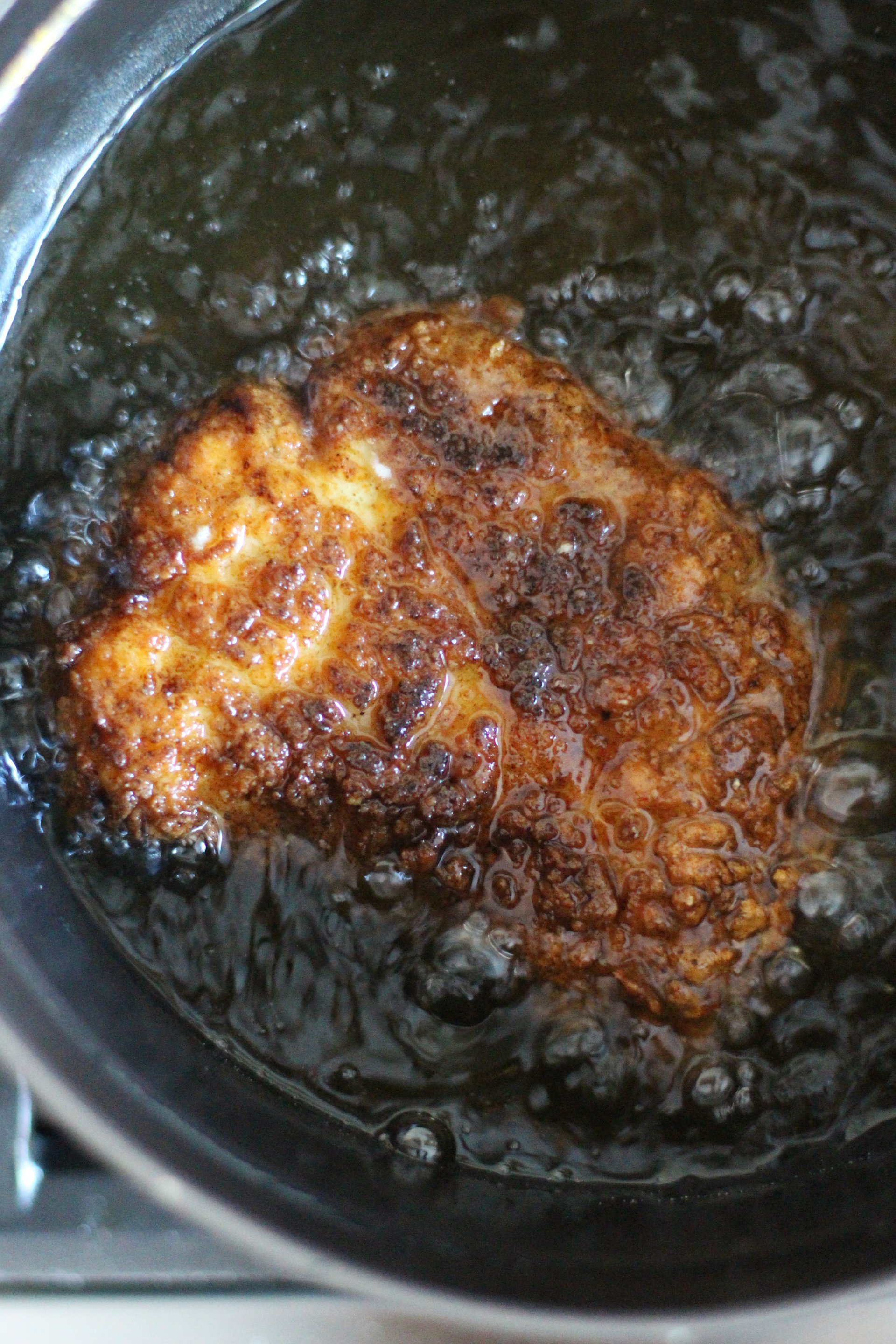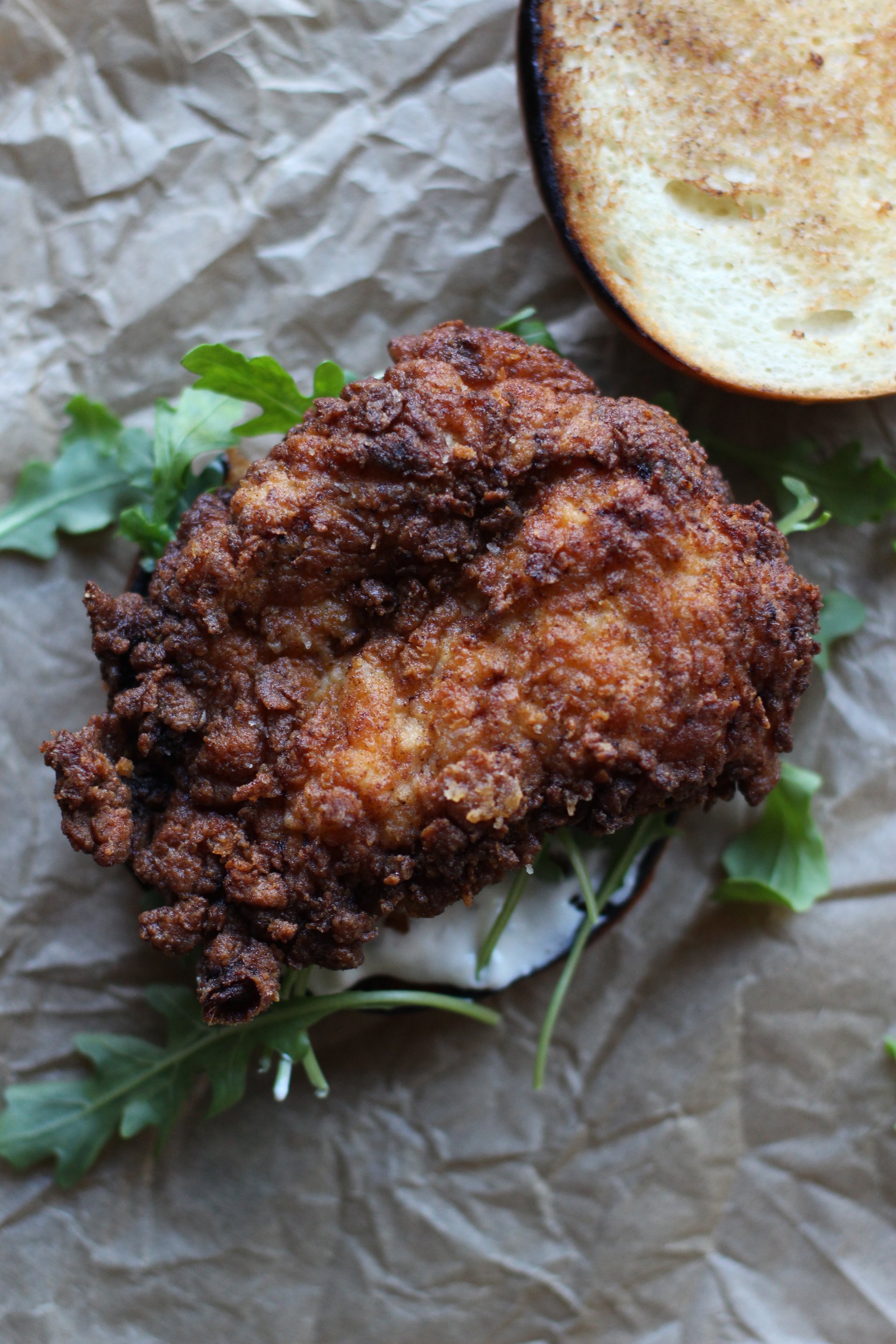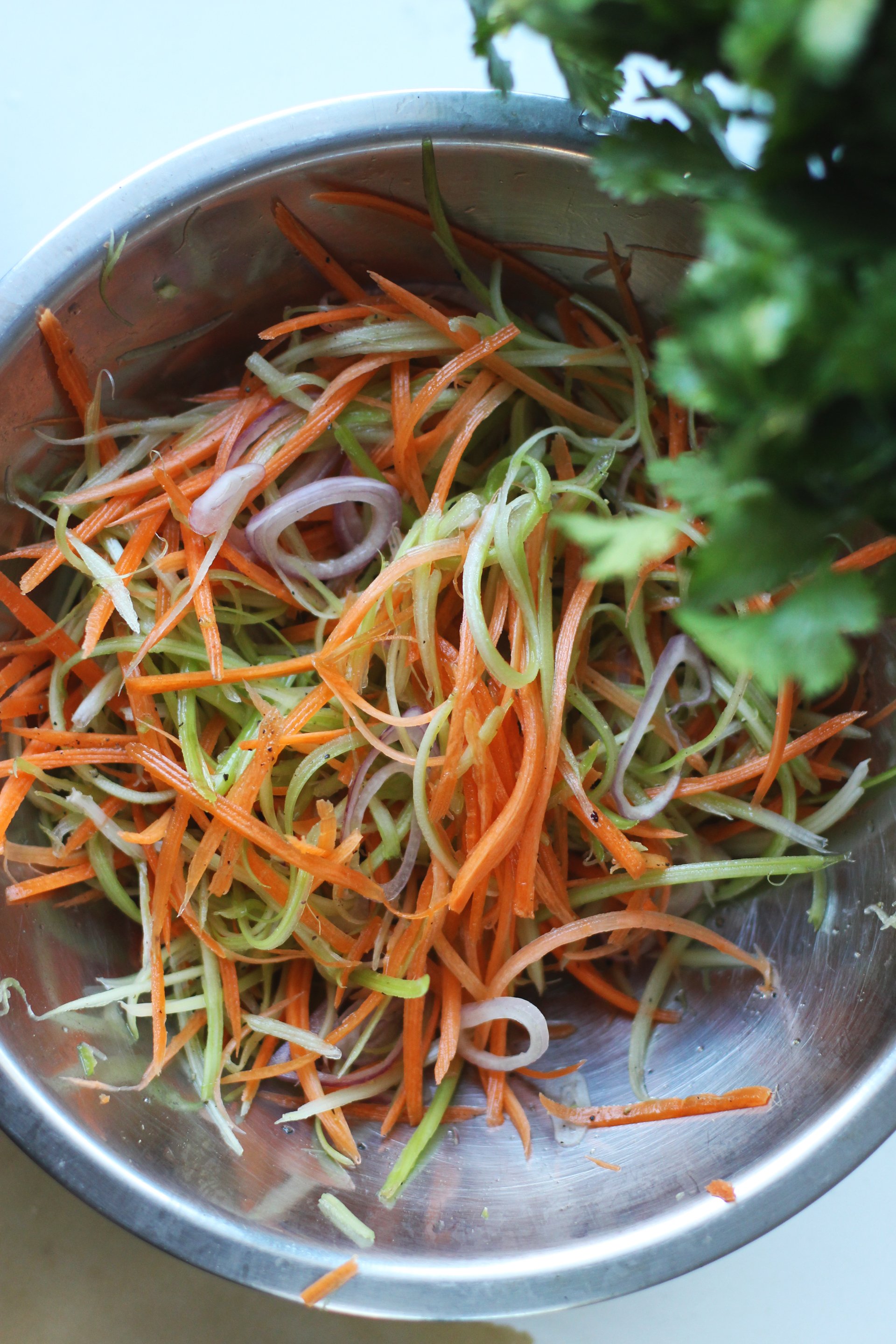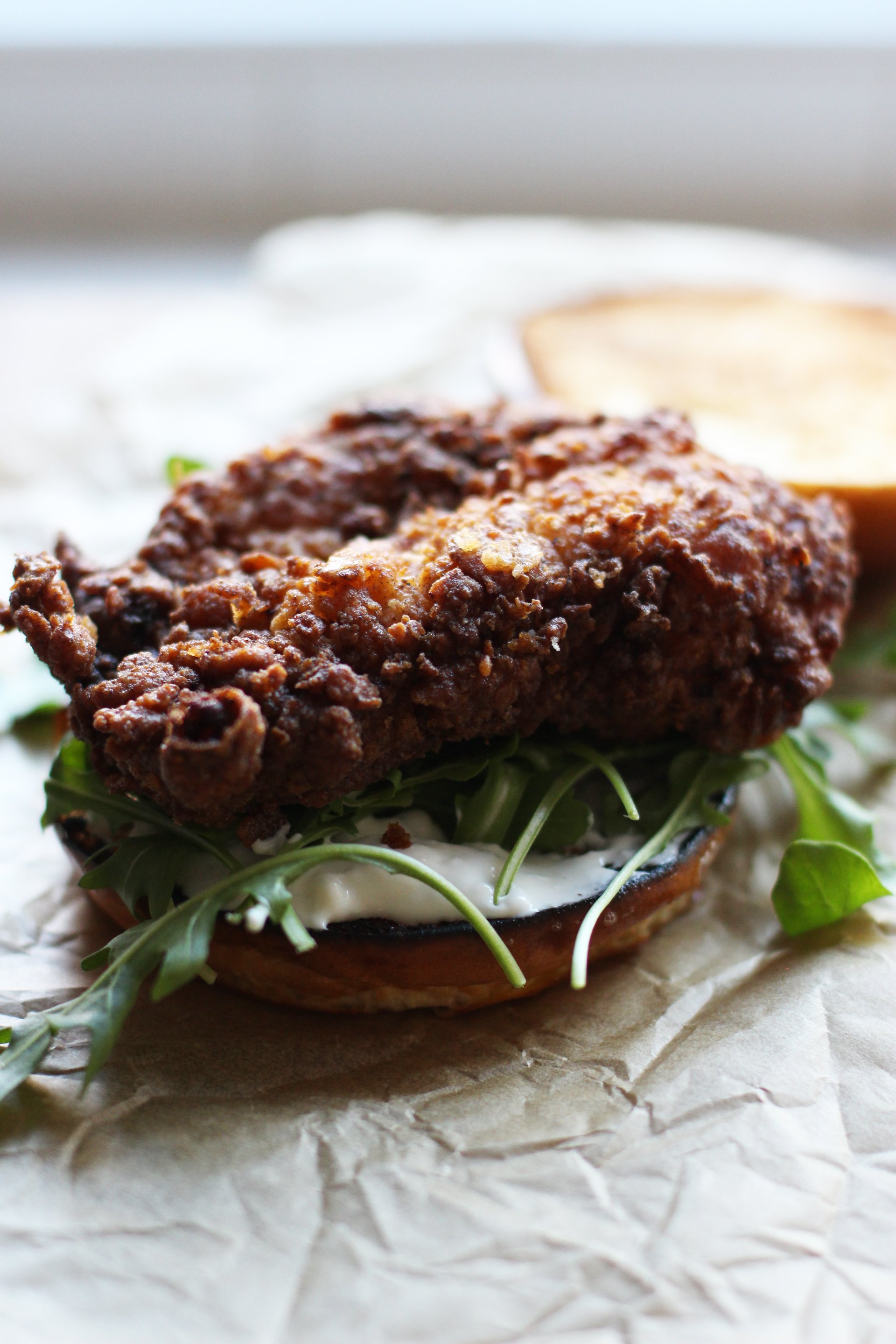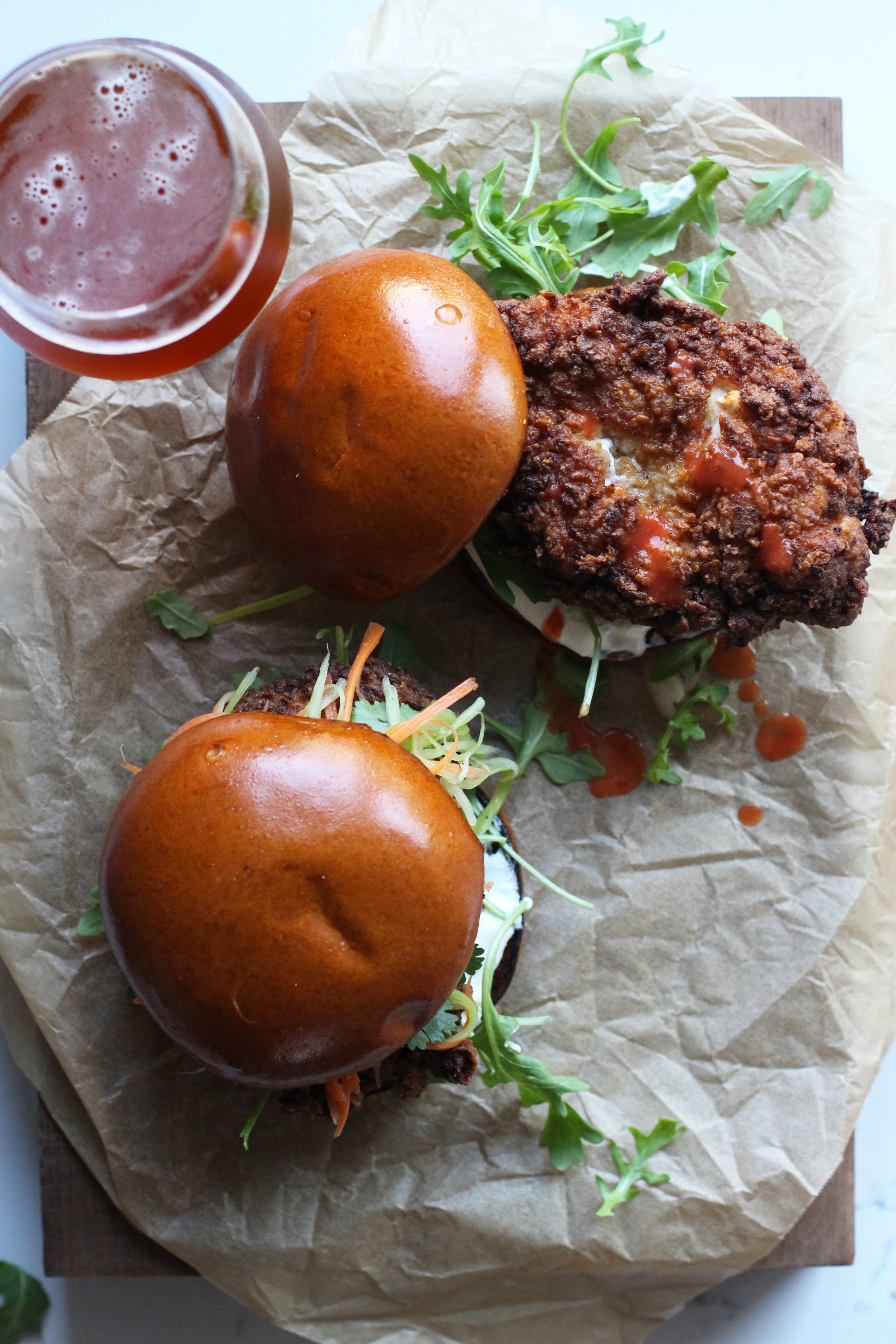 BUFFALO FRIED CHICKEN SANDWICH

Chicken marinade ingredients:

4 boneless, skinless chicken breasts
1 cup of buttermilk
1/2 cup of Frank's hot sauce
1 teaspoon of kosher salt
1/4 teaspoon of freshly ground black pepper
1/2 tablespoon of onion powder
grapeseed oil for frying

Breading ingredients:

1 cup of all purpose flour
2 tablespoons of panko breadcrumbs
1 tablespoon of baking powder
2 teaspoons of kosher salt
1 teaspoon of garlic powder
1/2 teaspoon of ground black pepper
1 teaspoon of cayenne pepper
1 tablespoon of buttermilk
1 tablespoon of Frank's hot sauce

Slaw ingredients:

4 large carrots, julienned
4 celery sticks, julienned (or sliced)
2 shallots or half a red onion, thinly sliced
handful of cilantro leaves
1/4 cup of rice wine vinegar
1 tablespoon of honey
1/2 teaspoon of salt

Sandwich ingredients:

4 brioche buns
1 tablespoon of butter for toasting buns
arugula
1/4 cup sour cream
1/3 cup mayonnaise
1/4 teaspoon salt
1/4 cup of crumbled gorgonzola (or any other blue cheese)
juice of half a small lemon
Frank's hot sauce

Directions:

Whisk together the chicken marinade ingredients in a large bowl. Add the chicken and marinate for at least 4 hours in the refrigerator.
To make the slaw, whisk the vinegar, honey and salt together. Add to the carrots, celery and onion, mix and set aside. To make the blue cheese mayo, whisk the mayonnaise, sour cream, blue cheese, lemon juice and salt together in a small bowl.
Before cooking, leave the chicken out at room temperature for about 1 hour so that the chicken is not cold before frying.
Whisk the dry breading ingredients together in a large bowl and add the buttermilk and hot sauce to the flour mixture and lightly mix with your fingers or a fork so that clumps form.
Remove the chicken breast from the buttermilk and allow the buttermilk to drain off the chicken before breading.
Coat the chicken breast in the breading pressing clumps into the chicken breast. Lightly shake off excess flour.
Fill a deep cast iron pan or shallow cast iron pot with about 1.5-2 inches of oil. Heat the oil to 325 degrees.
Fry the breaded chicken, one at a time, in the oil, about 2 minutes on each side. While the chicken fries, adjust the stove so that you maintain a temperature of 325 degrees.
Remove the chicken onto a rack so the oil drains off.
To assemble the sandwiches, toast the brioche buns in butter, slather one side with the blue cheese mayonnaise and top the fried chicken and add a few dashes of Frank's hot sauce and top with the celery and carrot slaw. Top with a handful of arugula.
(images by HonestlyYUM)