Happy 2016, everyone! I hope your holiday was merry, festive, and relaxing. And if your time off was anything like mine and replete of self indulgence, (I'm talking to you, Hasselback Potato Gratin, Stuffing Waffles, Blueberry and Almond Morning Buns, Braised Short Ribs and Linzer Cookies) then you're probably craving something fresh, green, and raw to help reset your body for the new year. I love making myself a tall glass of green juice in the morning, but heartier smoothies are really more my cup of tea, especially since I'm nurturing a burgeoning baby these days! Smoothie bowls are especially substantial as they are much thicker in consistency and you can add all sorts of fun toppings. So today, I'm sharing my favorite green smoothie bowl, rich in antioxidants, vitamins, folic acid, fiber, and omega-3 fatty acids. The addition of matcha powder not only gives it that necessary AM kick, it gives the smoothie a bright, creamy earthiness that compliments the caramelized sweetness of dates so nicely. Top with your favorite fruit toppings, dig in with a spoon and you're ready to kick off a great year!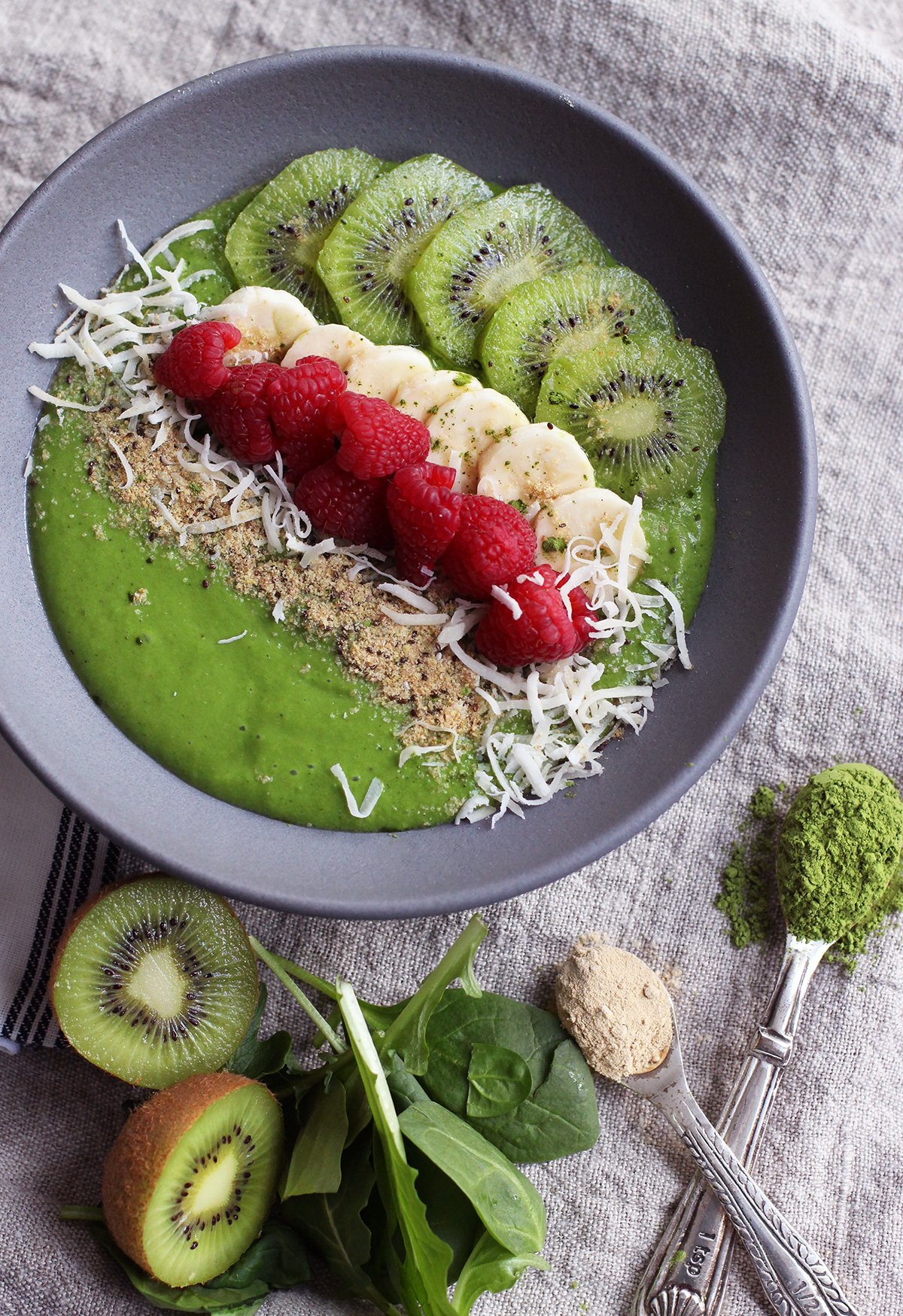 MATCHA SMOOTHIE BOWL

Ingredients:

a handful of baby kale or spinach
1/2 frozen banana, sliced
1/4 cup frozen fresh pineapple, chopped
1/2 cup unsweetened coconut milk
1 tsp almond butter
2-3 medjool dates, pits removed
1 tsp matcha powder
1/2 tsp maca powder
1/2 tsp ground flax and chia seeds
assorted fruit for topping
shredded coconut for topping (optional)

Directions:

Place all the ingredients into a blender
Blend until smooth
With a spatula, empty smoothie into a bowl. Top with your favorite fruit and a sprinkling of granola or toasted coconut.
Eat immediately!
(image by HonestlyYUM)