I love the classic French apple tart. It is so incredibly simple and yet there's something about the proportion of syrupy soft fruit to flakey buttery puff pastry that is just perfect (I really hate the texture of large chunks of cooked soft fruit). I've substituted apples for persimmons, which I've had a love affair with lately! This is just the type of dessert I like to make for Thanksgiving, easy and half pre-made.  I've made puff pastry from scratch once and it was the last time I'll do it. It's a pain staking task and certainly not worth it on Thanksgiving, especially since you can get really great quality frozen puff pastry. The best is Dufour and I always have a package of sitting around in the freezer. It is pricier than your supermarket frozen puff pastry and harder to find, but if you do, pick up a couple packages up for future use. You can serve this with some vanilla ice cream or, my favorite, lightly sweetened creme fraiche mixed with a little fresh vanilla bean.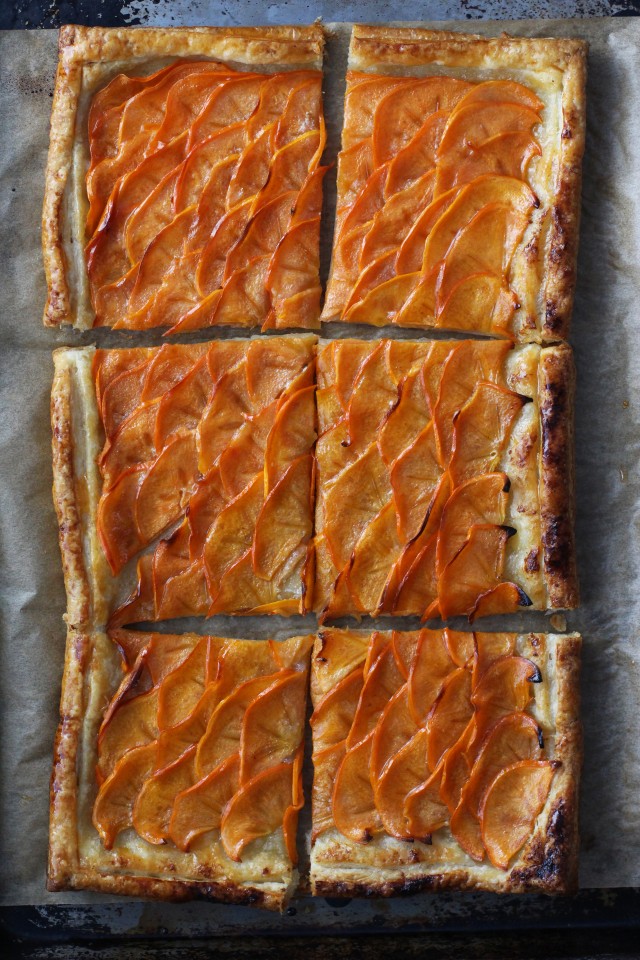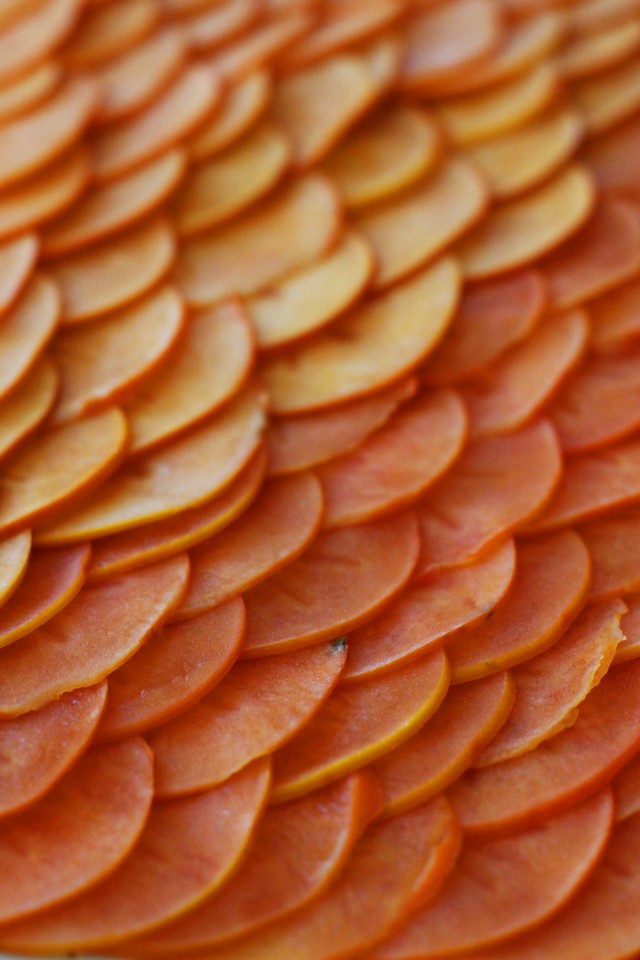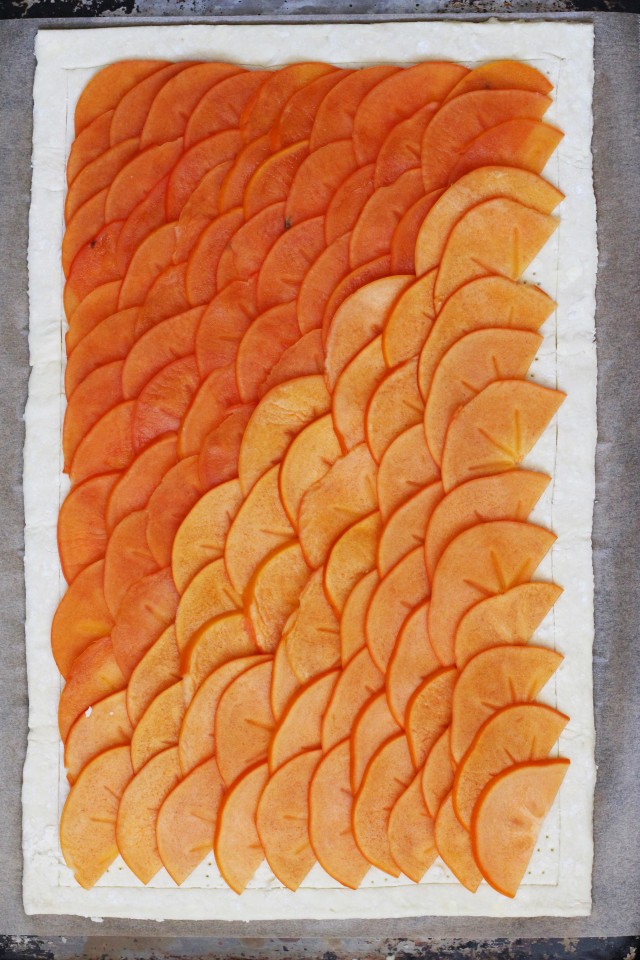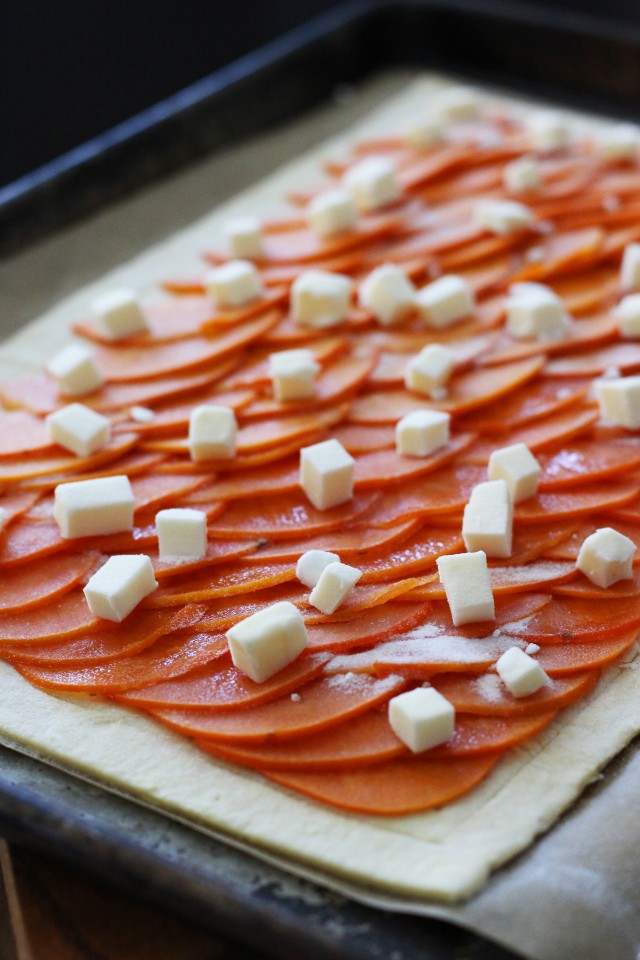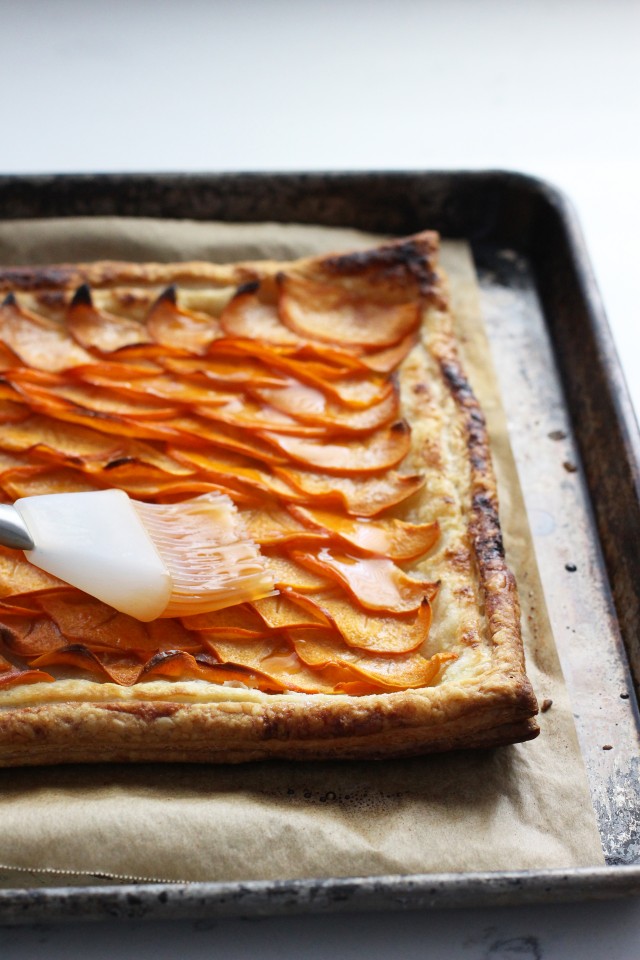 PERSIMMON TART

Ingredients:

3-4 Fuyu persimmons, sliced about 1/6 of an inch thin and then cut into half-moon shapes
1 package of frozen puff pastry (I like Dufour), defrosted
4 tablespoons of cold unsalted butter, cut into small cubes
2 tablespoons of sugar
3 tablespoons of apricot jam
2 tablespoons of water, roughly
Topping: vanilla ice cream or creme fraiche flavored with caster sugar and one vanilla bean (optional)

Directions:

Defrost puff pastry according to package instructions. Roll out lightly to even out the creases and place onto a parchment lined baking sheet. Score a 1/2 inch border around the puff pastry with a paring knife being careful not to cut all the way through the puff pastry. Prick the puff pastry inside the border with a knife.
Preheat the oven to 400 degrees.
Start laying the persimmons out in a scale pattern overlapping each row slightly over the previous one.
Dot with the top with the cubes of butter and sprinkle the sugar evenly over the top.
Bake for about 25-30 minutes or until gold brown. If the puff pastry expands unevenly in certain areas just prick the puff pastry with the tip of a knife to deflate. If you use thicker slices you may need to bake longer.
While the tart is baking, in a small pan combine the jam and water and whisk to thin out the jam. Heat the jam mixture and strain through a sieve.
Brush the tart with the jam glaze and serve hot with vanilla ice cream or some creme fraiche sweetened to taste with sugar and the seeds of one vanilla bean.
(images by HonestlyYUM)