When planning my Thanksgiving menu, I like to balance out the insane over-the-top decadence (read, pounds of butter) with a little gut-friendly and refreshing light dish. I always make a big salad and find the raw crunchiness and acidic dressing really necessary for that round three of mashed potatoes. This time I've combined some of my favorite fall ingredients into a big hearty salad. Best of all, you can make all this ahead of time, including roasting the beets. I used feta here (my favorite go-to is French feta because it's creamier and less pungent than Greek feta), but if you're not scared of a little stink, you could also do a great crumbly blue cheese. The sweetness of the pear and beets really stand up well to a stronger cheese like feta or blue cheese. Top it off with my favorite flower this fall– some edible marigolds– and you have yourself a show-stopping salad for Thanksgiving!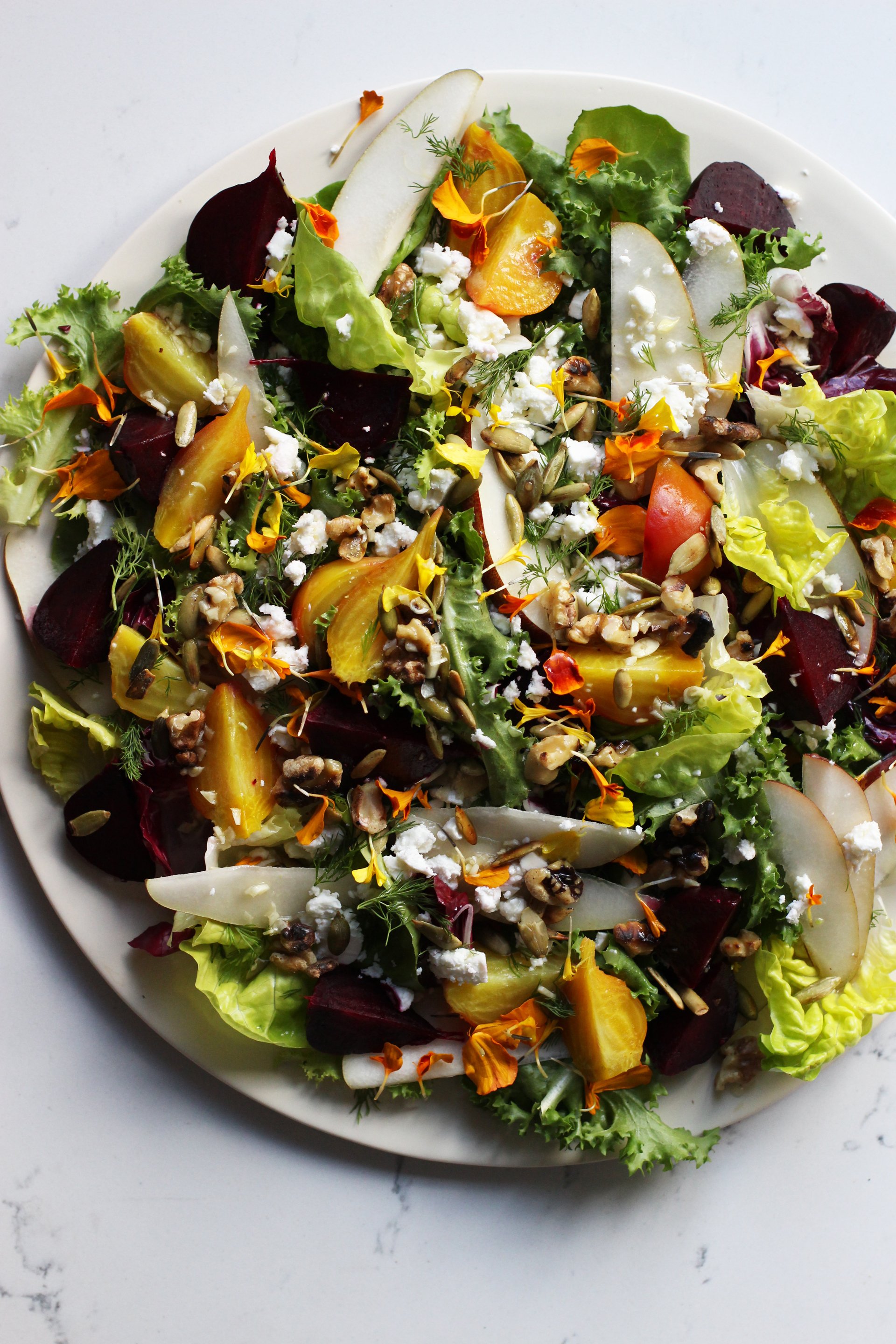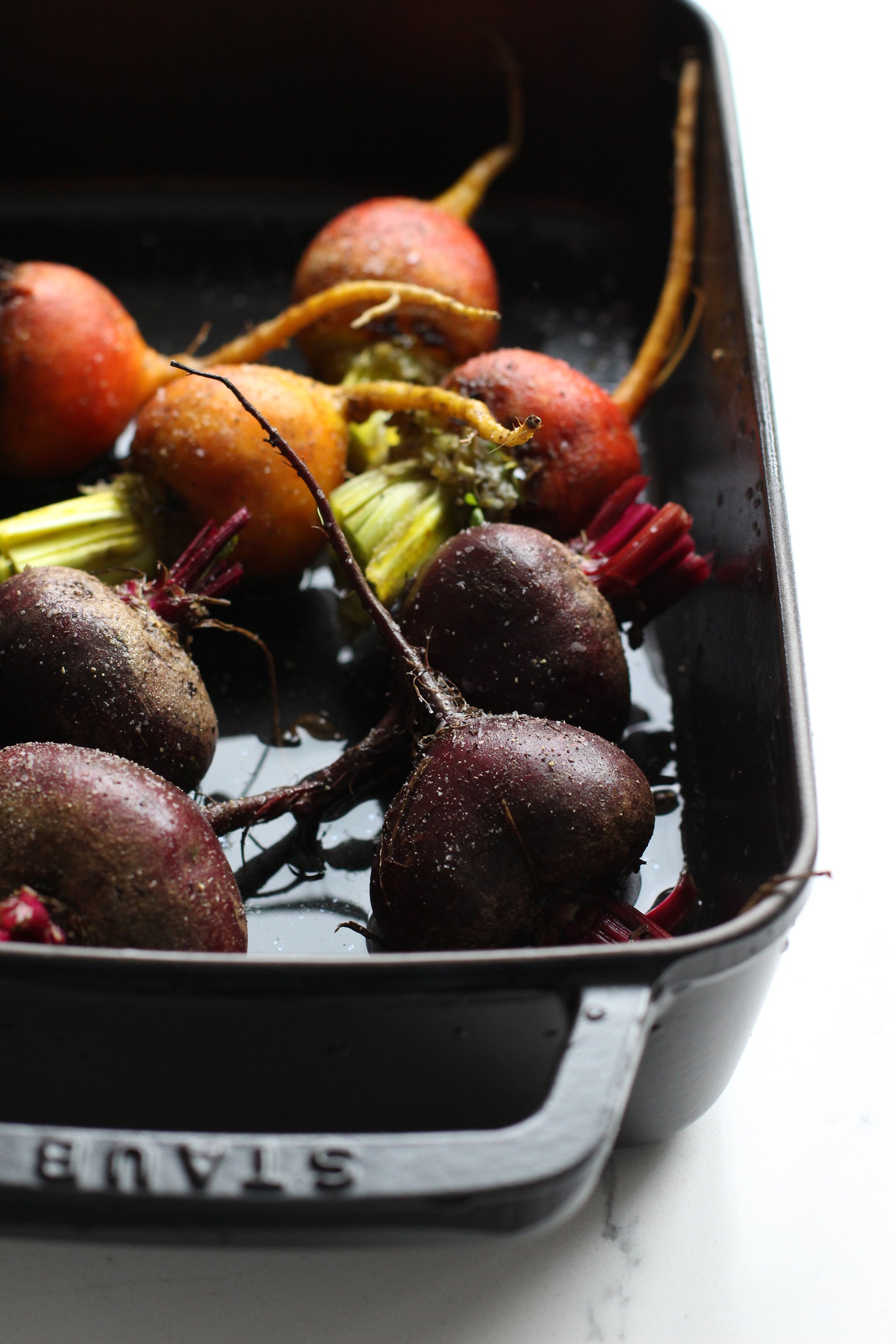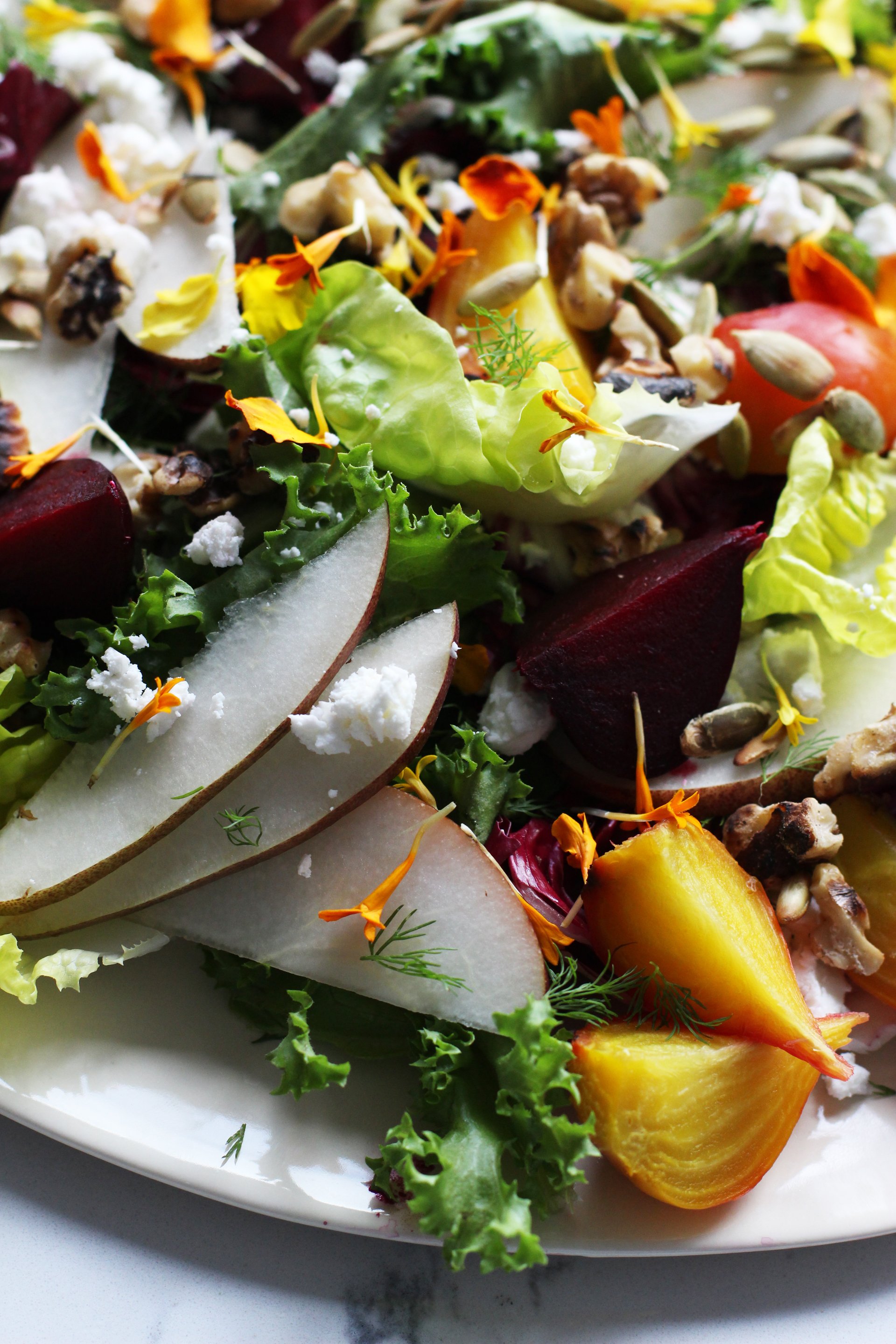 ROASTED BEET AND PEAR SALAD

Ingredients:

1/2 head of Boston lettuce (or Bibb lettuce), rinsed and roughly torn
1/2 head of escarole, rinsed and roughly torn
1/2 head of radicchio, rinsed and roughly torn
2 bundles of baby beets, washed and tops cut off
1 pear
1/2 a bundle of dill, roughly chopped
1/4 pound of feta or blue cheese
1/2 cup of walnuts
1/2 cup of pumpkin seeds
edible marigolds for garnish
1 large clove of garlic, minced
1/3 cup of grapeseed oil
juice of 1 1/2 lemons (1 lemon if it is large)
2 tablespoons of honey
sea or kosher salt and freshly ground black pepper

Directions:

Preheat the oven to 425 degrees and place the beets in a roasting pan and add a big splash of water. Season the beets with salt and pepper. Cover tightly with foil and roast for about 40 minutes until tender.
Allow the beets to cool and slip off the skins with your fingers. Cut into wedges
Core and thinly slice the pear.
Toast the pumpkin seeds and walnuts in a pan until fragrant.
Assemble the salad by layering the greens in a bowl or on a plate and top with the beets, pears, walnuts, pumpkin seeds, chopped dill and feta. Garnish with with marigold leaves
To make the dressing, combine the garlic, grapeseed oil, lemon juice, honey and big pinch of salt and a little freshly ground black pepper. Taste and adjust seasoning.
(images by HonestlyYUM)