Yes, I know, that title is a MOUTHFUL!! And I didn't even mention that all that cereal milk and apple brandy goodness is sandwiched between two chewy ginger molasses cookies! I've been dying to make a cereal milk ice cream for years. In fact, it's a recipe idea I've had scribbled down in a notebook, long before HonestlyYUM even existed. You see, I used to love cereal milk as a kid . . . like, love. I mean, that was the best part of the whole cereal experience, am I right? Slurping down all that sweet milk at the end of the bowl. Sadly, those days are long gone. I've traded my morning sugar rush for a seemingly more age-appropriate caffeine high. But hey, that doesn't mean I can't treat myself at the end of the day. When sifting through old memories of my favorite childhood cereals, Apple Jacks didn't immediately come to mind. I was more of a Cinnamon Toast Crunch kinda kid. But then it hit me: Apple Jacks + Applejack. After all, I am the booze guy! You see, Laird's Applejack is an apple brandy, and one of the United States' oldest spirits. Apple Jacks cereal is a multi-grain cereal with apple-cinnamon flavor, and an intense sugar coating. If you ask me, it's a match made in heaven – at least, in ice cream sandwich form, that is.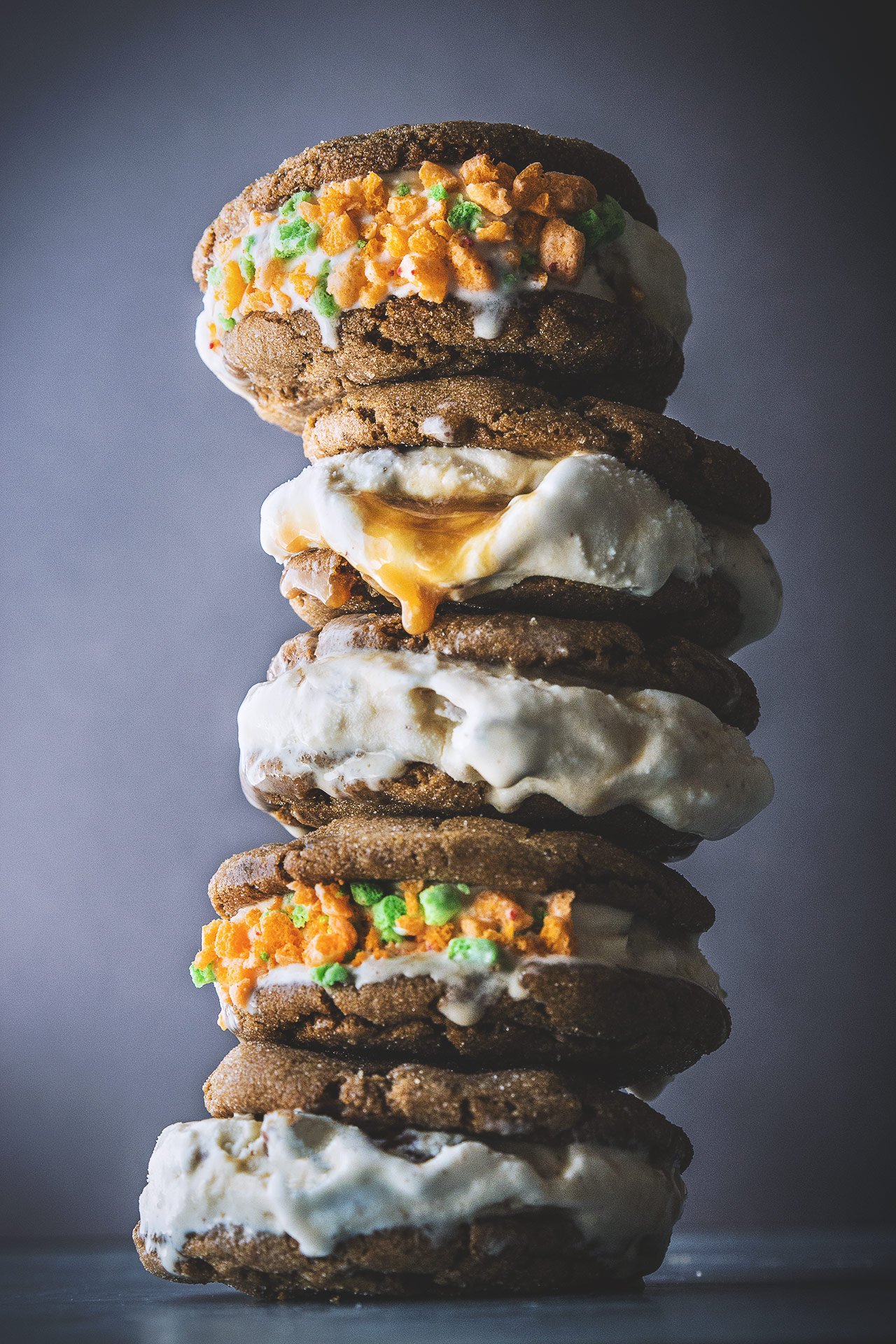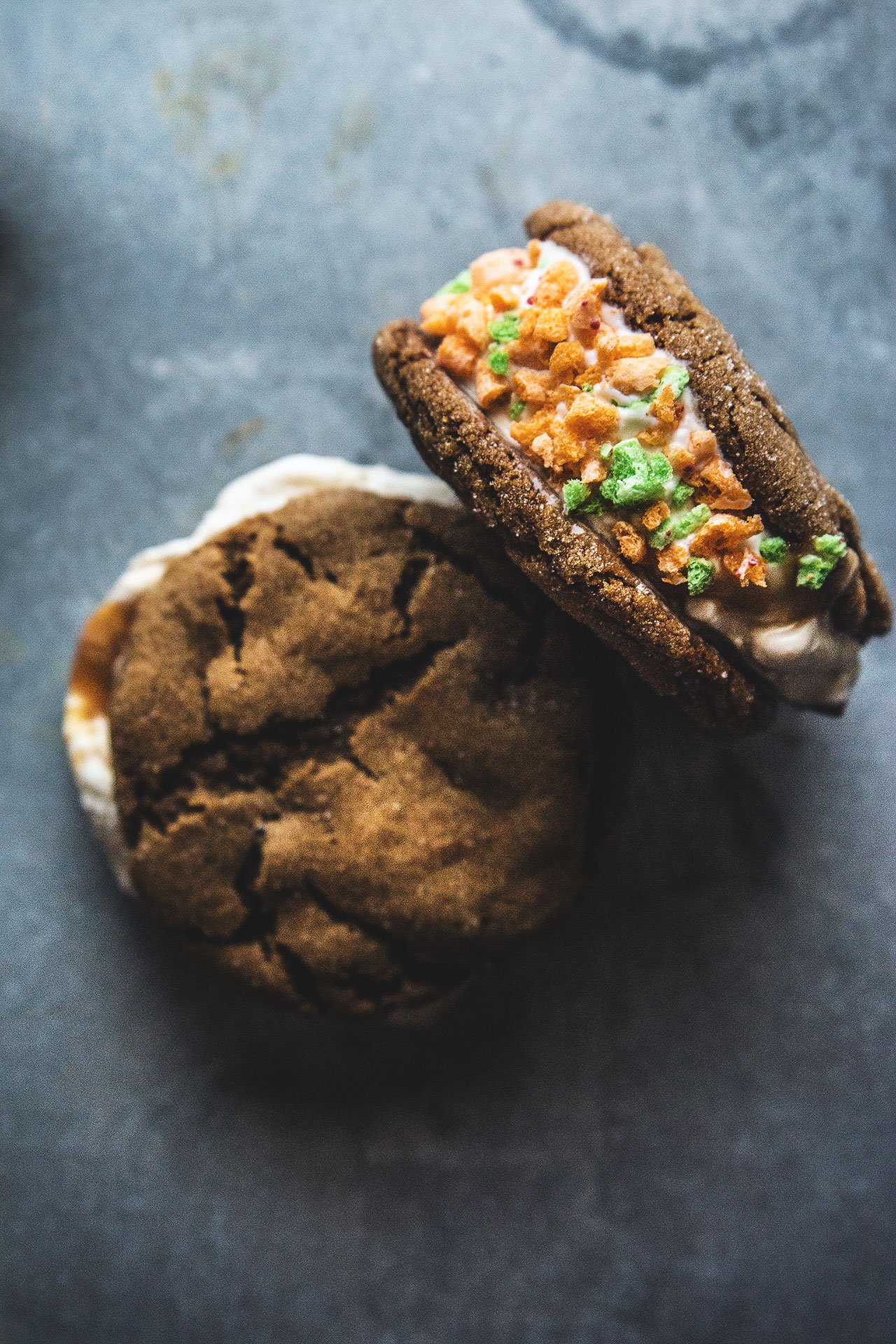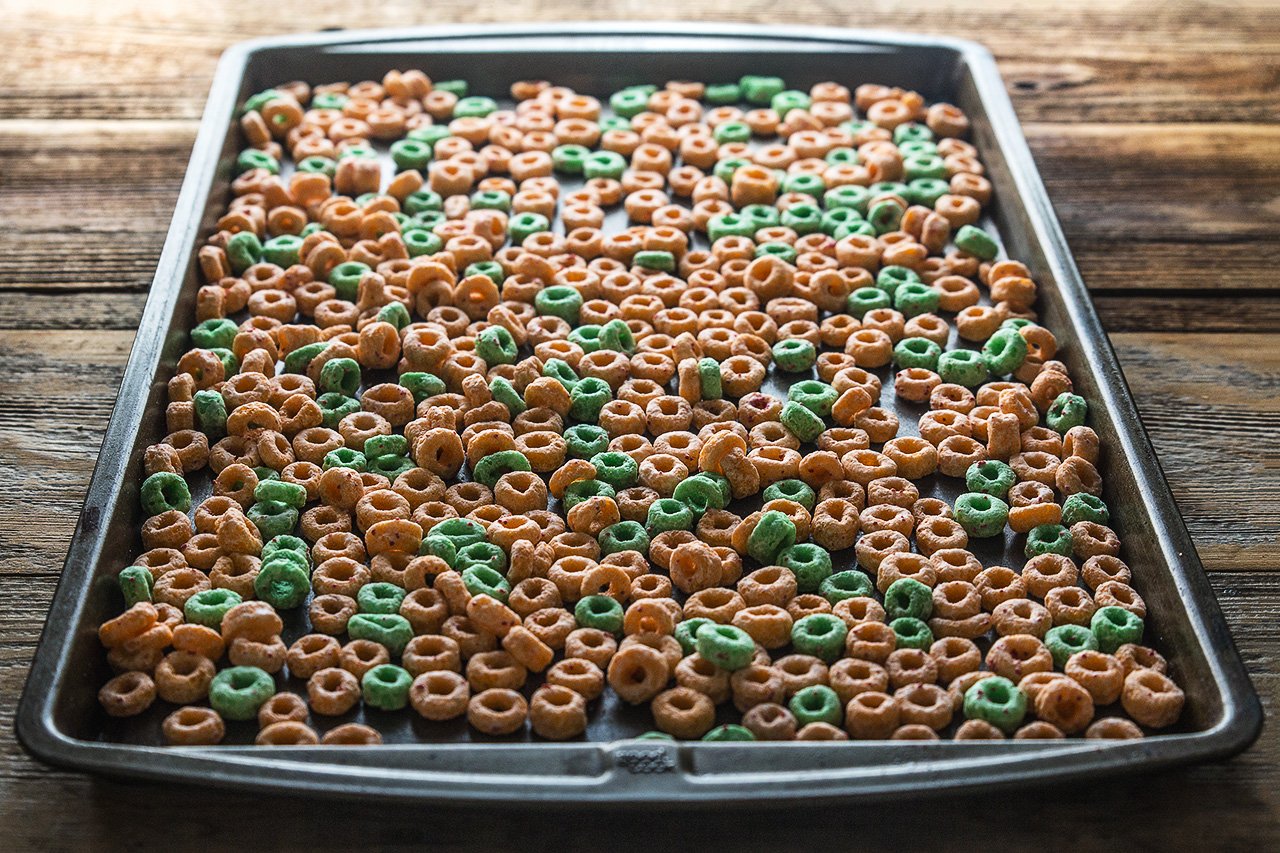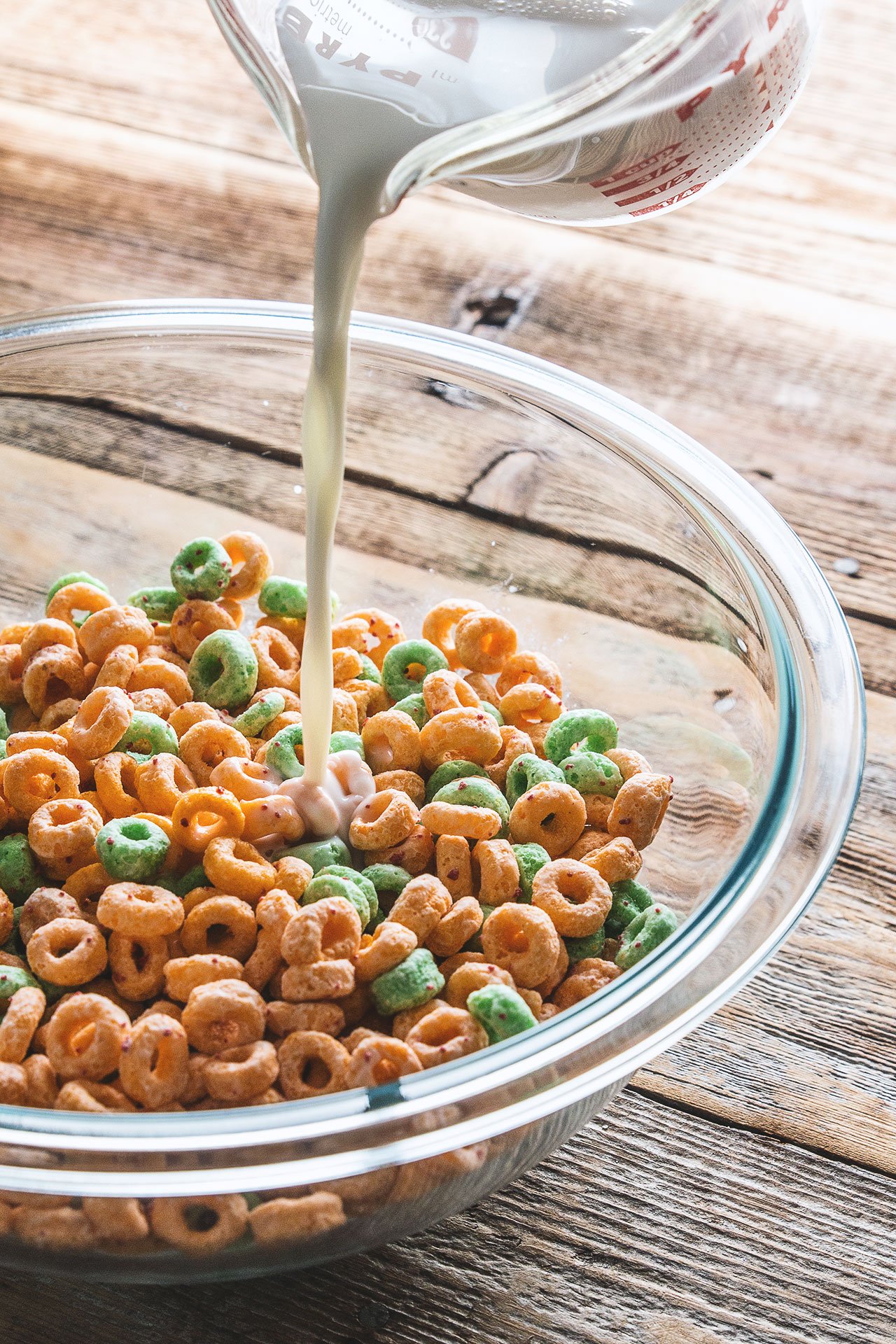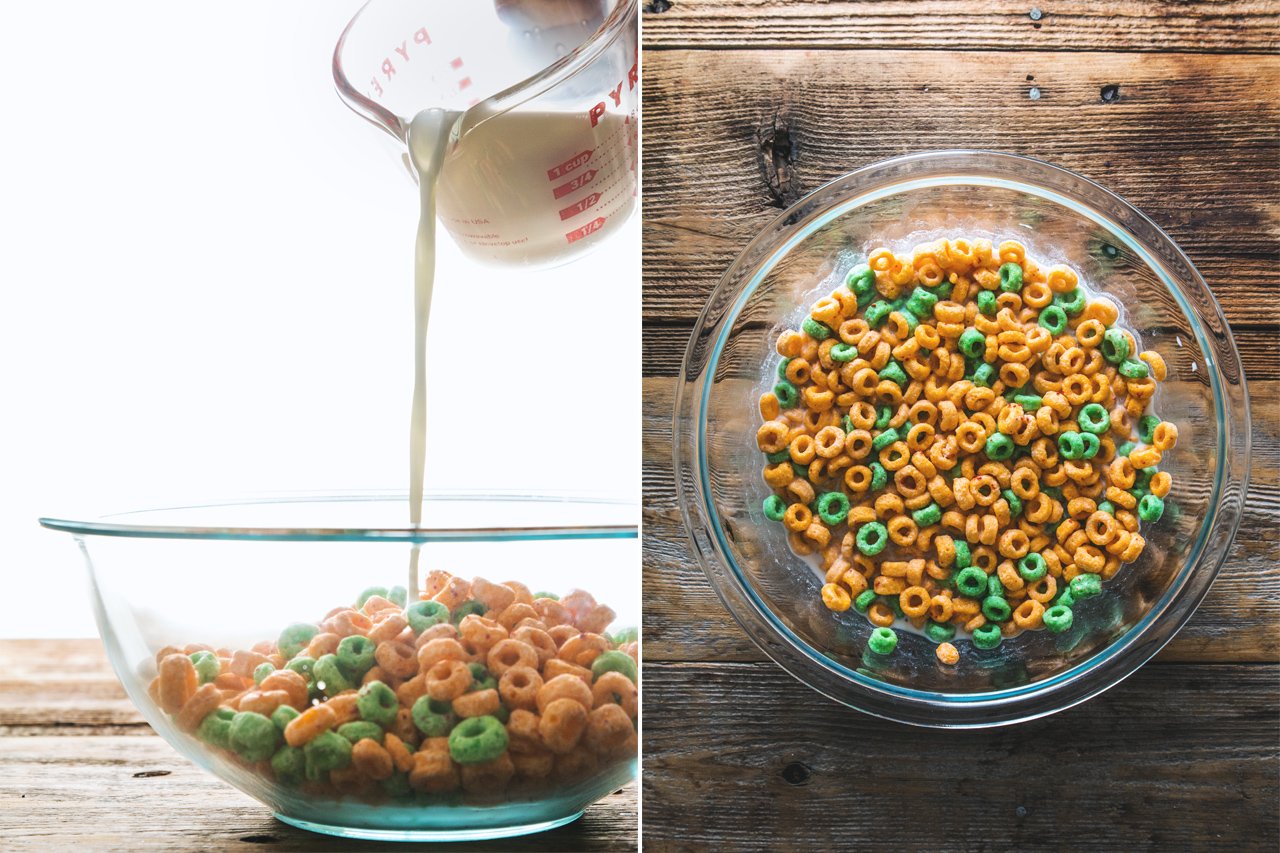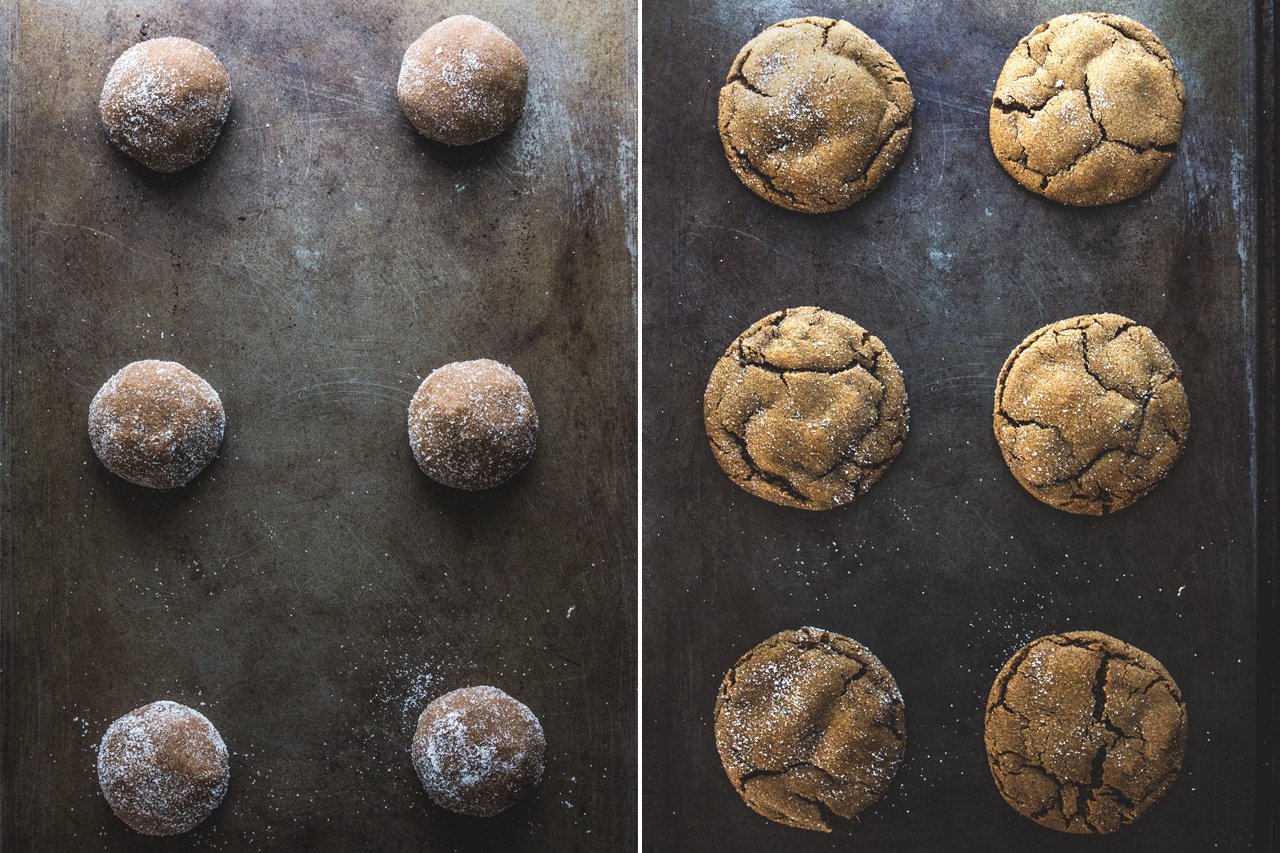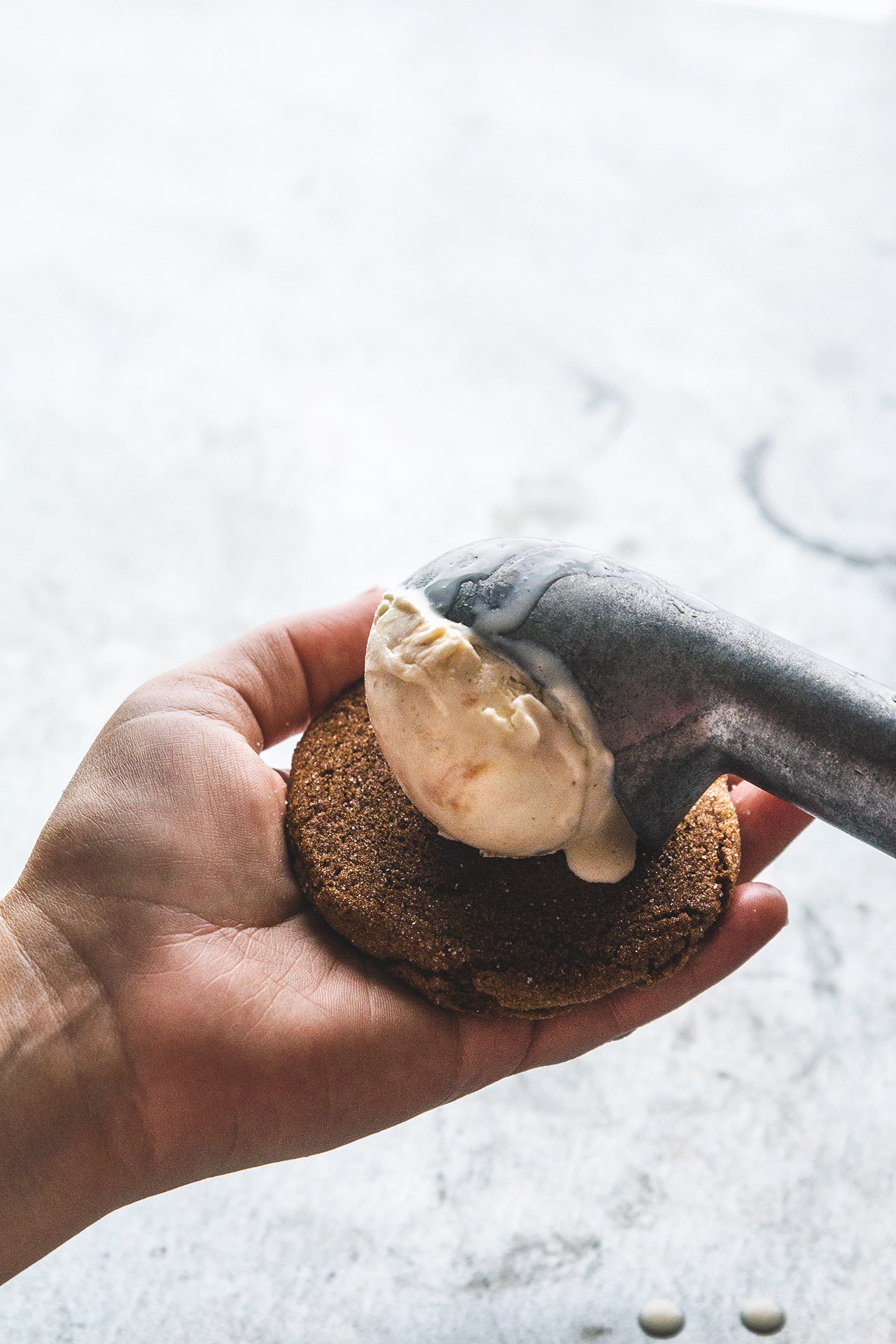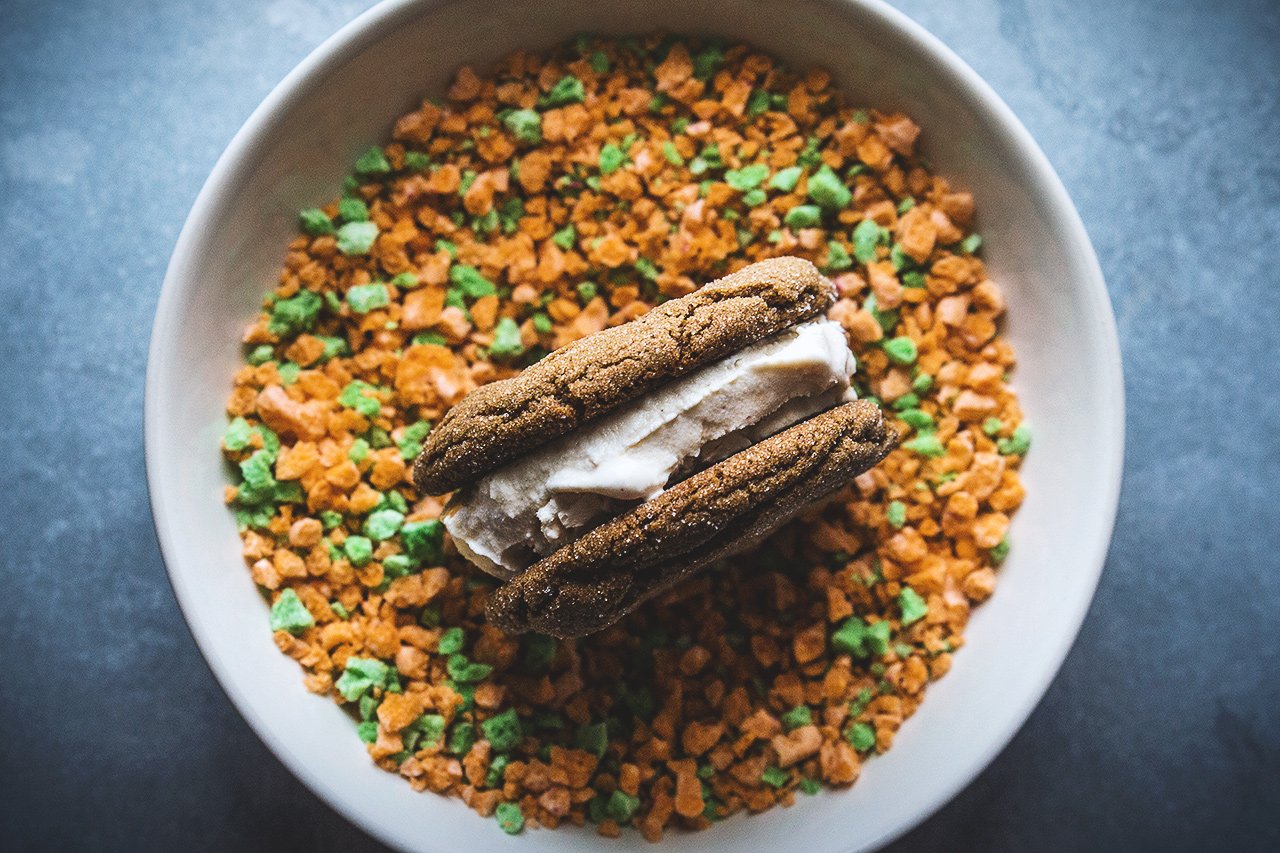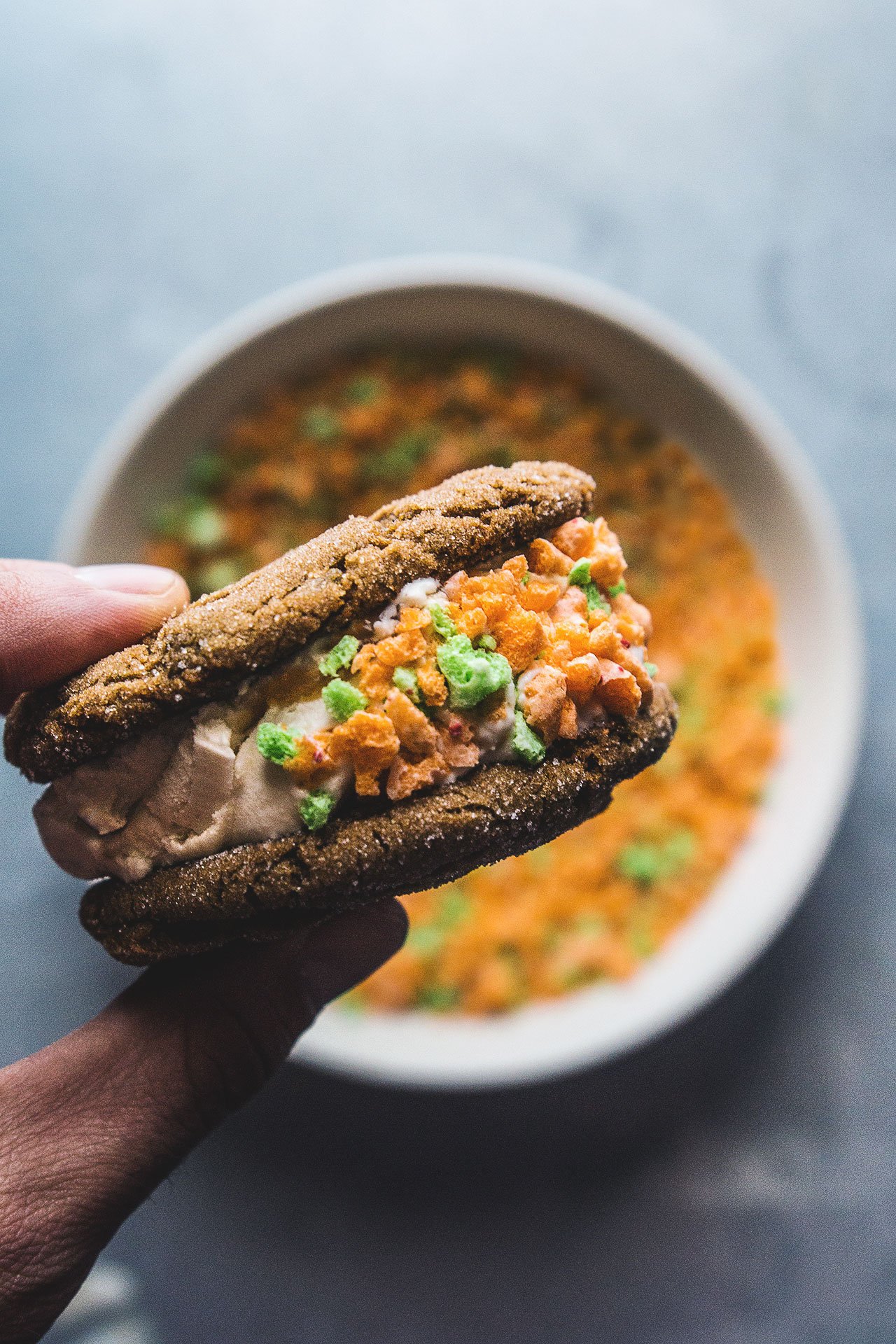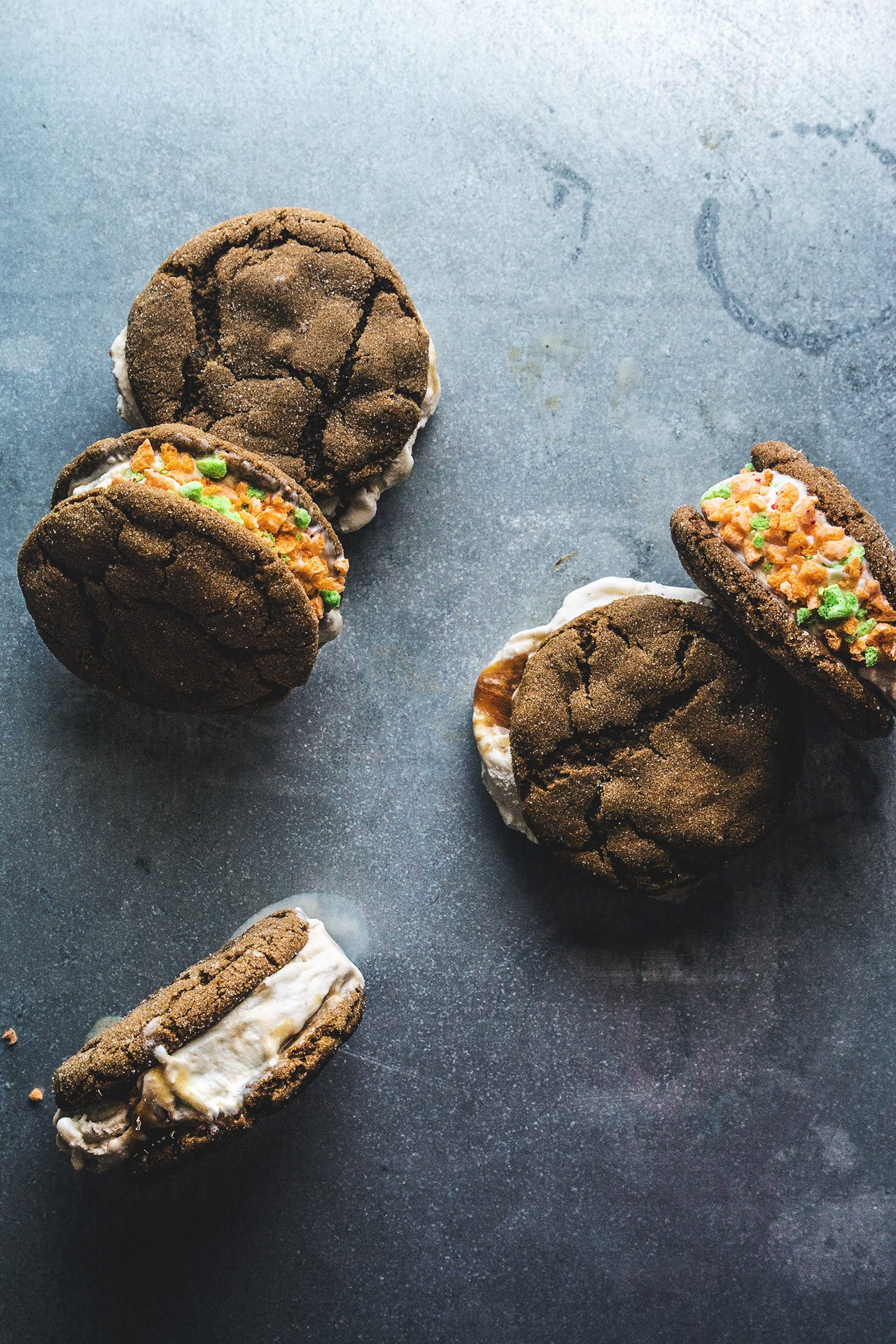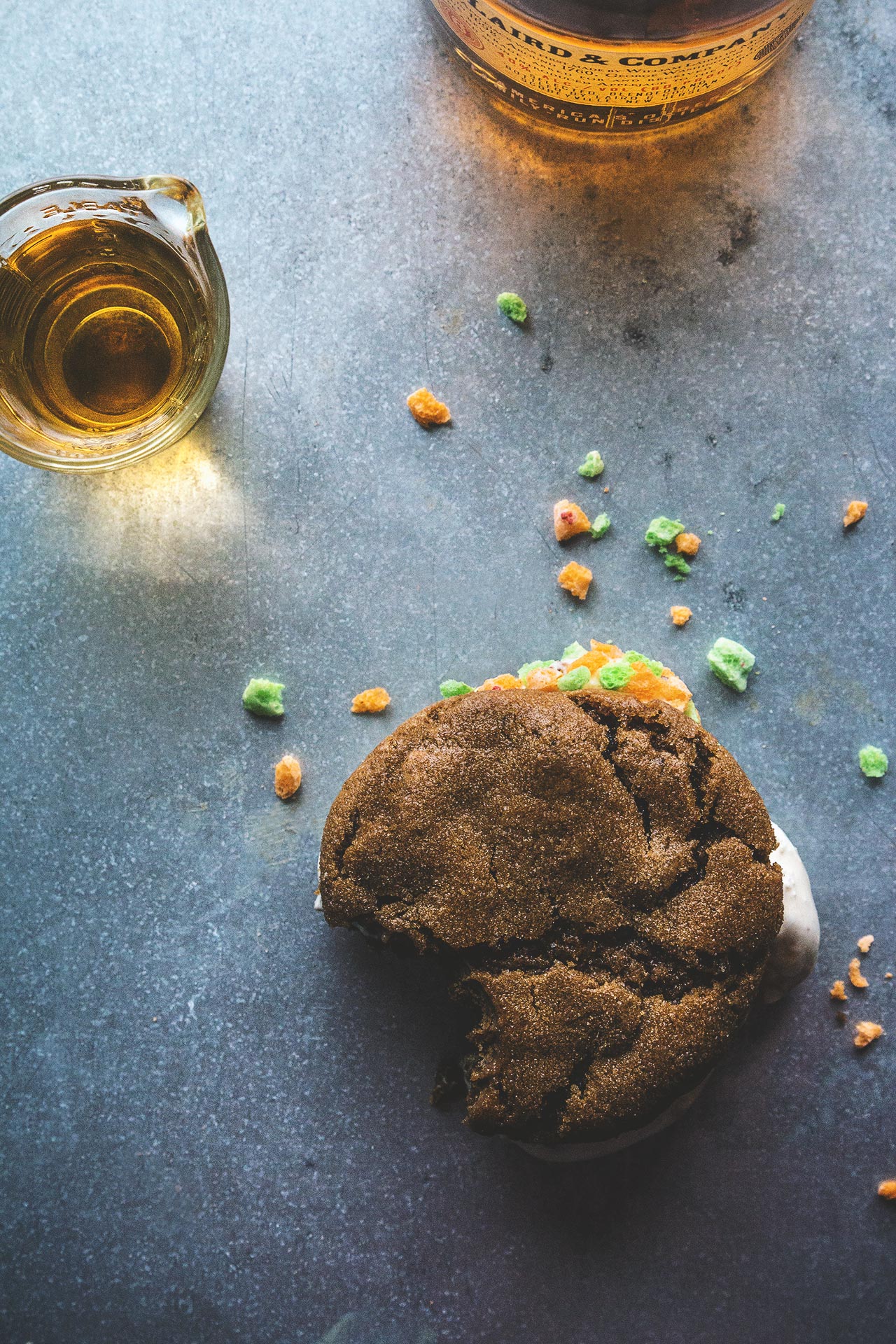 APPLE JACKS CEREAL MILK ICE CREAM SANDWICHES WITH APPLEJACK (BRANDY) CARAMEL SWIRL

Ingredients:

  For the ice cream

3 cups Apple Jacks cereal
2 cups whole milk
2 cups cream
1/2 cup sugar
5 egg yolks

  For the caramel swirl

1/2 cup sugar
1/3 cup light corn syrup
1/4 cup water
7 tablespoons heavy cream
2 tablespoons Laird's Applejack Apple Brandy

  For the cookies

2 cup all-purpose flour
2 teaspoons baking soda
2 teaspoons ground ginger
1 1/2 teaspoons ground cinnamon
1/2 teaspoon ground allspice
1/4 teaspoon salt
8 tablespoons unsalted butter, melted
1/4 cup dark molasses
1/2 cup granulated sugar
1/2 cup light brown sugar, packed
1 large egg
1/2 cup crystalized ginger, finely chopped
1/4 cup additional granulated sugar for rolling cookies

Directions:

  For the caramel

Heat sugar, corn syrup, and water in a saucepan, stirring until the sugar is dissolved.
Boil without stirring until the mixture is amber in color. Remove from heat.
Whisk in the cream.
When bubbling stops, add the Applejack and salt.
Bring to room temperature before adding to ice cream, or refrigerate for later use.

  For the ice cream

Toast the Apple Jacks cereal on a baking sheet in a 375 °F oven for approximately 20 minutes. Cool to room temperature.
In a large bowl, combine the toasted cereal and the whole milk and let soak for about 20 minutes. Strain.
Add the cereal milk, cream, and sugar into a saucepan and warm over medium heat.
Add the egg yolks to a medium bowl. Remove one cup of the warm milk mixture and slowly whisk into the the egg yolks to temper.
Pour the egg yolk mixture into the saucepan, and continue to heat, stirring constantly until the mixture thickens enough to coat the back of a spoon. Remove from heat and bring to room temperature, before placing into the refrigerator to chill thoroughly.
Churn your ice cream by following the instructions for your specific ice cream maker.
Transfer the ice cream into a storage container, folding in the caramel while you go. Place in the freezer until firm.

  For the cookies

Preheat the oven to 350 °F.
In a medium bowl, whisk together flour, baking soda, ginger, cinnamon, allspice, and salt. Set aside.
In a large bowl, combine melted butter, molasses, granulated sugar, brown sugar, and egg. Stir until homogenous.
Add the dry mixture and crystalized ginger into the wet mixture, and stir until incorporated.
Form your dough into uniform balls, approximately 2 1/2 tablespoons in size. Roll the dough balls in granulated sugar and place on cookie sheet.
Bake for 10-12 minutes, until the cookie have fully puffed and the surface is cracked. Remove from oven and cool on a wire rack to room temperature.

For the sandwiches

Place one heaping scoop of ice cream between two cookies and serve. If your cookies are on the softer side, place them in the refrigerator for a few minutes to firm them up before adding the ice cream. Garnish with diced Apple Jacks cereal (optional).
(images by HonestlyYUM)