Today, I've teamed up with S.Pellegrino to share my tips on how to make the best antipasti spread. One of the things I love most about summers is al fresco dining. There's truly nothing better than sitting around a table with some good friends eating, drinking and enjoying the setting sun together. In entertaining situations like these, I love putting together a grazing spread as an appetizer that can be left out and enjoyed over a couple hours. After all, I'd rather be outside sitting with my guests than cooking up a storm inside the kitchen! The key to making a good antipasti platter is providing a variety of textures and flavors so that people are encouraged to try all kinds of combinations. You'll have to buy quite a variety of options at the market, but there is little prep work involved and the results are impressive and elegant!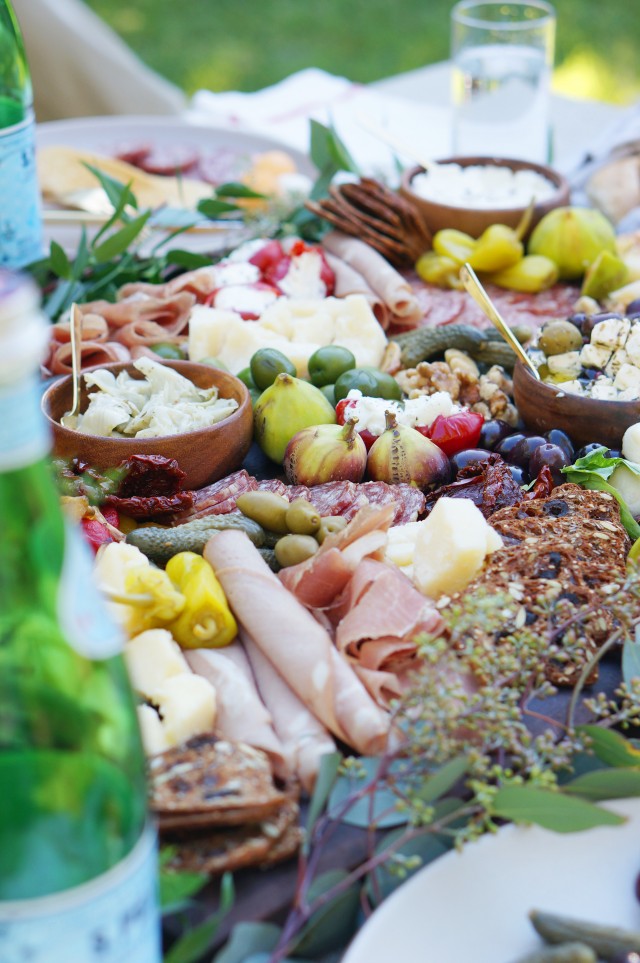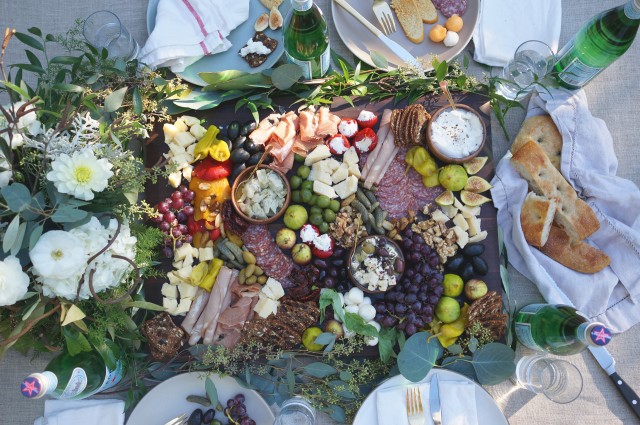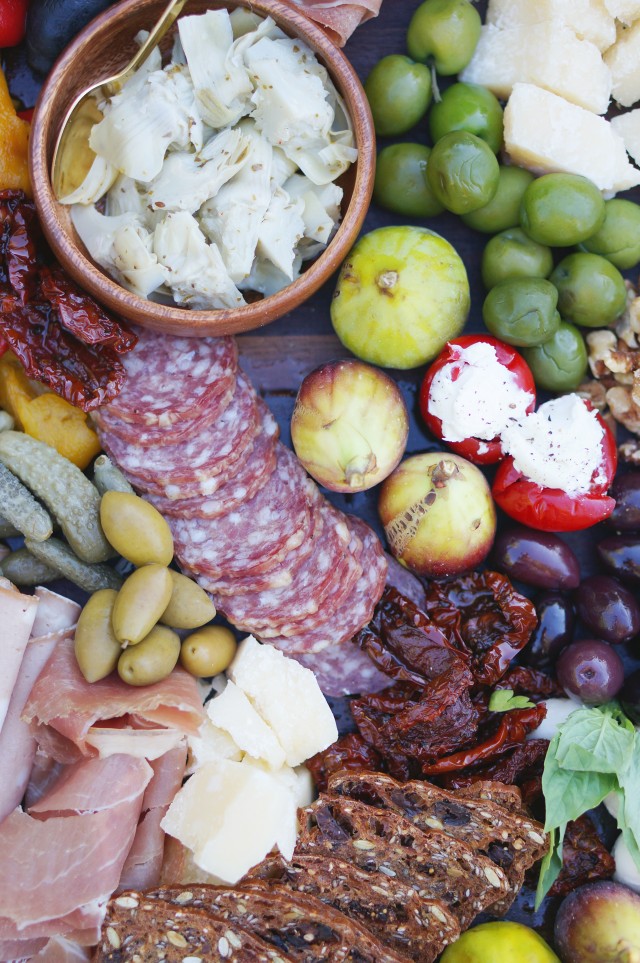 Flavors
Make sure to have a combination of flavors. Salty, sweet, sour and spicy. For salty, I make sure to have plenty of charcuterie, nuts, cheeses and olives. For sweet, I like using a combination of dried and fresh fruits, like sun-dried tomatoes and fresh melon. For sour, plenty of pickles and marinated artichoke hearts are key. And finally, for spicy, I love using sweet cherry peppers and peperoncino.
Textures
As you buy your ingredients, think type of texture each item offers. For cheese, I use soft and hard cheeses, like mozzarella and Parmigiano-Reggiano. For charcuterie, a hard salami, prosciutto and mortadella. For olives, I like to offer a variety since I'm obsessed with olives. (And please don't buy the sad pitted olives– the unpitted ones have such better texture and flavor!)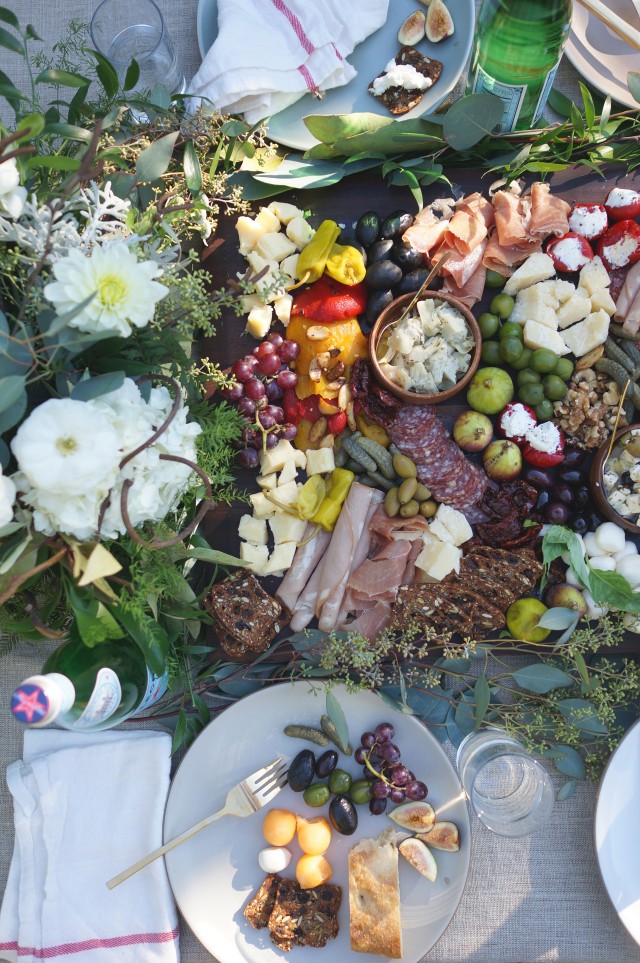 Buy the Pre-Made Stuff
Sure, homemade roasted bell peppers are really fantastic, but who has the time for that when you're entertaining? Nowadays, you can get pretty decent quality marinated artichokes, roasted garlic or roasted bell peppers at the market so I take the shortcuts when I can.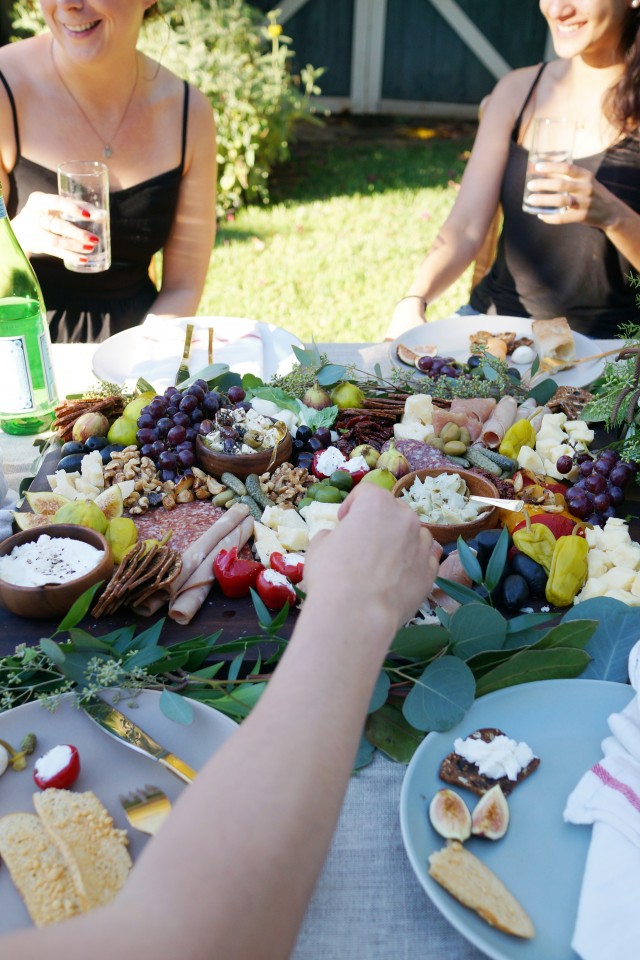 Arrangement
Creating a good arrangement is pretty easy. Start by placing the larger items in separate parts of the board and begin filling in the gaps with progressively smaller items. You'll end up filling gaps in with smaller olives, nuts and fruits. Add some bunches of crackers here and there or even small bunches of fresh herbs– this is the time to get creative. Go with what you think looks and tastes good.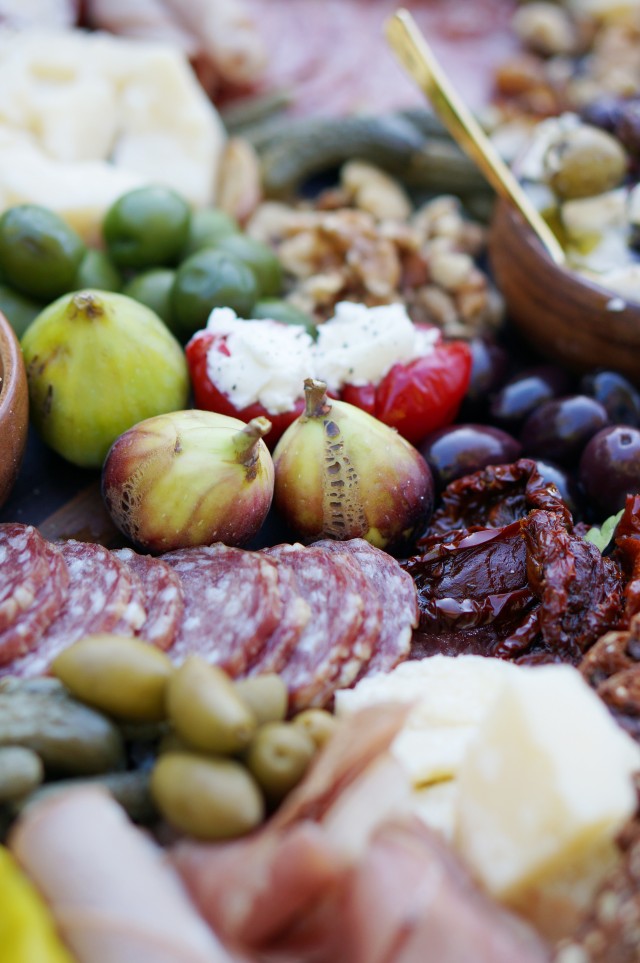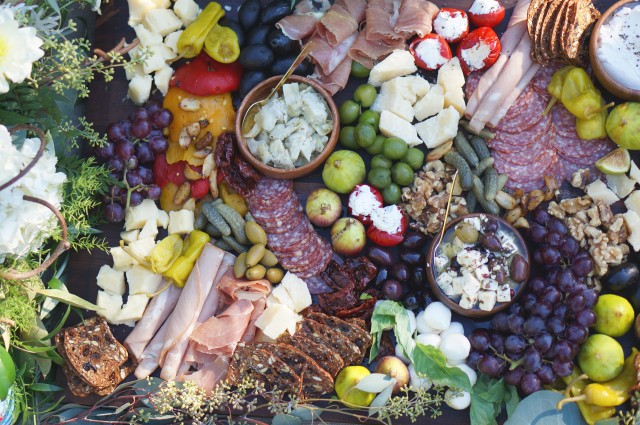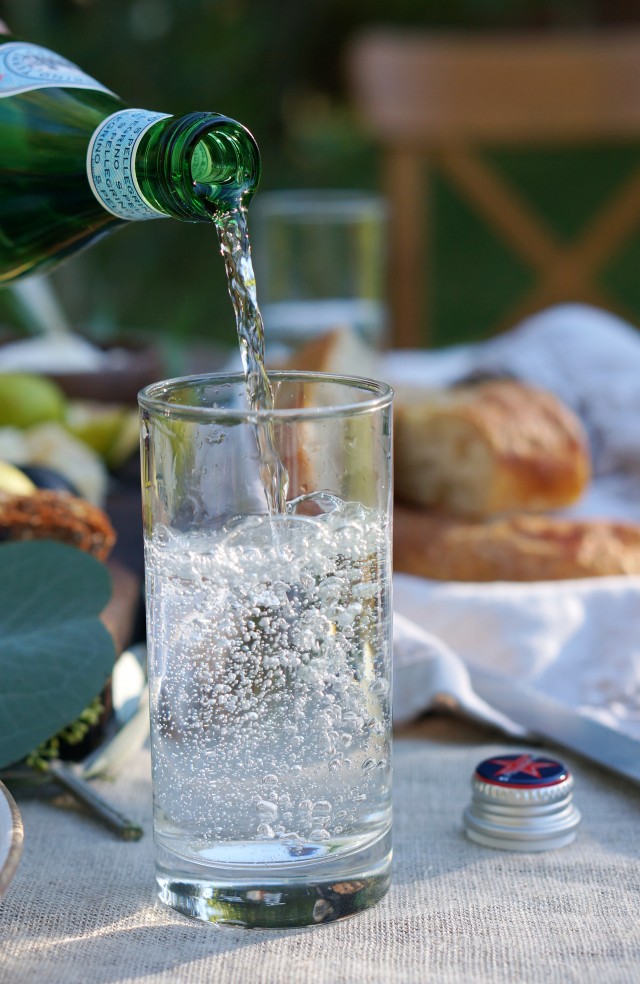 Crowd the Board
The key to making a visually impressive antipasti platter is to crowd everything onto the board so it gives the appearance of abundance. Don't worry about unloading everything you have onto the board because you can always refill small portions of it as soon as something runs out. Small mounds of different foods here and there work best.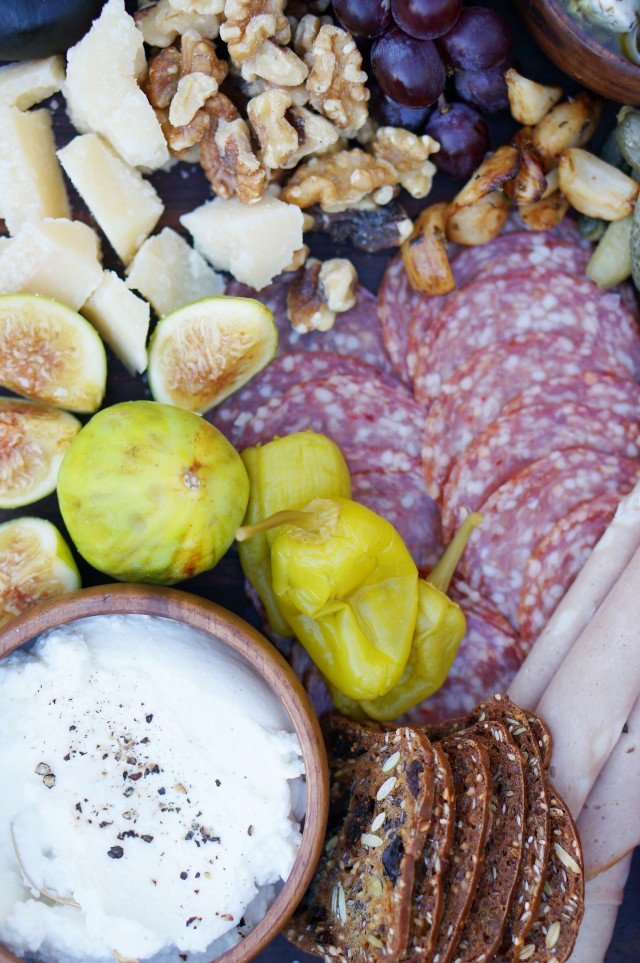 Seasoning
Always serve your antipasti platter with a small bowl of good flake sea salt, freshly ground black pepper or red pepper flakes and good extra-virgin olive oil. A little seasoning goes a long way in transforming store-bought items.
Last but not least don't forget to leave room for bottles of S.Pellegrino, the perfect accompaniment to an elegant al fresco dinner!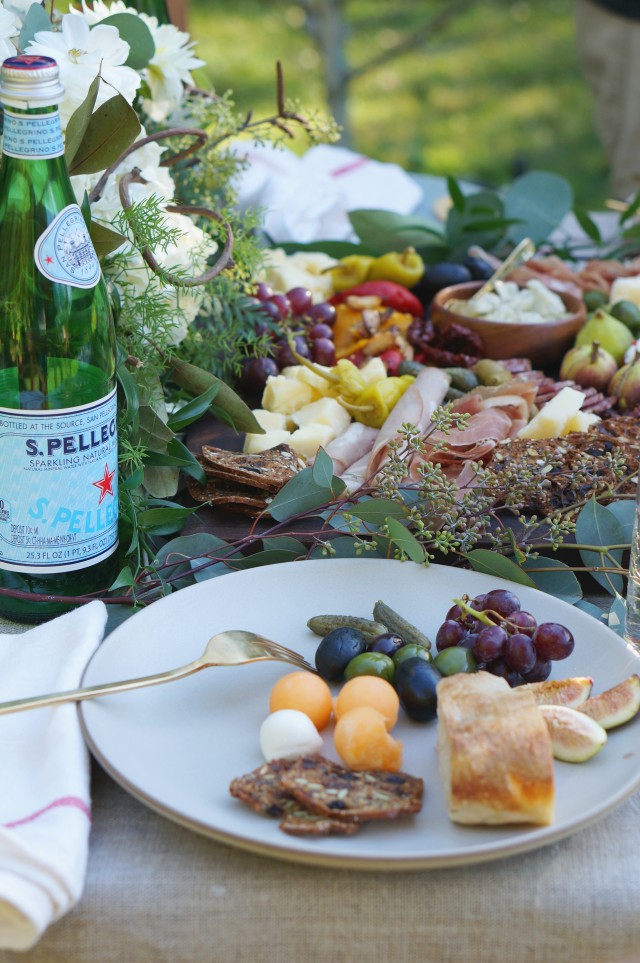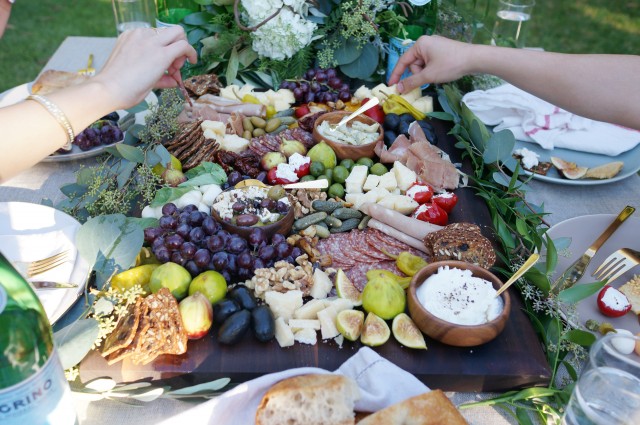 HOW TO CREATE THE BEST ANTIPASTI SPREAD

Ingredients:

Charcuterie, like prosciutto, salami and mortadella
Fresh fruits, like figs, tomatoes, cantaloupe and grapes
Whole sun-dried tomatoes
Variety of olives
Marinated and herbed feta
Nuts, like marcona almonds and walnuts
Peperoncino
Marinated artichoke hearts
Roasted bell peppers
Roasted garlic cloves
Canned sweet cherry peppers
Cornichons
Soft cheese, like bocconcini, ricotta and goat cheese
Hard cheese, like Parmigiano-Reggiano
Variety of bread and crackers
Good flake sea salt and freshly ground black pepper
Fresh basil

Directions:

Start by laying out your charcuterie in different parts of the board. I roll the mortadella and loosely bundle up the prosciutto to create more room on the board. You can always keep adding to the board once one item is finished.
Fill small bowls with fresh ricotta and top with plenty of sea salt and fresh pepper. Fill another bowl with the marinated artichokes and another one with the marinated feta. Place them at different parts of the board.
Lay out the roasted bell peppers on the board and top with some sea salt and the roasted garlic.
Using a small knife, fill the sweet cherry peppers with goat cheese and top with a little sea salt and freshly ground black pepper. Add the stuffed cherry peppers to the board.
Using the tip of a knife, break of chunks of the hard cheese and add in heaps to the board in a couple areas and add the bocconcini in a heap on the board.
Fill in any gaps on the board with olives, nuts, crackers, fruits, sun-dried tomatoes and peperoncino. Tuck leaves of fresh basil around the edges of the spread.
(This post is sponsored by S.Pellegrino® Sparkling Natural Mineral Water. Opinions are our own. Images by HonestlyYUM)