I rarely feature the recipes I make on a daily basis on HonestlyYUM, but I thought this one was worth sharing. My weekday meals are usually pretty healthy and consist of grains, veggies and lean proteins. This features one of my favorite vegan sauces that I use over whole grain bowls or as dressing on salad. The creamy sauce is vegan and is made from cashews, toasted pumpkin seeds, cumin, lime, garlic and cilantro. This time I've taken some quinoa, fresh corn, beans and zucchini and stuffed roasted poblano peppers with the mixture and topped it with the cashew-cilantro cream. It takes a little extra effort to roast and stuff the poblanos, but if you're entertaining it's worth the extra step. You could alternatively assemble bowls with quinoa on the bottom, top with the veggies and chopped up roasted poblanos and dress with the cashew cream. This recipe makes a lot of the cashew dressing as I like to make a lot at once so I can use it through the week. And guaranteed you'll finish it before the week is done!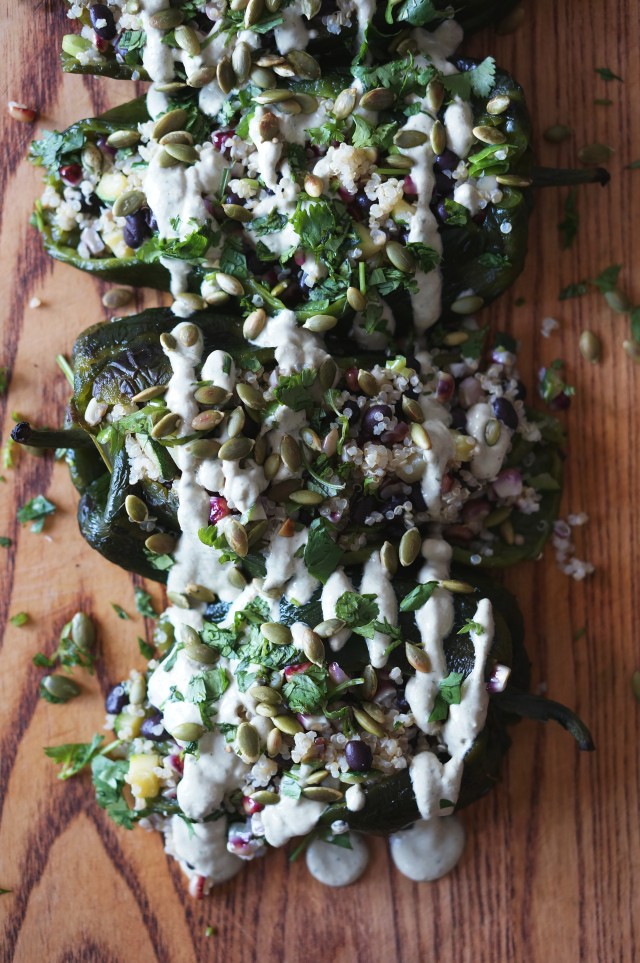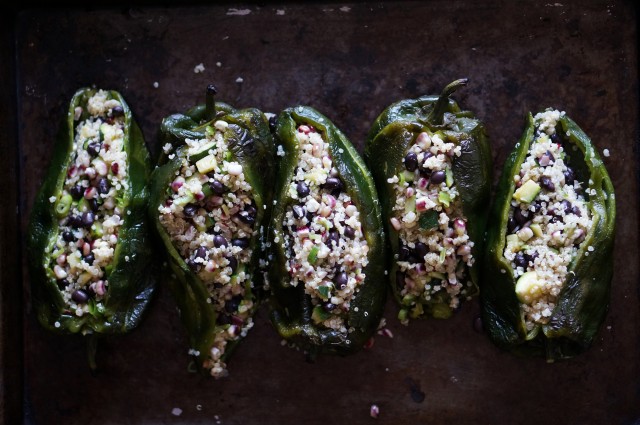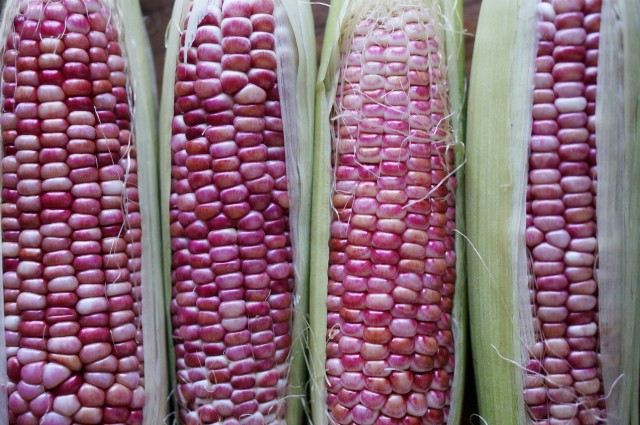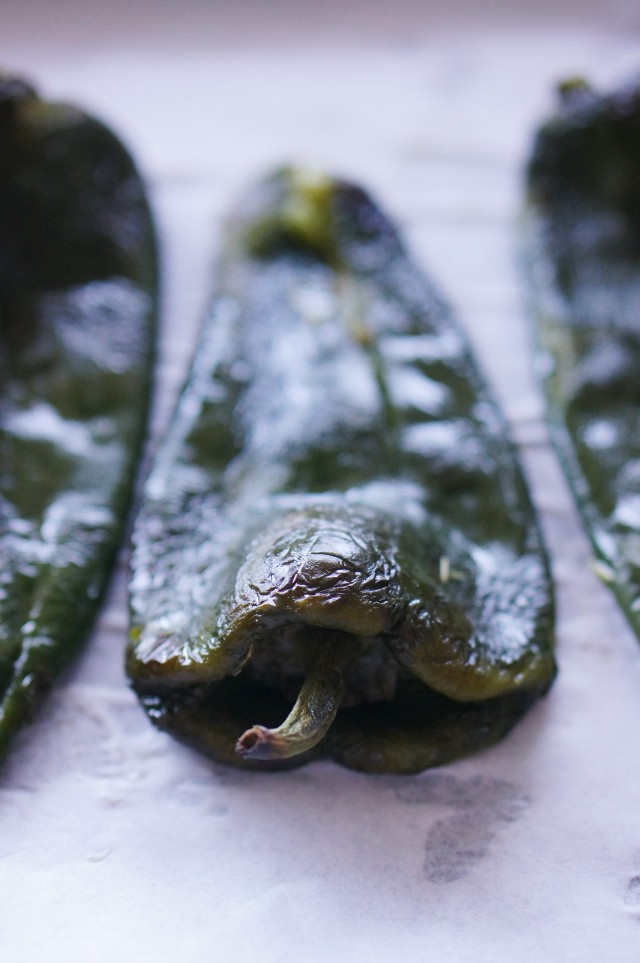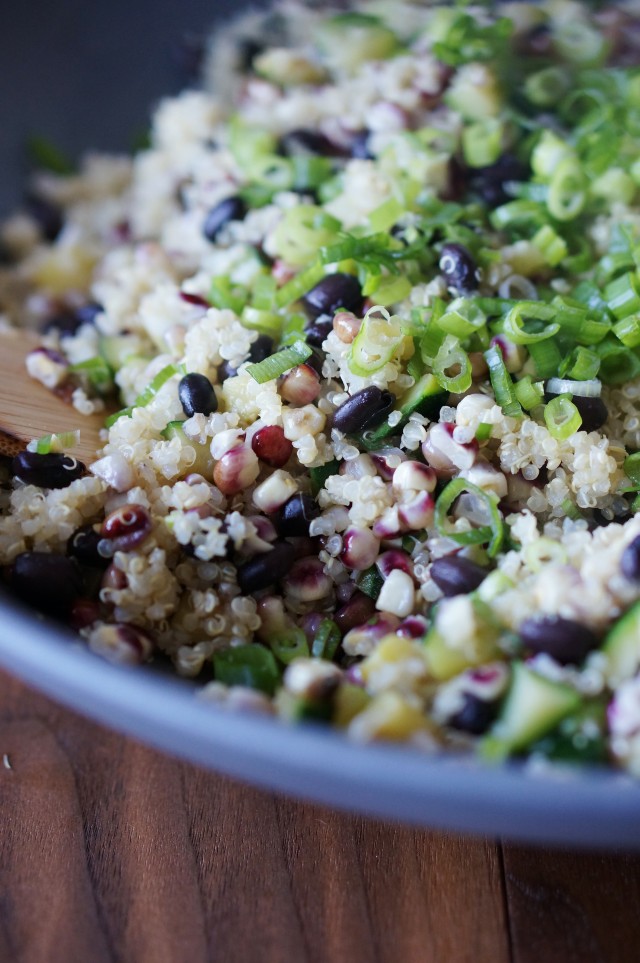 VEGAN STUFFED POBLANOS WITH CASHEW AND CILANTRO CREAM

Stuffed Poblano Ingredients:

8-10 poblano chiles
1 cup of cooked quinoa
1 bunch of scallions, thinly sliced (white and light green parts)
1 can of black beans, drained and rinsed
3 small zucchini, diced
corn from 4 ears of corn
2 cloves of garlic, minced
olive oil
sea or kosher salt and freshly ground black pepper
cilantro and toasted pepitas for garnish

Cashew and Cilantro Cream Ingredients:

1/3 cup pepitas, toasted
1 cup of raw and unsalted cashews
1 1/2 tablespoons of tamari
juice of one lime
1 1/4 cup of water
2 cloves of garlic, minced
1 tablespoon of nutritional yeast
1 teaspoon of ground cumin
1/2 cup of roughly chopped cilantro

Directions:

To make the cashew cream, soak the pepitas and cashews for at least 2 hours in water.
Strain water and add to a blender and add 1 1/4 cup of water and the remaining ingredients, except for the cilantro. Blend until smooth and add a little more water if it is thick. Add salt to taste if necessary. Add the cilantro and blend until speckled with cilantro.
Place the poblanos on a baking sheet under the broiler (with the rack directly under the broiler), turning them once on each side until each side is blistered and the pepper begins to soften. Depending on your broiler this should take about 3 minutes on each side of the peppers. Place poblanos in a paper bag and seal the bag close. Allow the peppers to cool entirely in the bag.
Heat some olive oil over high heat and as it oil starts to get hot, add minced garlic, stir garlic quickly and add zucchini. Saute zucchini until they start to brown and add the corn. Add a couple pinches of salt and cook until the veggies are just tender. Turn heat off and add scallions.
Combine cooked veggies with the quinoa and black beans.
Preheat the oven to 375 degrees.
Once the poblanos are cool enough to handle, peel the blistered skin from the peppers. The skin will be easy to remove. Using your finger or a knife, carefully open the poblano and remove the seeds inside. Give them a light rinse under water if you need to remove all the seeds.
Stuff each pepper with the quinoa mixture and place on a baking sheet. Bake for about 5-7 minutes.
Dress with the cashew cream and top with toasted pepitas and chopped cilantro.
(images by HonestlyYUM)