Summer solstice is nearly upon us, which gives us plenty of reason to partake in the season's most fairytale-like celebration. We recently called upon the lovely Leslie Santarina, of Spotted SF, to help dream up the ultimate Midsummer festivity- we're talking flower crowns, strawberry cake, a Swedish smörgåsbord, and elderflower infused cocktails, friends! So here I am, launching our week of Midsummer-inspired recipes with an elderflower scented chiffon cake, layered with fresh strawberries and boozy whipped cream. It's light, fluffy, floral . . . it epitomizes summer.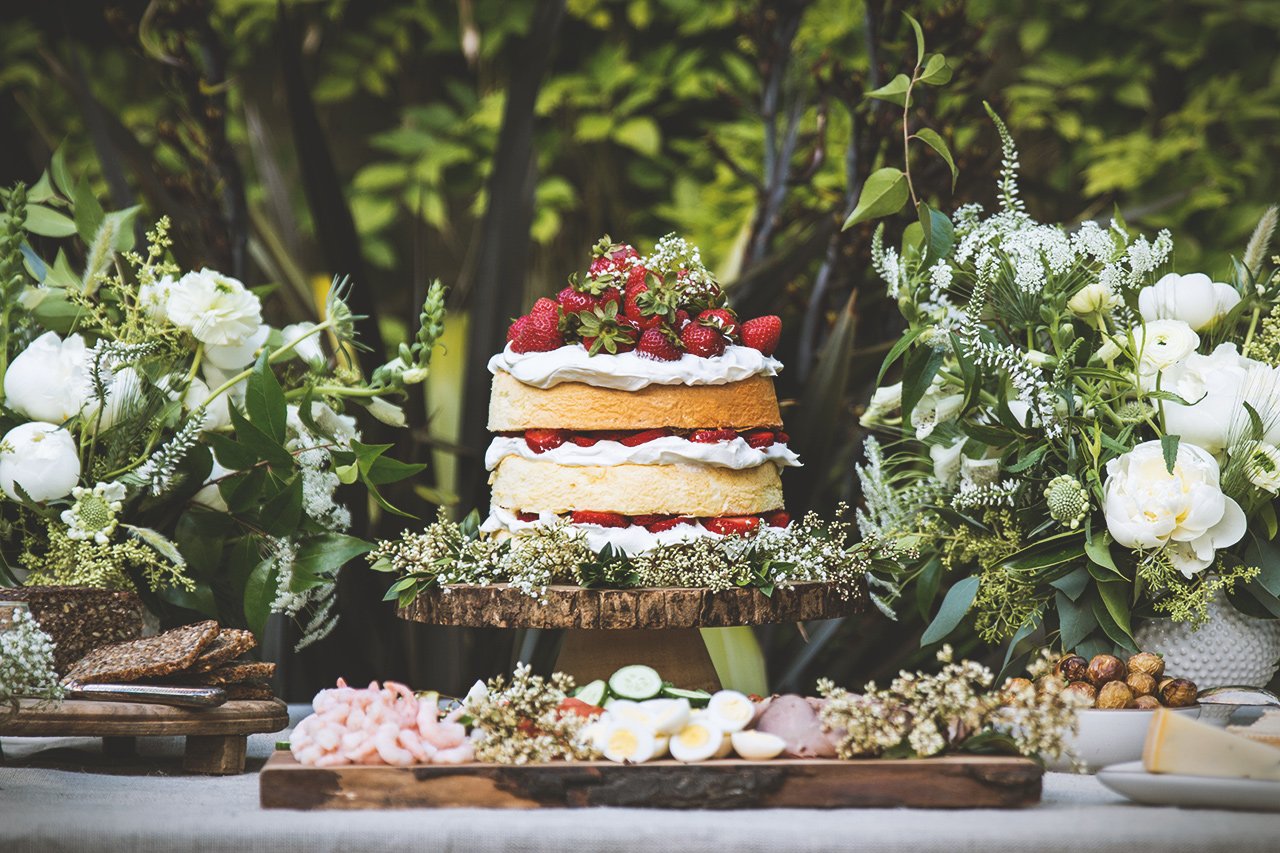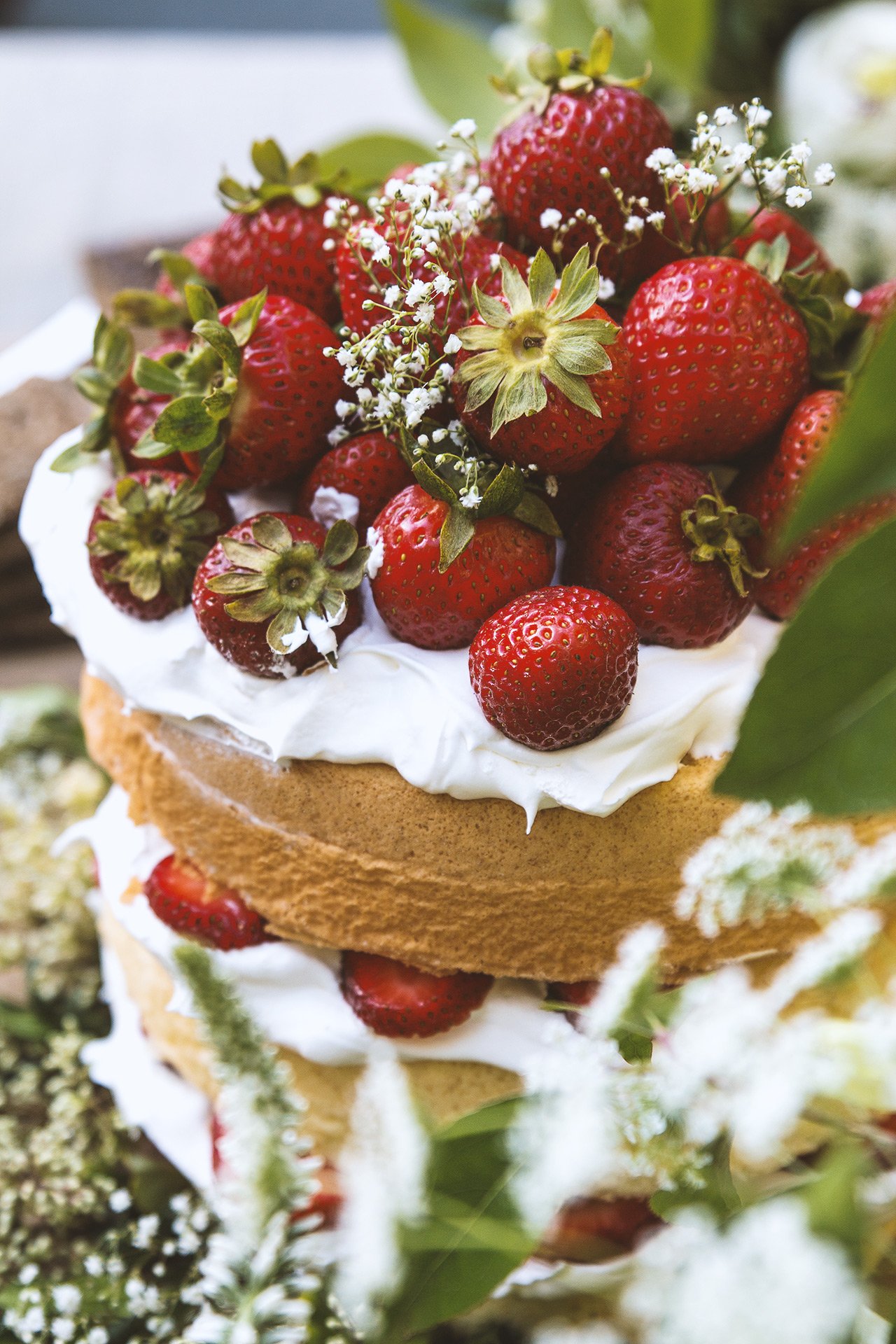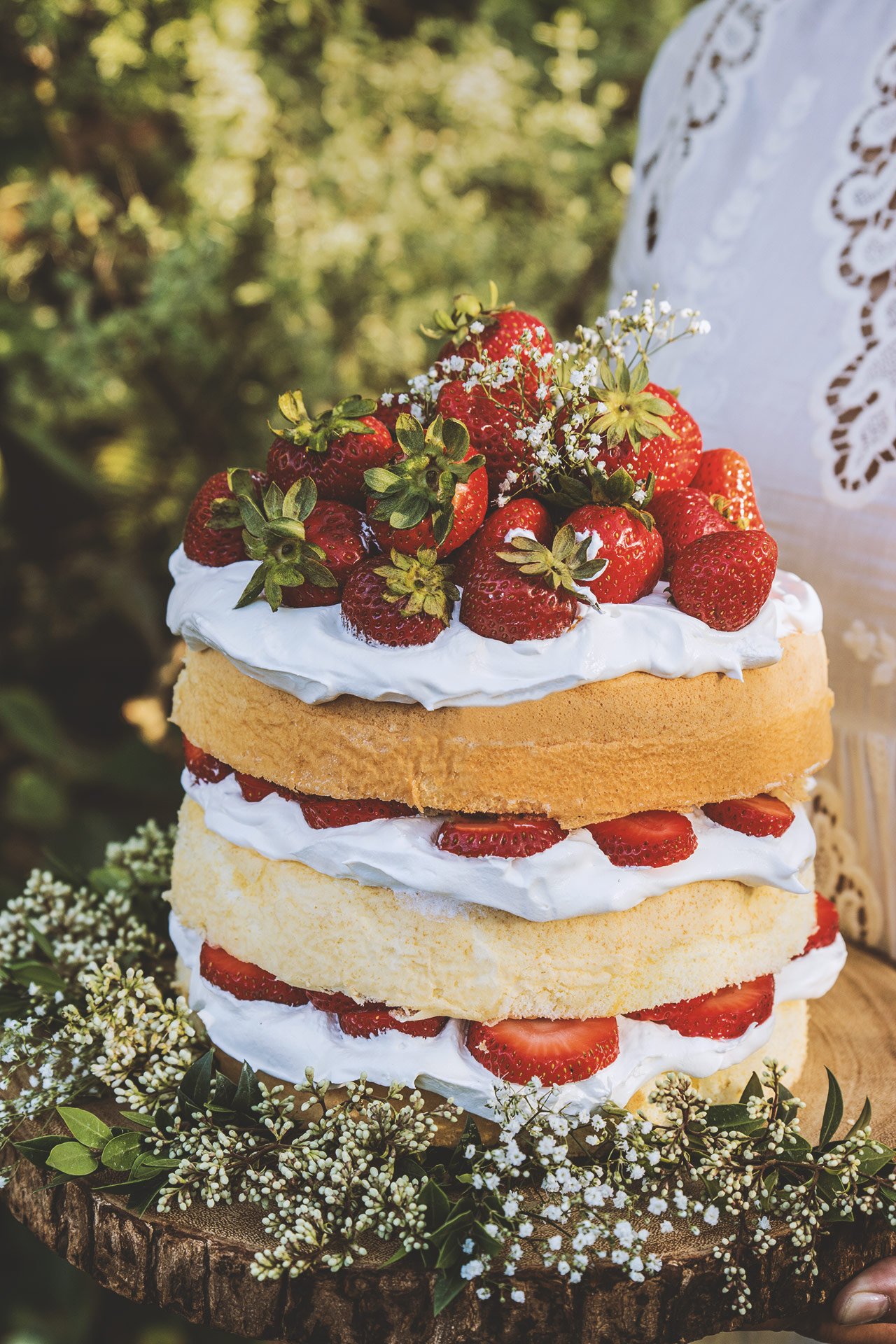 (images by HonestlyYUM; styled by Spotted SF)
STRAWBERRY ELDERFLOWER CHIFFON CAKE

Ingredients for elderflower chiffon cake:

2 cups cake flour (sifted)
1 1/4 cups castor sugar
2 1/2 tsp baking powder
1/2 tsp salt
7 tbs grape seed or canola oil
1/3 cup elderflower cordial (or 4 tbs St. Germain liqueur + 2 tbs fresh lemon juice)
3 large egg yolks
8 egg whites
1 tsp cream of tartar
4 pints of fresh strawberries***

Ingredients for elderflower whipped cream frosting:

Directions:

Preheat oven to 320°F
Prepare cake pans by lining the bottoms of 3 8-inch round cake pans with parchments paper. Spray the top of the wax paper with cooking spray and dust the wax paper bottom of all three pans with some flour.
Whisk together 2 cups cake flour, 1 cup sugar, baking powder, and ½ teaspoon salt in a large bowl.
Whisk together oil, elderflower cordial and egg yolks in separate bowl.
Add oil mixture to flour mixture and then beat with mixer at medium speed until smooth.
Beat egg whites with stand mixer at high speed until foamy. Add cream of tartar and beat until soft peaks form. Gradually add remaining 1/4 cup sugar, 1 tablespoon at a time, beating until stiff peaks form.
Stir a heaping spoonful of stiff egg white into the egg white mixture. Then gently fold in the rest of the egg whites until mixed.
Divide cake batter equally among prepared pans. Bake at 325 degrees for 20 minuets or until cake springs back when lightly touched.
To prevent cakes from shrinking from the sides of the pans, immediately cool the cakes in their pans upside down on wire racks.
In the meantime, start the whipped cream frosting by bringing out a chilled bowl and chilled beaters from the freezer.
Beat the cream until frothy and add the sugar and liqueur gradually while beating.
Whip until cream reaches stiff peak
Place first layer of cake onto a cake stand. Pour 1/3 of the whipped cream on top and spread with a pastry knife. Top with sliced strawberries.
Repeat with the 2nd and 3rd layer.
Insert 2-3 wood skewers at 12, 4 and 8'oclock to secure the layers
Top the cake with a generous layer of whipped cream and a pile of whole strawberries.

*** If you're in San Francisco, Los Angeles, New Orleans or New York, you can receive free berries with your Good Eggs order from June 7-14! Good Eggs is also hosting an Instagram contest during Berry Week where they are giving away more berries, along with some Heath Ceramics and Everlane goodies. Head over here for more details.