J'adore radishes with butter and salt. It's simple in concept yet deliciously complex, comforting and oh so French in flavor. The classic way is to grab a fresh radish by it's stem, dunk it in softened butter and then roll it in a bit of sea salt. It really doesn't get any better. Or does it? While dining at Chef Daniel Humm's Nomad Hotel restaurant, in New York a few weeks ago, I was served up a wooden block of vibrant red radishes partially coated in a shell of creamy butter and with an accompaniment of fleur de sel for dipping. Butter and radishes were so preciously presented in one easy, glorious bite. Brilliant. So obviously my inner Francophile was just dying to try it for myself. And I must say, my entertaining game has been stepped with that extra bit of . . . I dunno, je ne sais quoi.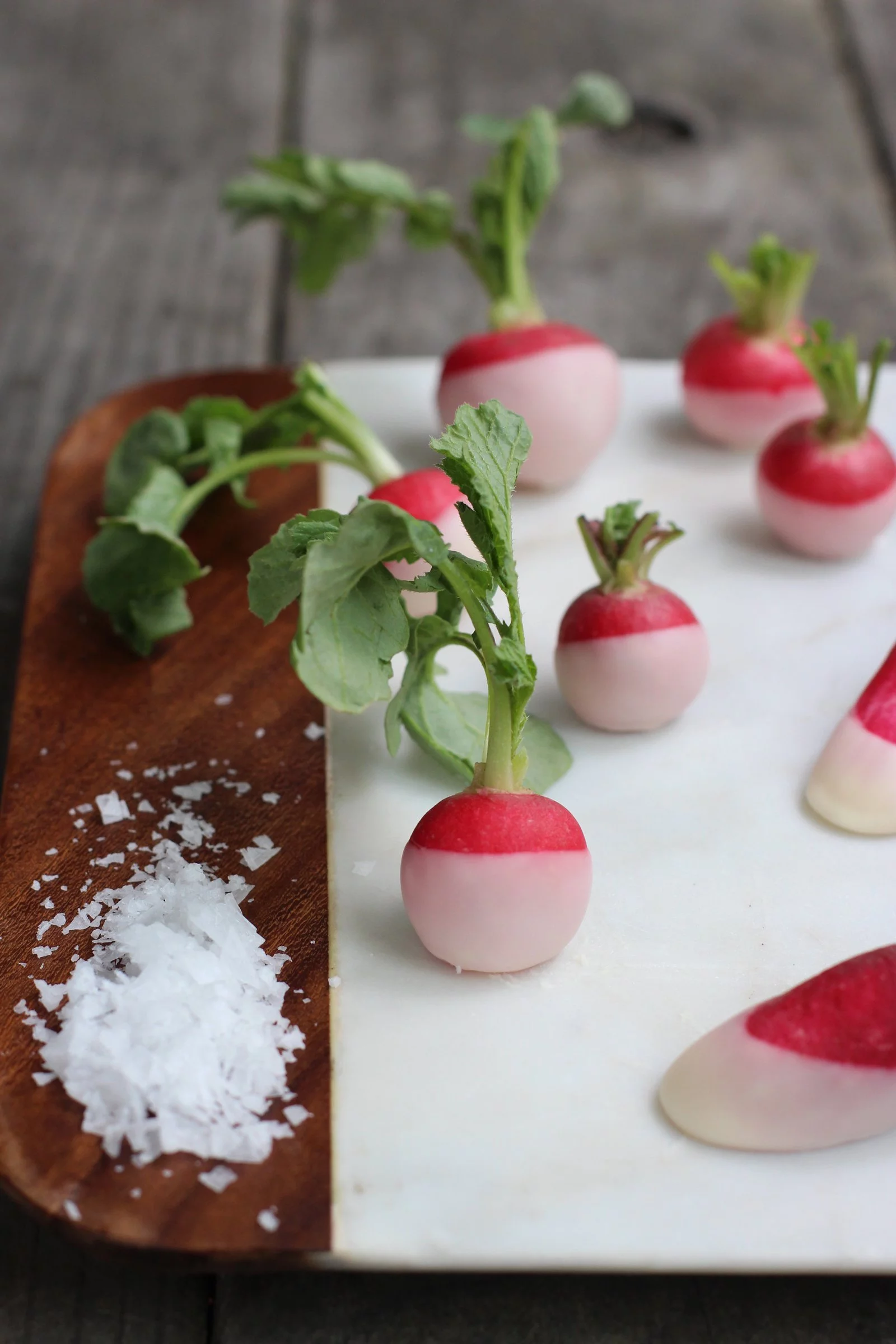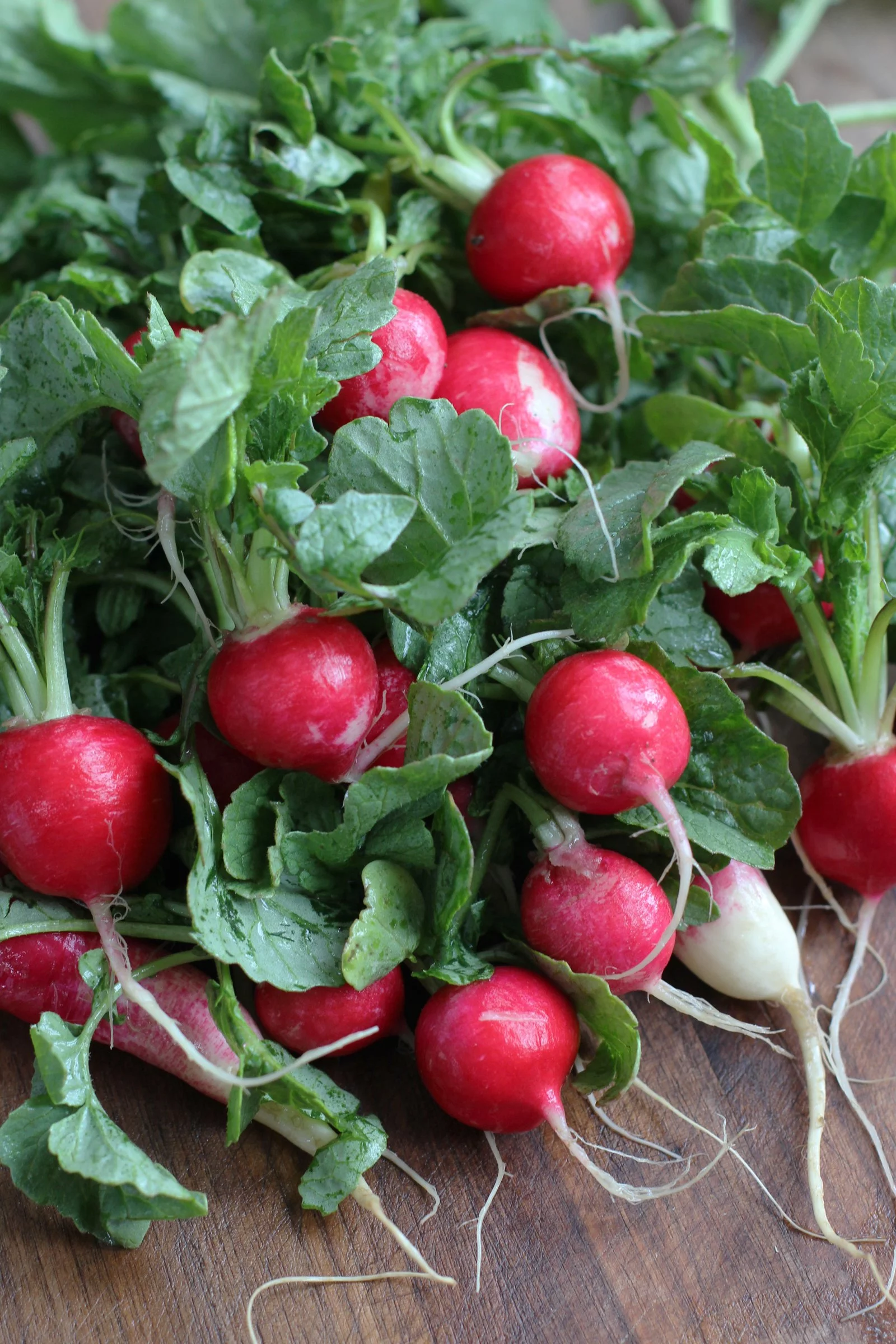 I don't discriminate with it comes to radishes but French breakfast are a bit more mild if you don't love the bitterness of traditional summer radishes. Wash them well and trim the roots. I like to alternate trimming the bottoms straight across and at a diagonal so they can lay flat at different angles. Dry them with a paper towel and chill in the fridge until you're ready to coat them.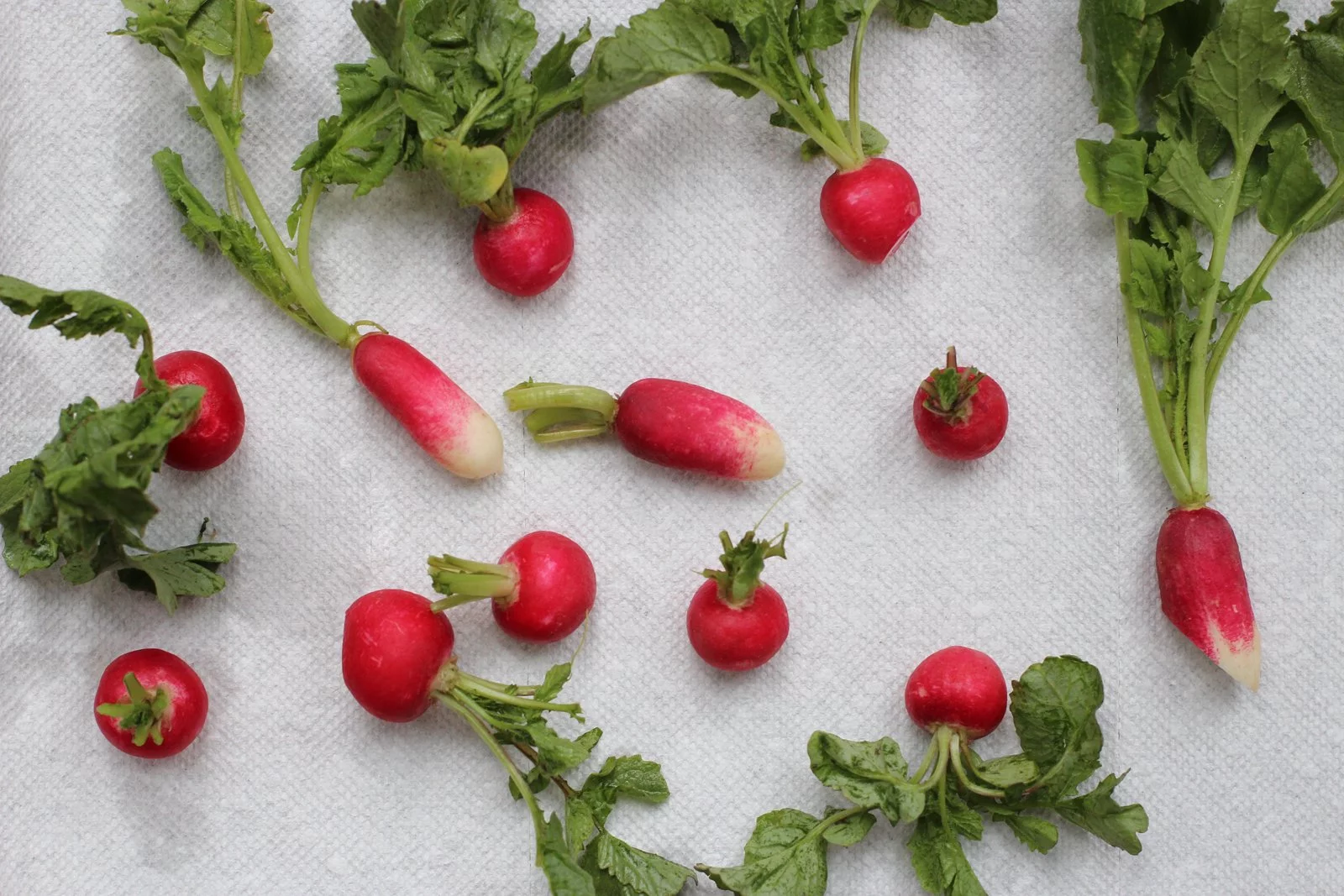 The key is fresh, crisp radishes, high quality unsalted butter and the best sea salt you can find. And the trick to this is tempering the butter. Sounds intimidating, right? It's not. To be honest, I skip the whole double boiler thing and simply put the entire stick of butter into a bowl and zap it in the microwave for about 25-30 seconds. You want the butter to be less than halfway melted so watch it carefully. Whisk it all together and you'll get a silky, opaque consistency. And there you have it, you've got tempered butter. If the butter is translucent, you've overheated it. You can let it all set up again and pop it back in the microwave for less time.
Take the radishes out of the fridge. Make sure they are completely dry before dipping them in the butter. If the butter starts to get gloopy, pop it back in the microwave for about 5 seconds to smooth it out.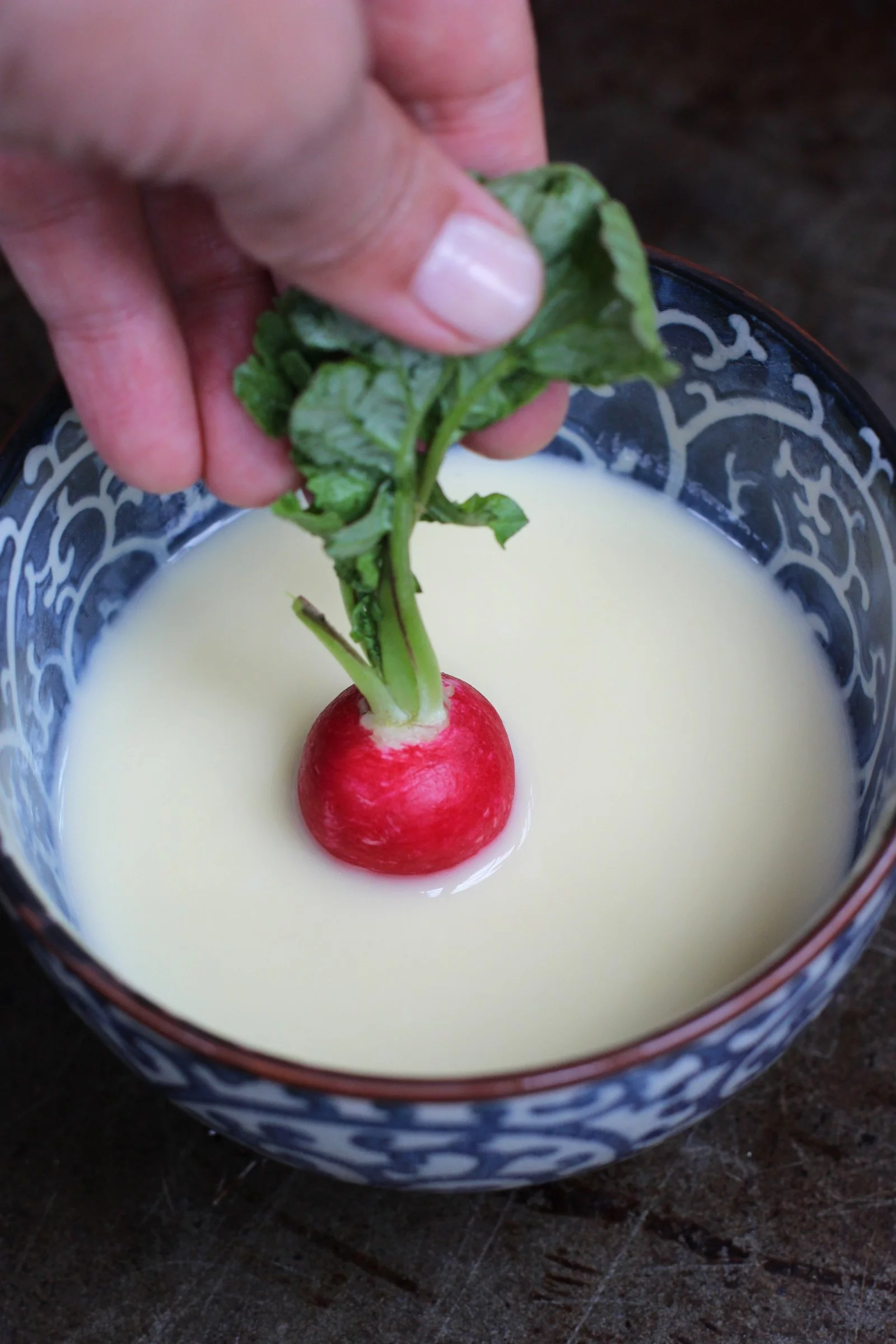 Lay the dipped radishes on a Silpat or baking sheet lined with wax paper.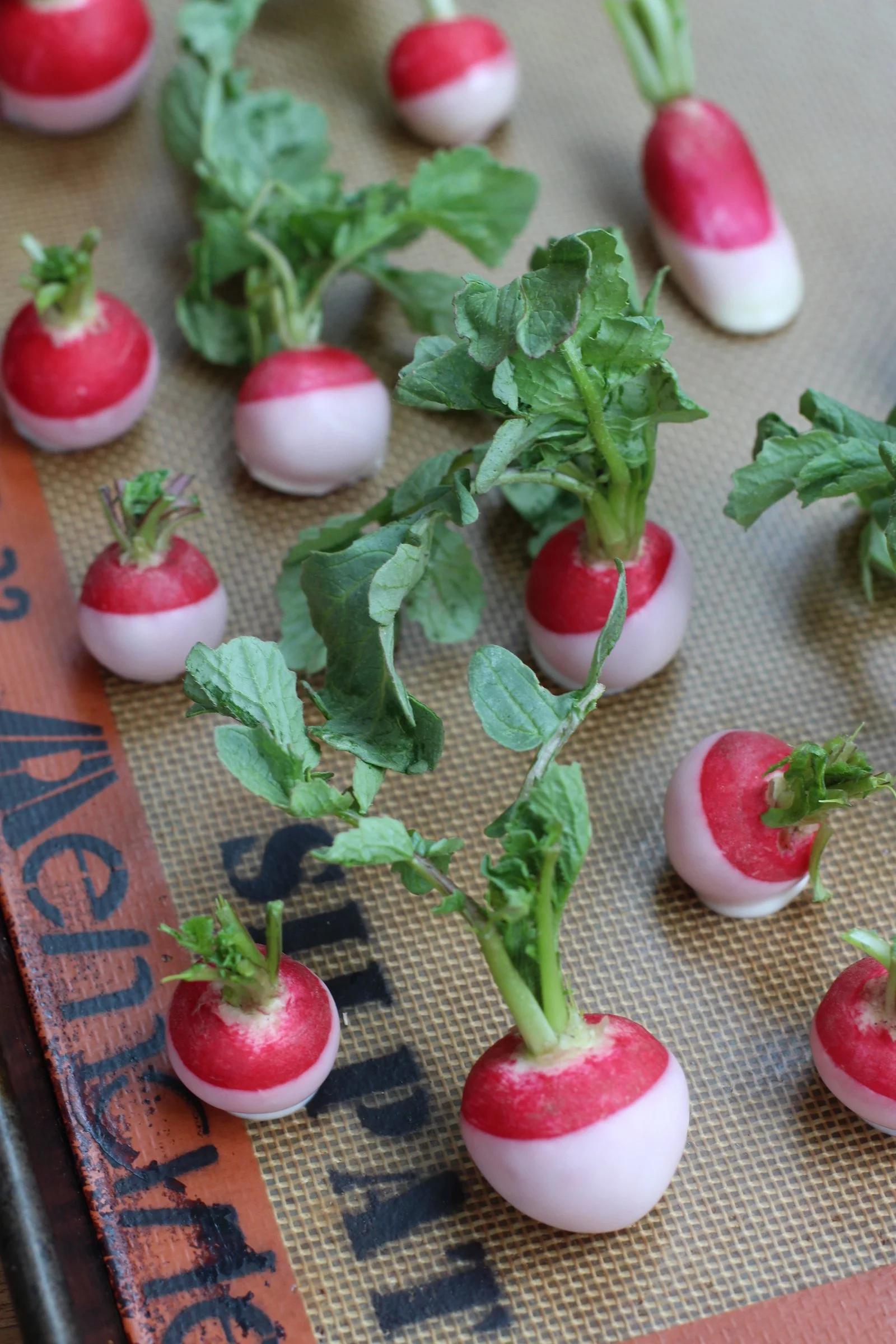 Let them set in the fridge until you're ready to serve. And don't forget the salt!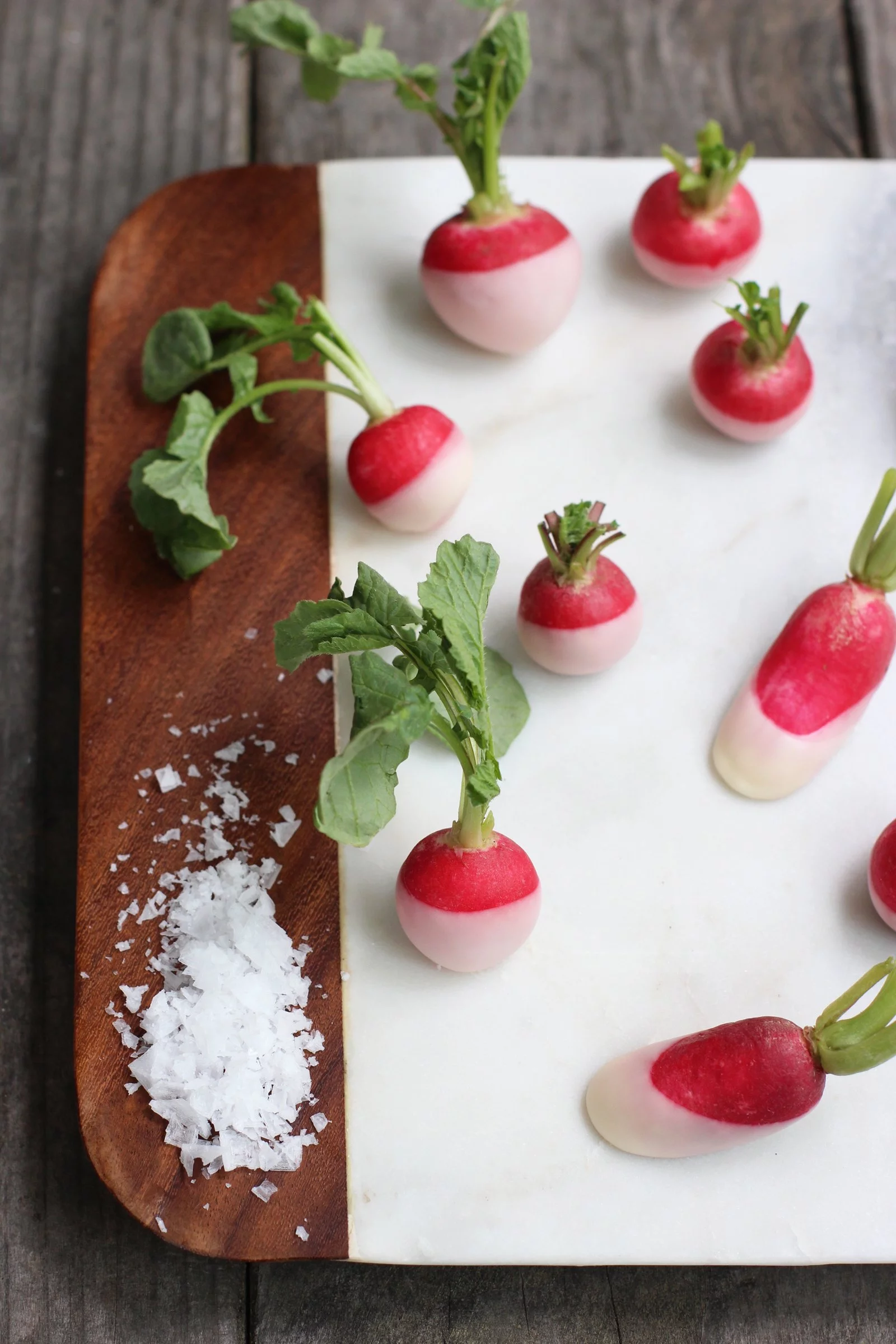 (images by HonestlyYUM)
BUTTER DIPPED RADISHES

Ingredients:

1 stick of unsalted, good quality butter
3 bunches of assorted radishes
fleur de sel or Maldon Sea Salt

Directions:

Rinse the radishes thoroughly with cold water, removing all dirt and sand. Trim the roots and some of the stalks. Dry and keep in the refrigerator until ready to dip.
In a small bowl, microwave the stick of butter for about 25-30 seconds – or until the butter is barely half melted.
Remove from microwave and whisk until the consistency is smooth and thick and the color is pale.
Dip the radishes into the tempered butter and place onto a baking sheet with wax paper or a Silpat.
Let the radishes set, on the baking sheet, in the refrigerator until ready to eat.
Serve with fleur de sel or flake sea salt for dipping.
Enjoy!