I can't tell you how excited I was when the opportunity presented itself to visit Miette's kitchen in Oakland where they make all their sweet treats. I've been a fan of Miette for a long time and anytime I visit the Ferry Building in San Francisco, I always pick up a couple macarons. Okay, more than a couple. I got a behind-the-scenes peak of their kitchen where they make everything from cakes to caramels. Meg, owner and founder of Miette, whipped us up a batch of fleur de sel caramels (recipe below!). Meg is such a professional in the kitchen and all her desserts are so perfect, in both form and flavor, which is why it came as a surprise to find out that she has no formal training. After a long stint in the corporate world, Meg decided to pursue her passion of making cakes and gave herself 6 months to get her business up and going. What started as a booth at the Ferry Building farmer's market turned into a successful business with four locations just in the Bay Area alone! If you don't live in the Bay Area, don't worry you can buy the Miette cookbook online and make some treats for yourself or order some of Miette's amazing cookies online.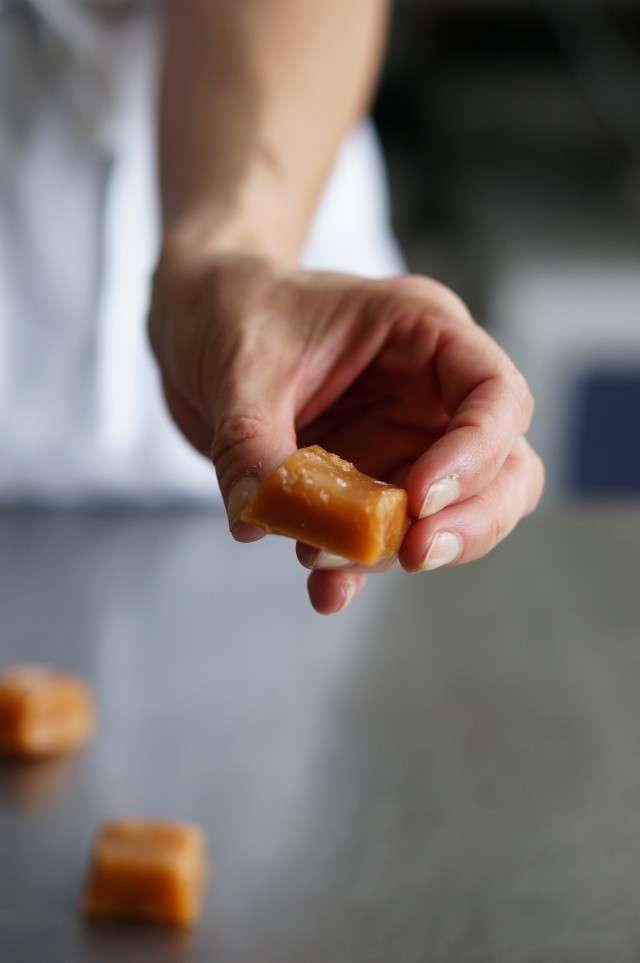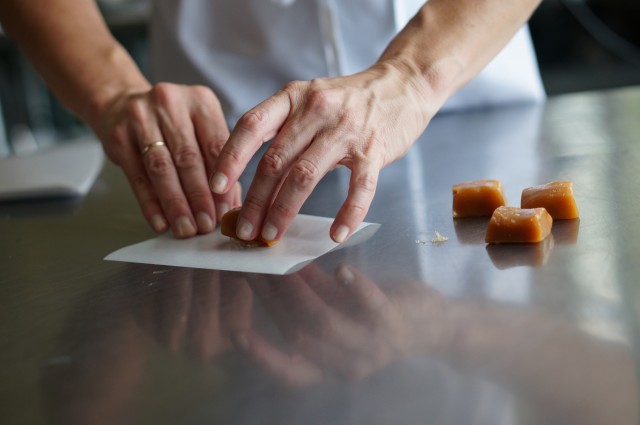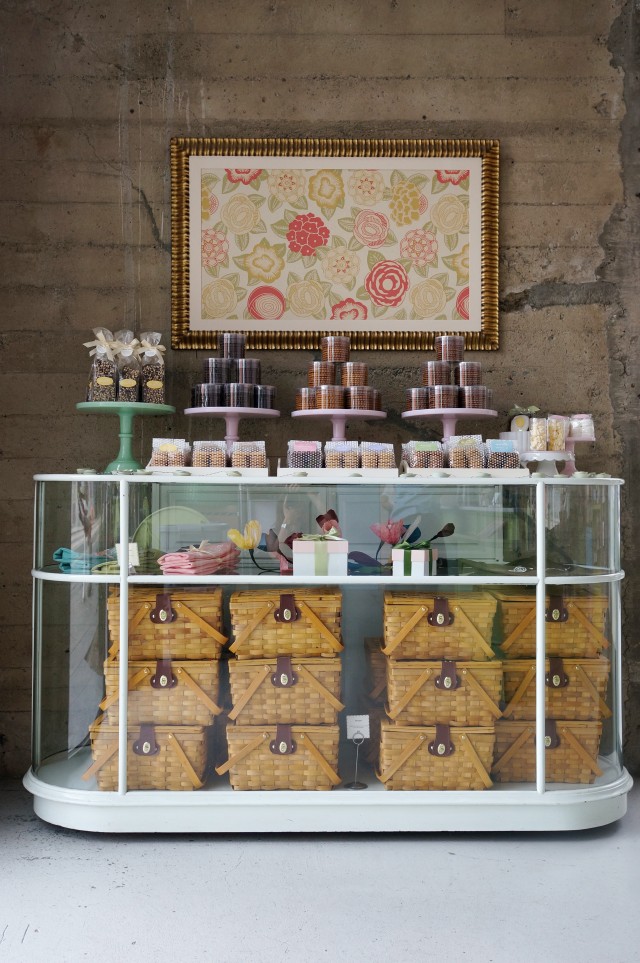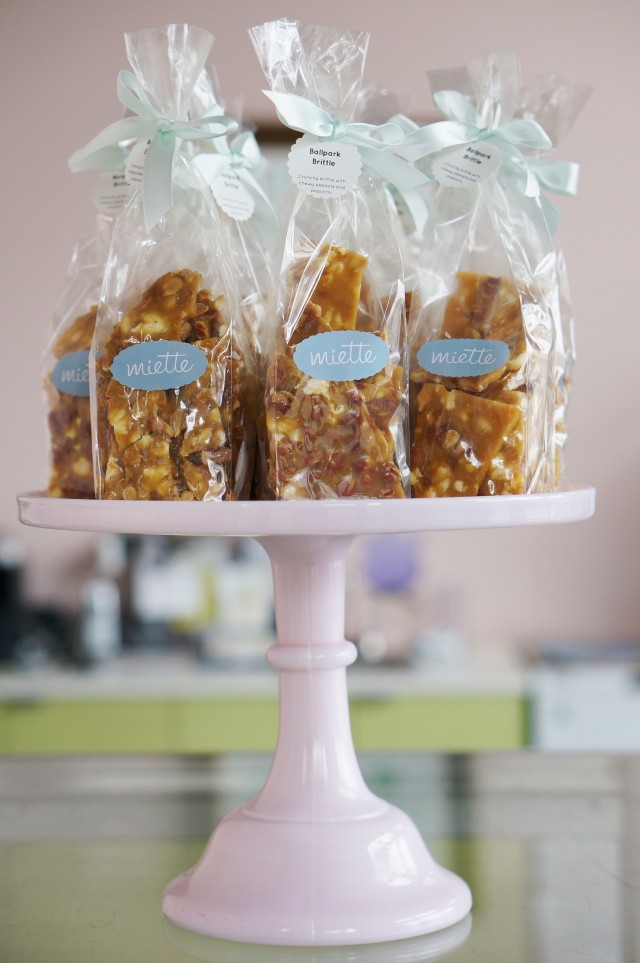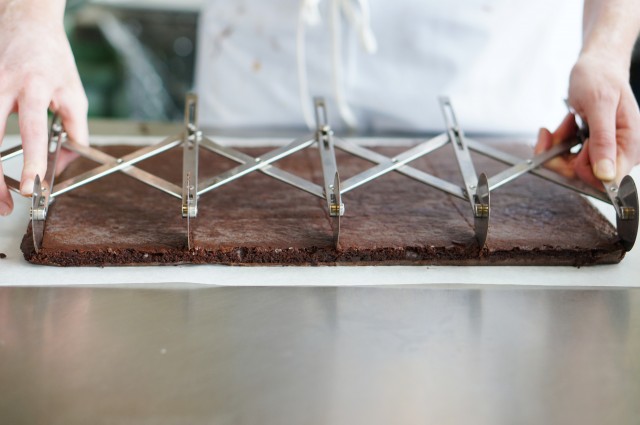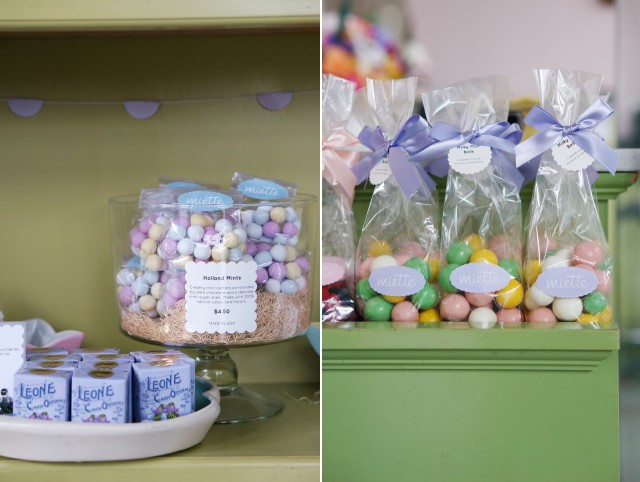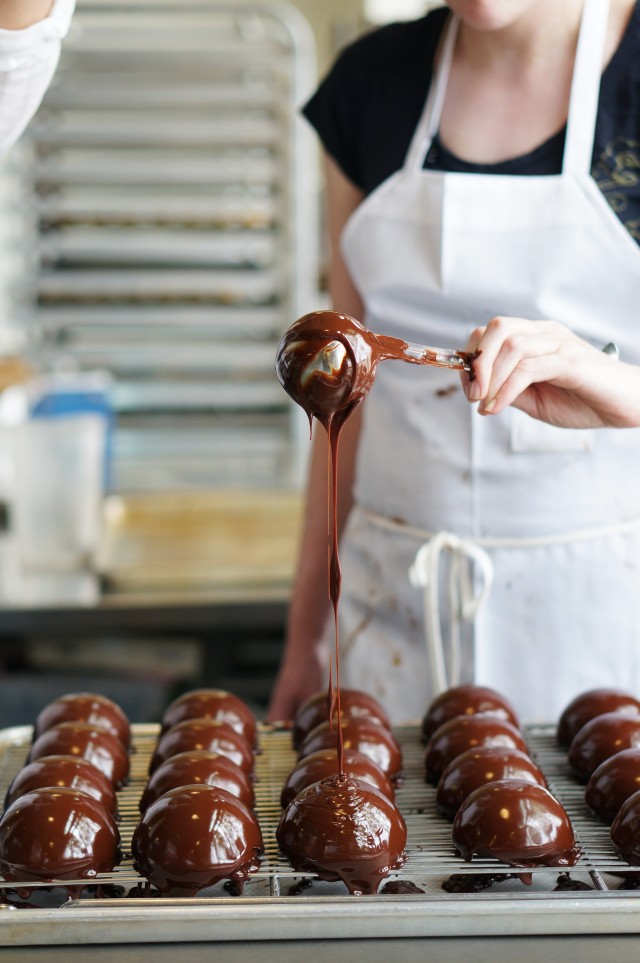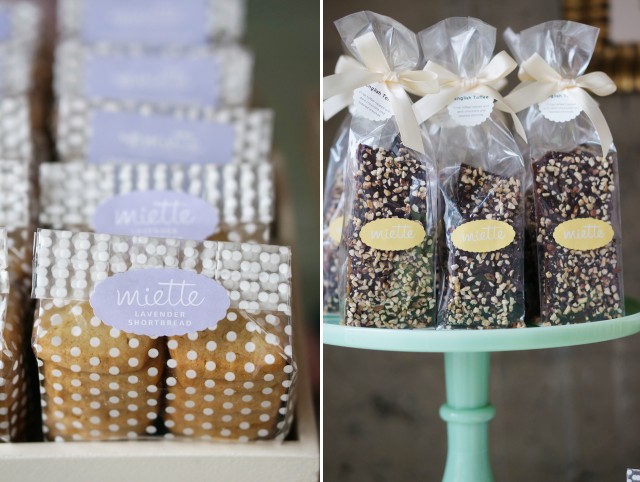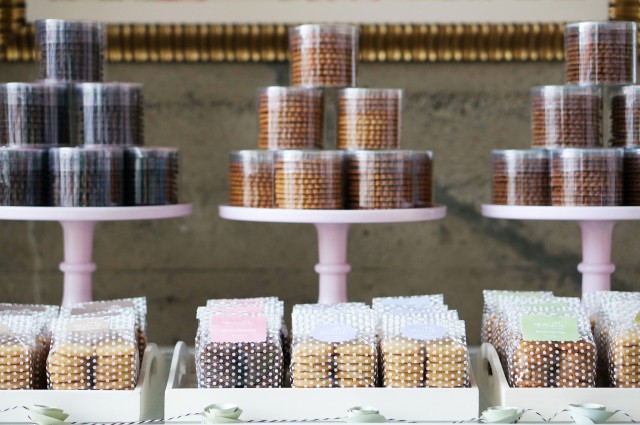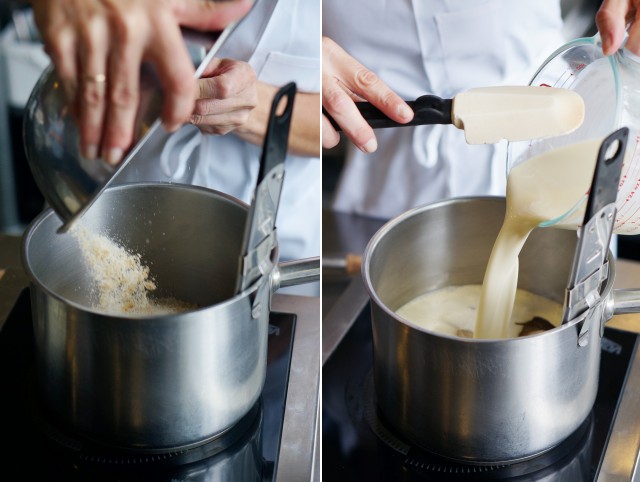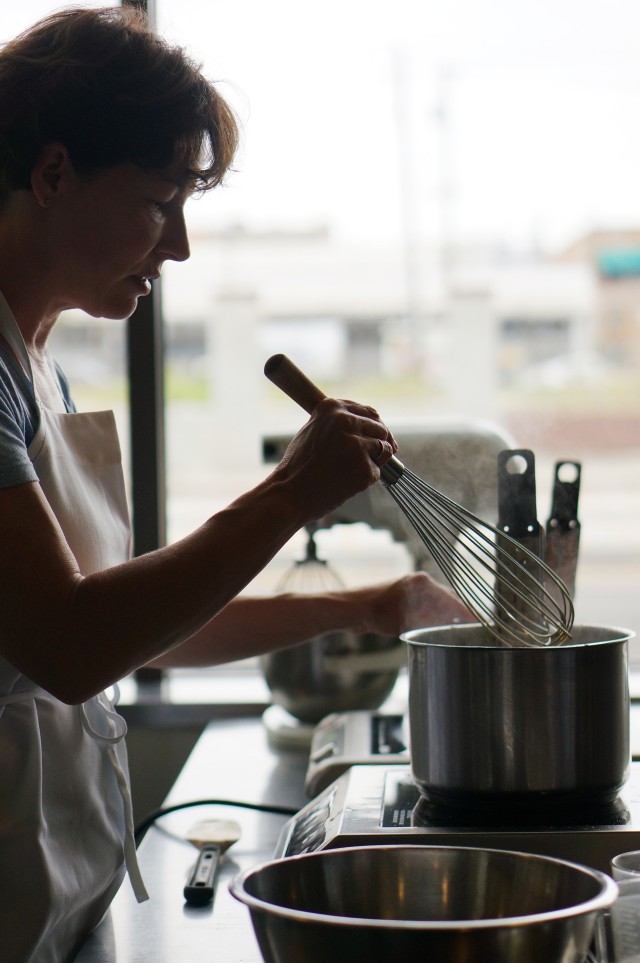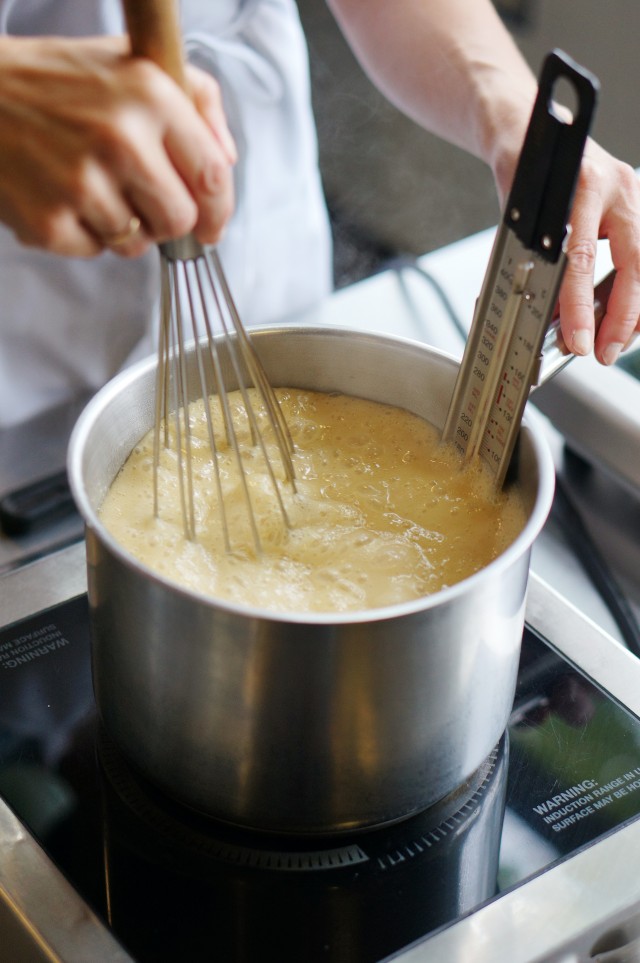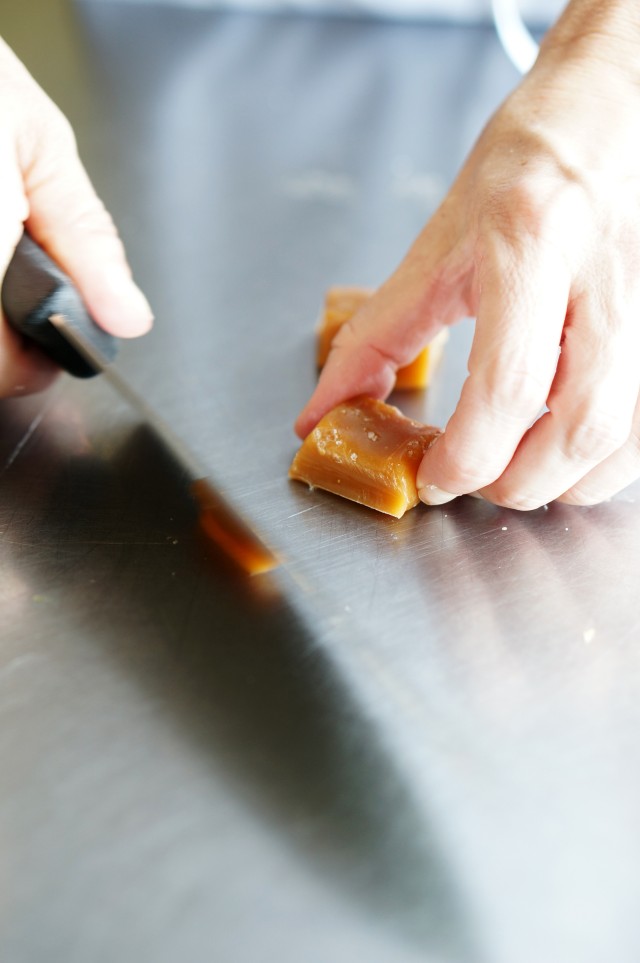 FLEUR DE SEL CARAMELS

Ingredients:

1 ½ cups heavy cream
1 ¼ cups whole milk
2 cups (14 ounces) granulated sugar
1 ¼ cups (10 ounces) firmly packed light brown sugar
1 teaspoon kosher salt
2 tablespoons unsalted butter
½ cup light corn syrup
3 tablespoons water
fleur de sel for sprinkling

Directions:

Butter the bottom and sides of an 8-inch square baking dish or casserole. Line the bottom with a piece of parchment paper long enough to extend over to opposite sides by about 3 inches, to use later as handles, if needed.
In a medium saucepan, combine the cream, milk, granulated and brown sugars, salt, butter, corn syrup, and water. Clip a candy thermometer to the side of the pan. Place over medium-low heat and cook, whisking constantly, until the mixture reached 246 degrees F, 30 to 40 minutes.
When the caramel reaches the correct temperature, remove it from the heat and pour into the buttered pan. Be careful because the caramel is very hot. Let the caramel cool for 15 minutes and sprinkle with fleur de sel, then let cool completely to room temperature. Wrap the baking dish in plastic wrap and refrigerate the whole pan for at least 30 minutes and up to 1 ½ hours to help it set up and make cutting the caramels easier.
To remove the caramel from the pan, loosen the sides by running the tip of a knife around the edges. Lift the caramel out using the parchment paper "handles". If it resists, warm the bottom of the pan briefly with a kitchen torch or over a stove burner. Turn the caramel out onto waxed paper on a cutting board. Measure 1-inch intervals along the sides, and then cut the caramel into 1-inch squares. Peel the caramel squares from the parchment paper.
Wrap each caramel in a square of waxed paper or candy cellophane and twist both ends. Store in an airtight container for up to 10 days.
(images by HonestlyYUM)