Would you believe me if I told you the inspiration for this cake was a kit kat bar? Well, it's true. And yes, green tea kit kat does exist and it's my favorite candy, ever. This is a chiffon cake based on a recipe from the one and only Tartine in San Francisco and is super light, sponge-y, moist and airy. It's just lovely. I added two tablespoons of match powder that gave it an intense fragrant green tea flavor. As you may know, I recently got engaged and I have been trying to get on top of wedding planning duties. At first, I was against having a wedding cake– I'd rather have a fun dessert. To be honest, I've never really liked wedding cake. But after making this, I realized that my wedding cake doesn't have to be a heavy and dense and covered in fondant (bleh). I love the idea of serving a super light cake with an equally light whipped cream frosting. So who knows, maybe this will be my wedding cake!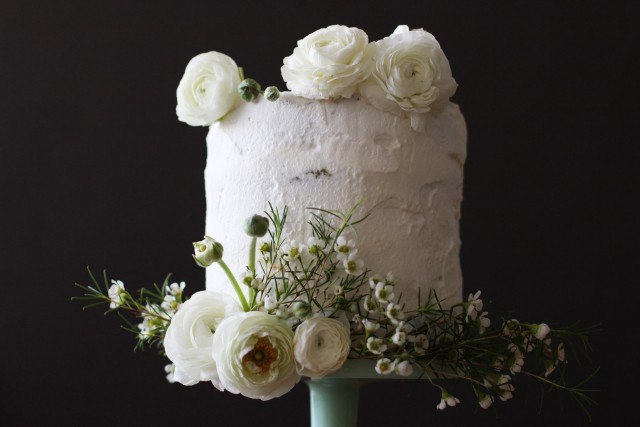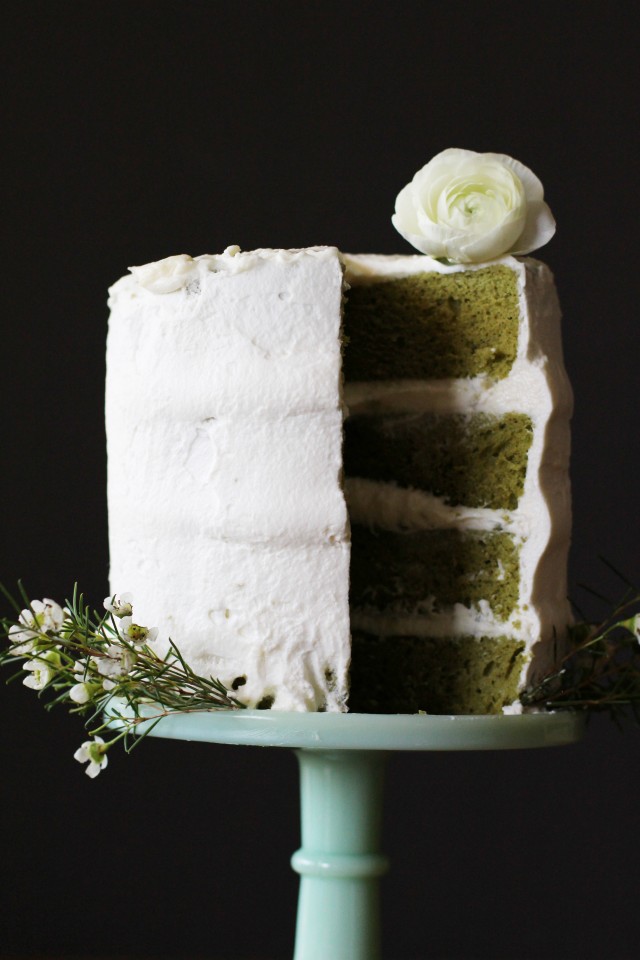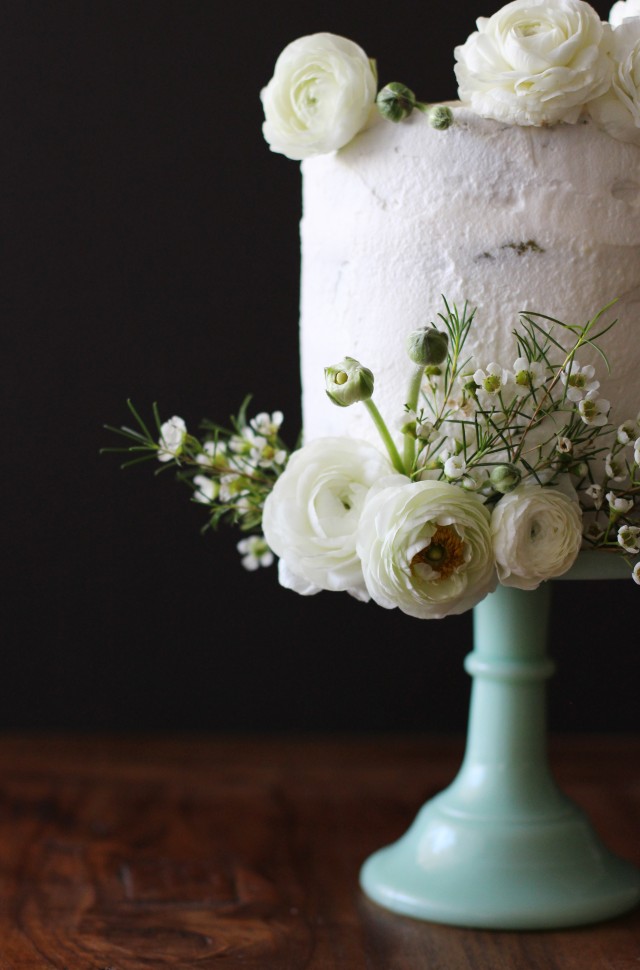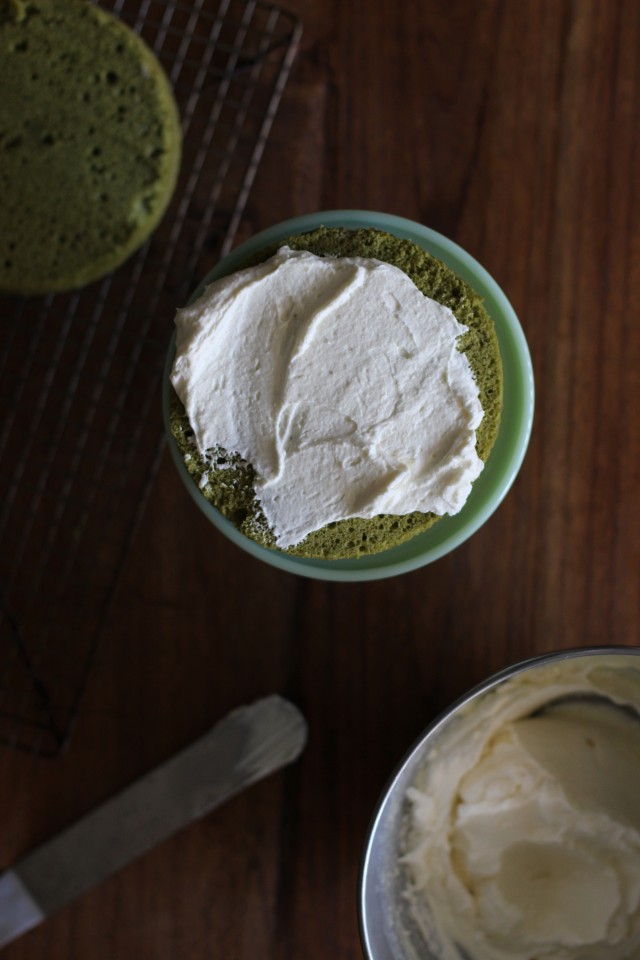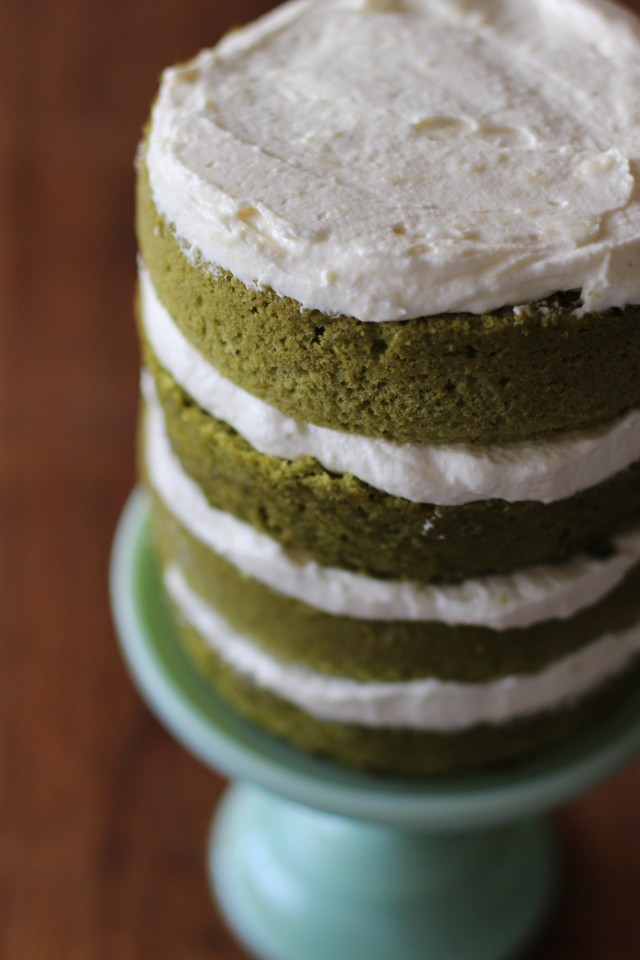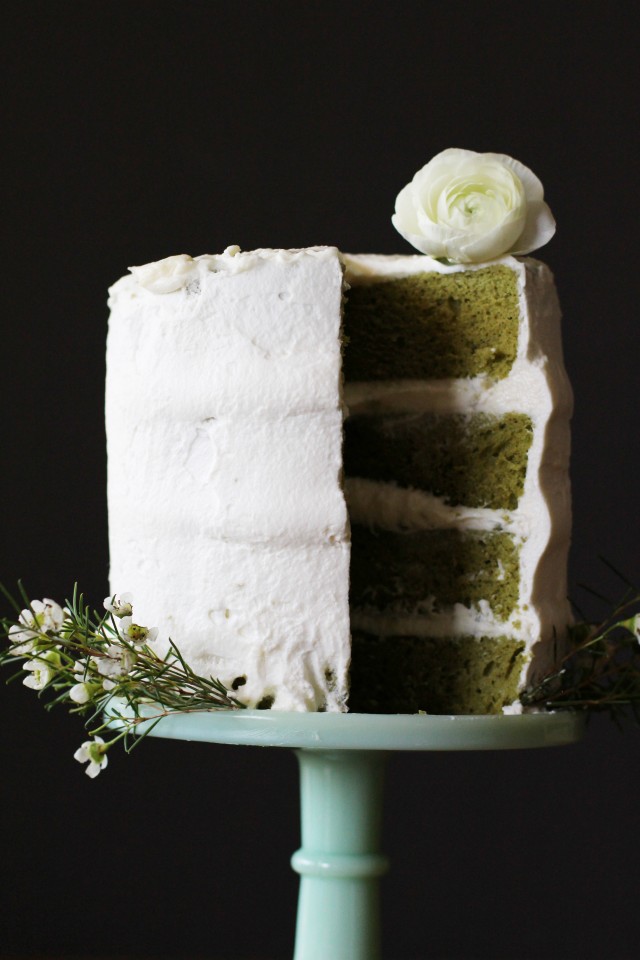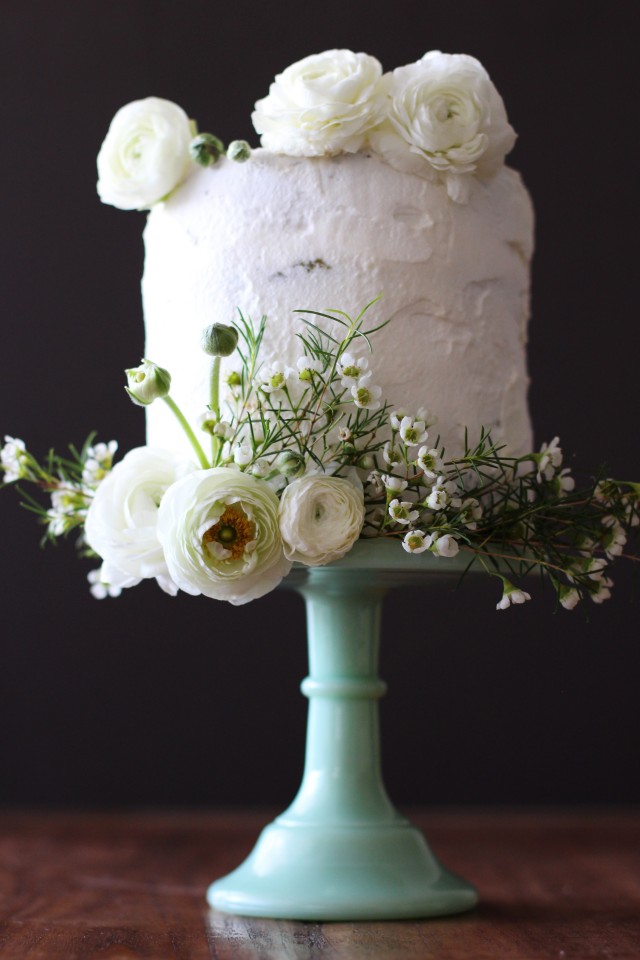 MATCH GREEN TEA AND WHITE CHOCOLATE WHIPPED CREAM FROSTING

Ingredients:

2 1/4 cups of all purpose flour
2 teaspoons of baking powder
1 1/2 cups of caster sugar
3/4 teaspoons of salt
1/2 cups of vegetable oil
6 large egg yolks
3/4 cups of water
10 large egg whites (about 1 1/3 cups)
2 tablespoons of good quality matcha powder
2 cups of chopped white chocolate (do not use chips)
4 cups of cold heavy cream
2 6-inch spring form pans or 1 10-inch spring form pan

Directions:

Preheat the oven to 325 degrees.
Line the bottom of two 6 inch spring form pans with parchment paper or 1 deep 10-inch pan with parchment paper.
Sift the flour, match powder and baking powder in a large mixing bowl. Add 1 1/4 cups of sugar, add the salt and whisk to combine.
In a small bowl, whisk oil, egg yolks and water together.
Add yolk mixture to the flour mixture and whisk quickly until smooth.
Place the egg whites in a very clean mixing bowl. I usually wipe down the bowl and the whisk attachment with a paper towel soaked in white vinegar. Using the mixer fitted with a whisk attachment, beat on medium speed until frothy and beat until whites hold soft peaks. Slowly add the remaining 1/4 cup of sugar and beat on medium-high speed until whites hold firm, shiny peaks.
Using a rubber spatula, scoop about 1/3rd of the whites into the yolk mixture and gently fold to lighten the batter. Fold in the remaining whites just until combined. Be careful not to over mix and deflate the whites.
Pour the batter int he prepared pans, smooth the top with a spatula. Bake until a cake tester comes out clean, about 50-60 minutes.
Allow the cakes to cool in the pan on a wire rack. Unmold by running a thin knife along the sides to loosen the pan. Invert and peel off the parchment. Cool to room temperature and split the each cake into 2 layers or your one cake, if using a 10 inch cake pan, into 2 layers. The cake can stay wrapped tightly in plastic wrap in the refrigerator for up to 4 days and in the freezer for 1 month.
To make the white chocolate whipped cream, fill a medium pot halfway with water and bring water to a boil. Lower to a simmer and place a bowl over the pot (without it touching the water) to create a double boiler. Add the chocolate to the bowl and stir with a wooden spoon constantly until melted. Alternatively you can melt the chocolate in a microwave by heating it for 30 seconds and stirring with a spoon. The chocolate won't be fully melted but then heat in 15 second intervals until almost melted. Continue stirring the chocolate until the residual heat melts the rest of the chocolate. Allow the white chocolate to cool to room temperature.
In a stand mixer fitted with the whisk, add 2 cups of cold heavy cream into the bowl and begin whisking on medium high speed until the whisk begins to create tracks in the cream. Slowly add the chocolate in with the mixer running. Add the remaining cold cream and whisk until the cream holds stiff peaks. Be careful not to over-whisk into thick lumpy cream!
Place the first layer of cake down and frost the top with white chocolate whipped cream and repeat until all layers have the whipped cream in between. Then frost the entire outside of the cake with the rest of the whipped cream.
Decorate with flowers.
(images by HonestlyYUM)