For me, when it comes to comfort food, nothing epitomizes comfort food more than a large pot of hot and spicy carne adovada. Carne adovada is pork braised in chiles and a mixture of spices of cumin, coriander and cinnamon until its falls apart and soaks up even more of that delicious chile sauce. I make this dish all the time. It's one of those great throw-it-in-the oven-and-forget-about-it-dishes. It simply requires a bit of prep work, but the work is worth every minute and makes a huge difference. For starters, throw away that bottle of chile powder. NOW. As long as you have a blender, making a chile sauce from dried chiles is really simple and totally worth the extra effort. Second, I'm a big fan of using whole spices and grinding them yourself. Sure, if you have some ground cumin or coriander you can use it, but consider switching to whole spices. Not only do they last longer, but the flavor is more complex and intense. I love eating the carne adovada with some warm tortillas that I simply throw over an open flame for a few seconds on each side and creamy avocados. This is one of my all time favorite dishes and I hope you make it soon!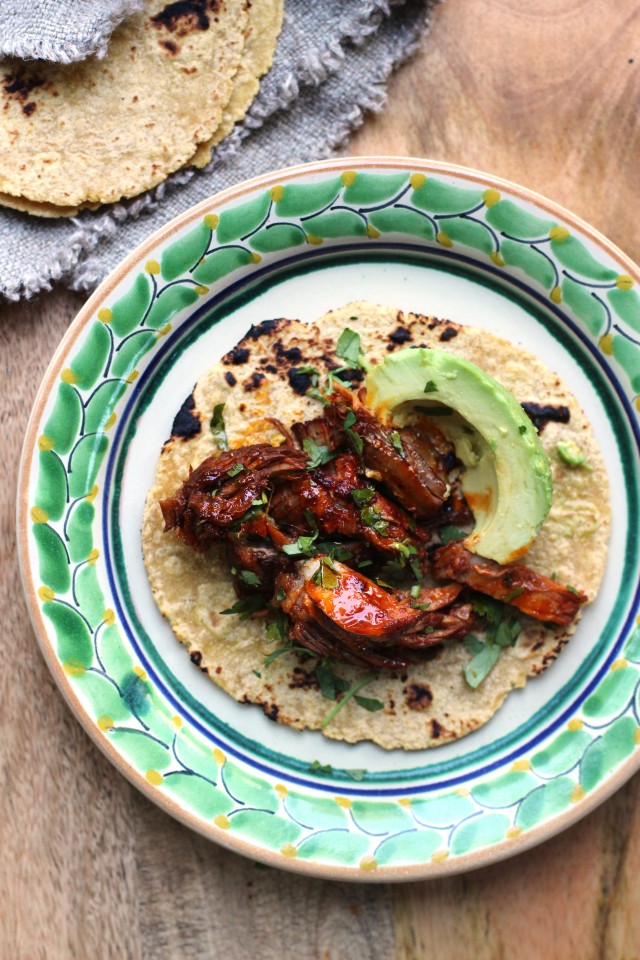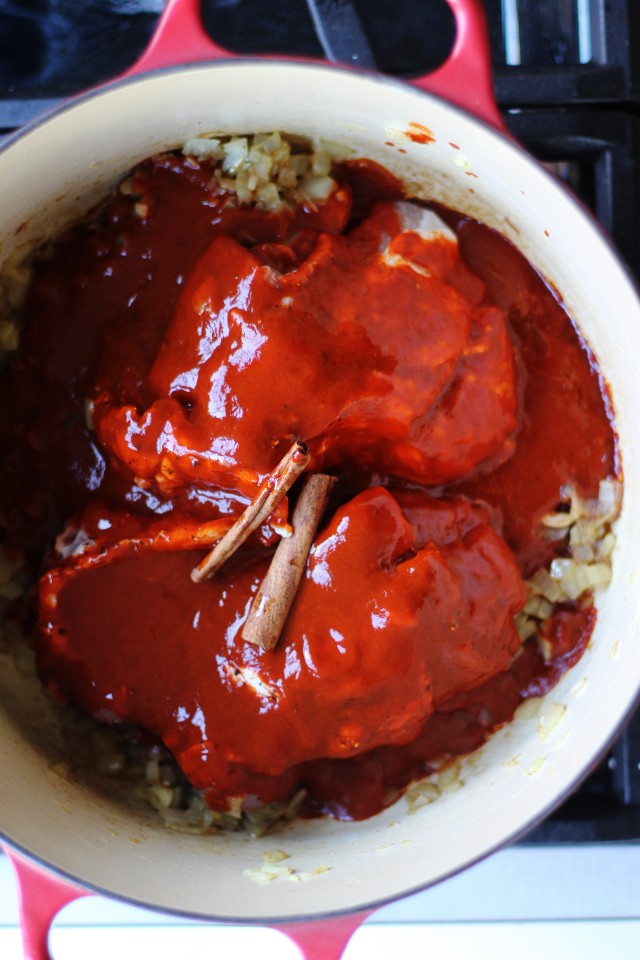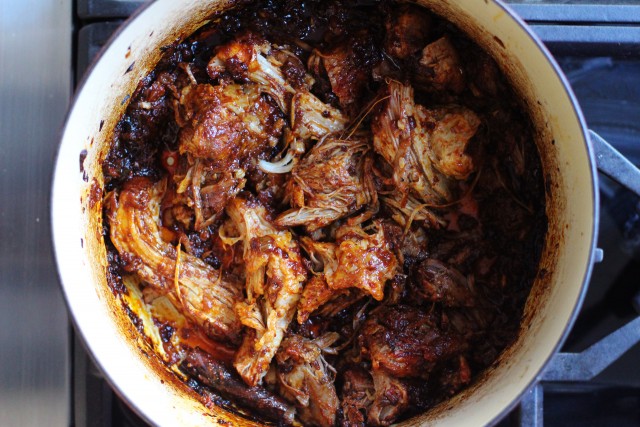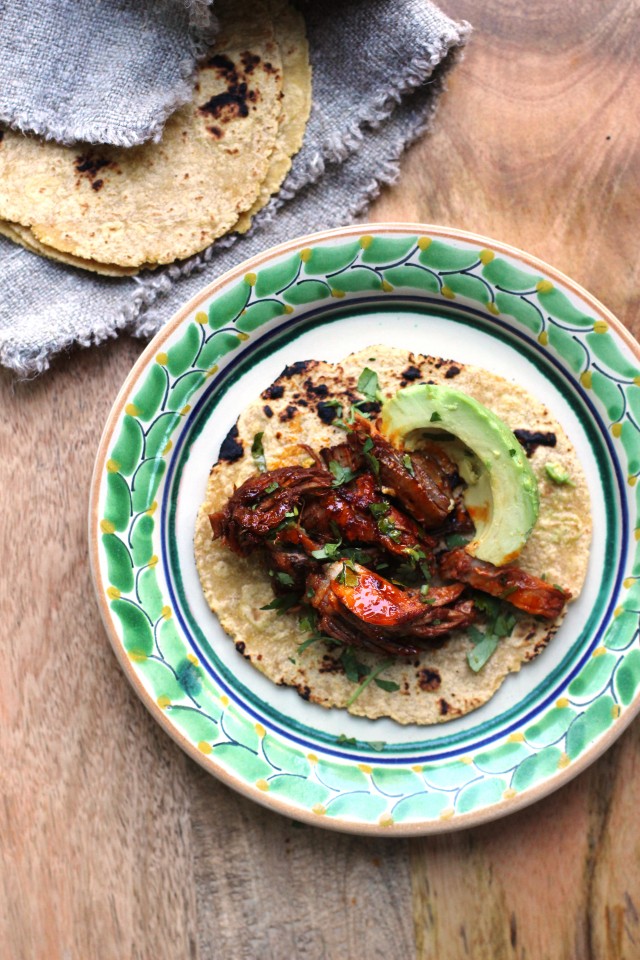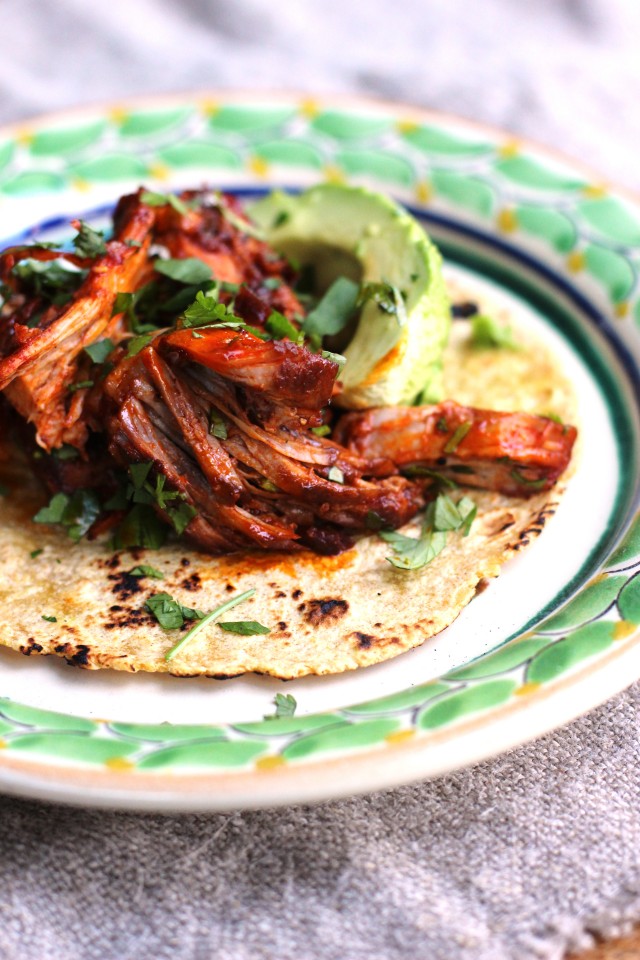 CARNE ADOVADA

Ingredients:

3 pounds of boneless pork shoulder
6-8 New Mexico dried chiles
1 large onion, finely diced
5-7 cloves of garlic, finely minced
1 teaspoon of whole cumin
1 teaspoon of whole coriander
2 cinnamon sticks
Sea or kosher salt
Freshly ground black pepper
Vegetable oil
Corn tortillas, to serve on the side
Avocados, to serve on the side
Cilantro, for garnish

Directions:

Preheat the oven to 350 degrees.
In a cast iron skillet, toast the chiles for a few minutes on medium heat until fragrant and pliable.
When the chiles are cool enough to handle, remove the stems and seeds and place a small pot and cover with water and bring to a boil.  Simmer for about 5 minutes.
In a small pan toast the cumin and coriander for a few minutes until fragrant, but be careful not to burn them.  Transfer them into a spice grinder and grind to a powder or grind in a mortar and pestle.
Transfer the chiles and about one cup full of the chile water into a blender and blend until smooth.
Heat a couple tablespoons of oil in pan. Add the onions and add a hefty pinch of salt and some pepper over the onions, and after the onions are soft and translucent, add the garlic, chile puree, spices and cinnamon stick.  Simmer for another 5 minutes.
Season the pork shoulder liberally withs salt and pepper and place into a large Dutch oven. Pour the chile puree mixture over the pork shoulder. Cover with foil tightly and place the lid on top.
Roast in the oven for about 1.5 to 2 hours until the meat is tender and begins to fall apart.
Shred the pork leaving large chunks and serve with a side of warm tortillas and avocados.
(images by HonestlyYUM)