I'm a savory breakfast kinda girl. I always love the idea of pancakes and french toast but end up usually making some kind of egg dish. This recipe is the best of both worlds: light fluffy yeasted waffles filled with melted cheddar and salty bacon. First, let me tell you that you haven't had waffles until you've had yeasted waffles– they'll change your whole breakfast game. I've been making yeasted waffles exclusively ever since I first made them. But second, this dish is everything you love about breakfast all rolled up into one runny, sticky delicious mess. Trust me, this is one is worth getting a waffle iron for if you don't have one!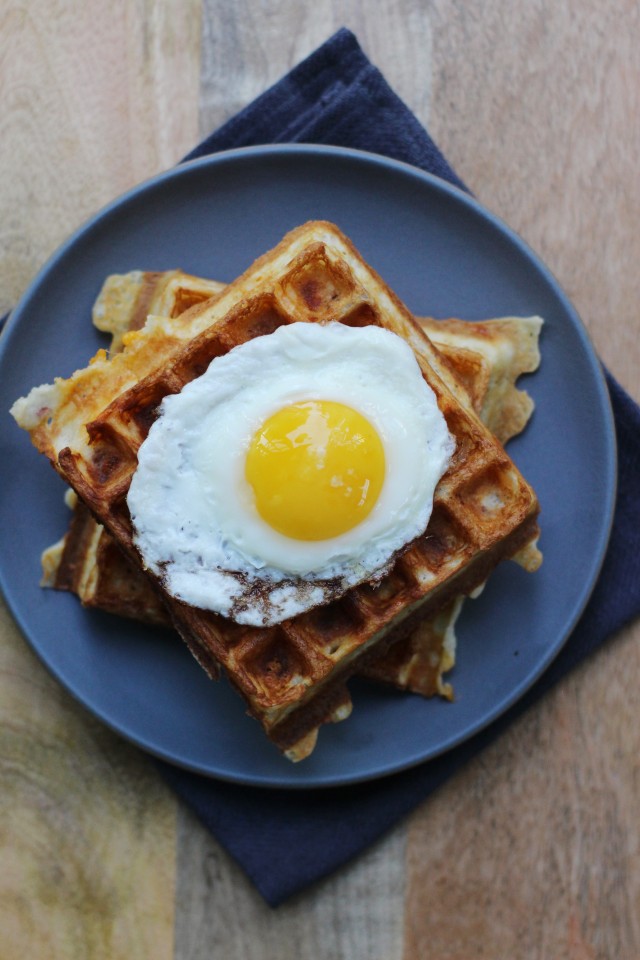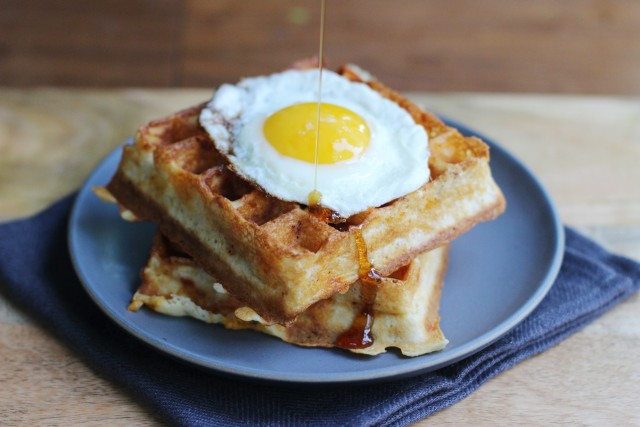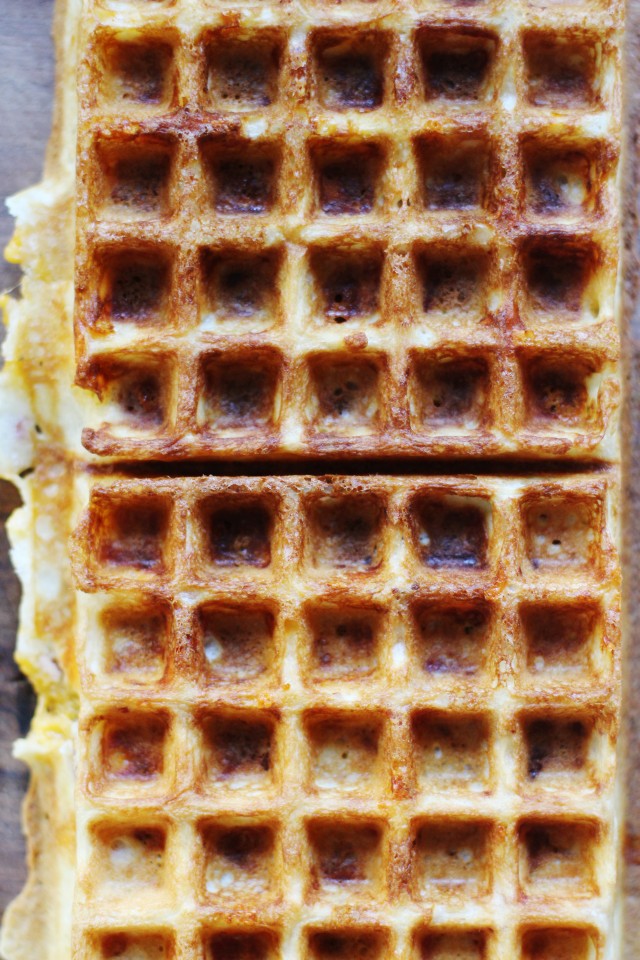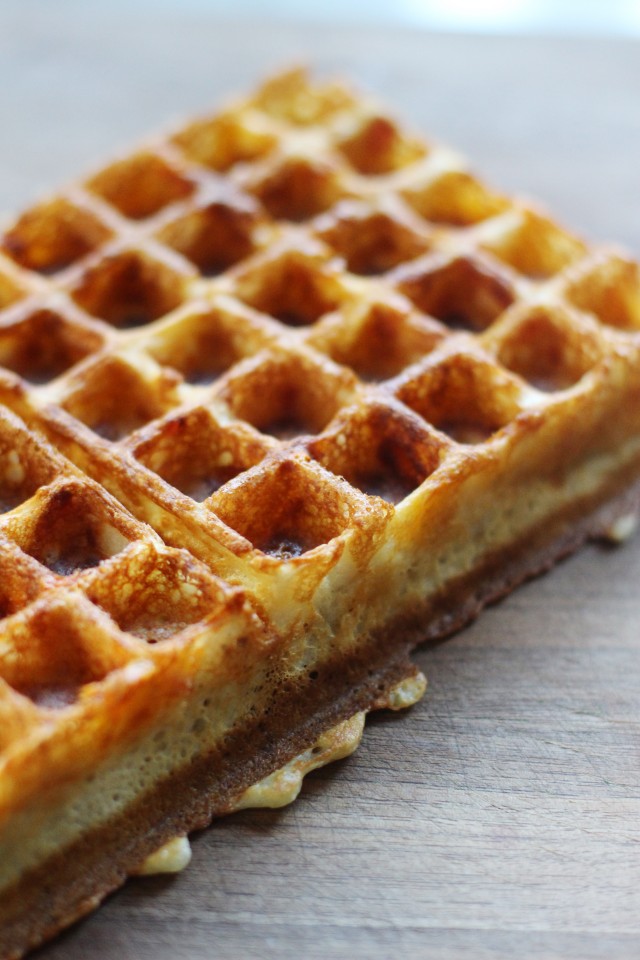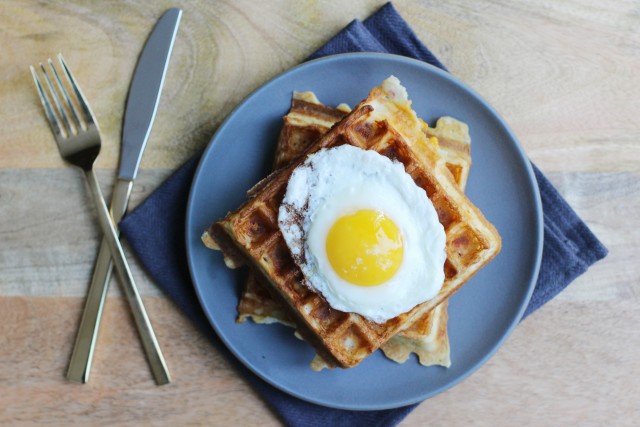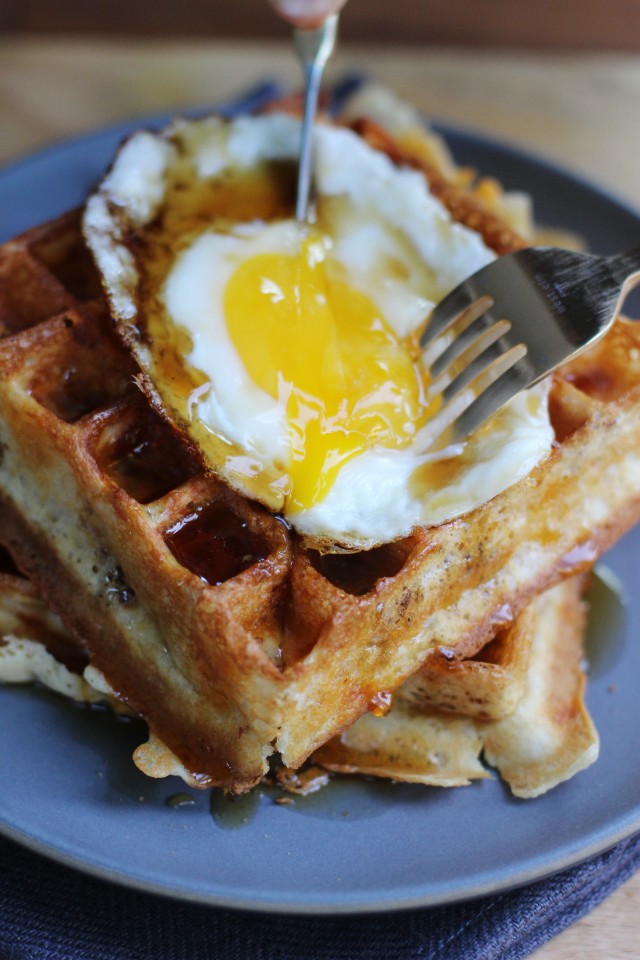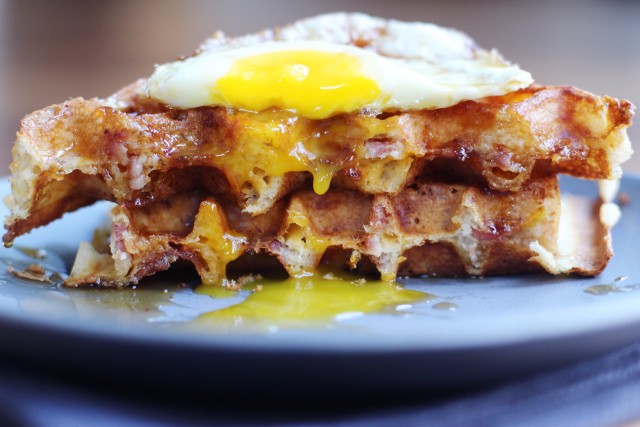 CHEDDAR & BACON YEASTED WAFFLES

Ingredients:

1 package of dry yeast (or 2 1/4 teaspoons)
1/2 cup of warm water
2 cup of whole milk, room temperature
2 cups of all-purpose flour
2 tablespoons of sugar
1 teaspoon of salt
1/2 cup of melted unsalted butter (or 1 stick)
2 eggs (plus more eggs to top the waffle with)
1/4 teaspoon of baking soda
1 cup of shredded cheddar cheese
5 slices of bacon, cut into thin slices and cooked until browned and crispy
Kosher or sea salt
Maple  syrup

Directions:

The night before (or at least 2 hours before), dissolve the package of yeast with the warm water and whisk to dissolve in a large bowl. Add the milk, sugar, and salt.
Add the flour and whisk the mixture together.  There will be some lumps in your batter.
Add the melted butter and whisk the batter until smooth.  Cover with saran wrap and let it rest overnight or for 2 hours sitting on the counter if you are making it the same day.
After the batter has fermented, the batter should smell yeasty and look bubbly.  In a smaller bowl beat together the eggs and baking soda.  Add the egg mixture to the batter, whisking just until incorporated.  The batter will deflate into a thin batter.
Fold the shredded cheddar and bacon into the batter.
Grease a hot waffle iron with a little butter and pour about a cup of batter in.  The amount will vary depending on your waffle iron. Cook according to your waffle iron instructions. Mine takes about 4 minutes per waffle.
Fry an egg in a little butter and season with a little bit of sea salt.
Top the waffle with a fried egg and drizzle maple syrup over.
(images by HonestlyYUM)