I always hate when the holidays are over. This past Christmas was so special that I never wanted it to end. I got to spend a ton of time with my family and ridiculously adorable nephew and . . . got engaged to a man who makes my life shine. 2015, you already have a lot to live up to.
I will say I'm happy to be done with the constant indulgence of the holidays. I've been obsessed with making these bowls that I'll call Quinoa Vegan Bowls, but really, you could make a variation of this with any whole grain. They're incredibly filling and satisfying for something labeled "vegan." The key is to get a variety of flavors and textures in your bowl, but the recipe I have here today has all my favorites. The whole thing comes together with a creamy tofu sauce that is highly addictive. You'll be licking the jar clean!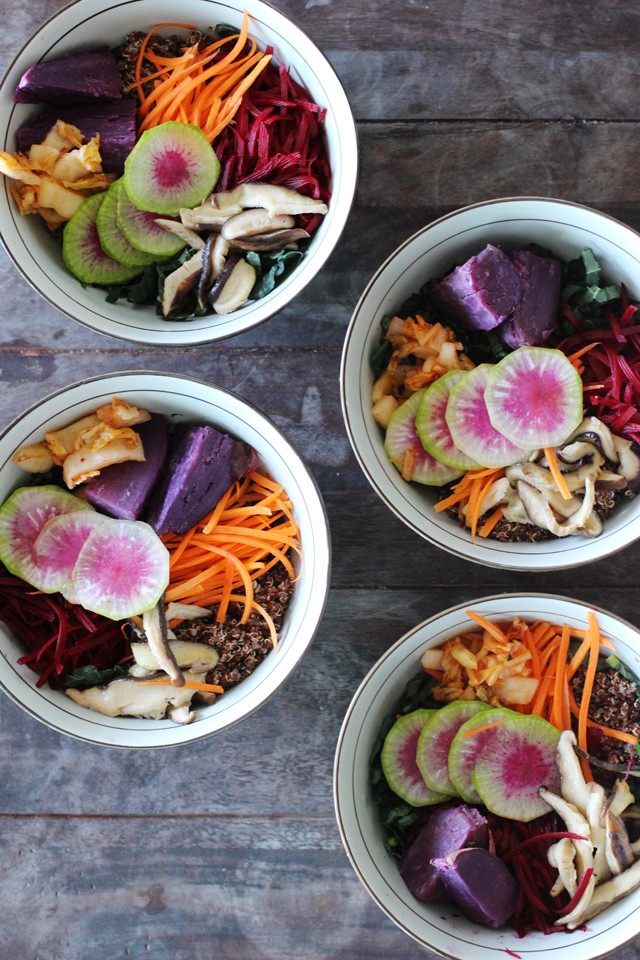 These are my favorites not just for their flavor but their health benefits. Quinoa is high in fiber and protein. Kale also has lots of fiber and protein and vitamins A, C and K.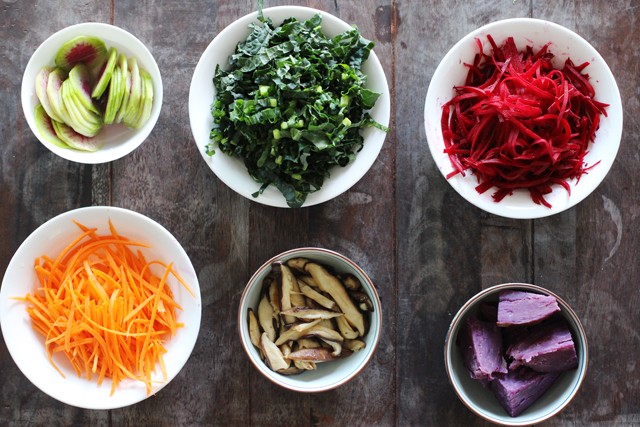 I've been really into purple sweet potatoes lately. They have such amazing flavor and texture and are a great source of antioxidants, fiber (eat them with the skins on– they are the source of that fiber!), calcium and iron. Sometimes I just eat them plain with a little salt and pepper.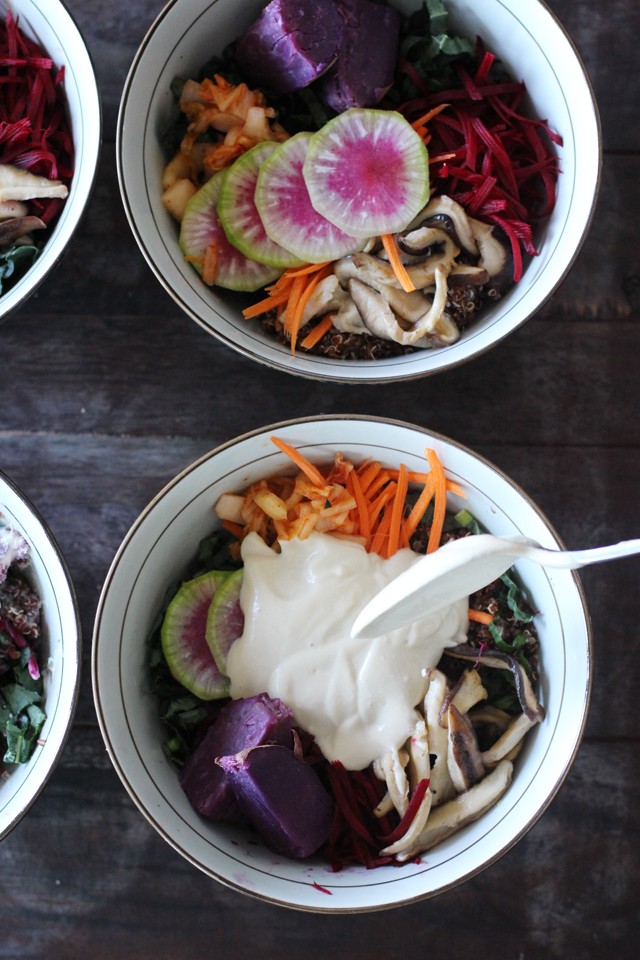 I absolutely love roasted beets, but eating them raw retains a lot of their health benefits. Raw beets contain folate and betaine, anti-inflammatory compounds that decrease damage to arteries and risk of heart disease.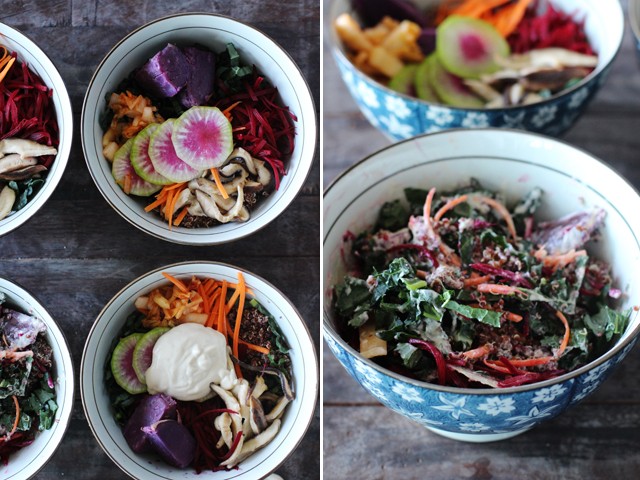 Carrots are packed with vitamin A and watermelon radishes (aside from being so pretty) contain lots of antioxidants, vitamins and minerals. Shiitake mushrooms contain eritadenine, which encourages body tissues to absorb cholesterol and lower the amount circulating in the blood, and they also have antiviral and anticancer effects.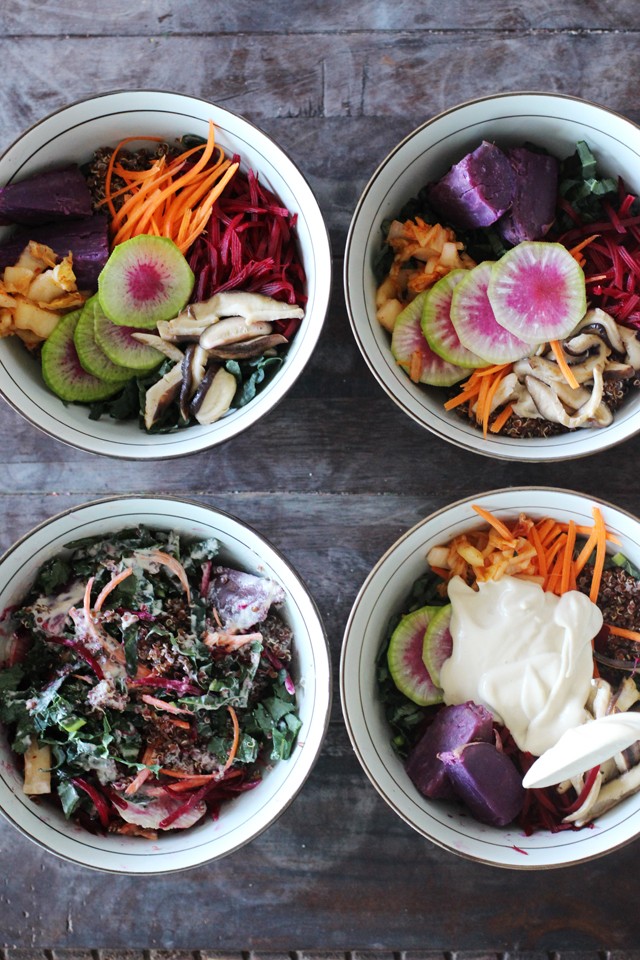 Finally, I love the addition of kimchi, which is a great source of probiotics. My favorite kimchi is Mother in Law's Kimchi. Seriously, I can easily finish a jar in one week. If you are keeping this truly vegan, just be careful to look for kimchi without seafood in it.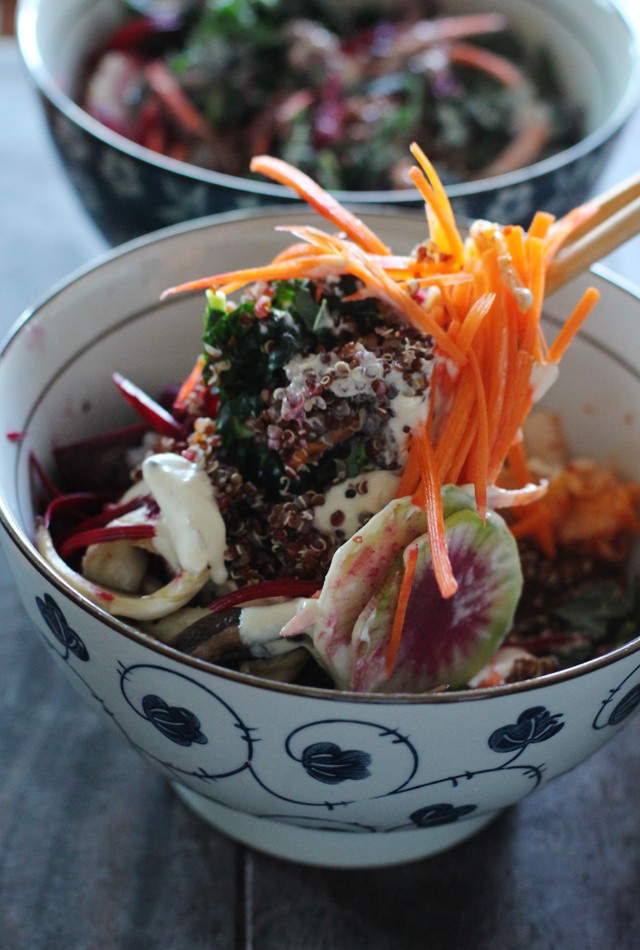 QUINOA VEGAN BOWL

Bowl ingredients:

2 cups of cooked quinoa
1 large bundle of lacinato kale
1 large carrots, julienned
1 large red beet, julienned
1 pound of raw shiitake mushrooms
1 bunch of watermelon radishes, sliced thinly
Kimchi (if you want this truly vegan, look for kimchi without seafood)
2 purple sweet potatoes
grapeseed oil
sea salt or kosher salt

Creamy tofu dressing ingredients:

3/4 cup of grapeseed or safflower oil
1/2 cup of water
1/4 cup of Bragg's Liquid Aminos
2 tablespoons of nutritional yeast
1 teaspoon of granulated garlic
3 tablespoons of lemon juice
1 1/2 teaspoons of tamari
16 ounces of firm tofu

Directions:

Preheat the oven to 400 degrees. Wrap the purple sweet potatoes in foil and roast until the soft, about 1 hour. When cool cut into quarters.
Remove the stems of the shiitake mushrooms and slice the mushrooms into thin strips. Heat a little grapeseed oil in a pan and sautee the mushrooms until wilted and soft. Season with a pinch of sea salt.
To make the tofu sauce, place all the tofu sauce ingredients in a blender or food processor and blend until smooth.
To assemble the bowls, place a few heaping spoonfuls of quinoa in the bottom. Top with kale, carrots, beets, shiitake, radishes, potatoes and a few small slices of kimchi.
Dress with bowl with a couple spoonfuls of the tofu sauce.
(images by HonestlyYUM)