With just 10 days left until Christmas, we're rounding up some last minute gift ideas for the cake maker, bread lover, pie connoisseur and cookie monster . . .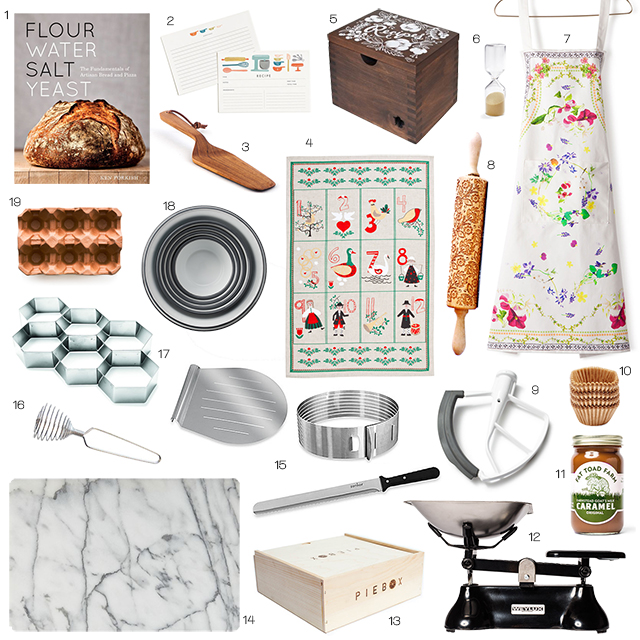 1. Flour Water Salt Yeast $20 – This is the bread bible – a great gift for the burgeoning bread baker.
2. Rifle Paper Co. Recipe Cards $12 – Adorable recipe cards that fit perfectly in Rifle's recipe box (see below).
3. Wood Cake Server $19 – Rustic cake server made from beautiful teak wood.
4. Christmas Figures Dish Towel $17 – These festive dish towels are adorable and affordable!
5. Rifle Hardwood Recipe Box $145 – Not your average recipe box, these boxes are made from salvaged hardwood and screen printed with Rifle's signature prints.
6. ABC Carpet & Home Hourglass $14 – Like the sands of time . . .
7. Handkerchief Print Apron $36 – It's important to look chic in the kitchen, no?
8. Embossing Rolling Pin $38 – How fun would it be to emboss cookies, pie crusts and fondant with these Polish folk patterns?
9. Kitchen Aid Flex Edge Beater $30 – Any baker would appreciate this beater, with a flexible edge that is perfect for scraping every last bit of batter from that mixing bowl.
10. Unbleached Mini Muffin Cups $4 – A classic and a perfect stocking stuffer.
11. Goat's Milk Caramel Sauce $12 – Caramel sauce made from goat's milk by Fat Toad Farm in Brookfield, Vermont . . . one for you, two for me.
12. Steel Counterweight Scale $279 – This traditional scale has been produced in England since 1862 and would look so beautiful on any kitchen counter.
13. PieBox $35 – We love these reusable wooden pie carriers that keep pies intact and safe.
14. French Kitchen Pastry Slab $50 – Marble stays cool, which keeps dough firm and workable – a must!
15. Layer Cake Slicing Kit $60 – This nifty slicing kit lets the baker slice up to eight cake layers for tiered and layered cakes.
16. French Coil Whisk $6 – Cream and eggs never whipped so easily!
17. Hexagon Cookie Cutters $14 – Ever seen a hexagon cookie cutter?!
18. Enamel Prep Bowl Set $108 – Love these charming prep bowls – perfect for keeping that kitchen counter tidy and clean.
19. Half Dozen Terracotta Egg Rack $19 – A beautifully crafted egg rack for keeping those eggs at room temperature.