The hostess with the mostess. We all know one. So what do you get the person who loves to entertain and already seems to do it so flawlessly? We've rounded up our favorite hostess gifts below . . .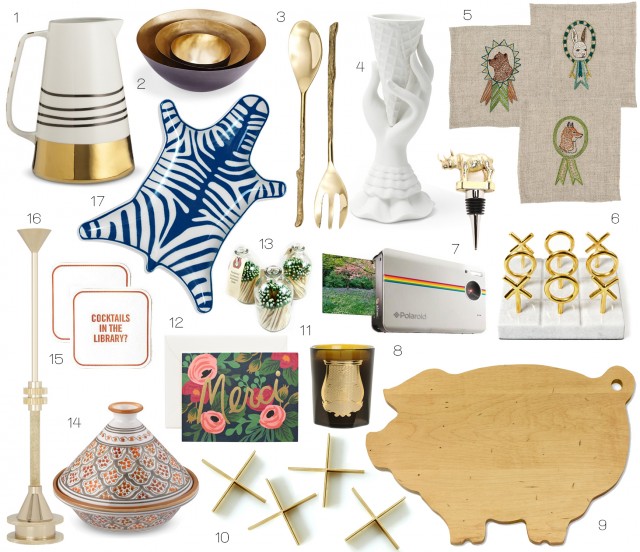 1. Oh! Joy For Target Stoneware Pitcher $25 – We just love the brass accent on this affordable pitcher.
3. Brass Branch Salad Servers $75 – For the salad lover, of course.
2. Tom Dixon Form Bowls $155 –  This set of three bowls, lined with sheets of brass and finished with black matte, are beyond elegant.
4. Jonathan Adler I Scream Vase $68 – You scream, I scream, we all scream for ice cream.
5. Coral & Tusk Badges Cocktail Napkins $80 – We're obsessed with Coral & Tusk's collection of embroidered linens. These cocktail napkins, embroidered with merit badges, are just too cute to pass up!
6. Jonathan Adler Tic Tac Toe Set $195 – No dinner party is complete without a bit of friendly competition!
7. C.Wonder Rhino Bottle Stopper $28 – See? Leftover wine can be a good thing.
8. Polaroid Instant Digital Camera $180 – A must have for any party.
9. J.K. Adams Pig Cutting Board $35 – A charcuterie board served on a pig shaped wooden board? Yes, please.
10. Brass Lift Coasters $68 – The simple design of these brass coasters make them trés chic!
11. Cire Trudon Abd El Kader Candle $95 – I have this Moroccan Mint Tea scented candle burning 24/7 in my kitchen. It's fresh, minty and not too overpowering.
12. Rifle Paper Co Thank You Cards $16 – Every hostess appreciates the importance of sending Thank You cards.
13. Apothecary Matchstick Bottles $25 – These apothecary bottles have been recycled and re-purposed as functional match box and the bottom of each jar is etched to create a strike-able surface!
14. Moroccan Tagine $60 – Making Moroccan feasts for your guests is so much fun but it's not authentic without a proper tagine.
15. Letterpress Coasters $18 – Let's take this cocktail party to library, shall we?
16. Tom Dixon Candlestick $165 – We love the juxtaposition of modern and traditional design in this gorgeous candlestick.
17. Jonathan Adler Zebra Dish $24 – After dinner mints on a zebra tray. Why not?