This recipe is so simple I can't believe I hadn't thought of it before. I mean, who wouldn't love a dessert version of a PB&J sandwich. It's pretty much my go-to sandwich whenever I'm too lazy to make dinner. The jam ice cream can be made with any jam you like, but I love blackberry jam with the seeds studded in there. You can also make our blackberry bourbon vanilla jam. The gluten-free peanut butter cookies are the most intensely peanut butter cookie you'll ever have. I'll admit I was skeptical about the gluten-free part, but they're really delicious. Resist the temptation to eat them straight out of the oven. Combine the two and you've got the ultimate ice cream sandwich that will be the envy of any 1st grader.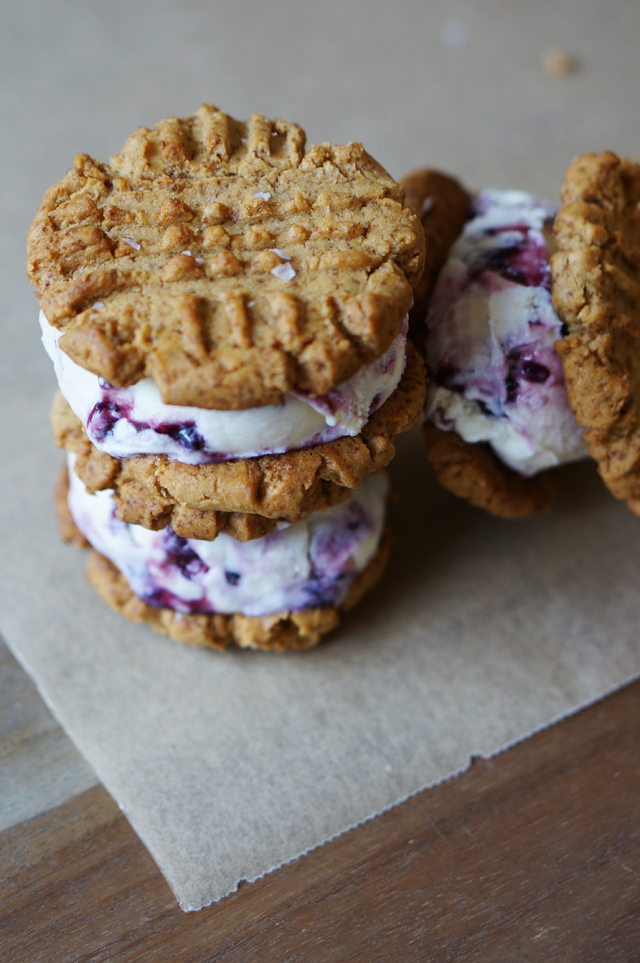 Start by preparing the jam ice cream. Scoop vanilla ice cream into loaf pan and place dollops of jam in between the scoops.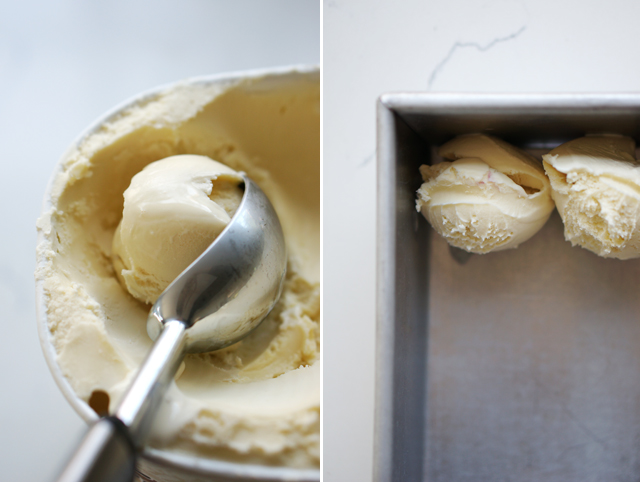 Don't spread the jam around, but leave the jam in clumps.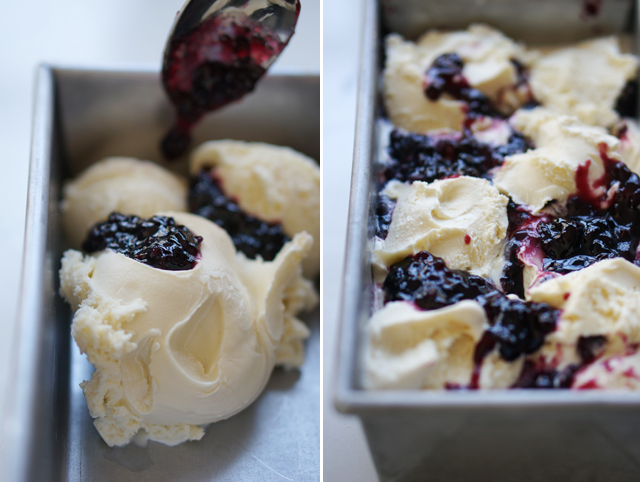 Cover in plastic wrap and freeze to harden, preferably overnight.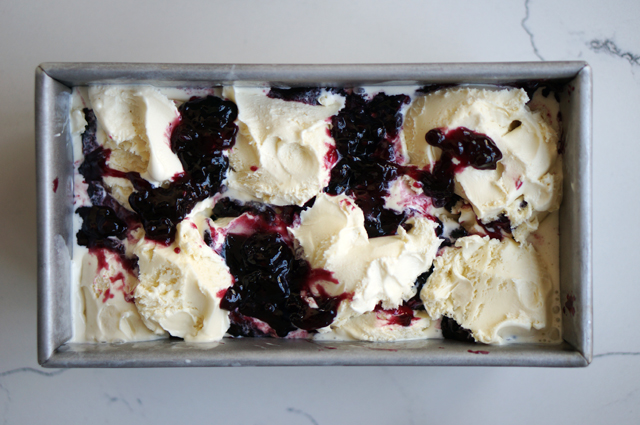 To make the cookies, preheat the oven to 35o degrees. Combine peanut butter, sugars, egg, and baking soda and whisk together.
Scoop a ball of the batter with a tablespoon. Lay the balls on a parchment lined baking sheet. Using forks press the cookie down to make a cross hatch pattern. Sprinkle salt over the cookies.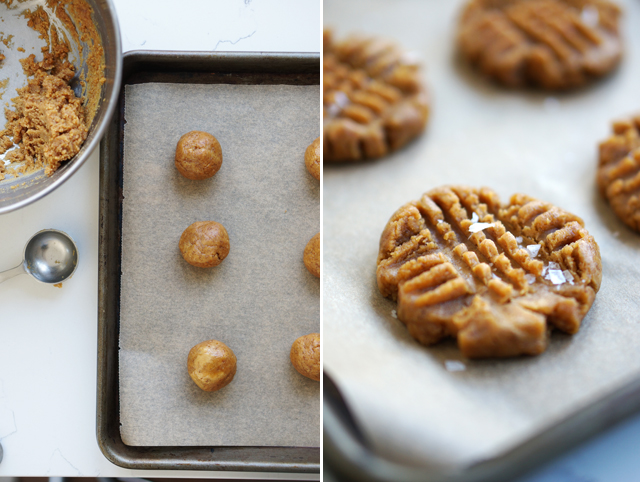 Bake in the oven until golden brown for about 10-12 minutes.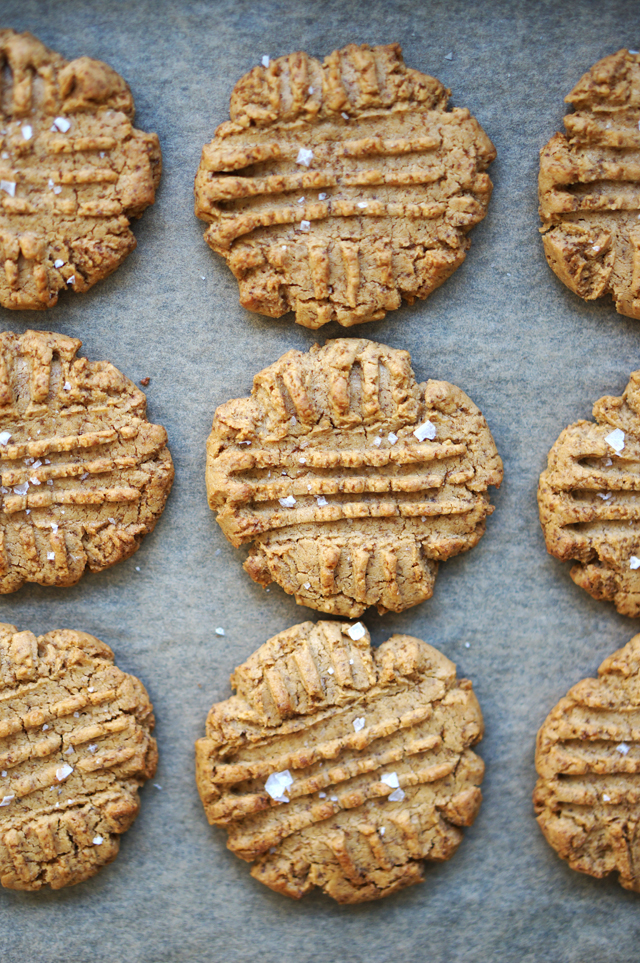 Allow to cool on the baking sheet. Go ahead and take a bite out of one. To assemble the cookies, make sure the cookies are completely at room temperature.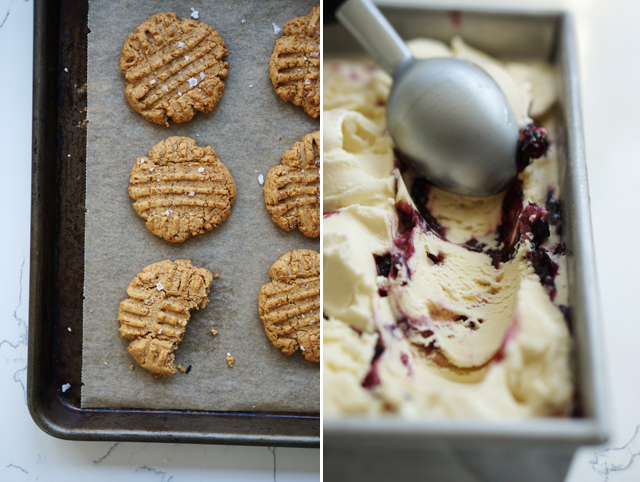 Place a scoop of ice cream on a cookie and place another cookie on top.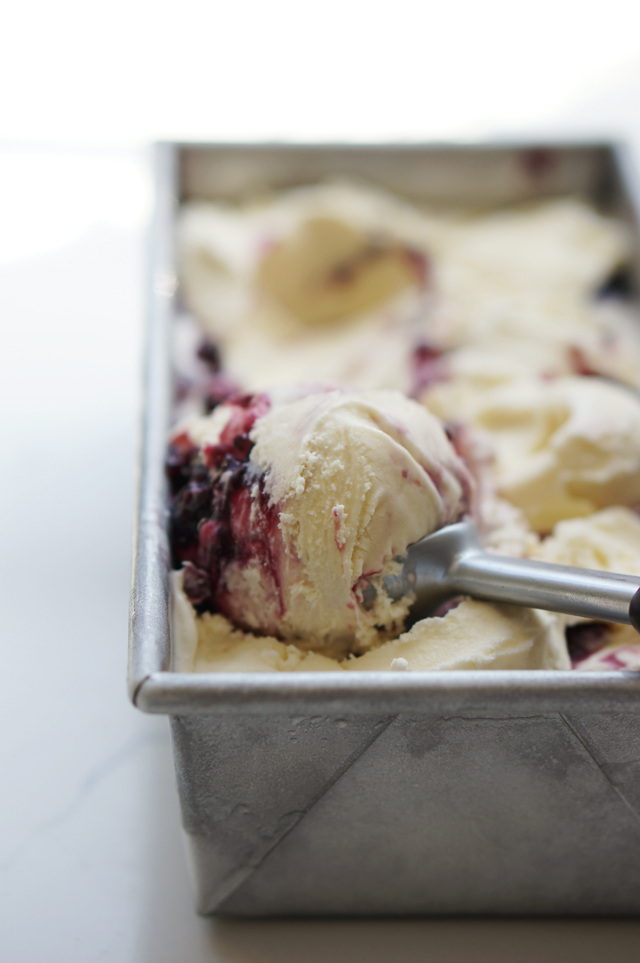 Enjoy the best dessert sandwich ever!
PEANUT BUTTER AND JELLY ICE CREAM SANDWICHES (GLUTEN-FREE)

Ingredients:

1 cup of smooth peanut butter
1/2 cup of brown sugar
1/2 cup of granulated sugar
1 egg
1/2 teaspoon of baking soda
flake sea salt
1 jar of blackberry jam
1 quart of vanilla ice cream

Directions:

To make the jelly ice cream, scoop vanilla ice cream into a loaf pan and drop dollops of blackberry jam between each scoop.
Cover with plastic wrap and freeze preferably overnight.
To make the gluten-free peanut butter cookies, pre heat the oven until 350 degree. Combine the smooth peanut butter, sugars, egg, baking soda in a bowl and whisk to combine.
Using a tablespoon, roll a ball of cookie dough in a ball.
Lay the balls on a baking sheet lined with parchment paper
Make crosshatch patterns with a fork on the top of the cookies.
Sprinkle sea salt on top.
Bake for about 10-12 minutes until golden brown.
Allow to cool completely
To assemble the sandwiches, place on scoop of jam ice cream between two cookies.