Who doesn't love a good sandwich? No one, that's who!! That's why Erica, Karen and I hit the streets these past few weeks in search of not just the good, but the BEST sandwiches in the Bay Area. Tough job, but somebody's gotta do it. I think we found a little something for everyone, but as always, let us know in the comments if we left out your favorite spot. Now if you'll excuse me, I'm off to make myself a PB&J!
$$$ – Deli Board, San Francisco
Deli Board changed my (lunch) life. This is why sandwiches are the perfect meal. All of DB's sandos are worth a try, but like the name says, this one is money. What appears to be heavy and dense is actually light, fluffy, and exploding with flavor!! Extra points for the giant pickles.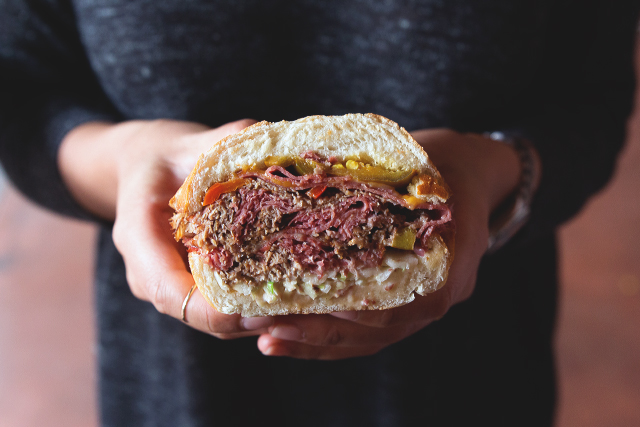 The Balls – Southie, Oakland
Niman ranch beef and pork meatballs with provolone and reggiano on fresh baguette. So classic + so good!!
Lobster Roll – Woodhouse Fish Co., San Francisco
We loved Woodhouse Fish Co.'s lobster roll so much, we decided to make our own. Imitation is the sincerest form of flattery, right?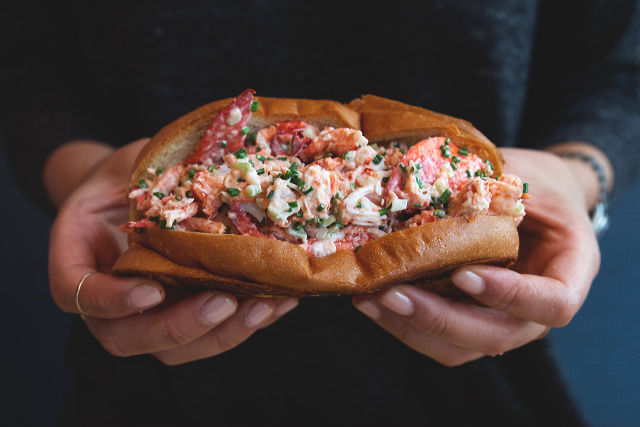 Fried Chicken – Bakesale Betty, Oakland
There are several fried chicken sandwiches, but there is only one Bakesale Betty. Possibly the most popular sandwich in the Bay . . . for a reason.
Banh Mi – Saigon Sandwich, San Francisco
If you're looking for a straight-up traditional banh mi, Saigon Sandwich in the Tenderloin is your spot. You won't find any bells and whistles, but the meat is moist and the veggies fresh. Not to mention $3.50 for a whole sandwich is the best deal you'll find in the city.
Roasted Turkey (on Dutch Crunch) – Arguello Super Market, San Francisco
Turkey on dutch crunch is any sandwich nerd's dream. Arguello Market's version of this classic combo is as good as it gets. Freshly roasted turkey? Yes please!! Don't forget to add avocado.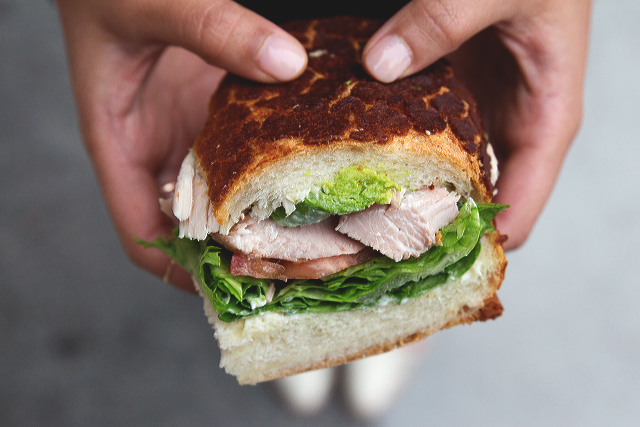 Sopressata, Fontina, Brocolli Rabe Pesto – Tartine Bakery & Cafe, San Francisco
You can't really go wrong with any of the hot pressed sandwiches at this landmark San Francisco cafe. After all, they use Tartine bread – HA!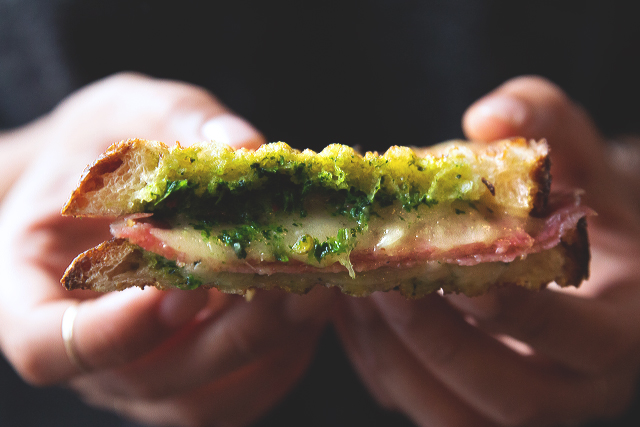 Luciano Special – Molinari Delicatessen, San Francisco
In my opinion, the best Italian sandwich in the Bay. On a sunny afternoon, grab a Luciano special from this classic North Beach deli, and enjoy a personal picnic down the street at Washington Square Park.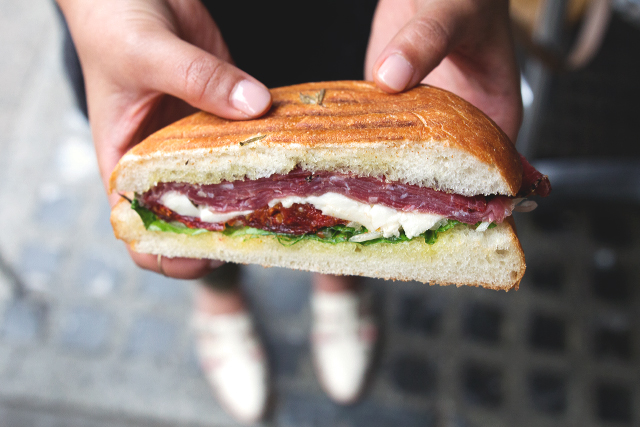 Menage A Trois – Ike's Place, San Francisco
Okay, so it's not the prettiest sandwich we've ever seen, but trust me (and about 6,000 Yelpers) Ike's knows how to make a sandwich. It's juicy, it's toasty, it works . . . All I can say is, get here early to beat the lunch rush.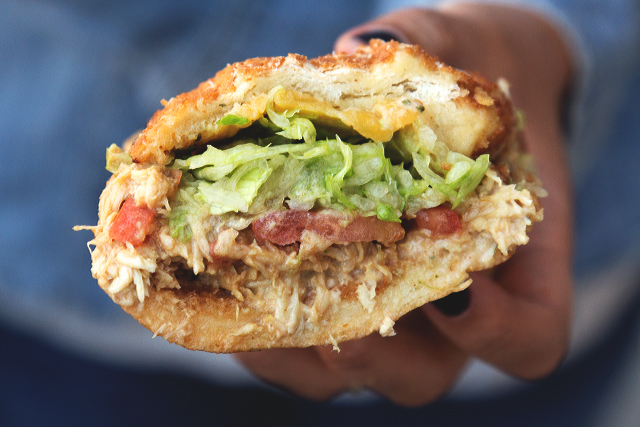 Kerouwhack – Davey Jones Deli, Sausalito
Davey Jones Deli makes a mean veggie sandwich. Instead of the usual wilted lettuce and soggy tomato, their Kerouwhack sandwich is packed full of roasted beets, white cheddar, carrots, radishes, peach lemon compote, almond pesto, lettuce, spinach, arugula, tomato, roast garlic and red pepper sauces on ciabatta. There's also a bunch of yummy meat options at this popular North Bay deli.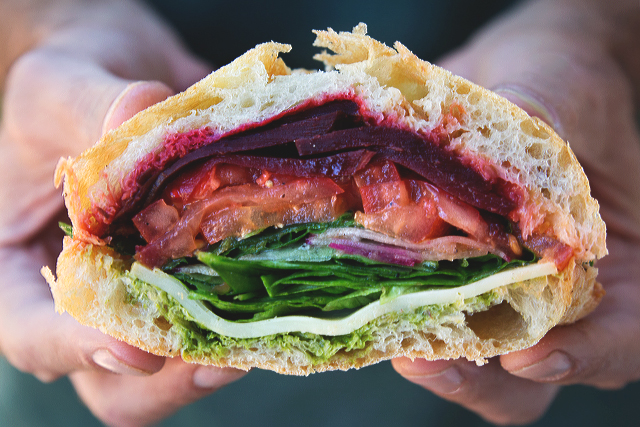 Porchetta – Roli Roti, San Francisco
When you see someone remove an entire freshly roasted porchetta from the rack, and thinly slice pieces of juicy pork for your sandwich, complete with bits of crispy, perfectly salty cracklins, you know it's gonna be a good day.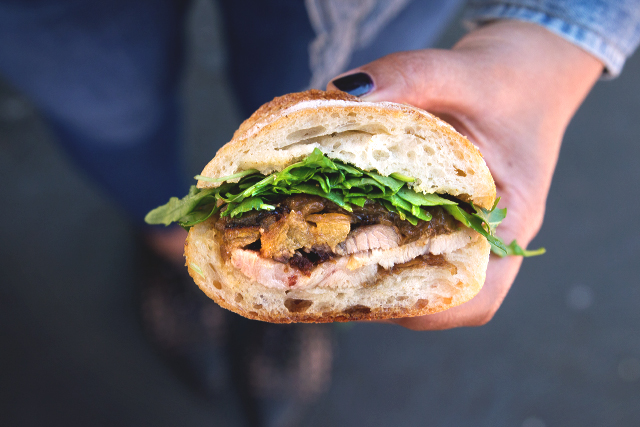 Hot Pastrami – Wood Tavern, Oakland
If you like pastrami, you MUST try this sandwich. That is, if you can fit it in your mouth! A pile of hot pastrami and melted emmentaler cheese is sandwiched between a La Farine baguette slathered in a dijon-horseradish dressing. For professionals only . . .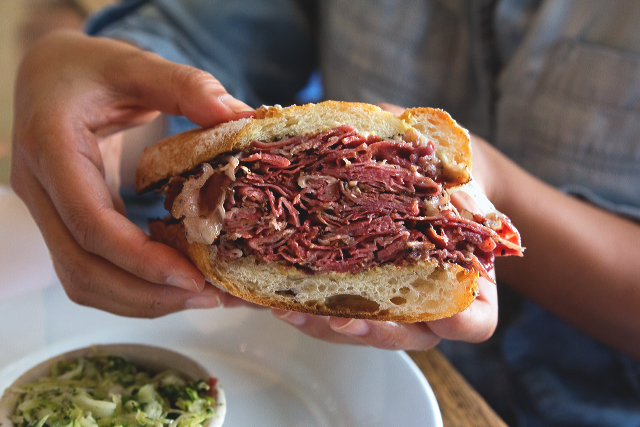 (images by HonestlyYUM)