I hyperbolize a lot. Especially when it comes to food. I can't help it, I just get so excited about sharing and talking about food. So when I tell my friends and family that I've had "the best [fill in the blank]," they always take it with a grain of salt. But the other day, I truly had the BEST nectarine I've ever tasted in my LIFE. Honestly, I'm not exaggerating. The nectarines were from Goldbud Farms and they looked like ordinary nectarines from the outside. But they blew my mind! For starters, they were perfectly ripe. But there was an unusual vanilla perfuminess that filled your nose when you bit into them. I didn't even know nectarines could taste like that. Words just don't cut it here– the taste was indescribable. Although technology isn't quite at a place where I can share the flavor with you, I can share this amazing salad that I made with those nectarines. It's a fantastic mix of summer's bounty on one plate. I love the use of nectarines because they're just a little more sour than peaches. The salad is simply and assembly of ingredients. I kept the ingredients in large chunks so this is more of a fork and knife salad. The one thing I recommend is to use the best ingredients you can find. That means using ripe tomatoes (I've used heirloom here), good buffalo mozzarella, quality extra virgin olive oil, and sea salt (I use Maldon). And, of course, unicorn nectarines.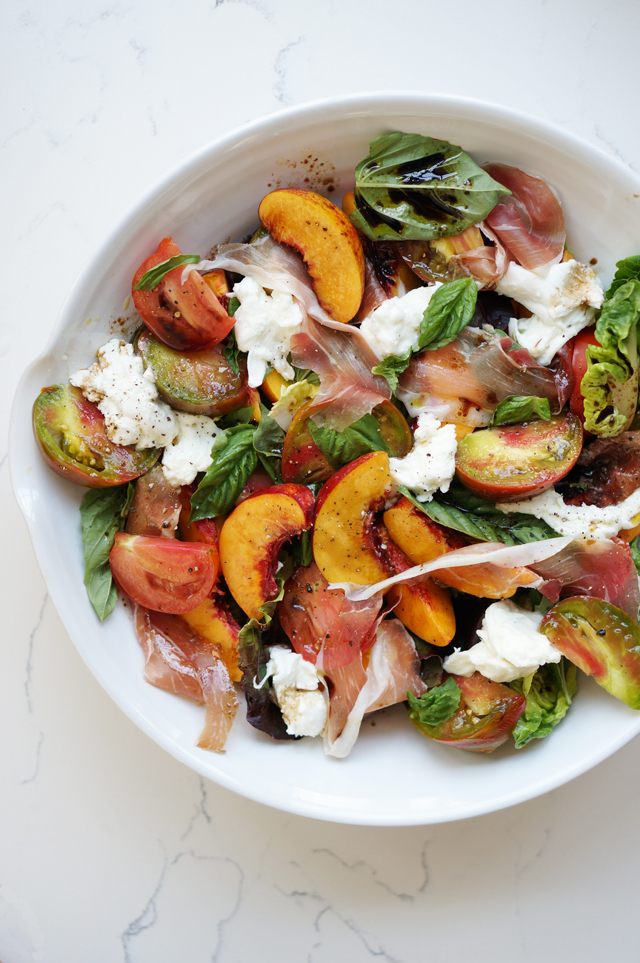 Rinse and dry the leaves of the little gems. You can also use any other lettuce you like, such as butter lettuce.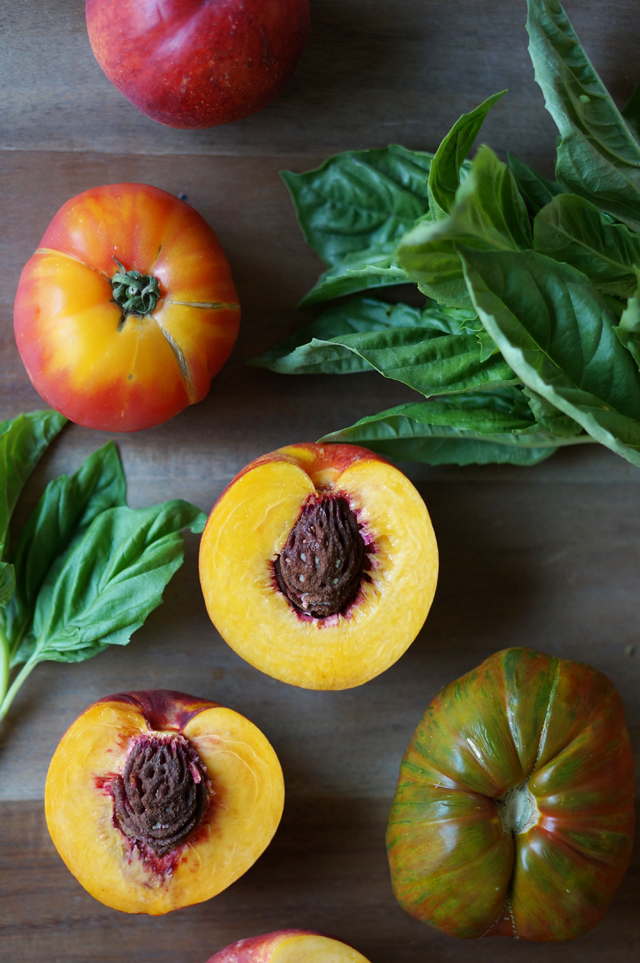 Slice the nectarines and tomatoes into wedges.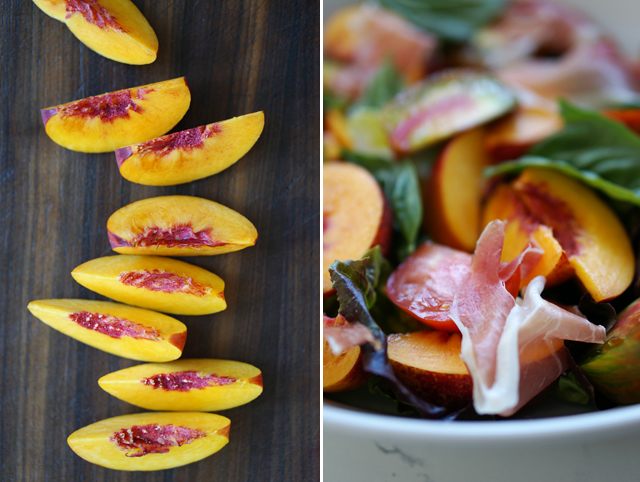 Tear the mozzarella into smaller pieces and scatter over the salad. Tear the basil leaves and add to the salad.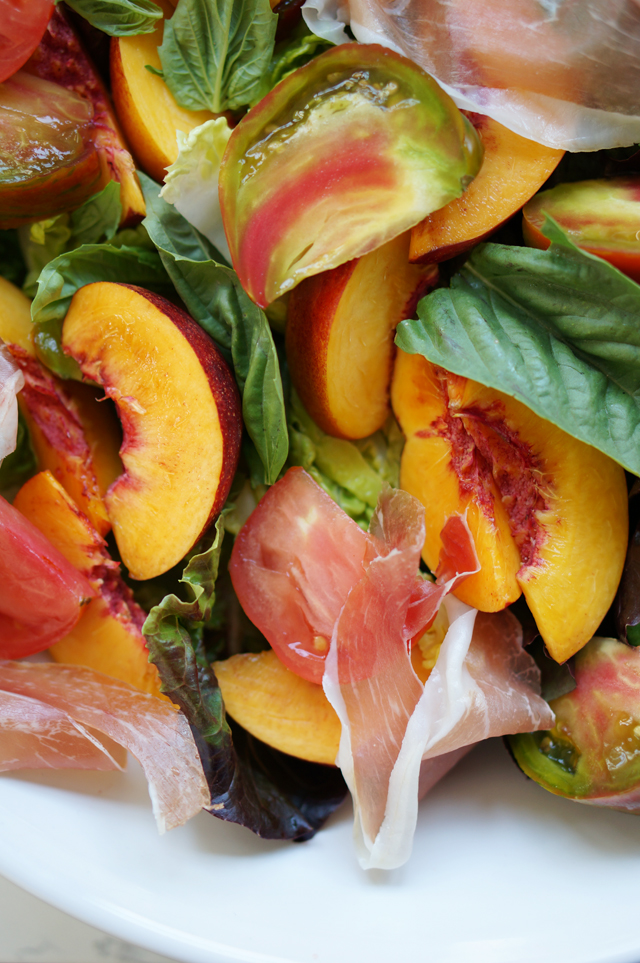 Drape prosciutto over the salad.
Whisk the balsamic vinegar and olive oil together. Salt and pepper to taste and dress salad.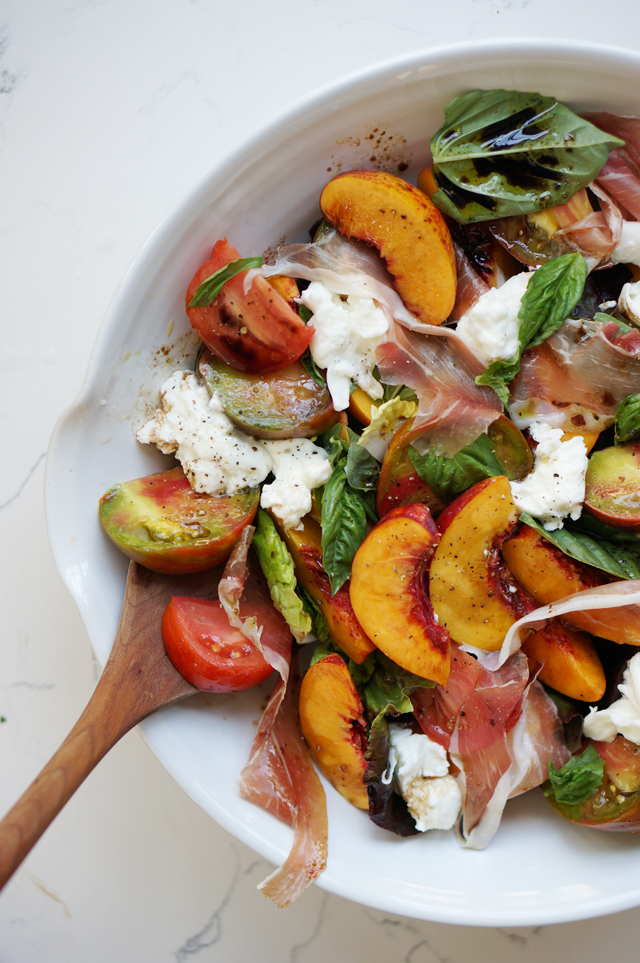 Add a little more salt and pepper if needed.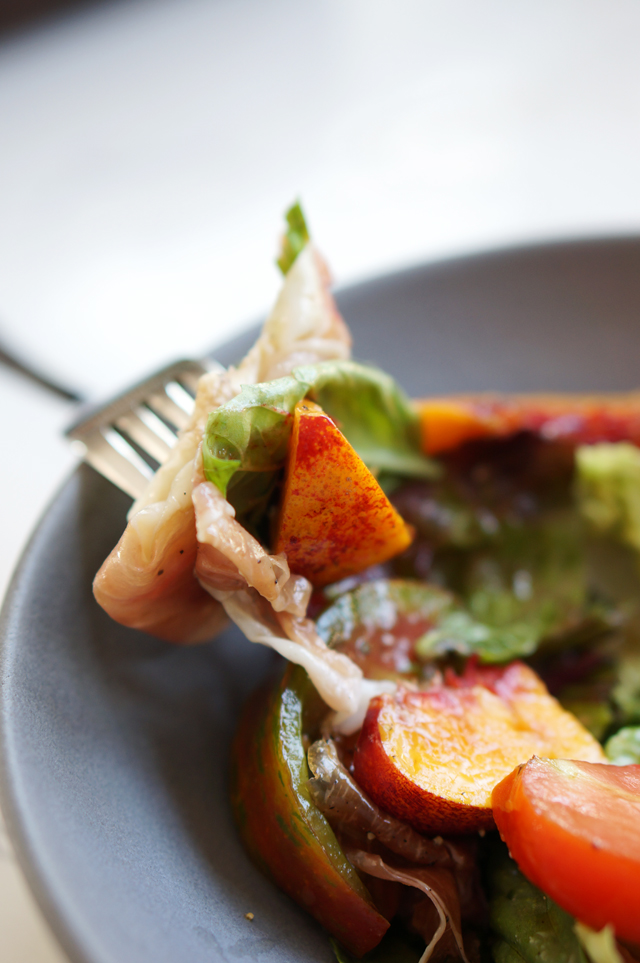 NECTARINE SUMMER SALAD

Ingredients:

3-4 nectarines
2 heirloom tomatoes
1 ball of mozzarella di bufala
1 small bundle of basil
6-8 slices of prosciutto
2 heads of little gem lettuce
1/4 cup of extra virgin olive oil
1/4 cup of balsamic vinegar
Sea salt
Freshly ground black pepper

Directions:

Rinse and dry the lettuce and rip larger leaves in half.
Slice the nectarines and tomatoes into wedges.
Assemble the salad by laying the lettuce down on the bottom, scatter the tomatoes and nectarines over the lettuce.
Tear the mozzarella over the salad.
Tear leaves of basil over the salad.
Lay slices of prosciutto throughout the salad.
To make the dressing, whisk together 1/4  cup of balsamic vinegar with 1/4 cup of extra virgin olive oil.
Season salad with sea salt and black pepper.
(images by HonestlyYUM)