Nothing epitomizes summer more than a lobster boil. It's best enjoyed outdoors and with friends excited to get their hands dirty and their bellies full. And the best thing about a lobster boil is that it feeds so many people, but you actually spend very little time actually cooking. I made this boil with small potatoes, smoked keilbasa sausage, yellow corn and fresh clams. Everything goes in one pot for about 20 minutes and the feast is ready. The only plan ahead you really need to do is to order your live lobsters.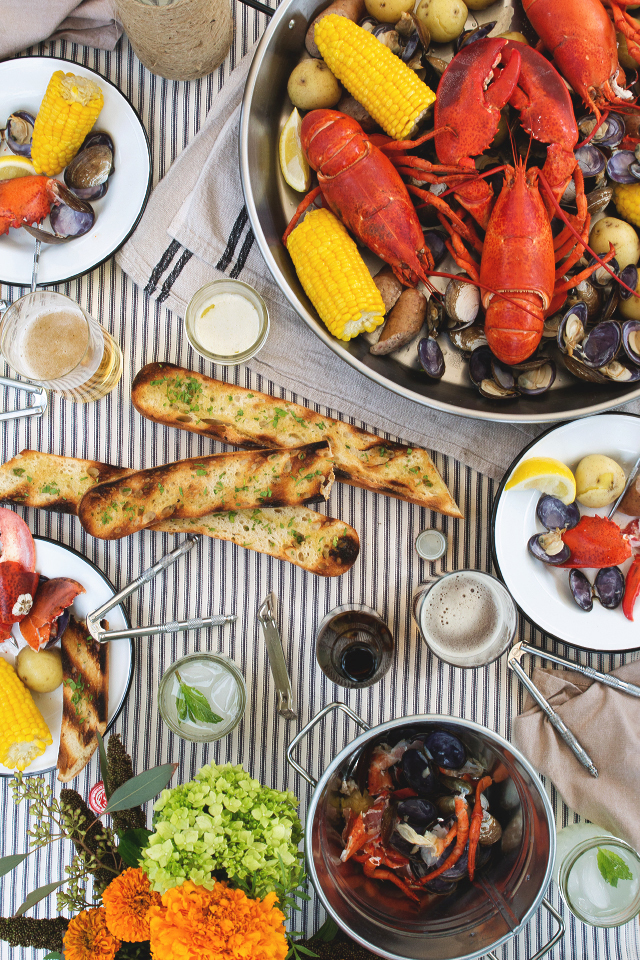 Lobsters From Maine provides a list of companies that can ship live lobsters. Our lobsters came live in a small box packed with ice packs. You simply need to keep a damp towel over them, store them in the refrigerator, and cook them within 24-48 hours. And whatever you do, do not store them in water or cover them in ice.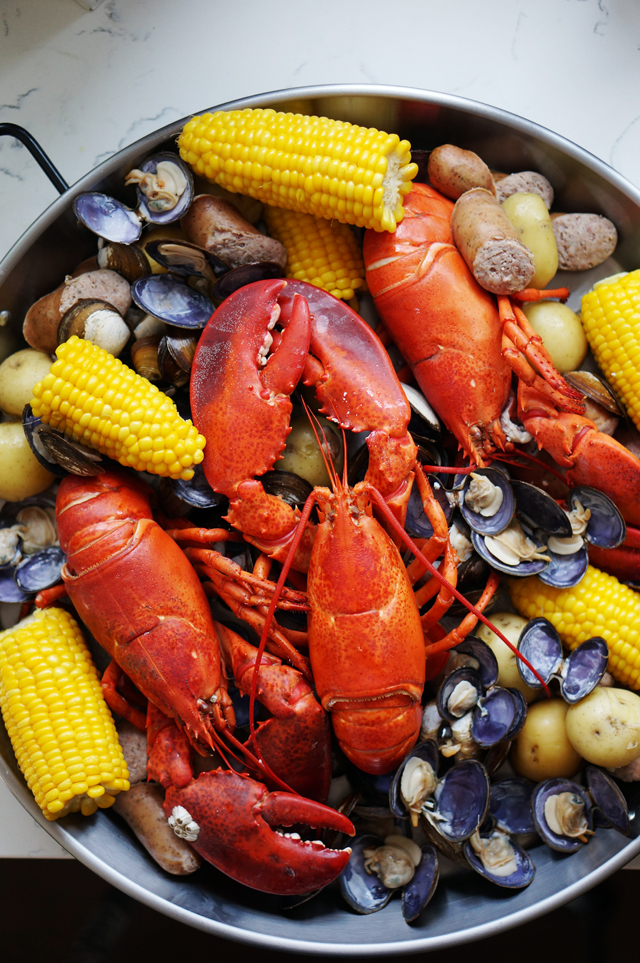 Start by boiling water in a very large stock pot. Add a few handfuls of salt to make the water salty. Prep your clams by loosely tying them in cheese cloth. I divided the clams into two separate sacks of cheese cloth. Make sure to leave enough room so they can open. Tying them in cheese cloth helps to keep the clam meat from falling to the bottom of the stock pot when they open.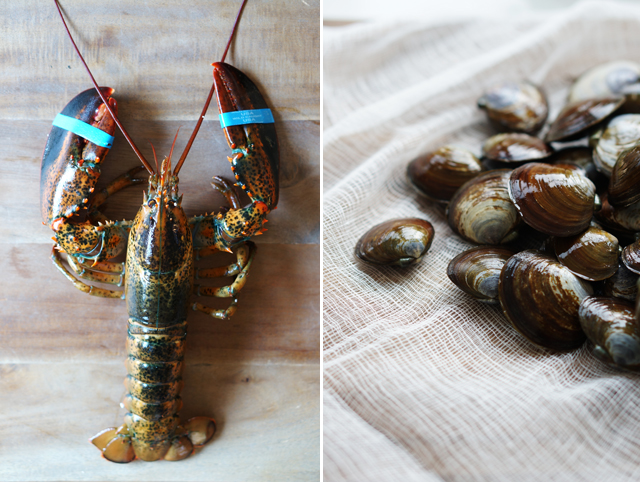 Add a quartered onion and a bulb of garlic sliced through the center. Add potatoes and cook for about 8 minutes.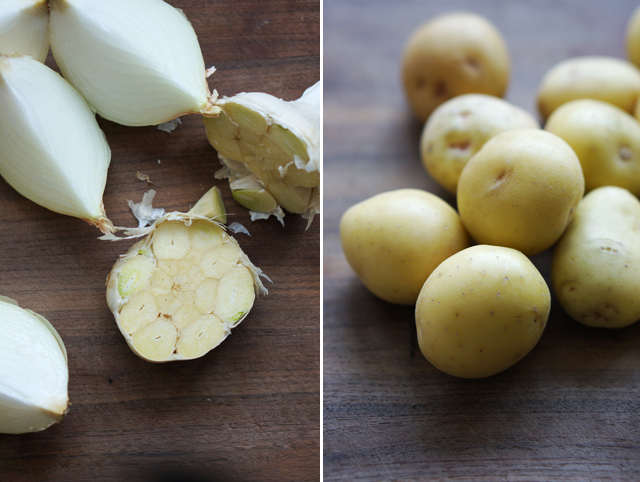 Add the sausage. Then add the lobsters and cook according to the average weight of your lobsters NOT the total weight of all your lobsters. Do not cover the pot when boiling.
1 pound = 8 minutes
1 1/4 pounds = 9-10 minutes
1 1/2 pounds = 11-12 minutes
1 3/4 pounds = 12-13 minutes
2 pounds = 15 minutes
2 1/2 pounds = 20 minutes
3 pounds = 25 minutes
5 pounds = 35-40 minutes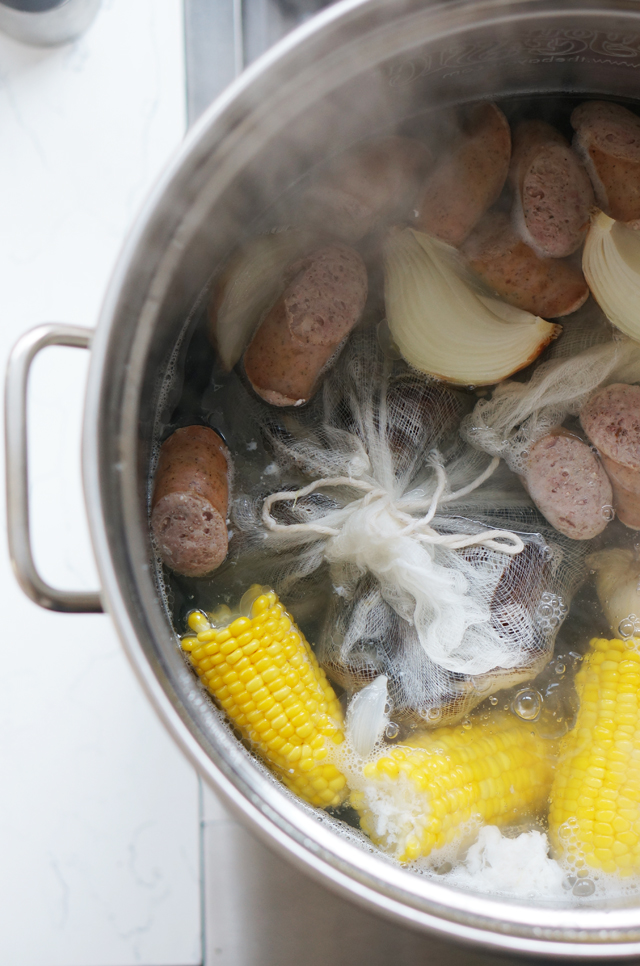 7 minutes before the lobsters will be finished add the sacks of clams into the boil. 3 minutes before the lobsters finish cooking add the corn.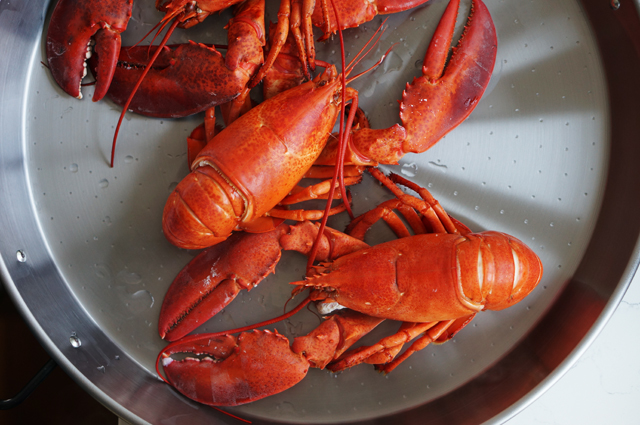 Remove the lobster and allow to cool for at least 10 minutes. Strain the boil and remove the clams from the cheese cloth.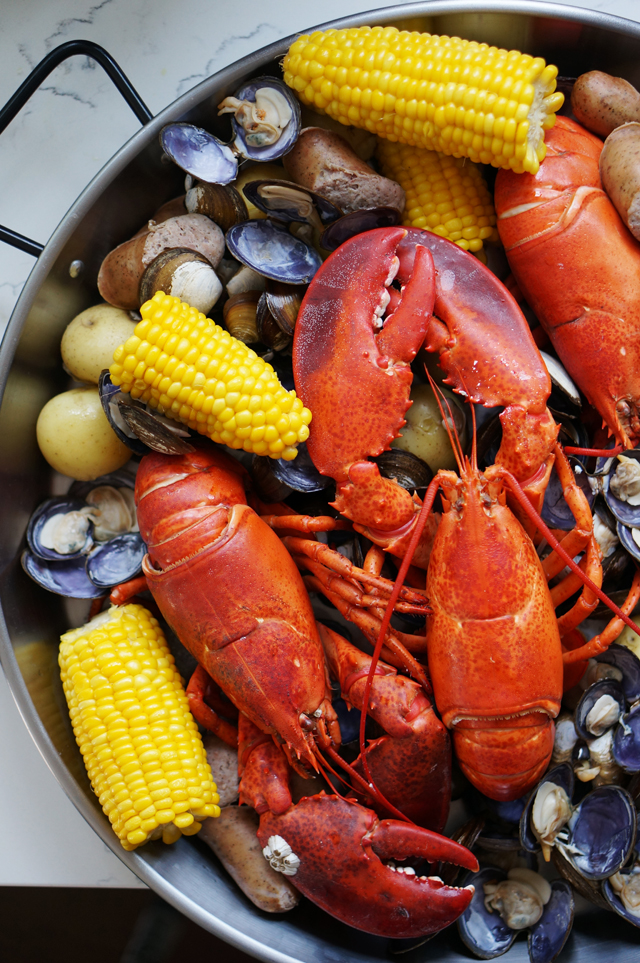 Arrange on a large platter and serve with melted butter, lemon wedges and garlic sourdough bread. Oh, and don't forget the beer!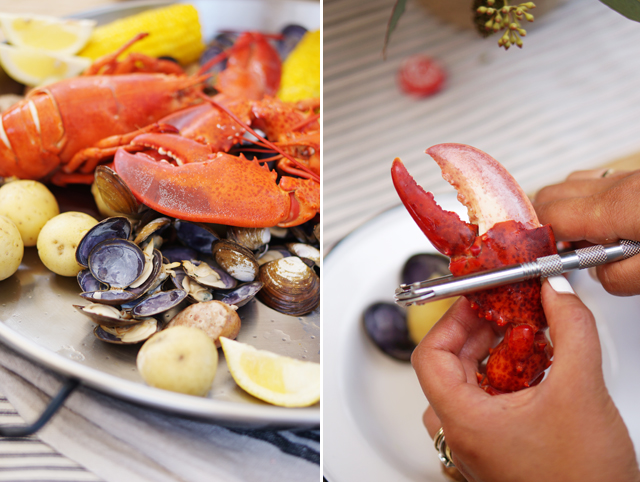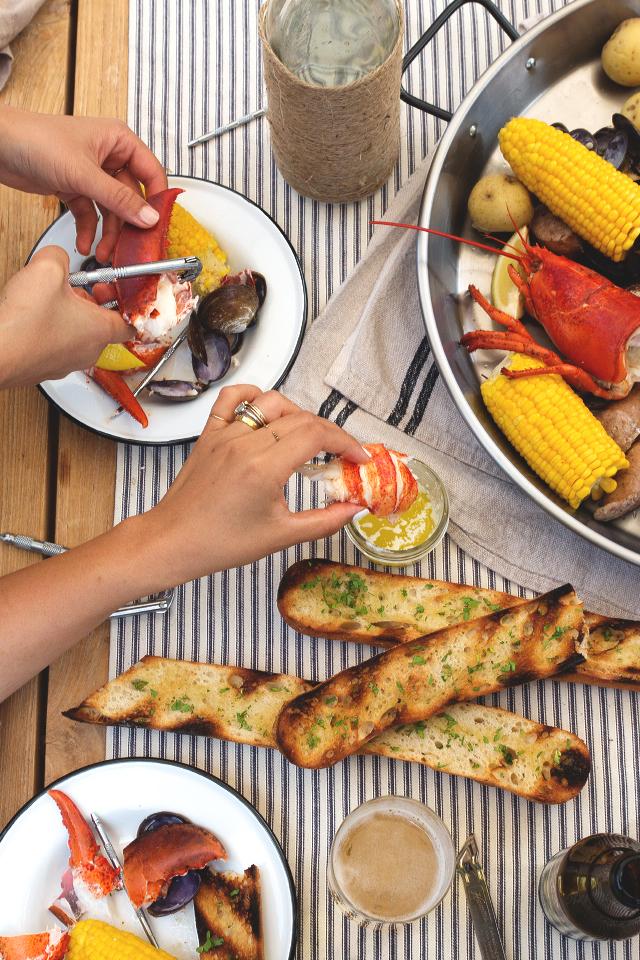 Stay tuned tomorrow for a recipe on how to use up extra lobster meat– if you even have any left over!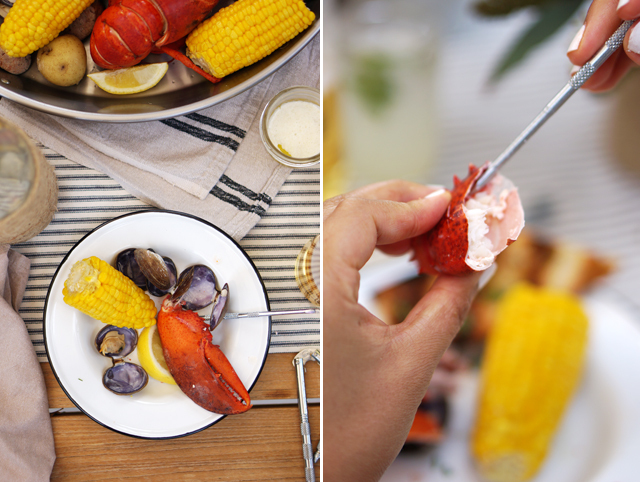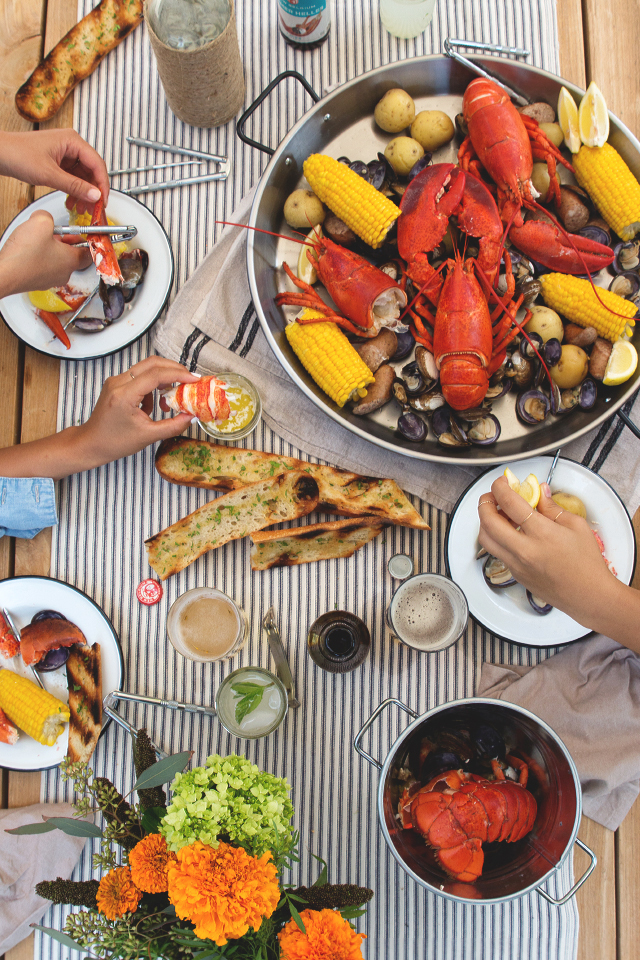 LOBSTER BOIL

Ingredients:

3 whole live lobsters
2 pounds of clams
3 links of smoked kielbasa sausages
5 ears of corn, shucked and halved
1 large onion
1 head of garlic

Directions:

Fill a large stock pot with water. The pot should be large enough to fit the lobsters with plenty of room.
Bring to a boil and salt the water. Quarter the onion and cut the head of garlic through the widest part of the head. Add to the boiling water
Before boiling the lobsters, snip the rubber bands off the claws. Add lobsters to the boiling water.
Cook lobsters according to weight (see above for timing based on weight)
Divide the clams in half and tie up each half loosely with cheese cloth. Make sure there is room for the clams to open.
7 minutes before the lobsters are done cooking, add the clams
3 minutes before lobsters are done cooking, add the corn.
Remove lobsters and allow to cool for 10 minutes. Strain the boil and arrange on a platter.
Serve with lemon wedges and melted butter
(images by HonestlyYUM)