Light, crisp, and moist.  I had never been crazy about waffles, until I tried yeast-raised waffles.  They are blow-your-mind amazing.  I first tried yeast-raised waffles at a friend's house and immediately fell in love.  The yeast lends a subtle malty flavor and a crispness to the outside that is absolutely addictive.  These waffles are not overly sweet and actually teeters on the edge of savory– it's versatile and simple. I normally just enjoy the waffles on their own with a little syrup, but this time tropical fruits were calling my name at the market so I decided to add coconut flakes to the batter and top the waffles with diced papaya, kiwi, mango, guava and passion fruit. The recipe for the waffles is easy and only requires an extra step of letting the batter sit overnight, but the results are more than worth the extra effort.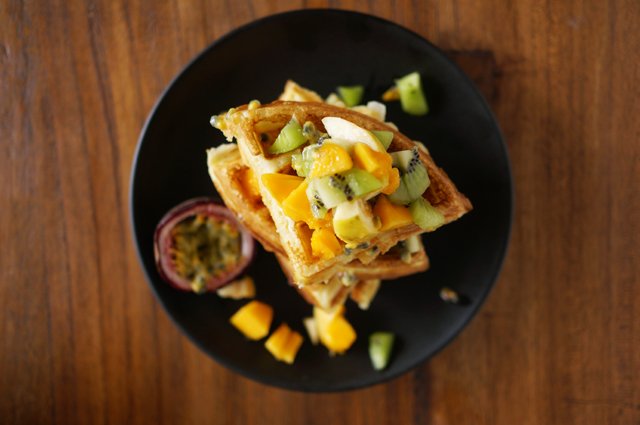 Ingredients:

1 package of dry yeast (or 2 1/4 tablespoons)
1/2 cup of warm water
2 cup of whole milk, room temperature
2 cups of all-purpose flour
2 tablespoons of sugar
1 teaspoon of salt
1/2 cup of melted unsalted butter (or 1 stick), cooled a bit
2 eggs
1/4 teaspoon of baking soda
1 teaspoon of vanilla extract
Unsweetened coconut flakes
Assorted tropical fruits, diced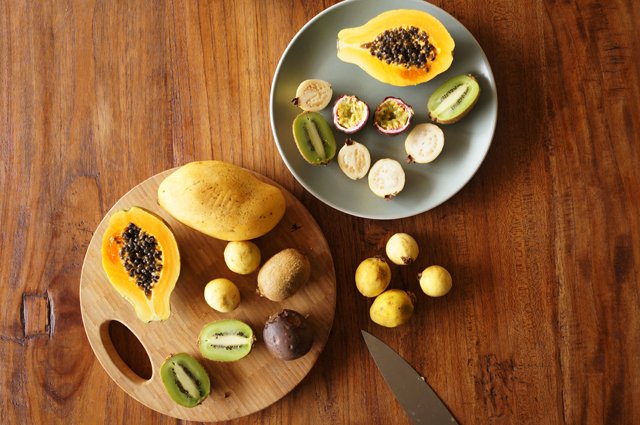 The night before, in a large bowl, dissolve the package of yeast with the warm water and whisk to dissolve. Add the milk, sugar, and salt.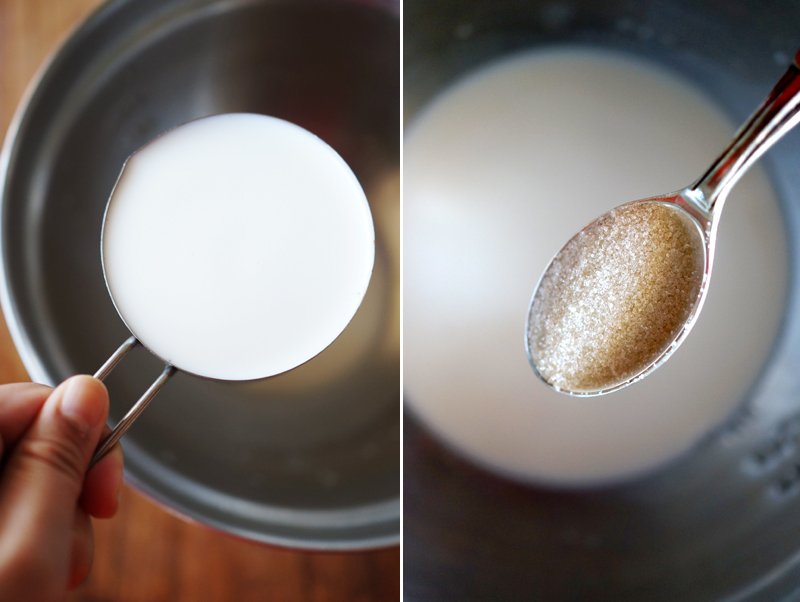 Then add the flour and whisk the mixture together.  There will be some lumps in your batter at this point.
Then add the melted butter and whisk the batter until there smooth and lump-free.  Cover with saran wrap and let it rest overnight.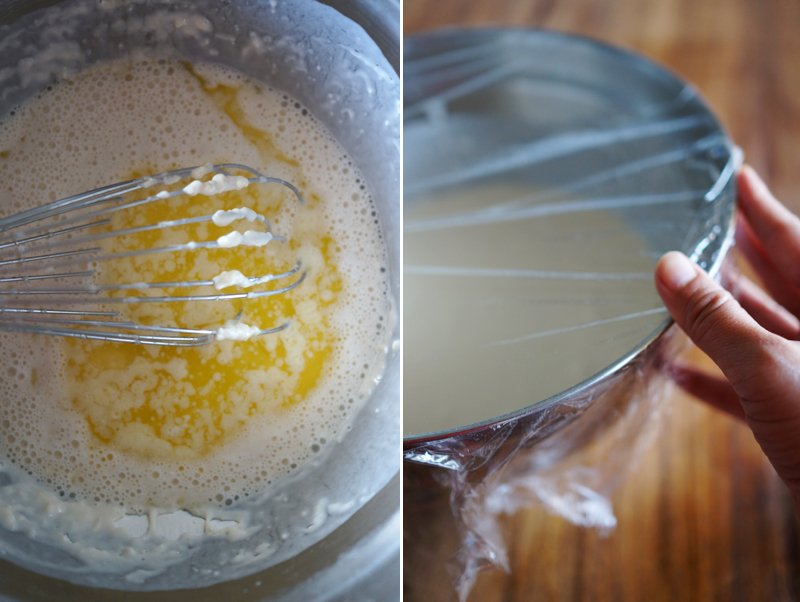 The next morning . . .
The batter should smell yeasty and look bubbly.  In a smaller bowl beat together the eggs, vanilla extract, and baking soda.  Add the egg mixture to the batter, whisking just until incorporated.  The batter will deflate into a thin batter.
Grease a hot waffle iron with a little butter and pour about a cup of batter in.  The amount will vary depending on your waffle iron. Before closing the iron, sprinkle a handful of flaked coconut over the batter.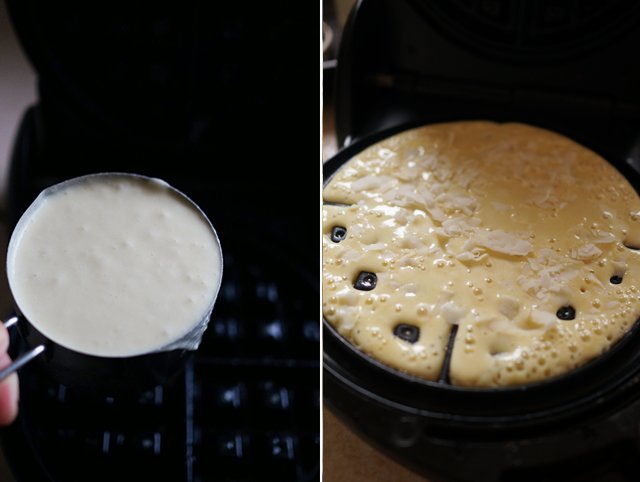 Cook according to your waffle iron's instructions.  It takes 3 minutes on my iron to get golden brown.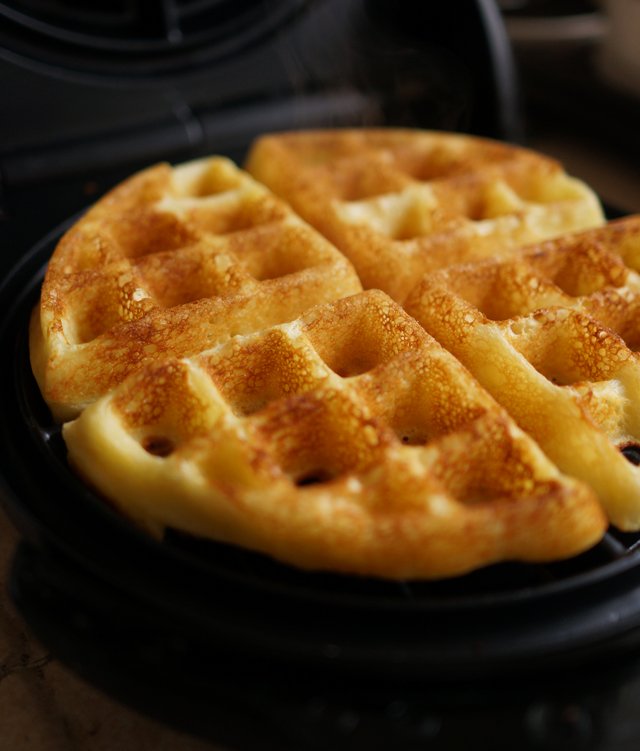 Combine the diced tropical fruit in a small bowl and top the waffles with the fruit.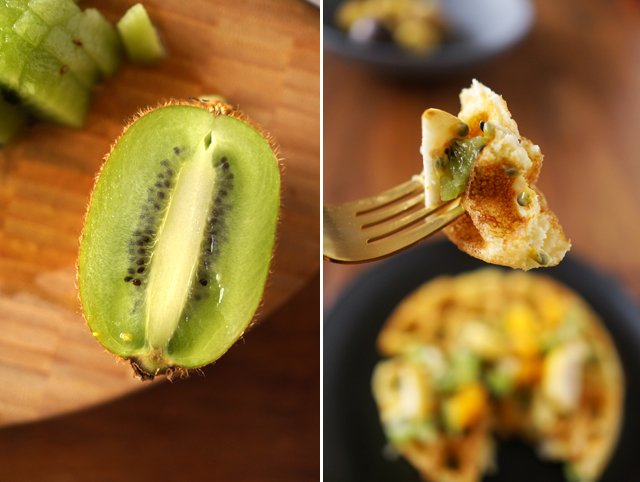 Squeeze some passion fruit over the waffles . . .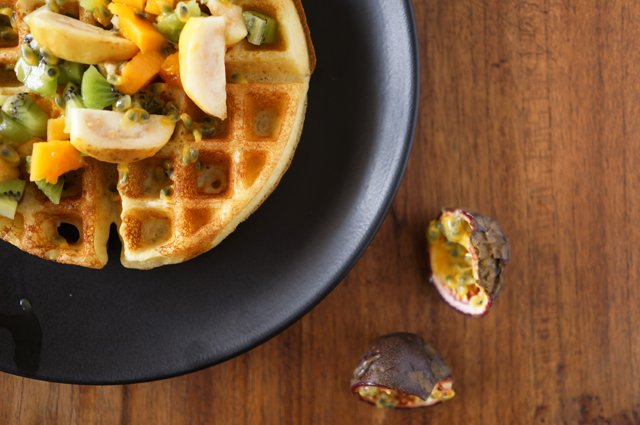 Drizzle syrup all over . . .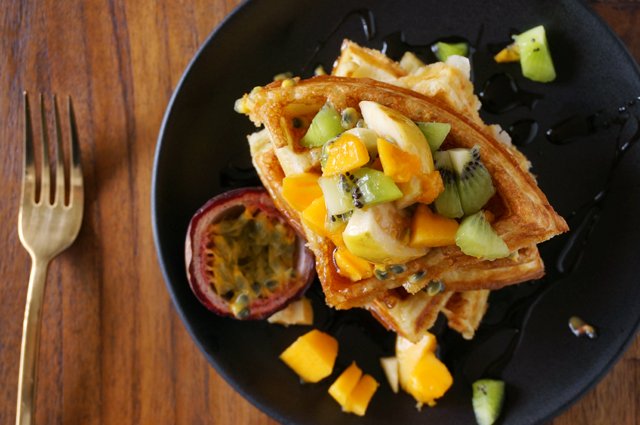 And enjoy!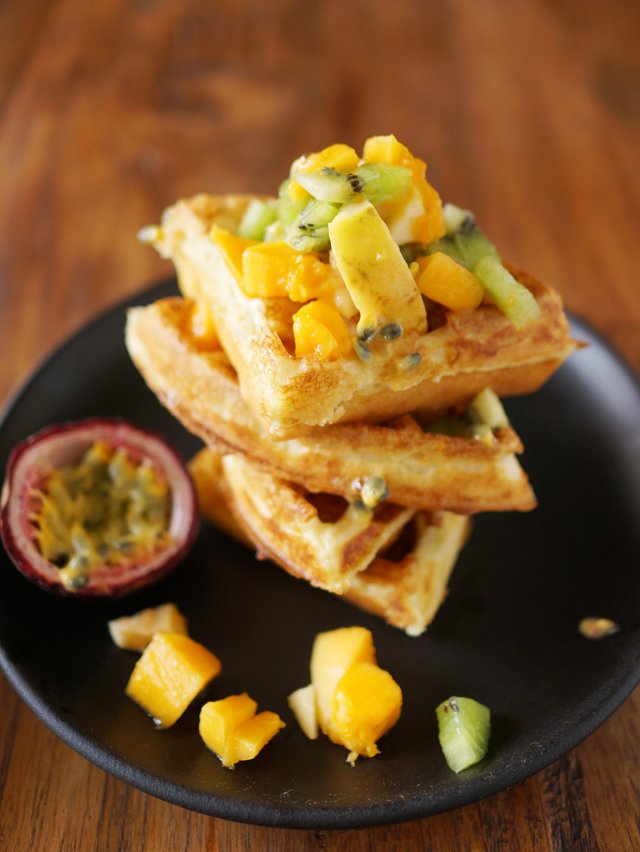 (images by HonestlyYUM)