If you've been following the blog for a while, you probably know that my wife, Audrey, is the mastermind behind most of the food recipes I shoot/post – especially the baked goods (she's always posting sneak peaks of recipe testing). I shake the cocktails, she bakes the sweets. It's a nice little arrangement we have between the two of us. In addition to several margarita cakes, Audrey has also started baking her own pain au levain (lucky me)! Needless to say, our oven has been working overtime these past few weeks. So when Sarah had the idea of collaborating on a duo of lettuce wraps, the timing couldn't have been more perfect. I wouldn't exactly call this a simple recipe, as there's quite a bit of prep involved to make the marinade and the sauce. However, most of the components can be prepared in advance. So, if you're looking for a quick, healthy meal, and you have some time to get started the night before, you will definitely want to give these lettuce wraps a try. Don't forget to check out Sarah's Ginger Lemongrass Pork Lettuce Wraps (also pictured), as well as the fun stop-motion of Sarah assembling the wraps down below.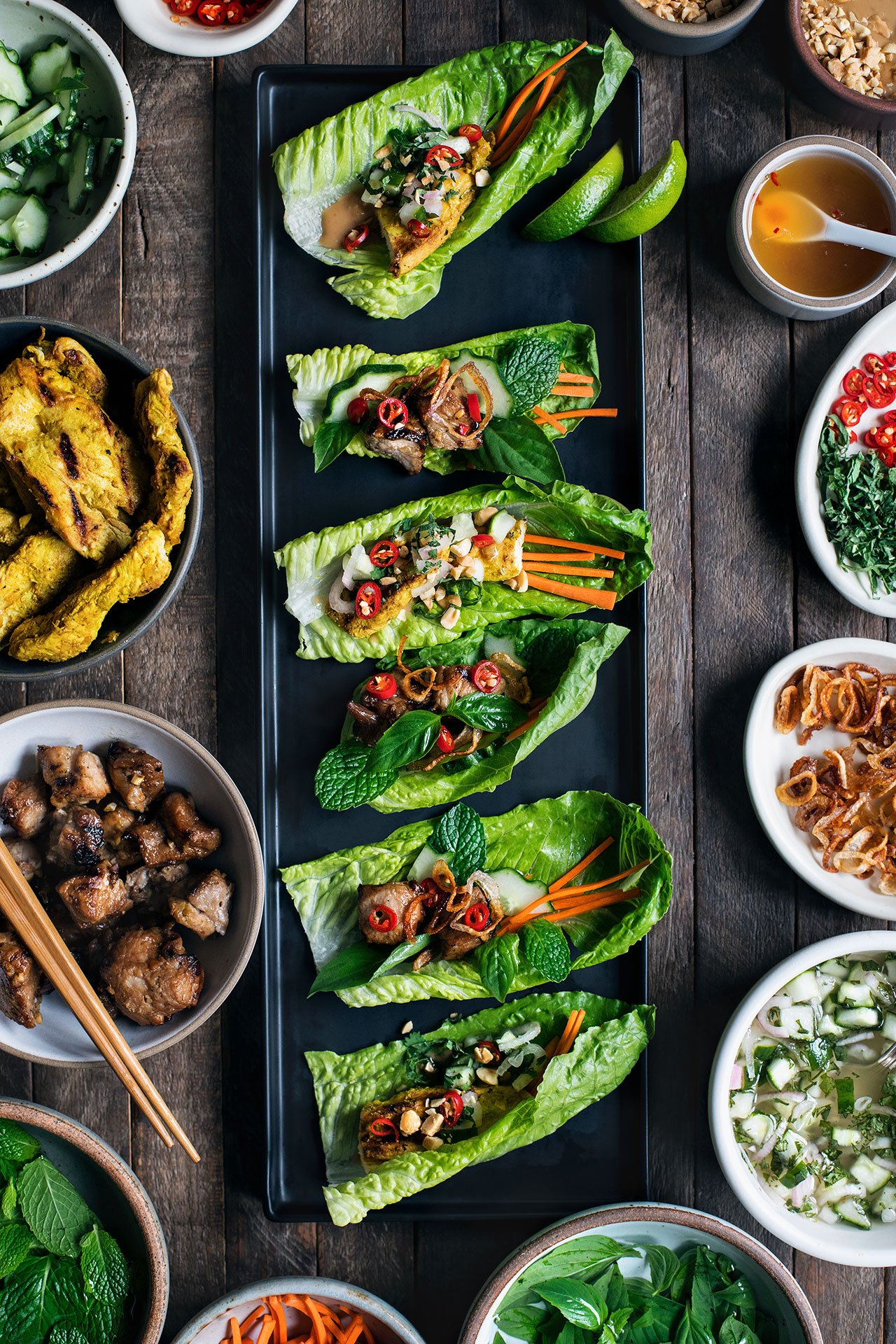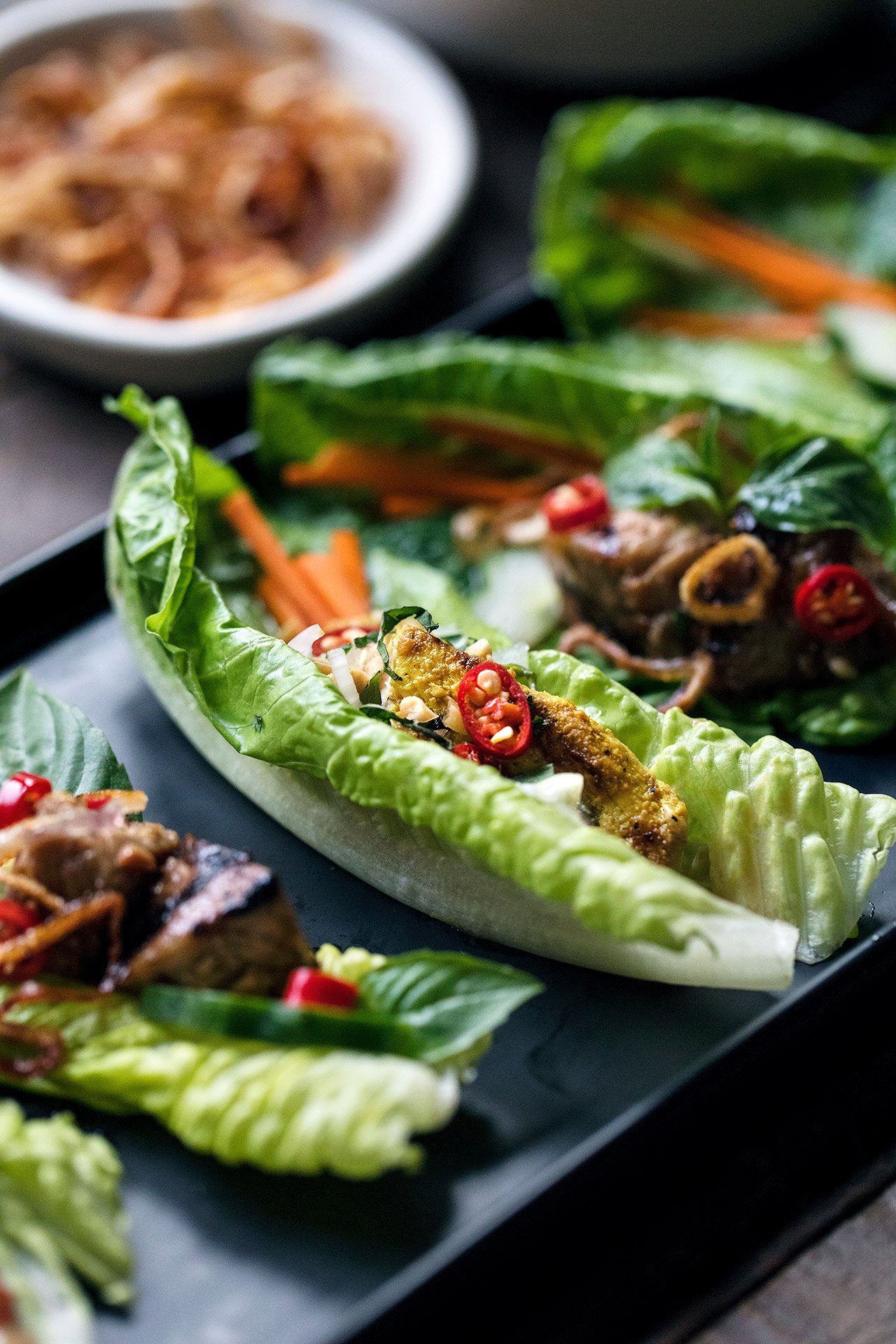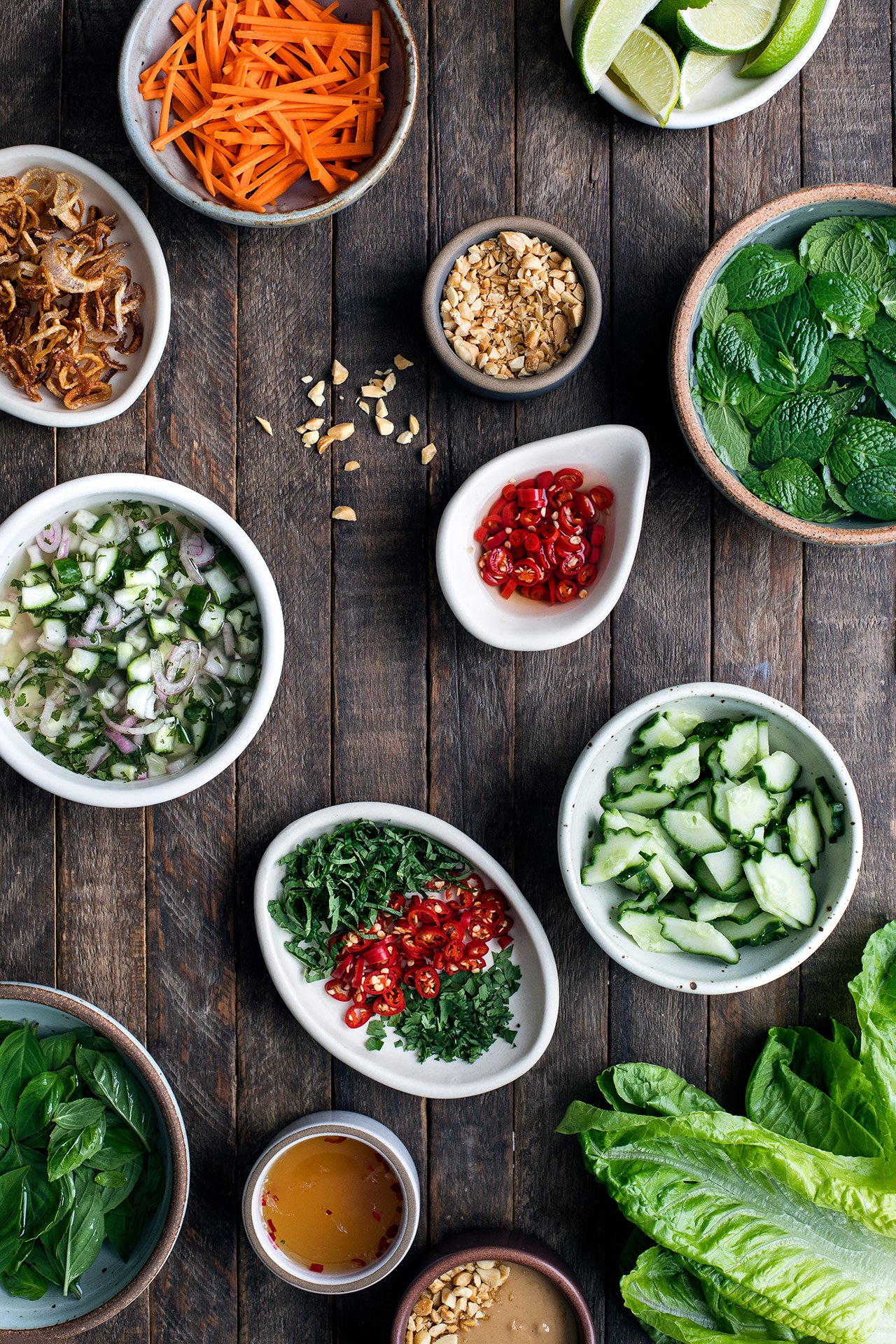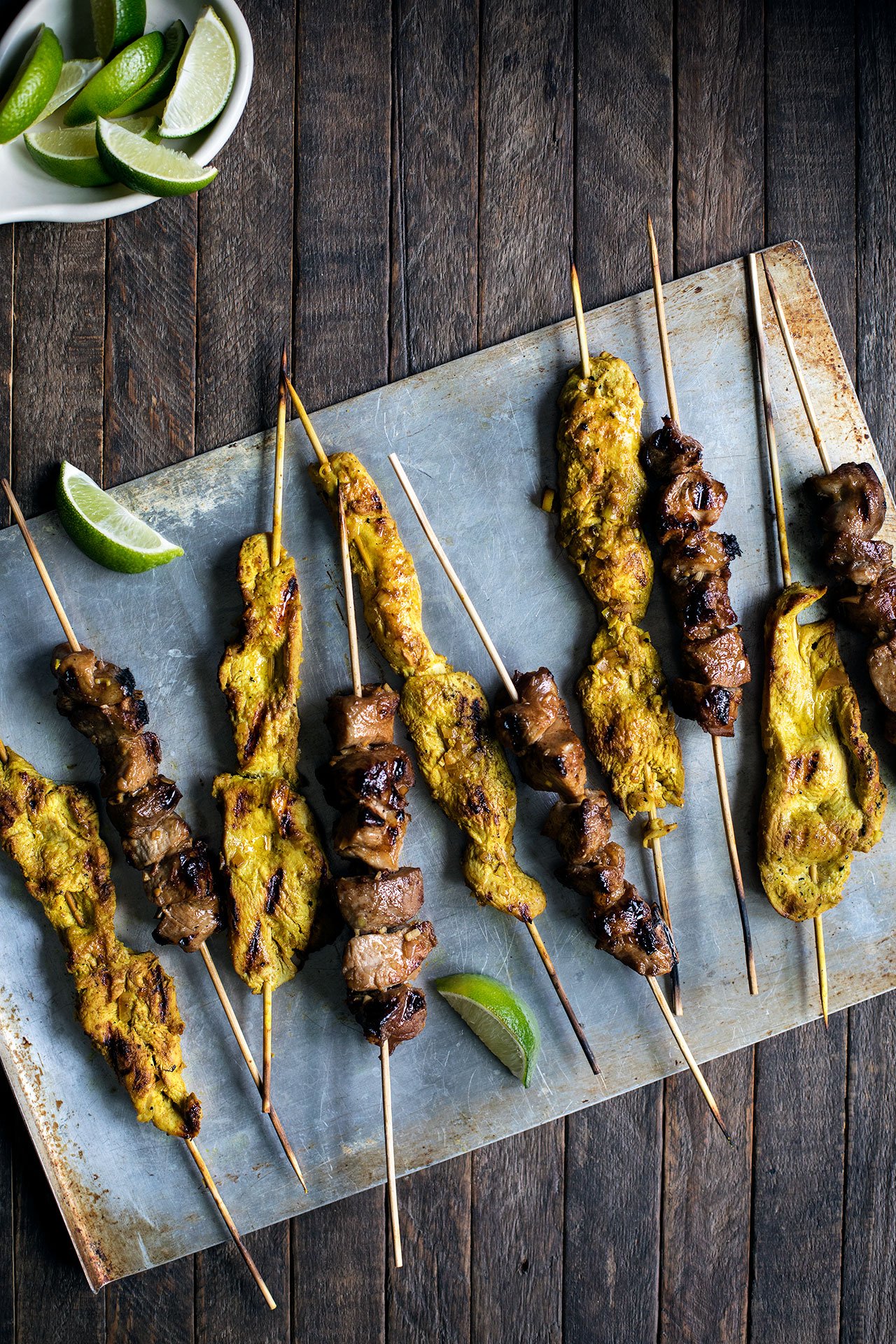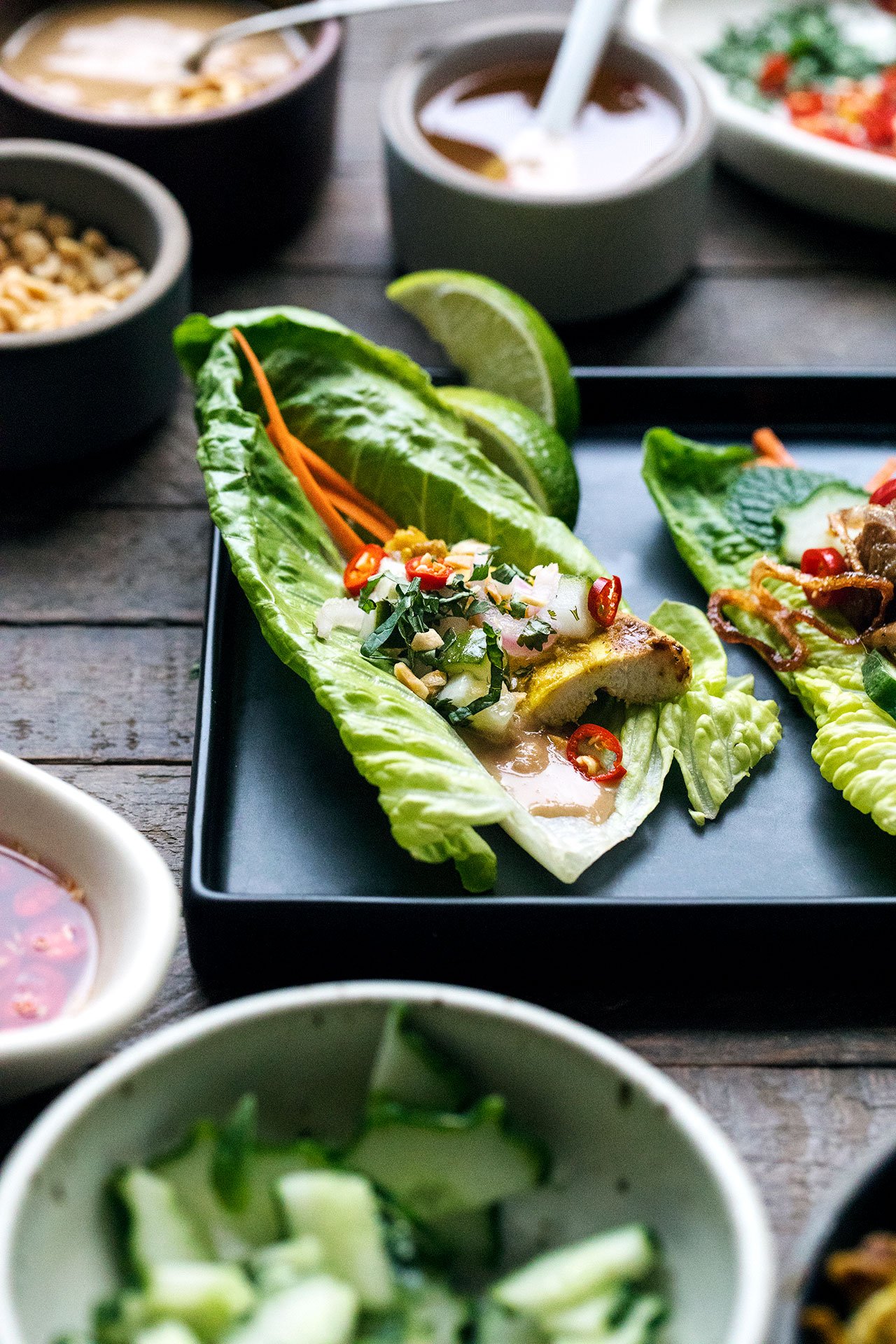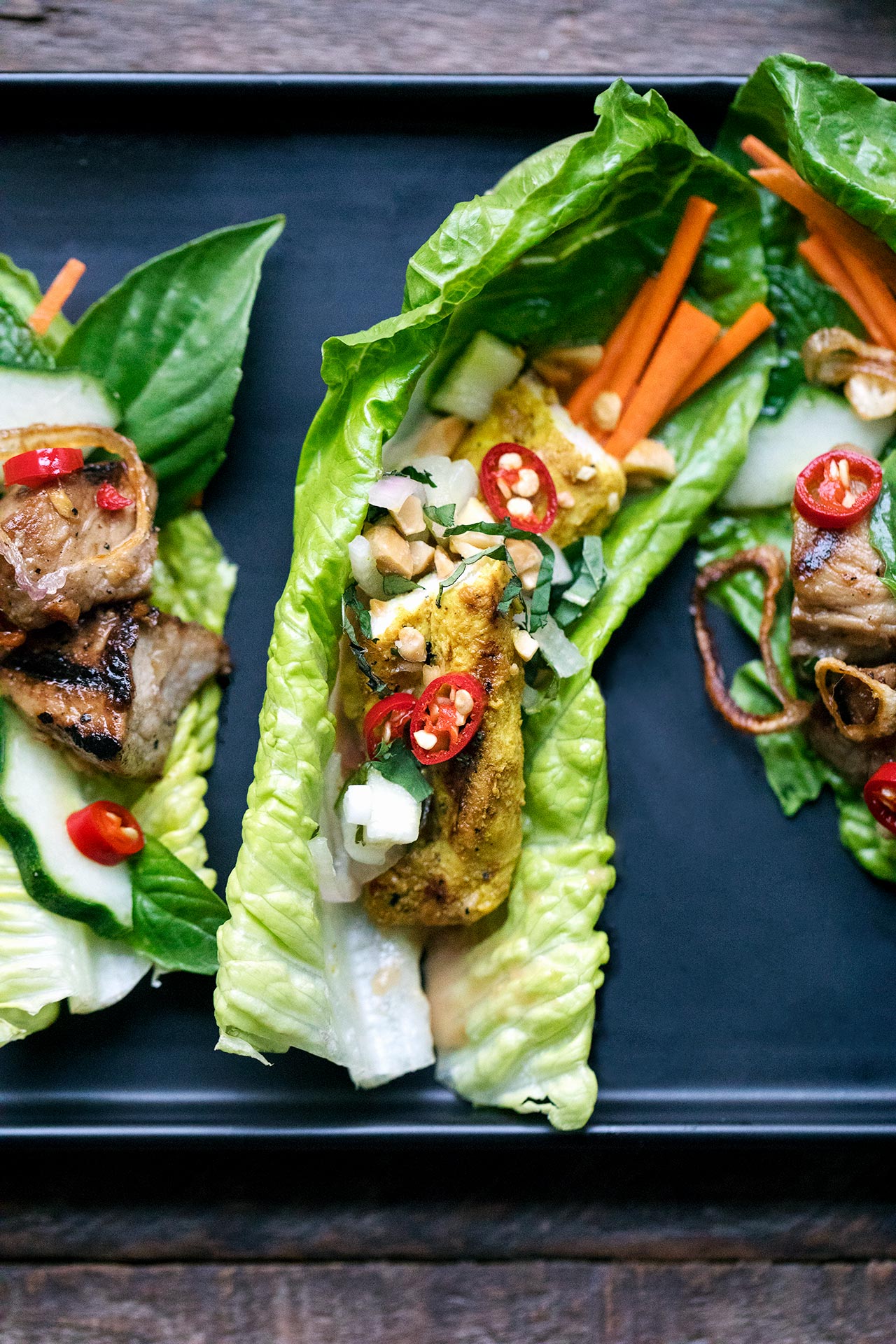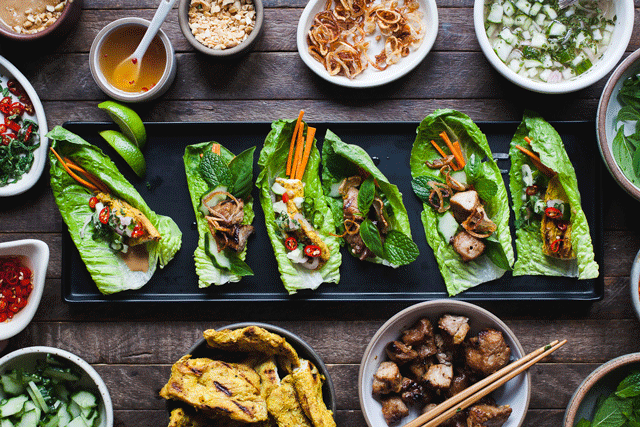 CHICKEN SATAY LETTUCE WRAPS

Ingredients:

   For the chicken satay marinade

1/2 tsp cumin, ground
1 tsp coriander, ground
1 1/2 tsp turmeric, ground
1/2 tsp salt
1 stalk lemon grass, halved and sliced into 1/8 inch slices
1/2 shallot (1 bulb of large shallot), minced
2 cloves of garlic, crushed
1/2 tbsp grated ginger
1 tbsp brown sugar
1 tbsp lime juice
1/2 cup coconut milk
3 tbsp soy sauce
1 1/4 pounds boneless skinless chicken breast

   For the cucumber relish

1/2 small English cucumber, thinly sliced and quartered
3 tbsp sugar
3 tbsp rice wine vinegar
1/2 shallot (1 bulb of large shallot), thinly sliced
1 tbsp cilantro, chopped

   For the peanut sauce

1/3 cup chunky peanut butter
1 tsp sesame oil
2 tbsp rice wine vinegar
1 tbsp lime juice
3 tbsp coconut milk
1 tbsp brown sugar
1 tbsp fish sauce
1 tbsp soy sauce
1/2 fresno chile, seeded and diced (optional)

   For lettuce wrap assembly

~ 12 big leafy green lettuce leaves (romaine or butter lettuce work well), rinsed and dried
cilantro
mint
carrots, julienned
roasted peanuts (unsalted), chopped
Thai chiles, thinly sliced
lime wedges

Directions:

   For the chicken marinade

Place all the marinade ingredients into a large bowl, and whisk to combine. Slice the chicken lengthwise into ~ 1/4 inch slices. Lay the slices flat on your cutting surface and pound any uneven areas, so that the strips are of uniform thickness.
Add the chicken strips to the marinade, and toss to coat.
Cover and let marinate in the refrigerator for at least 30 minutes.
If using wooden skewers, now is a good time to soak them in water before grilling.

   For the cucumber relish

Add the sugar and vinegar to a small bowl, and whisk to combine until the sugar dissolves.
Add cucumber, shallot, cilantro, and chile (if using) and stir to coat. Set aside.

   For the peanut sauce

Place all peanut sauce ingredients into a medium bowl, and whisk to combine. Set aside.

   To cook the chicken

Brush your grill with oil – fire to medium-high heat. Thread your chicken strips onto the skewers, so that they will lay as flat as possible.
Place chicken skewers on the grill, and cook until internal temperature reaches 165° F, flipping halfway through (~3 minutes for each side).
Remove from grill, and assemble your lettuce wraps.

   To assemble lettuce wraps

Lay the lettuce leaves out on a serving platter. Remove a chicken strip from the skewer, and place inside the lettuce leaf. You may need to cut the strips in half if they are longer than your lettuce.
Add a dollop of peanut sauce, a bit of the cucumber relish, and garnish with mint, cilantro, carrots, peanuts, Thai chiles, and a squeeze of lime.
Grab the wrap like a taco, and devour! Best served while the chicken is still warm.
(images by HonestlyYUM & Snixy Kitchen. If you're looking for a great stop-motion tutorial, be sure to check out Betty's post.)