Remember the crab boil from Tuesday? Well, if you're anything like me, you probably prepared more crabs than any sane person could eat. I love making a chowder with left over crab. To me the perfect chowder consistency should not be watery but also not thick and goopy. This soup has the perfect consistency and, better yet, each spoonful is full of softened potatoes and crab. I ditched the typical oyster crackers for a biscuit-sized piece of buttery puff pastry that I dusted with salty parmesan because I had some extra frozen puff pastry laying around after I made this galette. I think it goes without saying that the addition was totally awesome. On a side note, yesterday was National Clam Chowder Day– as if you needed another reason to make this!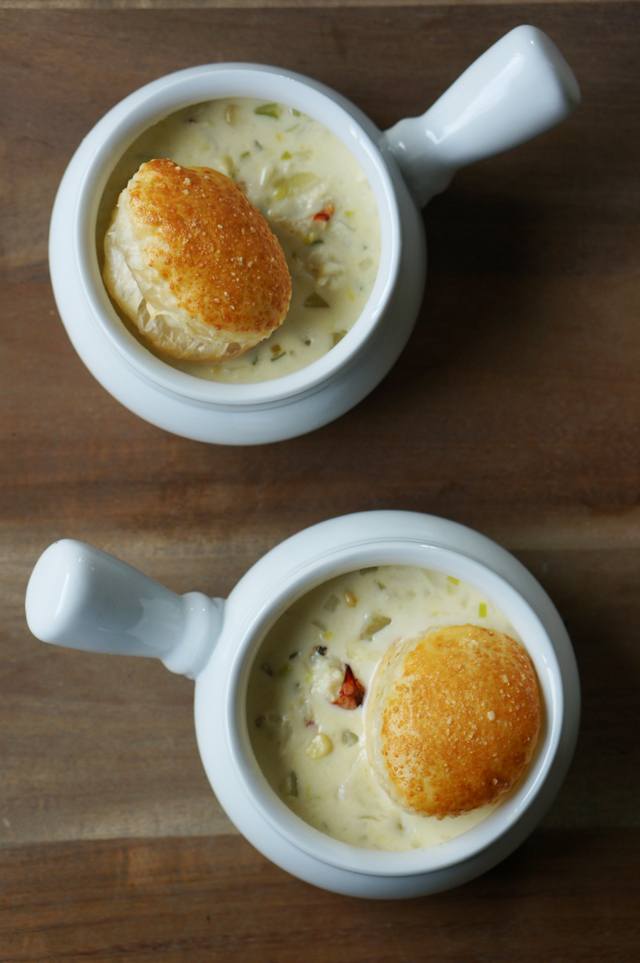 Chowder ingredients:

1 1/2 cups of crab meat
3 cups of shellfish stock, or alternatively chicken stock
1 large yukon gold potato
1 leek, trimmed
1 small yellow onion or half large
2 stalk of celery, trimmed
2 cups of frozen white corn (of course, use fresh if corn is in season!)
2 tablespoons of flour
3 tablespoons of butter
1 pint of heavy whipping cream
Kosher and sea salt and freshly ground black pepper

Shellfish stock ingredients:

6 cups of crushed crab shell (or shrimp shells)
2 quarts of water

Puff pastry tops ingredients:

1 sheet of puff pastry, defrosted
1 egg, beaten
small handful of grated parmesan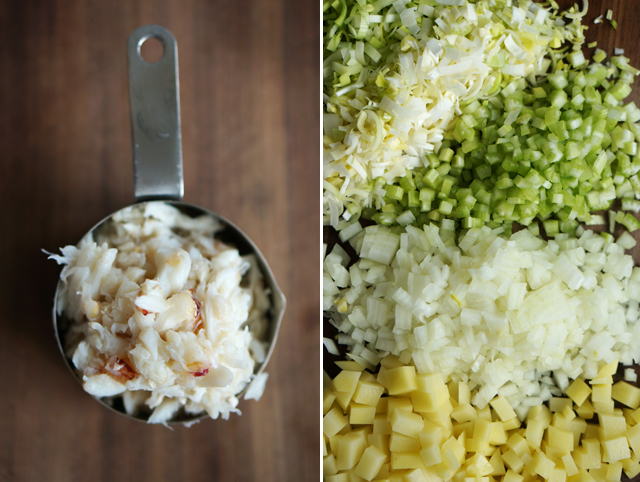 To make the shellfish stock, place the crab shells in a large ziplock and break down into smaller pieces using a hammer.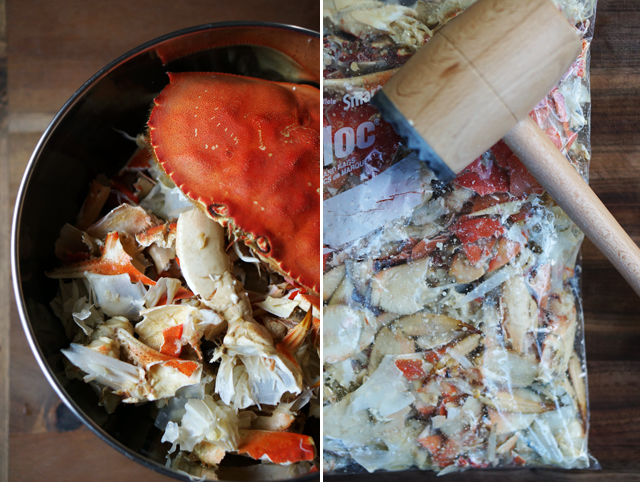 Fill the stock pot with 2 quarts of cold water and bring to a simmer.  Simmer for 1 hour. Salt to taste and strain.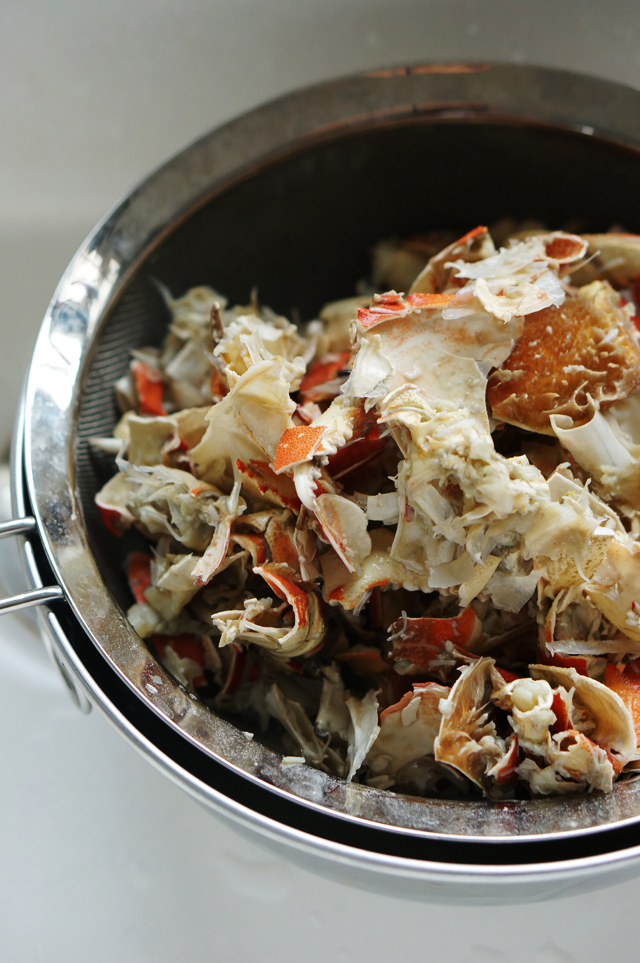 Finely dice the celery stalks and onions. Thinly slice the leek. Sautee them over medium heat with the 3 tablespoons of butter and cook until softened, about 10 minutes.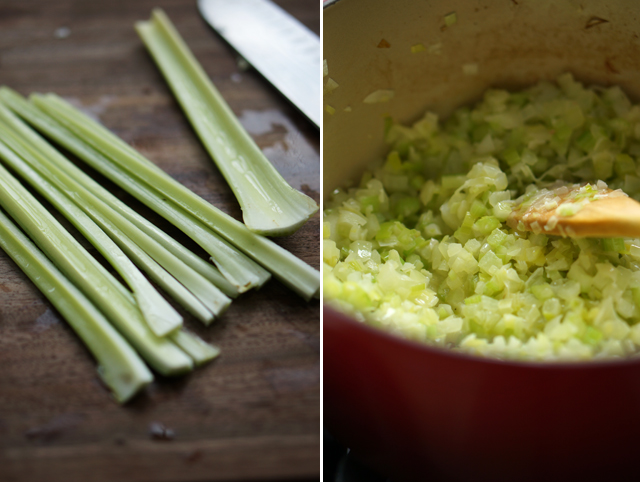 Add flour to the vegetables and stir constantly, cooking the flour, for about 3 minutes. Add the stock and heavy cream and bring to a low simmer. Finely dice the potatoes and add to the soup.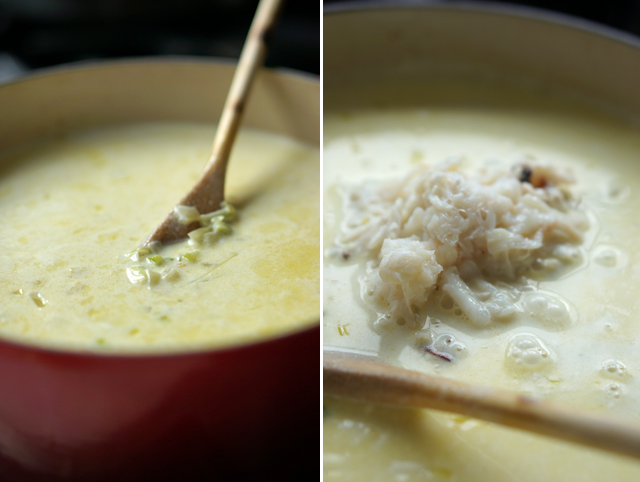 Simmer until potatoes are cooked through and soft. Then, add the crab meat and corn and simmer in low heat for another 5 minutes. Remove from the stove. Salt and pepper to taste.
To make puff pastry tops, roll out defrosted puff pastry and cut into circles. Brush the tops with a beaten egg and sprinkle with grated parmesan. Bake at 425 degrees for 10-15 minutes until golden brown.
Top soups with puff pastry.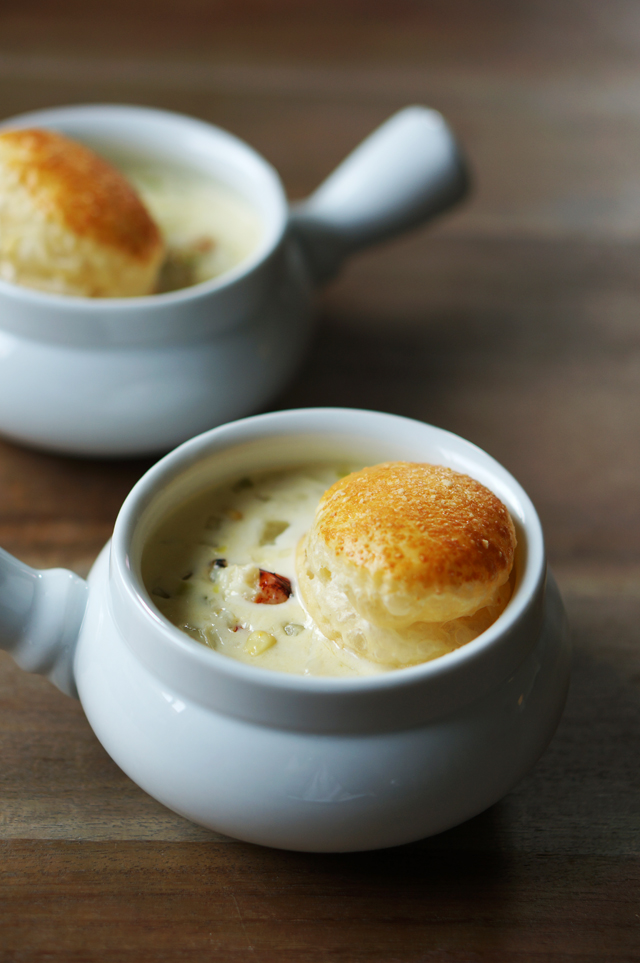 And enjoy!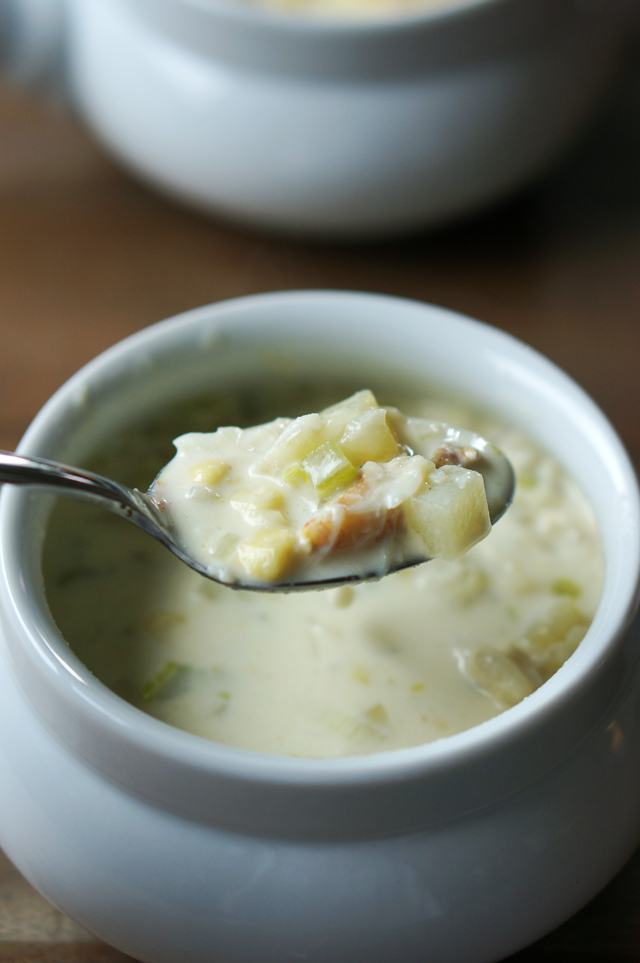 (images by HonestlyYUM)