The holidays really snuck up on me this year. Seriously, it feels like it was just yesterday I dropped Fiona off for her first day of preschool! Fast forward 3 months, and she's home with me on winter break, helping me hang the stockings, and put a few final touches on the Christmas tree. I'm grateful. Speaking of grateful, I am truly grateful to have friends like Yoko and Kayoko from Umami Mart who, in the spirit of the season, have generously offered our readers a chance to win this absolutely stunning Shigaraki Donabe Set.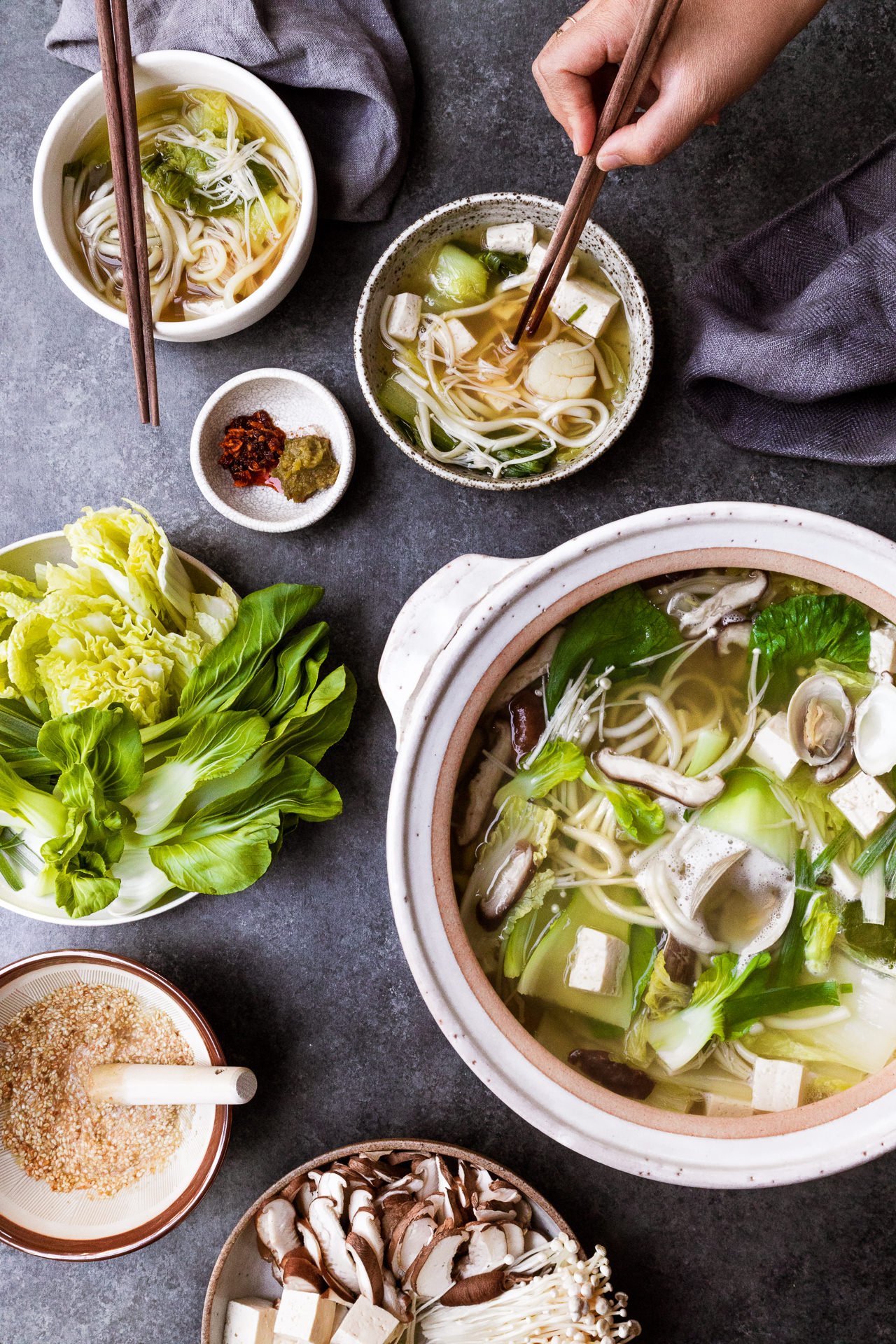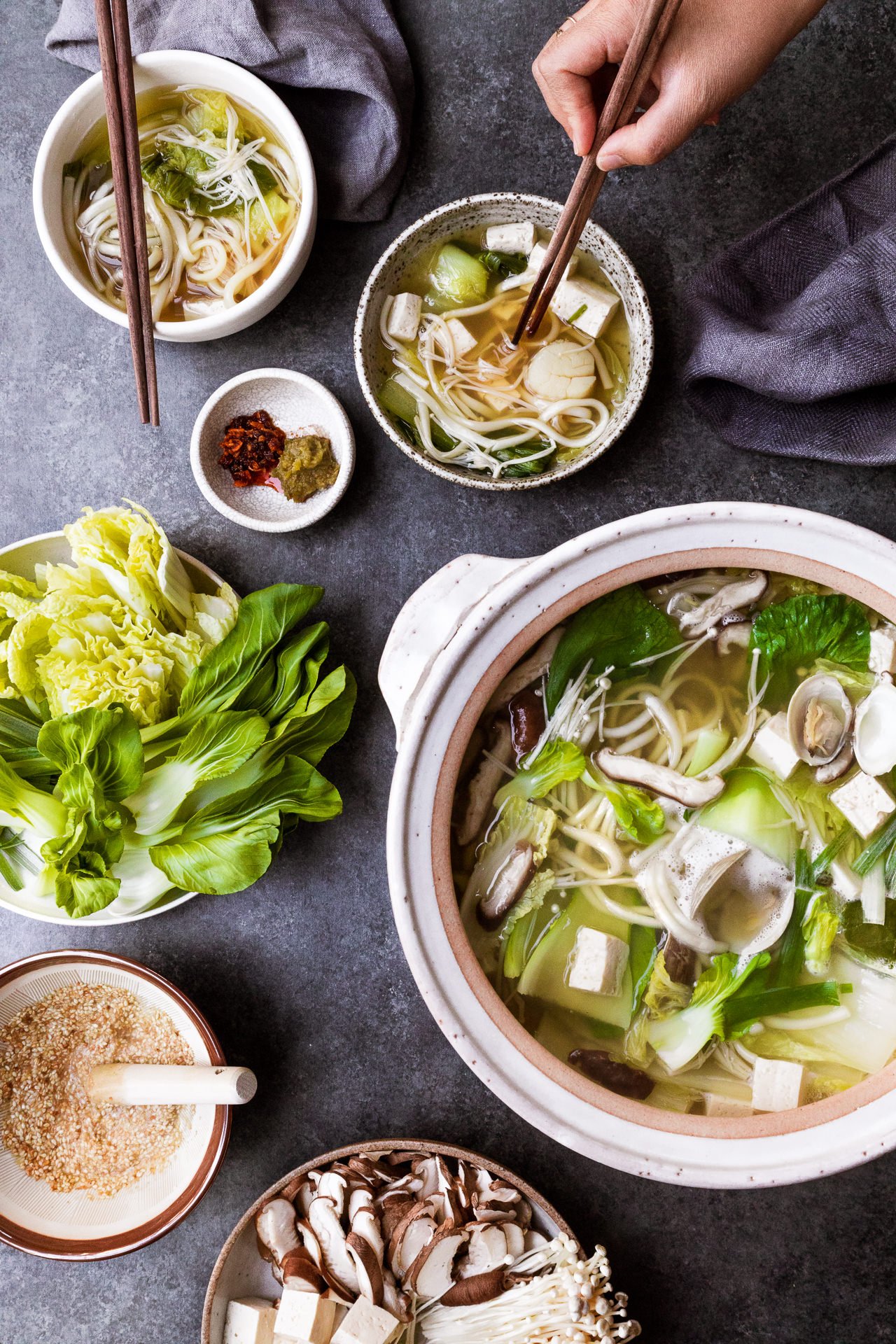 If you aren't familiar, the donabe is a traditional Japanese ceramic cooking vessel used to make countless dishes (rice, soups, stews, etc). This versatile style of cooking, known as nabemono (in the hotpot), is discussed in depth in the accompanying book, Donabe by Naoko Takei Moore. So today, to get your creative juices flowing (and your stomach rumbling) we're sharing a rather simple nabemono recipe, courtesy of our friends at Umami Mart. TO ENTER to win the Donabe Set, simply hop onto Instagram, and follow the instructions on the post!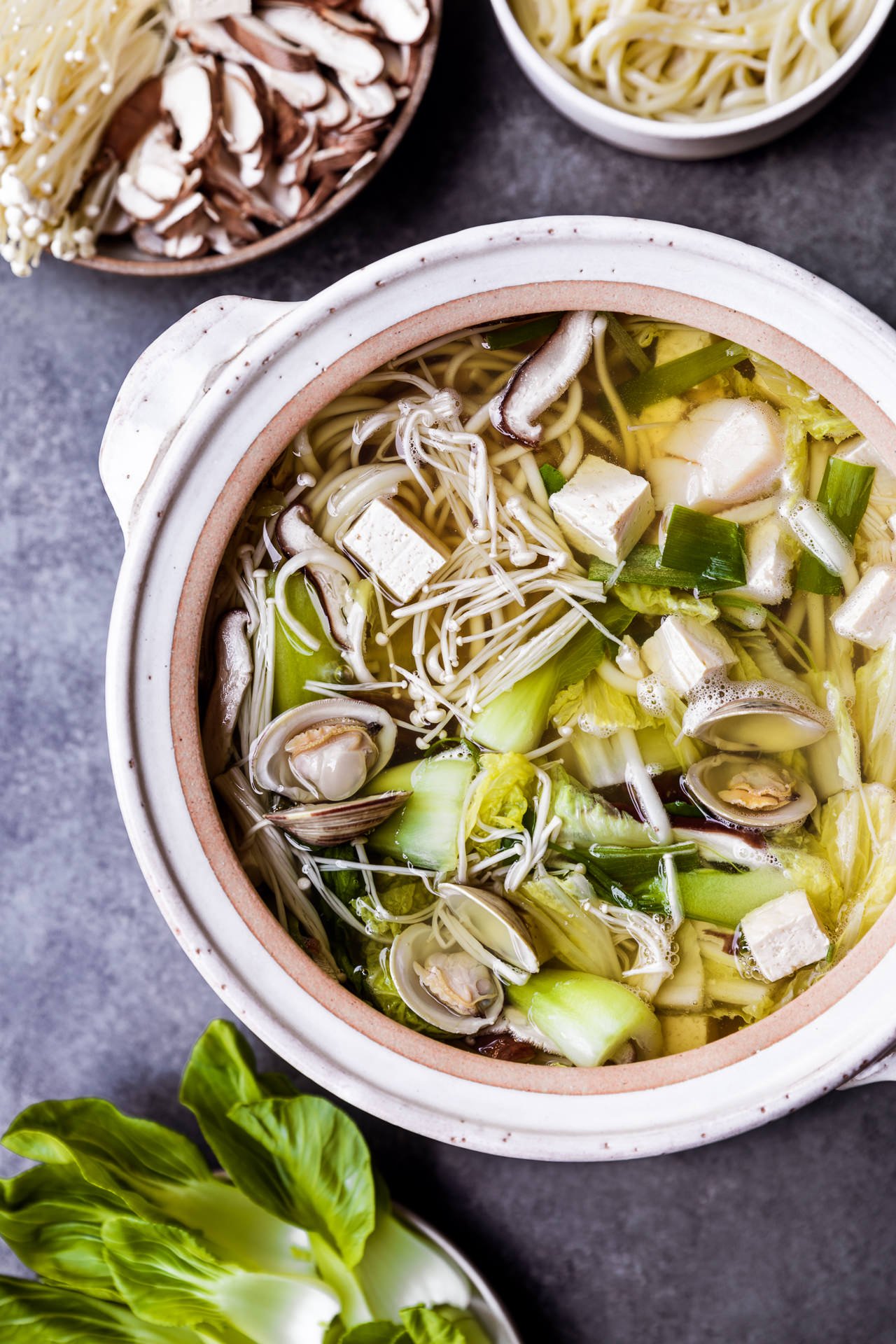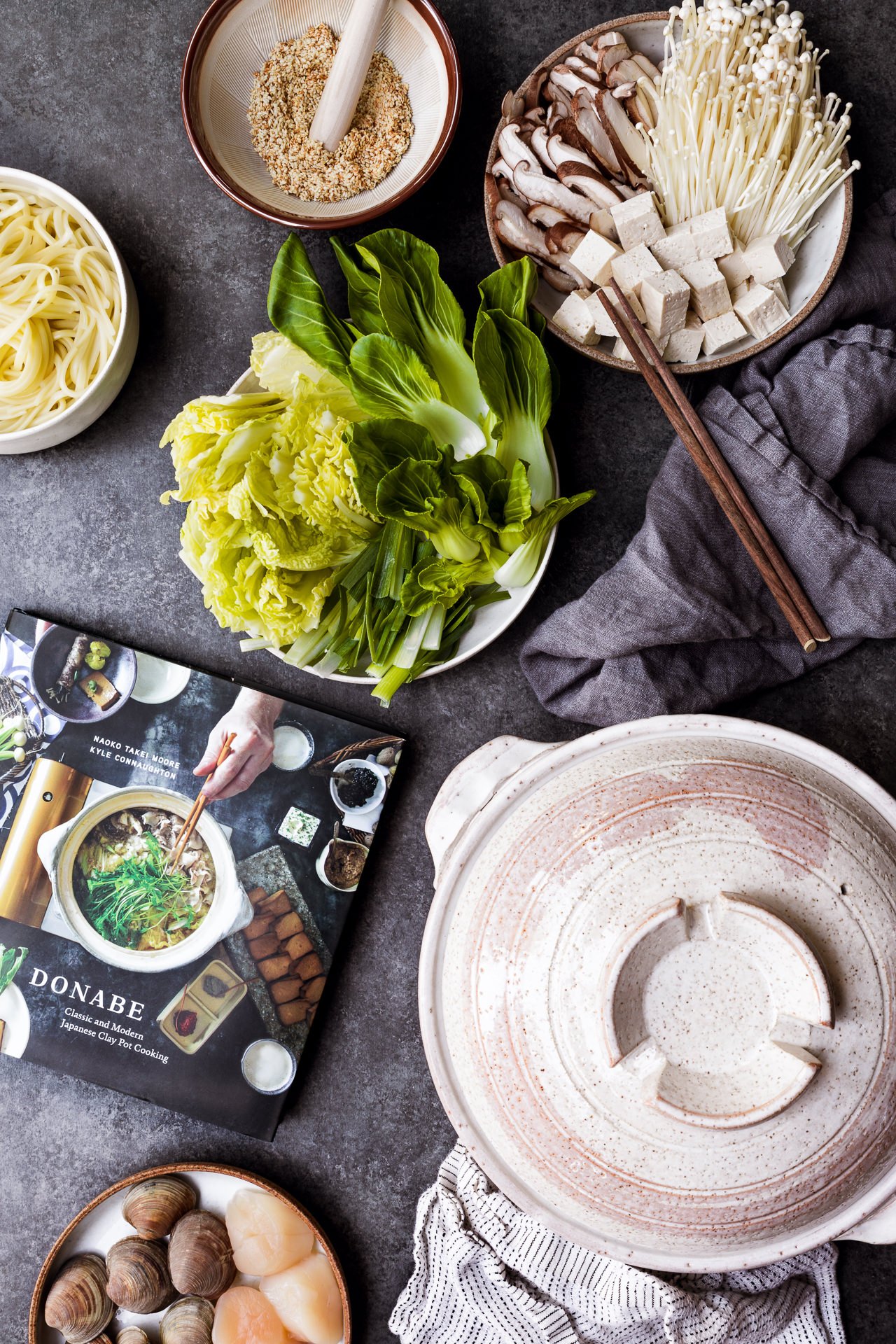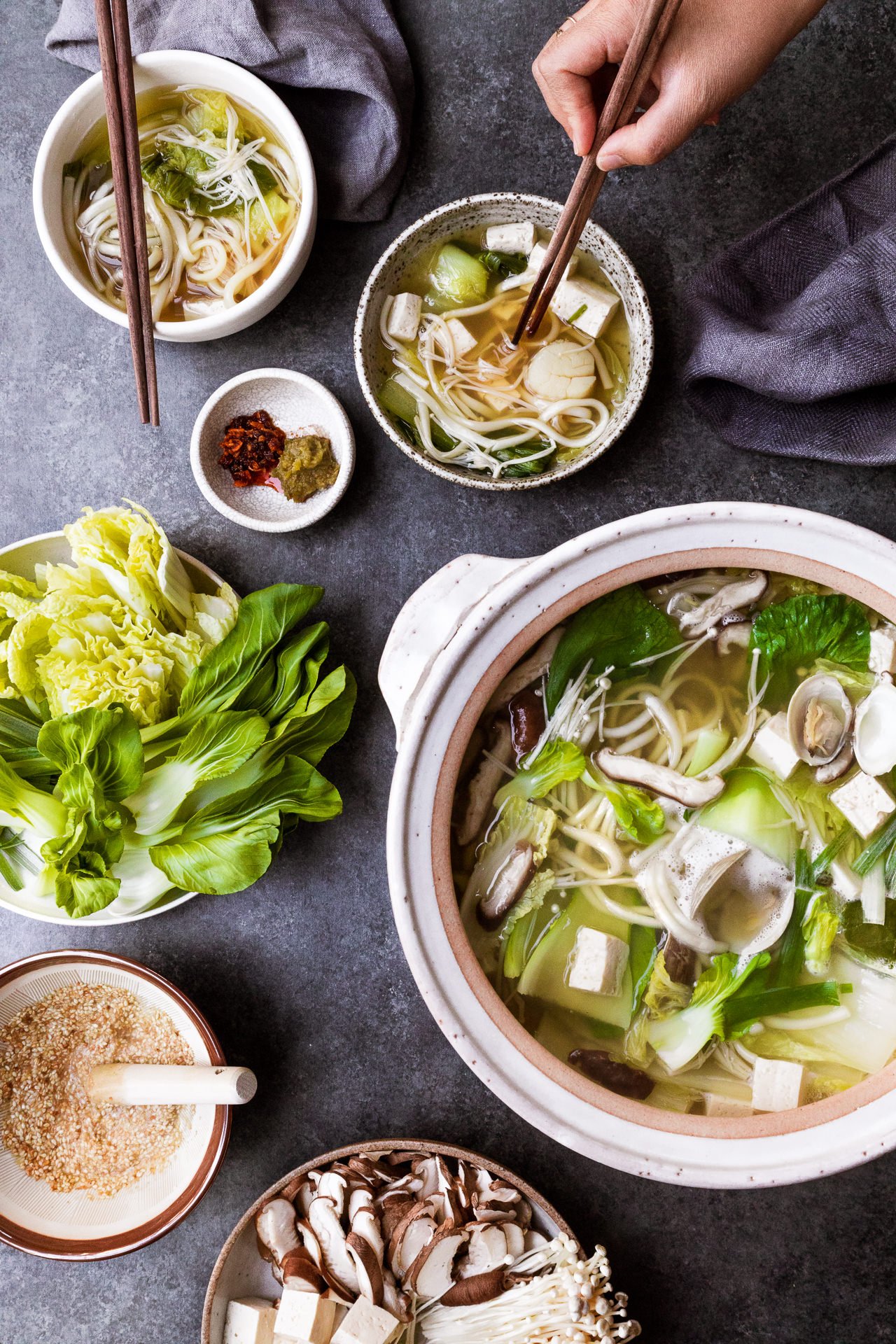 Nabemono
Learn how to make this simple nabemono recipe (Japanese hotpot). Plus, enter to win this beautiful Donabe Set from Umami Mart!
INSTRUCTIONS
Dashi
Prepare the dashi an hour in advance. Add the water, dashi packets, and konbu into a large pot, and simmer on low for an hour.
Nabemono
While the dashi is cooking, prepare the ingredients for your nabe: Rinse and cut the vegetables. Cut the tofu. Clean the seafood. Cook the noodles. Set out the condiments. Assemble the portable gas stove, if using.

Add the dashi into the donabe.

Add the napa cabbage, green onions, mushrooms, tofu, and baby baby bok choy and cook. As Umami Mart mentions, it's nice to start with a simple vegetable course. Once the vegetables are cooked, ladle into bowls, top with gomadare, yuzu kosho, ponzu, and serve.

Repeat the steps above with dashi and vegetables, except this time add the noodles and the seafood. Top with condiments and serve. Continue until everyone is stuffed!
NOTES
You can find dashi packs, as well as many other of these specialty ingredients (gomadare, yuzu kosho, ponzu) at most Japanese markets.
If you're feeling even more adventurous, check out Umami Mart's guide for making dashi from scratch.
If you don't have a portable gas stove, simply combine the ingredients in the donabe on a regular gas stovetop, then bring it out to the table when it's done.
Other delicious options for the nabemono are shirataki noodles, tsukune balls, shungiku, shrimp, crab, squid . . . really any shellfish or white fish.
Adjust the amount of ingredients to account for the number of people eating.
(images by HonestlyYUM; recipe courtesy of Umami Mart; Shigaraki Donabe Set from Umami Mart)