Erica, Todd and I have our allegiances– I adamantly believe that Los Angeles has far superior Mexican food and ramen than in San Francisco and Erica and Todd could go on and on about the Bay Area's great bakeries and Berkeley Bowl. Even though we can sometimes get into that LA vs. SF rivalry, there's one thing we can agree upon: the Golden State Warriors and how exciting it's been to see the team's rise over the past few years. Now that we're past the All Star break, guaranteed we're going to be glued to our TV to watch the Warriors! We had a little fun with today's curry chicken pot pie and made this in honor of Steph Curry. Also, we're the first to admit that we're total fan girls/boy of Ayesha Curry! This is not your average chicken pot pie– this one is infused with lots of spicy Madras curry. I finished off the pie by using little cookie cutters to cut the letters from scraps of pie dough and used a double egg yolk wash for that extra glossy finish. Whether or not you like the Warriors, you're going to love this recipe guaranteed. (Go Dubs!)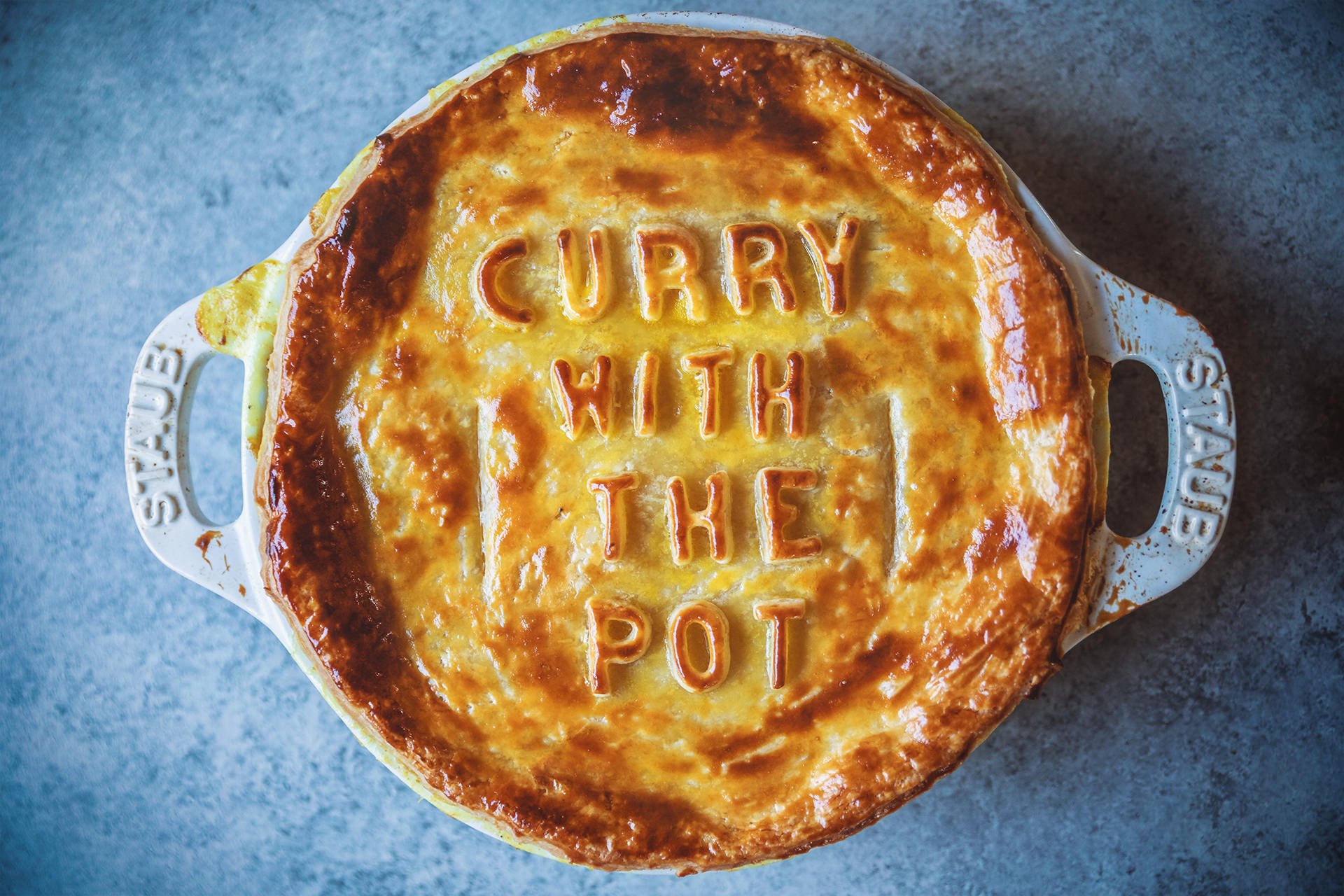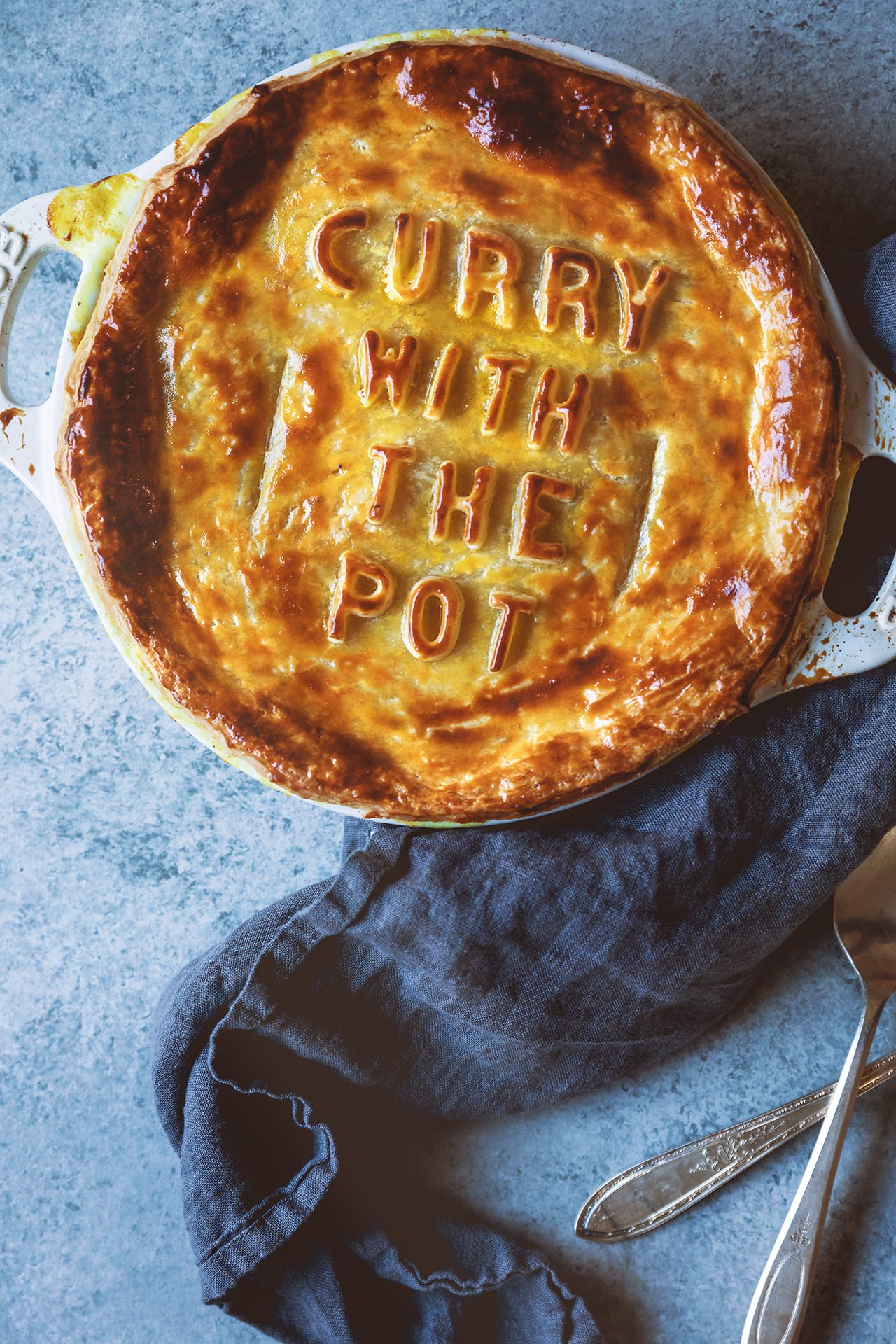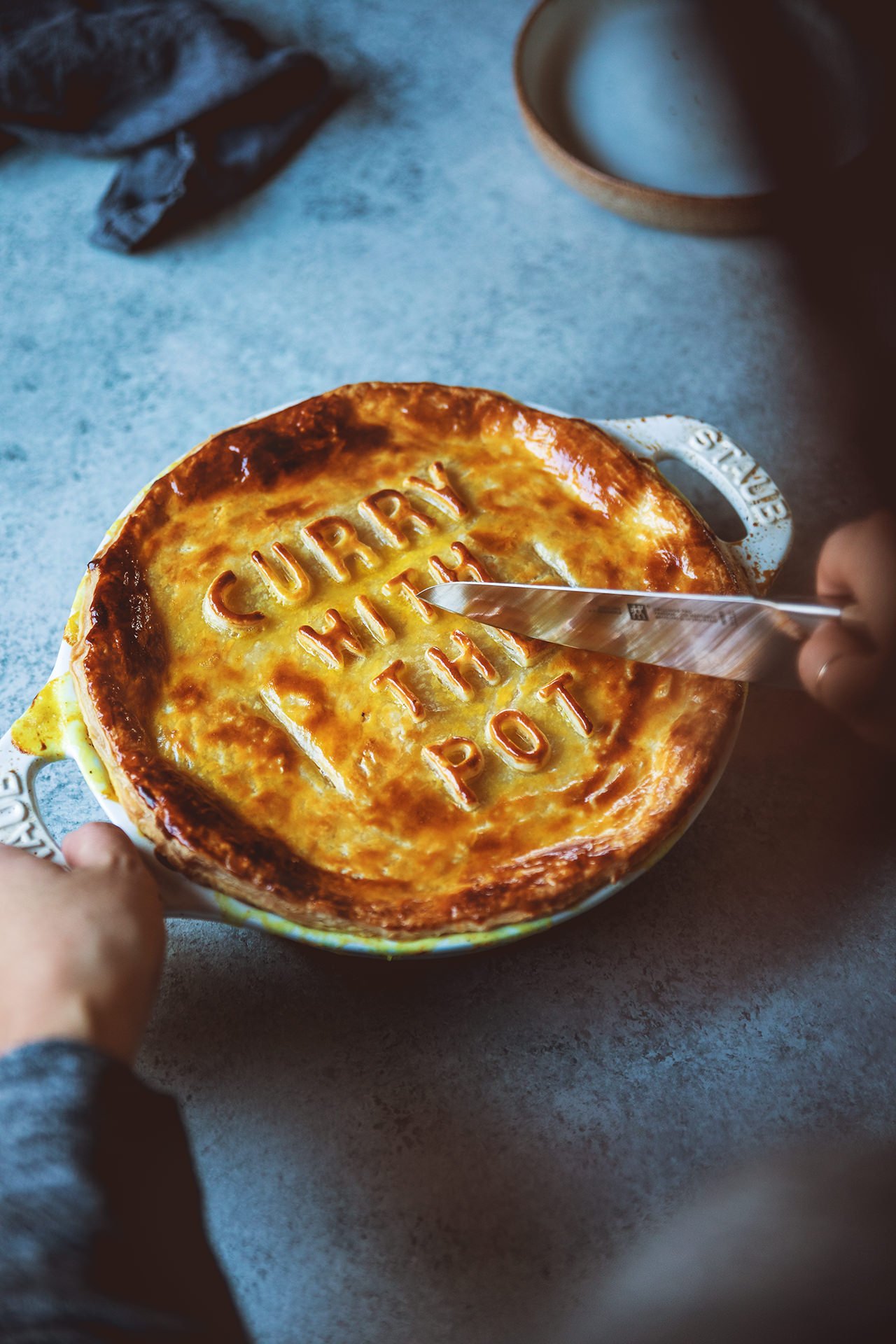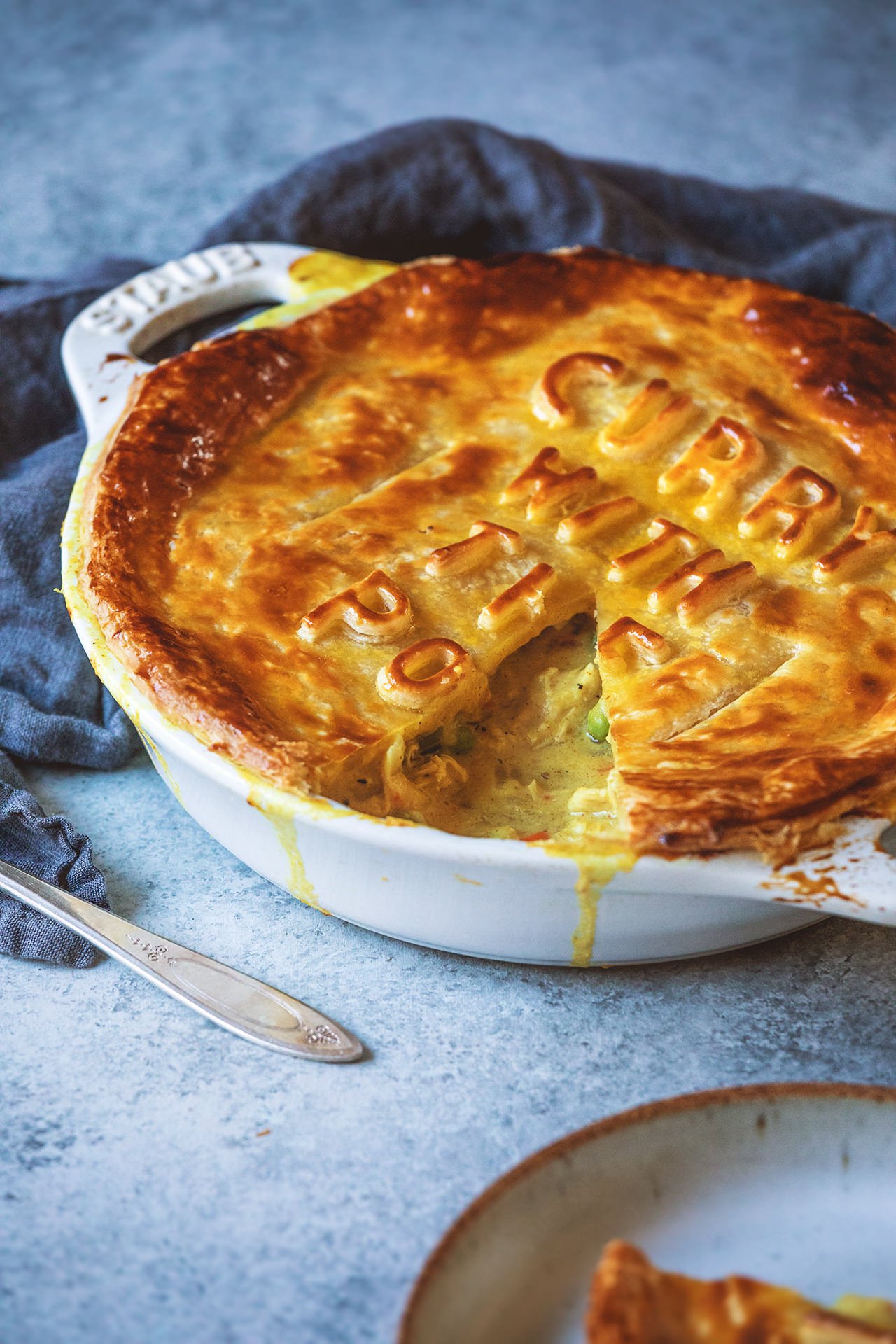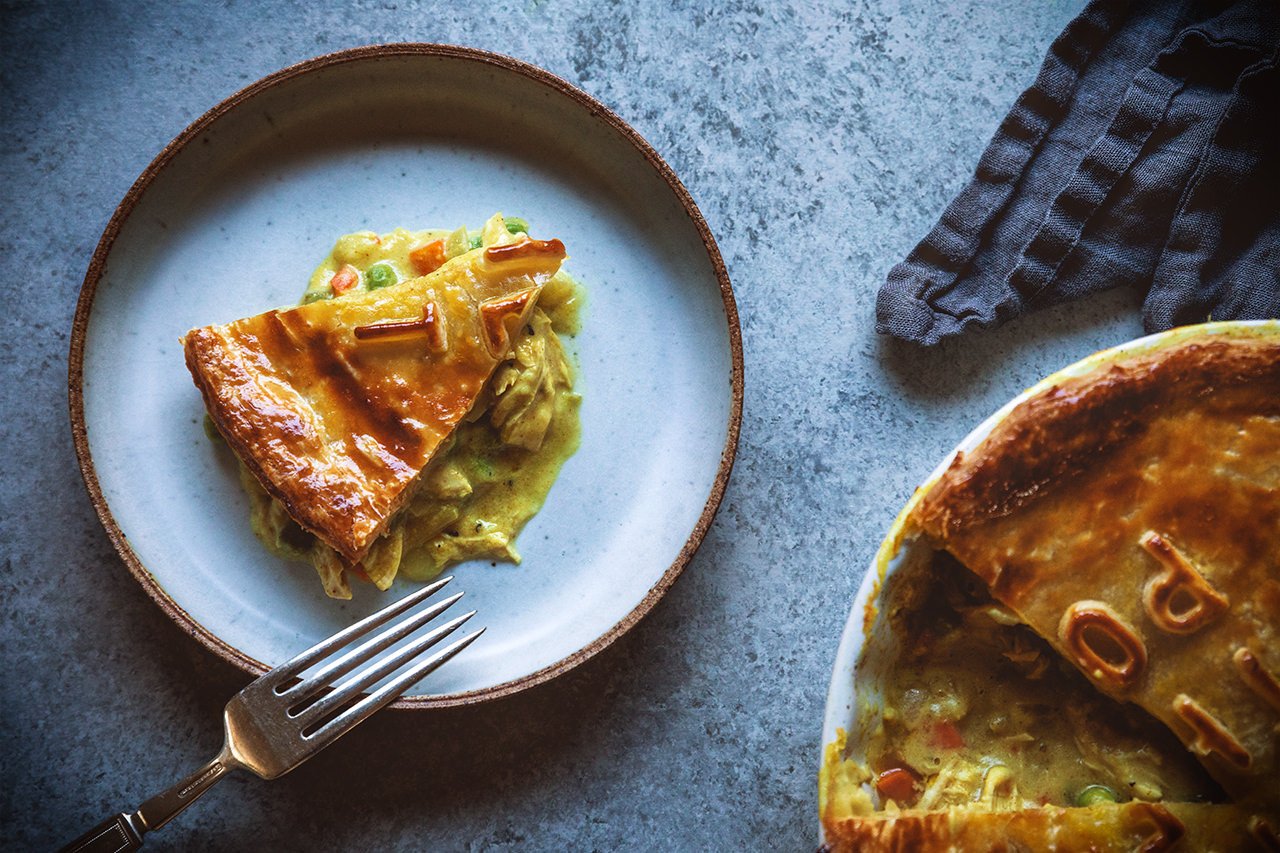 CURRY CHICKEN POT PIE

Ingredients:

3 pounds of skinless, boneless chicken breast
3-4 cups of chicken broth (or enough to cover the chicken breasts with in a pot)
1 large onion, diced
2 celery stalks, diced
2 carrots, diced
1 cup of peas
2 tablespoons of vegetable oil
4 tablespoons of butter
1/2 cup of all purpose flour
1 1/2 cups of whole milk
1 1/2 teaspoons of curry powder (I like Madras curry powder here)
2 pie crusts (or store-bought, de-frosted according to package)
2 egg yolks
1 teaspoon of heavy whipping cream
sea or kosher salt
freshly ground black pepper

Directions:

Preheat the oven to 400 degrees.
Place the chicken breast in a pot and add chicken broth until the broth covers the breasts. Bring to a boil and lower to a simmer and cook until breasts are fully cooked about 10-12 minutes. Transfer breasts to a carving board to cool, reserving the broth. Shred the chicken when cool enough to handle.
In a large pot or pan, sautee the celery, carrots and onions together with the oil with a large pinch of salt until soft and the onions turn translucent. Transfer the vegetables to a plate.
Add the butter and melt and add the 1/2 cup of flour and whisk for about 1-2 minutes until the flour soaks up the oil. Keep whisking and add the milk and whisk out any lumps.
Add 2 cups of the reserved chicken broth and add a little more broth if the flour mixture is too thick. I ended up using about 3 cups here.
Add the vegetables back into the pot and the shredded chicken. Add the curry powder and salt and pepper to taste. Add the peas and stir to combine.
Pour the chicken soup into two pie dishes. Cover with the two pie crusts and seal against the edge of the pie tin. You could also use a larger baking dish here but roll out your pie crust accordingly.
Whisk the egg yolks, cream and a pinch of salt together and brush the tops of the pie crusts. Cut vent holes with a paring knife.
Bake for about 30 minutes or until the crust is a deep golden brown and the chicken pot pie is bubbly.
(images by HonestlyYUM)