I'm sorry, I've totally misled you. I claimed to have the perfect albeit time-consuming technique for incredibly smooth hummus. But, this past weekend I came across a different technique which calls for overcooked chickpeas instead of peeling the outer shell off one at a time. Let's just say this technique not only yielded smoother hummus but was way easier to make. Most recipes for the best hummus will have you start from dried chickpeas, but for me the extra time and energy isn't really worth it, especially since it's really texture that I'm after and the flavor of this dish comes from tangy delicious herb salad. I add sumac, a sour spice with floral notes, to the finished hummus which is a spice you can find at Middle Eastern markets. You could serve this on a larger party platter and just add pita on the side and this becomes a great entertaining dish. It's incredibly addictive– you're gonna love this one!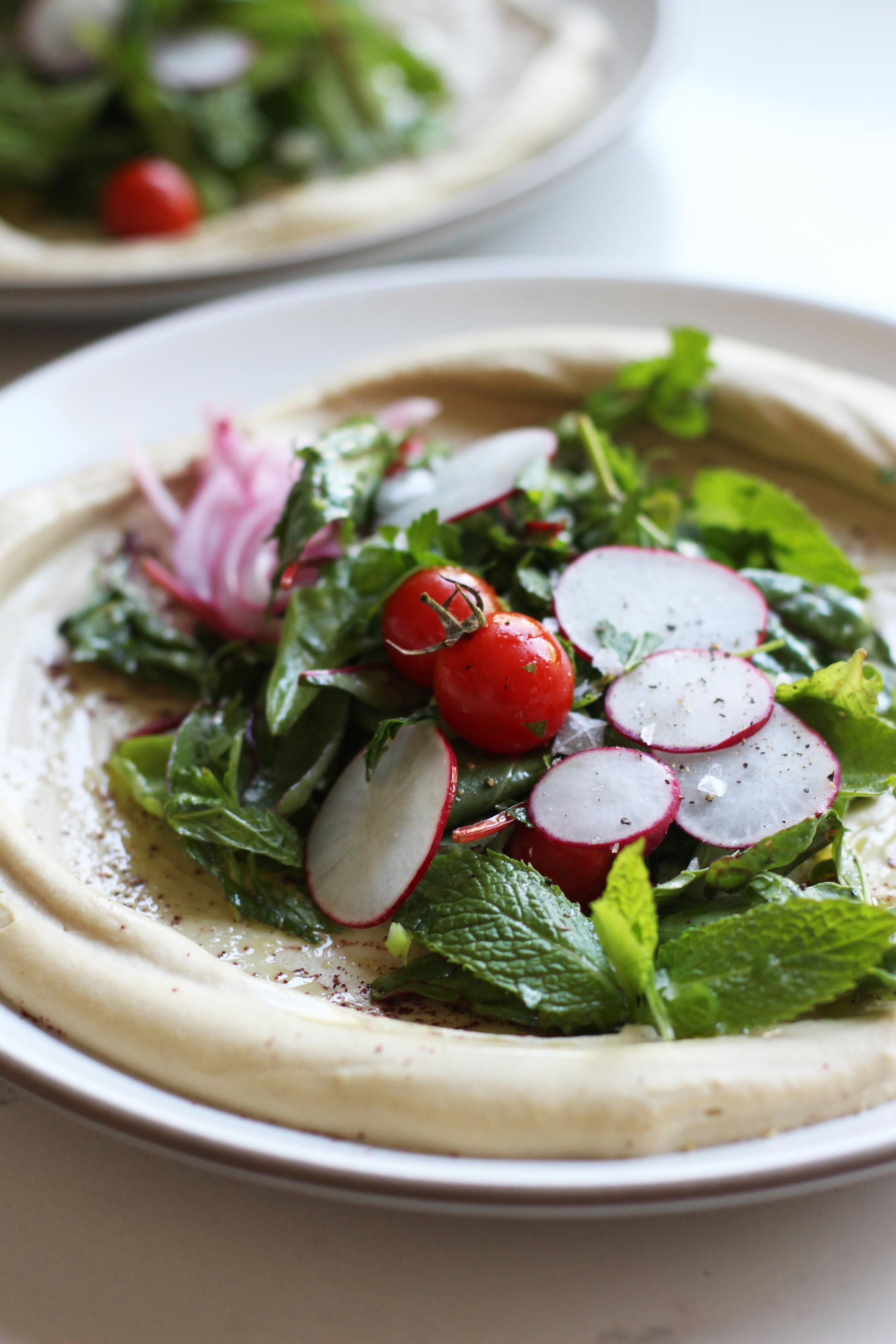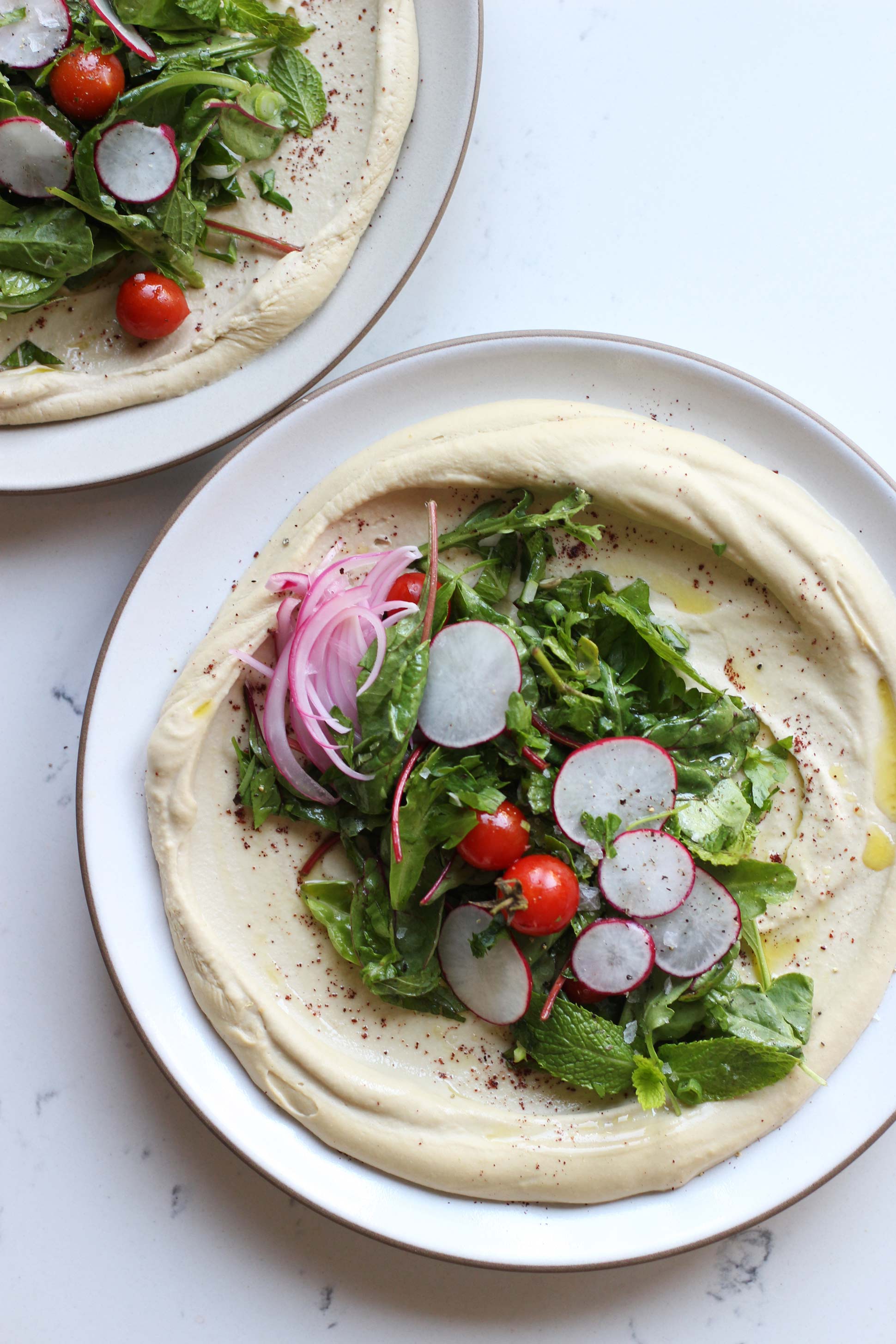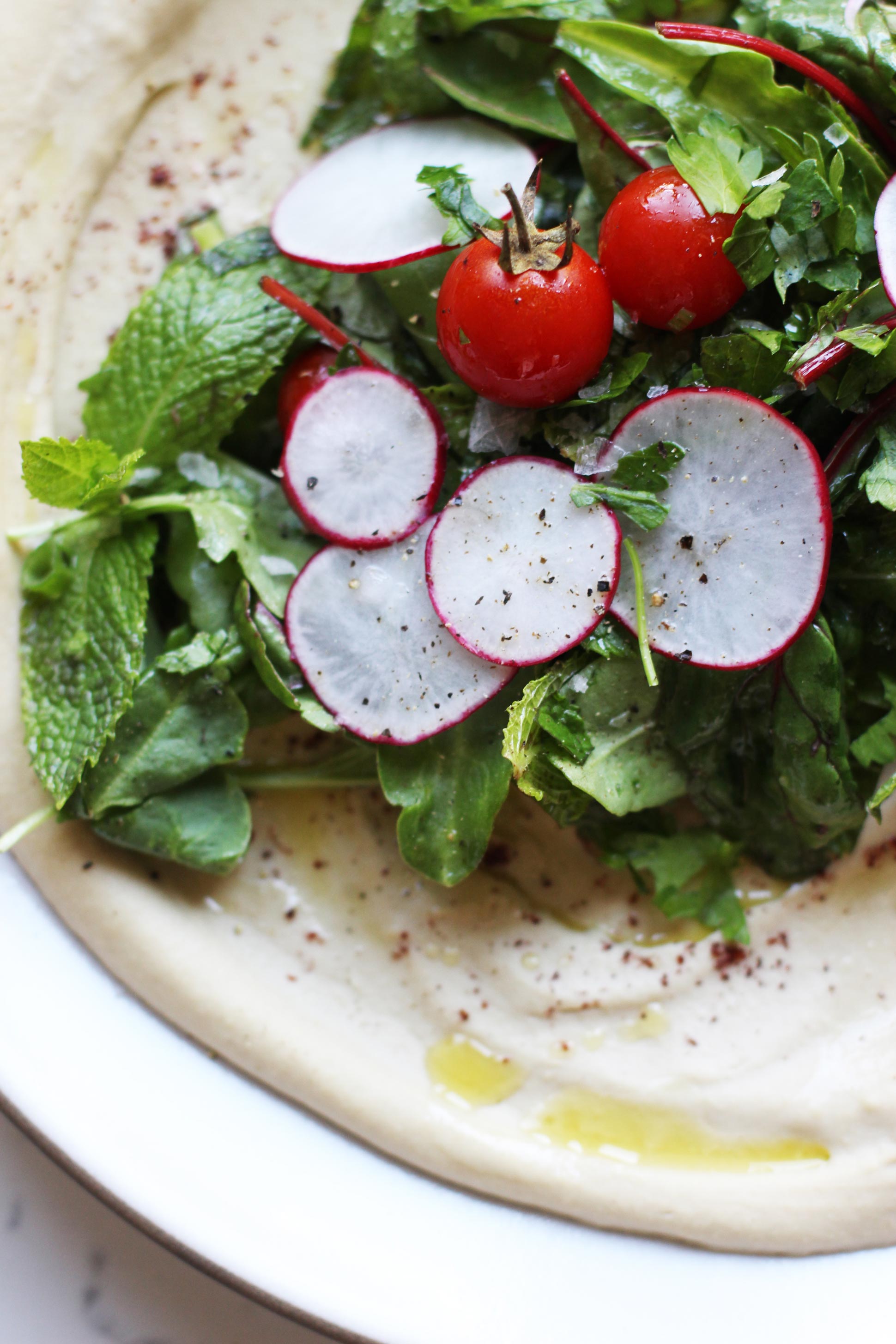 HUMMUS SALAD

Hummus ingredients:

1 15-ounce can of chickpeas, drained
1/2 cup of tahini
1/3 cup of fresh lemon juice
3-4 cloves of garlic
1 teaspoon of baking soda
extra virgin olive oil
sea salt and freshly ground black pepper
sumac

Salad ingredients:

large handful of mixed greens
1 handful of fresh mint, roughly chopped
small handful of flat leaf parsley or cilantro, roughly chopped
few leaves of tarragon, roughly chopped
cherry tomatoes
1 small red onion, thinly sliced
thinly sliced radishes
about 1/2 cup of apple cider vinegar
1 tablespoon of sugar
2 teaspoons of salt
extra virgin olive oil
juice of one lemon

Directions:

To make the hummus, put the chickpeas in a pot and fill with water so about 1 inch of water covers the chickpeas. Add the baking soda. Bring to a boil and simmer with a lid on for 1 hour.
Meanwhile, pickle the onions by putting them in a small strainer and running hot water over them. Combine roughly 1/2 cup of apple cider vinegar, sugar and salt in a bowl and whisk until dissolved. Add the onions. Add more apple cider vinegar if needed to cover the onions.
In a blender, add the garlic cloves and lemon juice and blend until the garlic is pureed with the juice.
Using a spoon transfer the hot chickpeas into the blender and add about half the left over water.Add the tahini. Blend until very smooth. Be sure to start the blender on very low heat and remove the cap at the top of the lid and drape a towel over the lid. Slowly raise the speed of the blender. Keep adding the warm water until the mixture is like the texture of a milkshake. If you run out of water just add hot water.
Salt to taste (about a couple big pinches) and add pepper. Add more lemon juice or tahini, depending on your personal preference.
In a separate bowl, toss the salad leaves and all the herbs with a couple splashes of vinegar to coat the leaves. Add a drizzle of olive oil (just a little because your hummus will have olive oil on it) and mix together. Season with salt and pepper to taste.
To serve, spread the hummus with the back of a spoon onto a plate and drizzle extra virgin olive oil over. Add a few pinches of ground sumac. Top with the herb salad mixture, tomatoes, sliced radishes and pickled onions. Add another pinch of flake sea salt and ground black pepper if needed.
(images by HonestlyYUM)