Roasted chickpeas are one of my favorite snacks. I drain them and coat them in oil and spices and roast them in the oven until they're crunchy and dry on the outside. I normally will just eat them as a side or snack, but it dawned on me that they'd make a perfect topping for a falafel inspired salad. Falafels are fried patties made of ground garbanzo beans, herbs and spices and instead of grounding and compacting all that flavor into one, I've combined the ingredients that make up a falafel into a salad. I've used kale as the base since I like the heartiness of it with the creamy tahini dressing, but you could of course, use any green you'd like. I just love this salad, it's so hearty, but has a lightness to it from all the fresh herbs and cucumbers, a perfect salad for the season's transition into fall!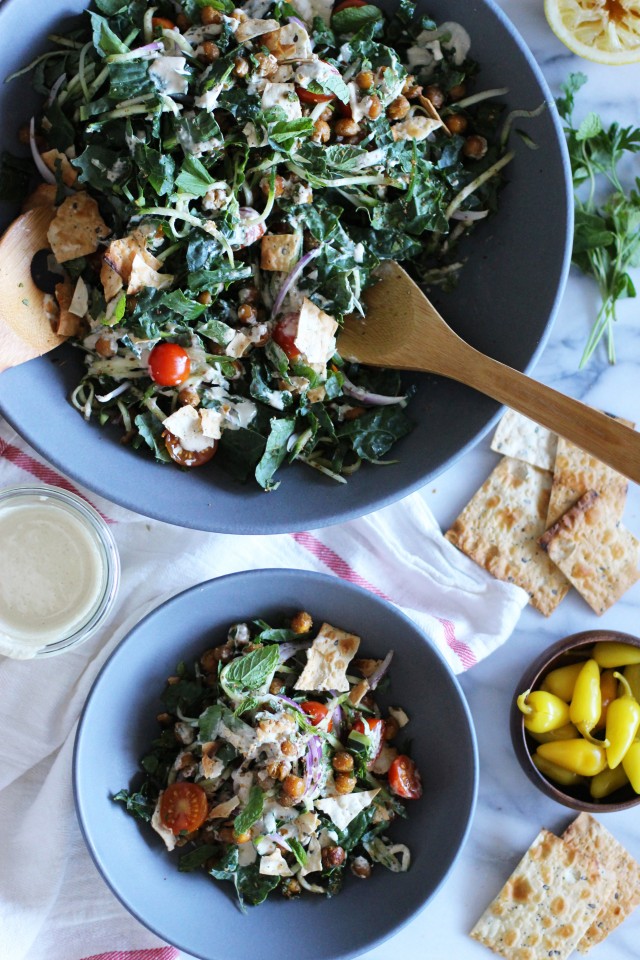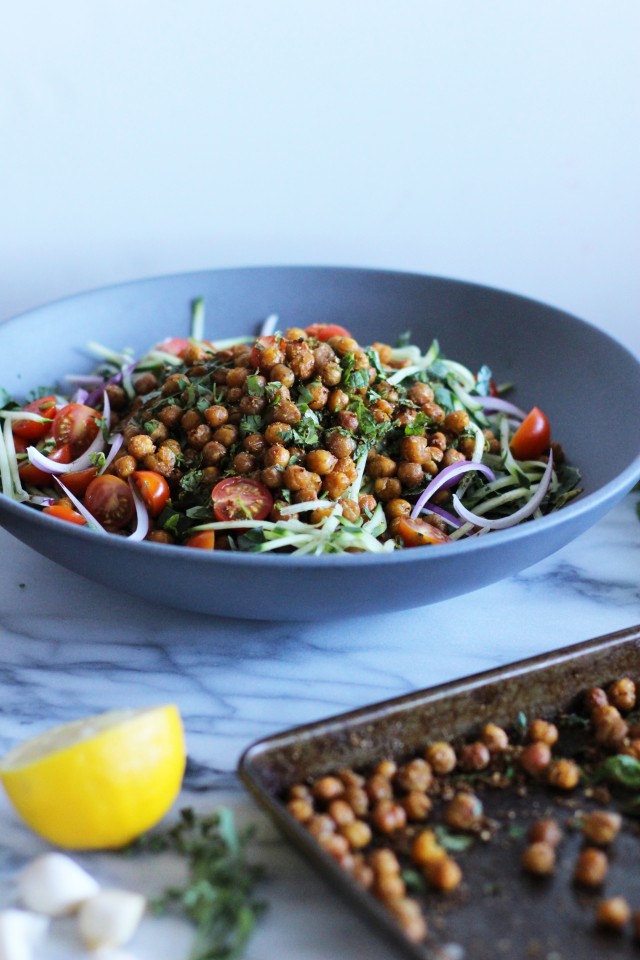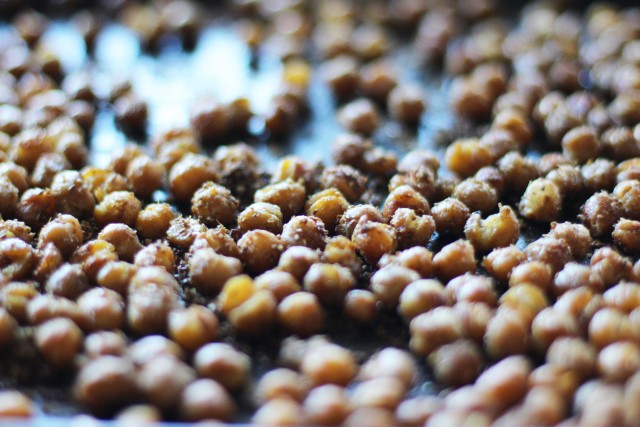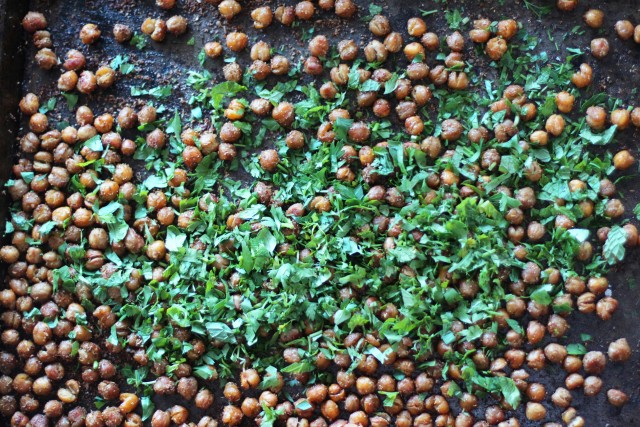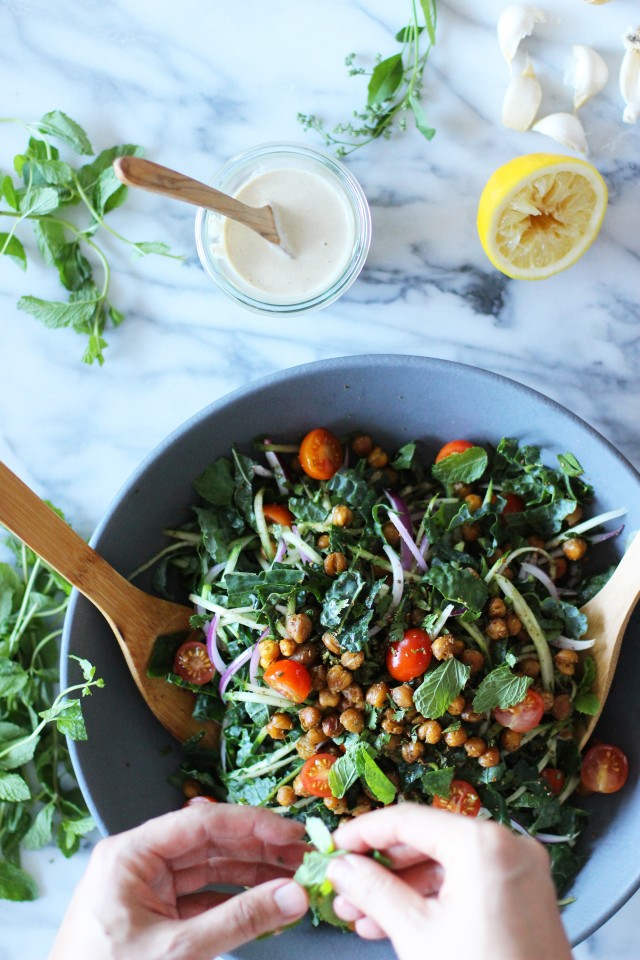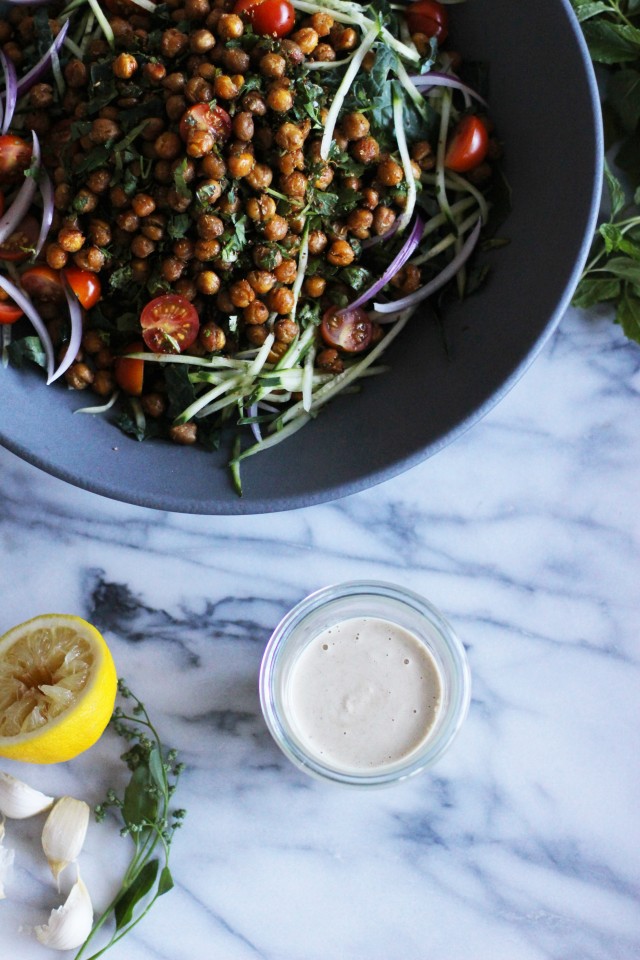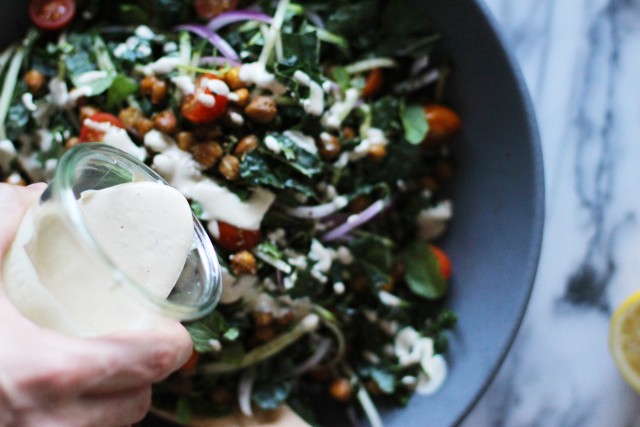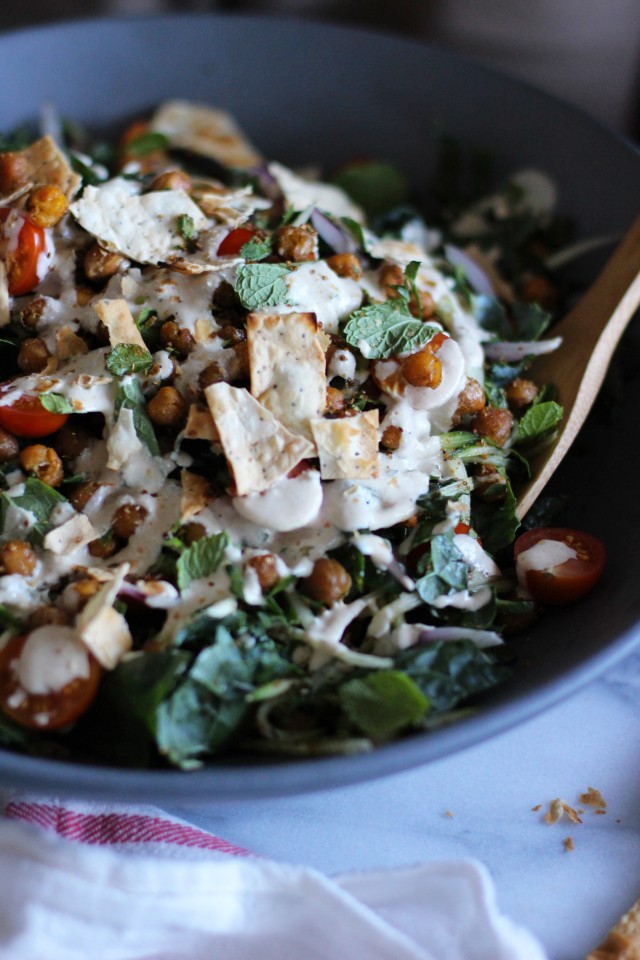 DECONSTRUCTED FALAFEL SALAD

Ingredients:

1 bundle of kale, torn into pieces
2 cans of garbazno beans, drained and patted dry
1 tablespoon of ground cumin
1 tablespoon of ground coriander
1/2 english cucumber, julienned
large handful of small tomatoes, sliced in half
1/2 red onion, sliced thin
1/2 bundle of cilantro, finely chopped
1/4 bundle of flat leaf parsley, chopped
1 bundle of mint, chopped
1/3 cup of tahini
juice of 2 lemons
2 cloves of garlic
water
sea or kosher salt and freshly ground black pepper
olive oil
pita or lavash chips

Directions:

Preheat the oven to 400 degrees with the rack on the highest position. Toss the drained and dried garbanzo beans in the cumin, coriander, a hefty pinch of salt and pinch of freshly ground black pepper. Add a few tablespoons of olive oil and toss to coat. Spread on a large baking sheet and roast for about 30-40 minutes until the beans are crunchy and toasted on the outside. As the garbanzo beans are cooling toss in the cilantro.
Toss with the kale, tomatoes, onion, mint, and parsley.
To make the dressing combine the tahini, lemon garlic in a food processor and add about 1/4 cup of water until you have a smooth and thick but runny consistency. Salt and pepper to taste.
Top with lavash chips.
(images by HonestlyYUM)