Good food, good mood. San Francisco's newly opened Seed + Salt is built on, but not defined by, a plant based concept. Two years prior to opening, founder Mo Clancy and chef Ariel Nadelberg worked together to develop recipes that not only focused on vegan food, free of gluten, dairy and refined sugar, but that also appealed to even the most discerning skeptic. I was certainly not one of those cynics – in fact, I've had close friends swear by their juicy beet burgers, hearty chard wrapped falafel and oh so chewy chocolate chip cookies – so I was super excited to finally visit their Marina location, but I've also definitely had some less than pleasurable experiences with vegan and gluten free foods in the past. Who knew unsprouted nuts was the cause of many belly aches? That was just beginning of my palatable lesson at Seed + Salt.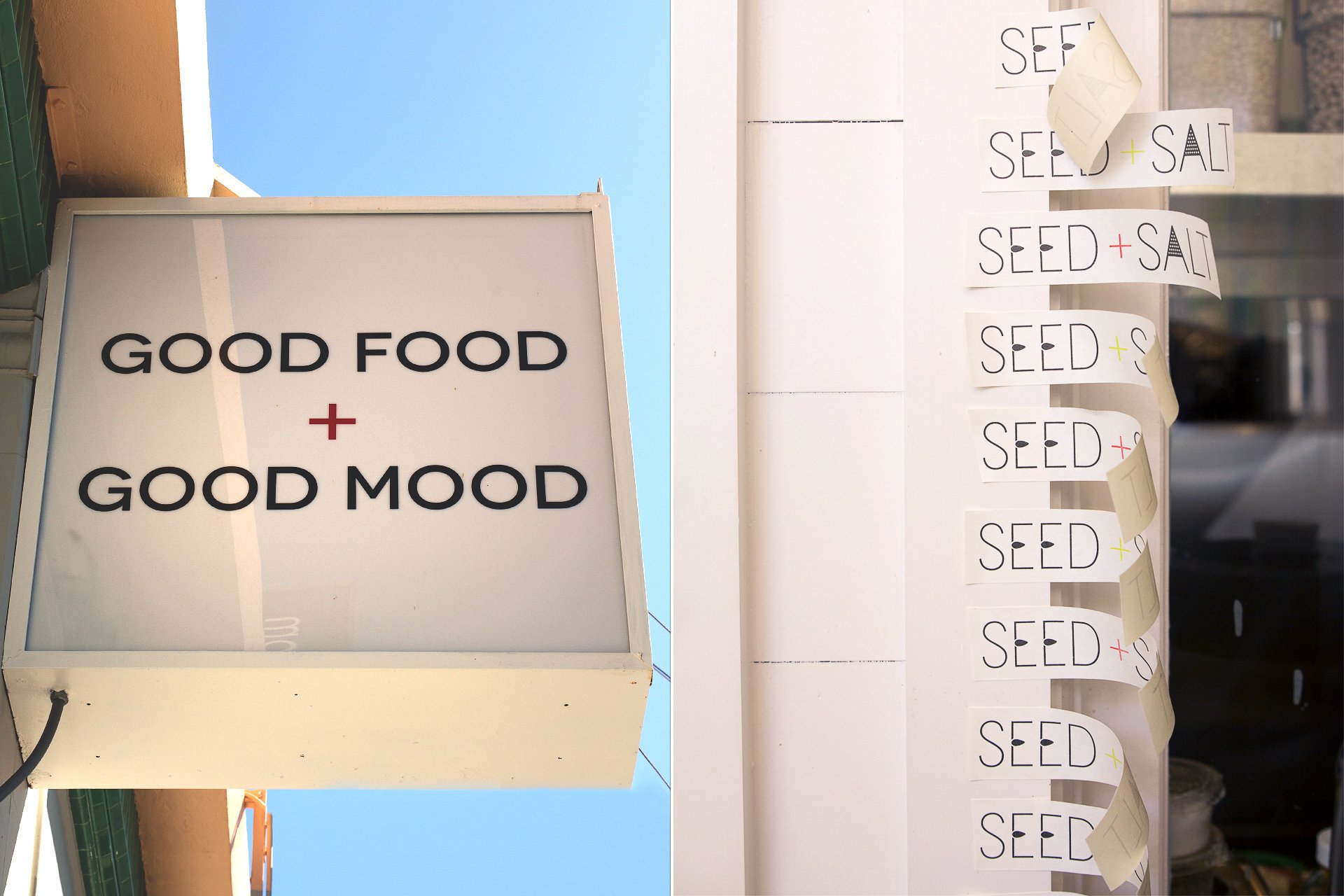 From the moment I walked into the bright and airy space, my spirit was immediately lifted. The sprouted nut loaf was crunchy, moist and surprisingly comforting – especially with delicious sweet and savory spreads like cashew dill cream cheese, wild mushroom paté, homemade nutella and raw lemon curd (my personal favorite). The beet burger and falafel wrap, full of flavor and texture, lived up to the hype. And the seasonal salad, with sweet strawberries and green goddess dressing, was colorful and vibrant. I left feeling satisfied, happy and desperately craving a Seed + Salt location in my hood. Until then, there will be many future trips to Chestnut Street and thanks to chef Ariel, I'll be recreating her baby gems salad with vegan green goddess dressing all spring long.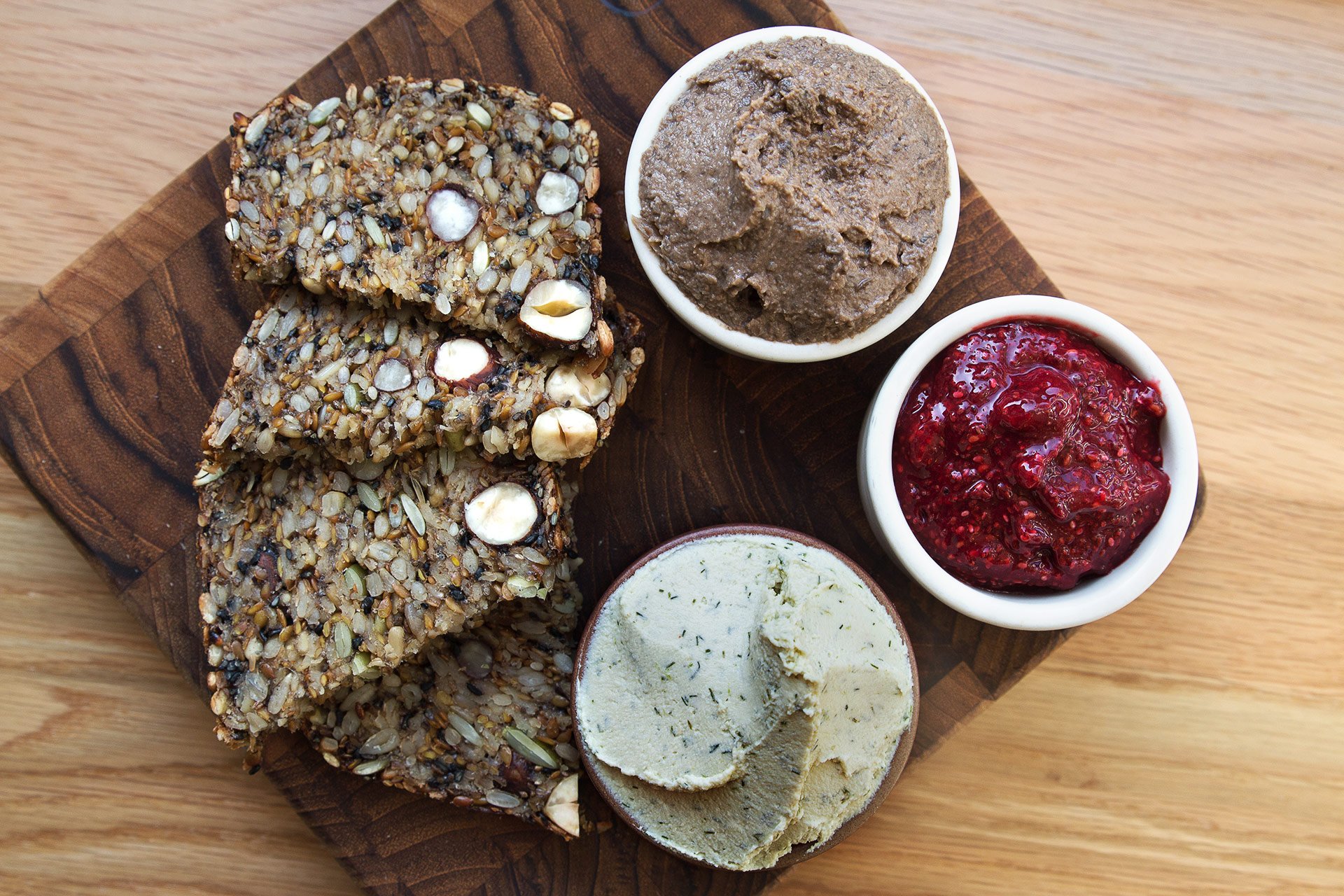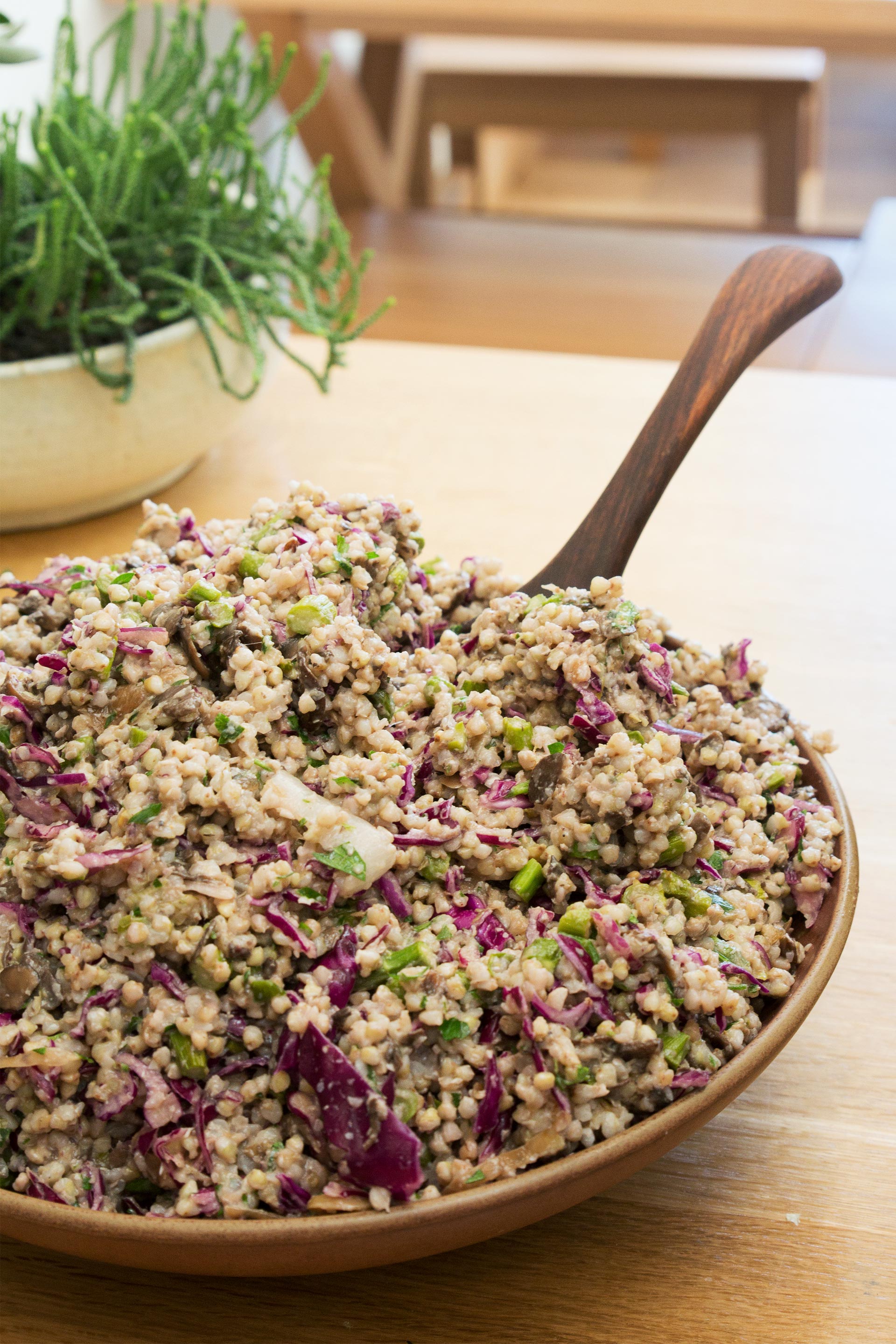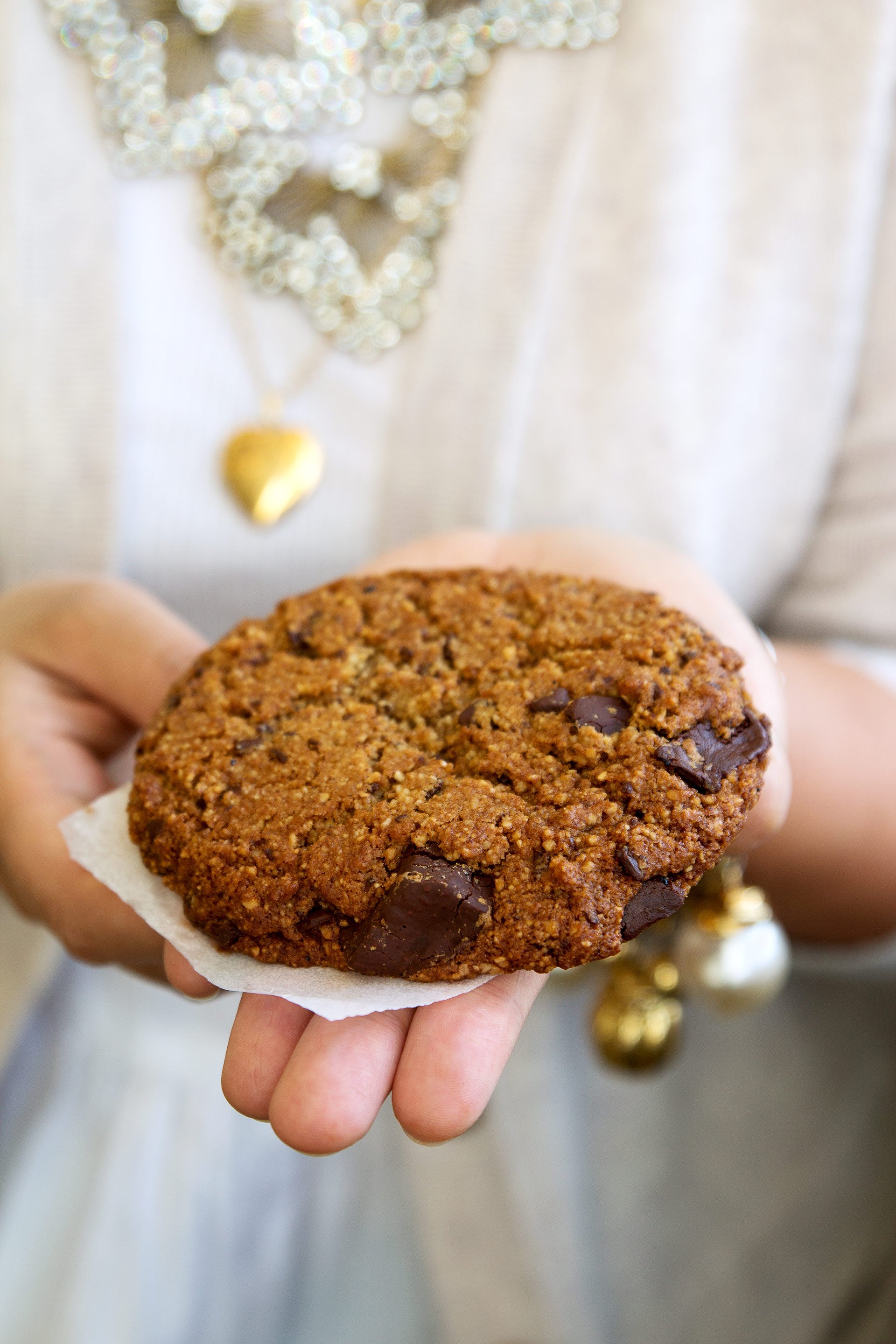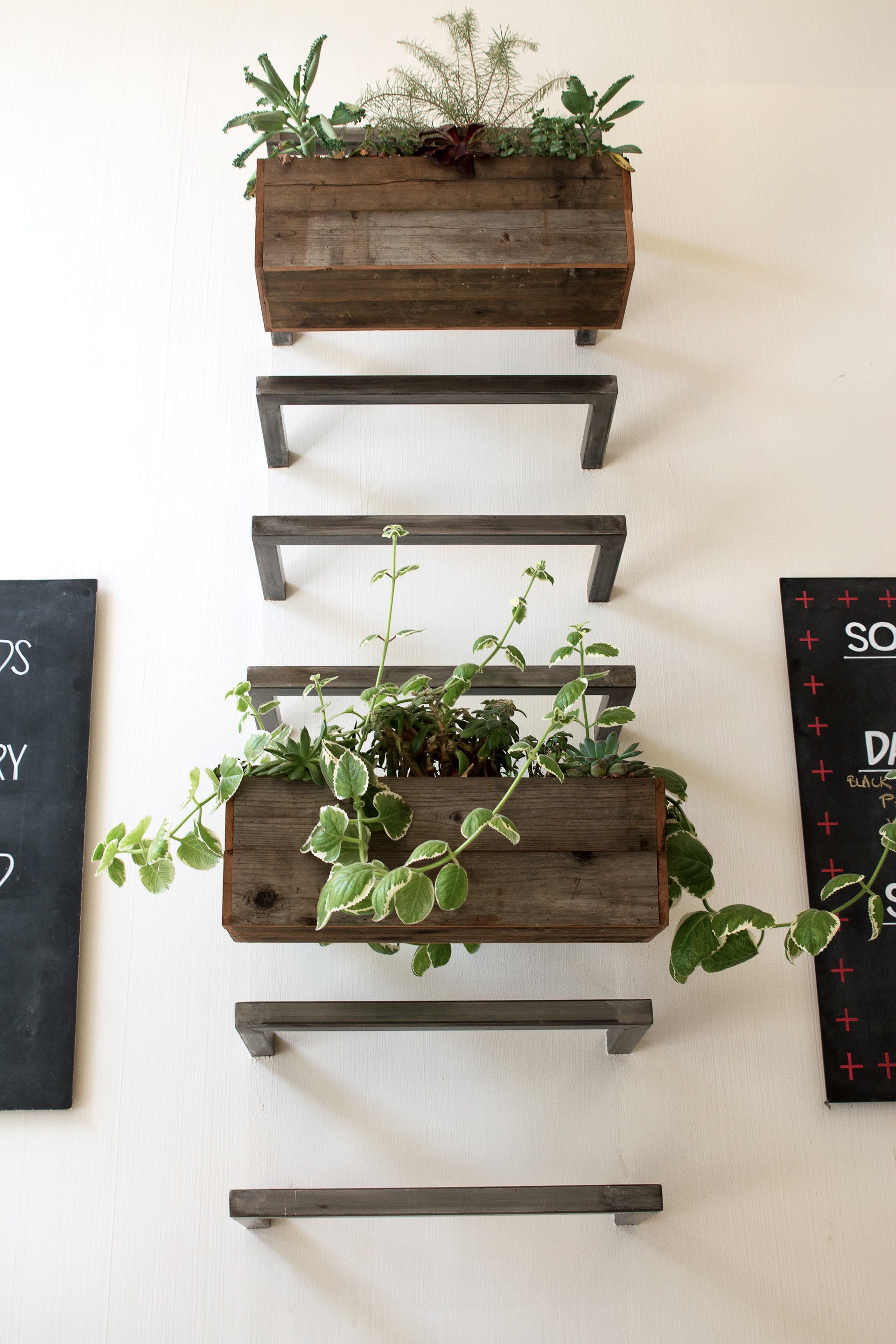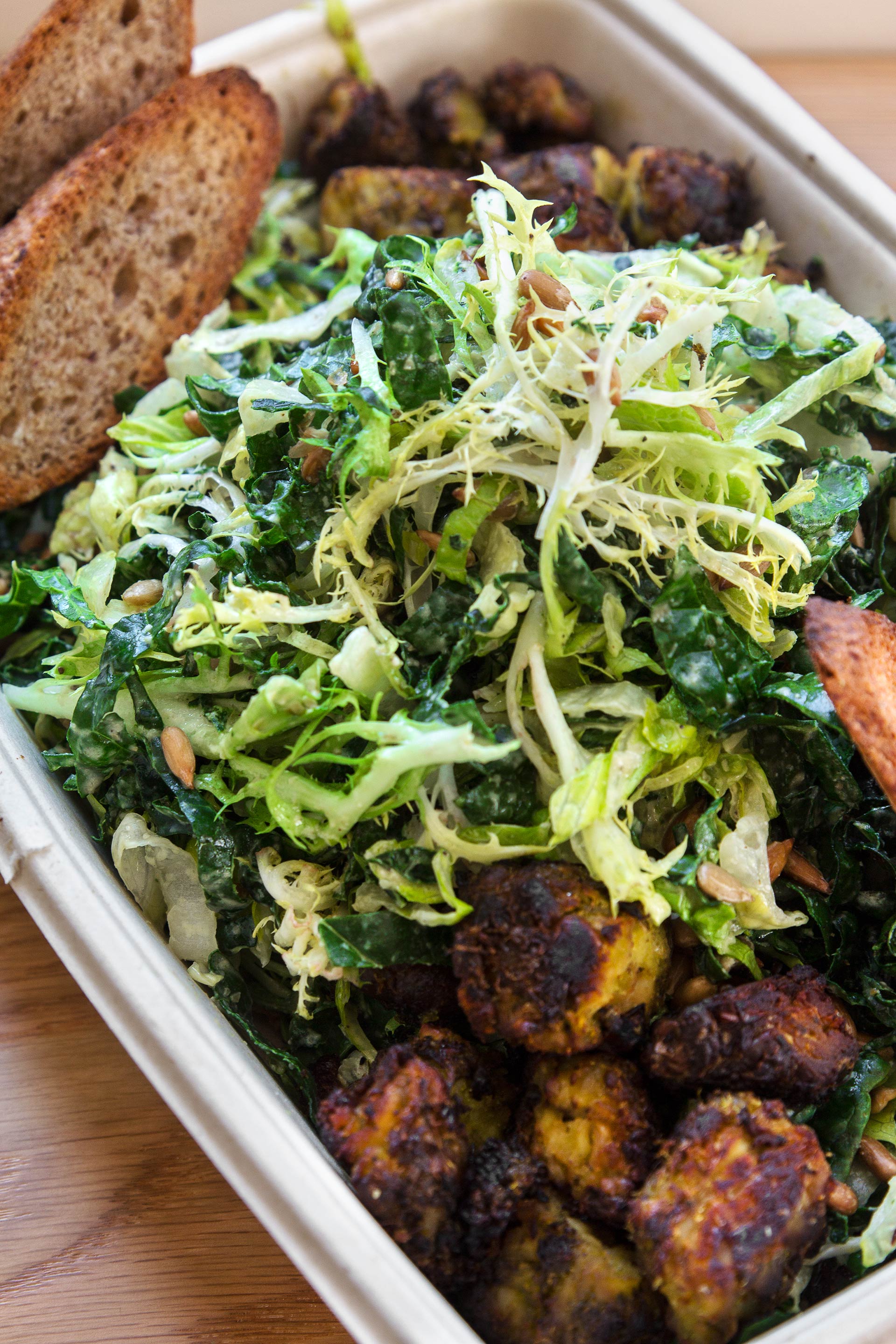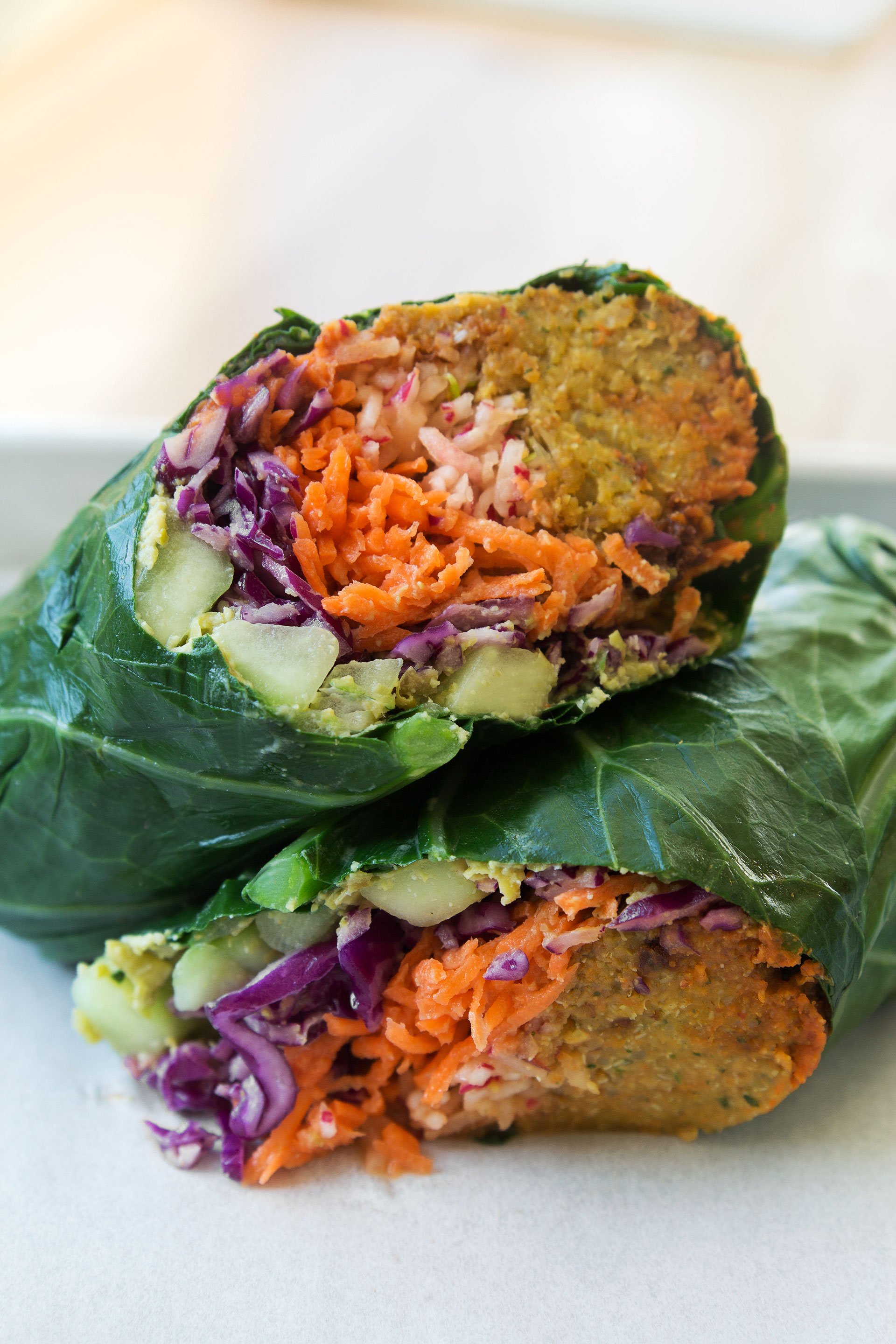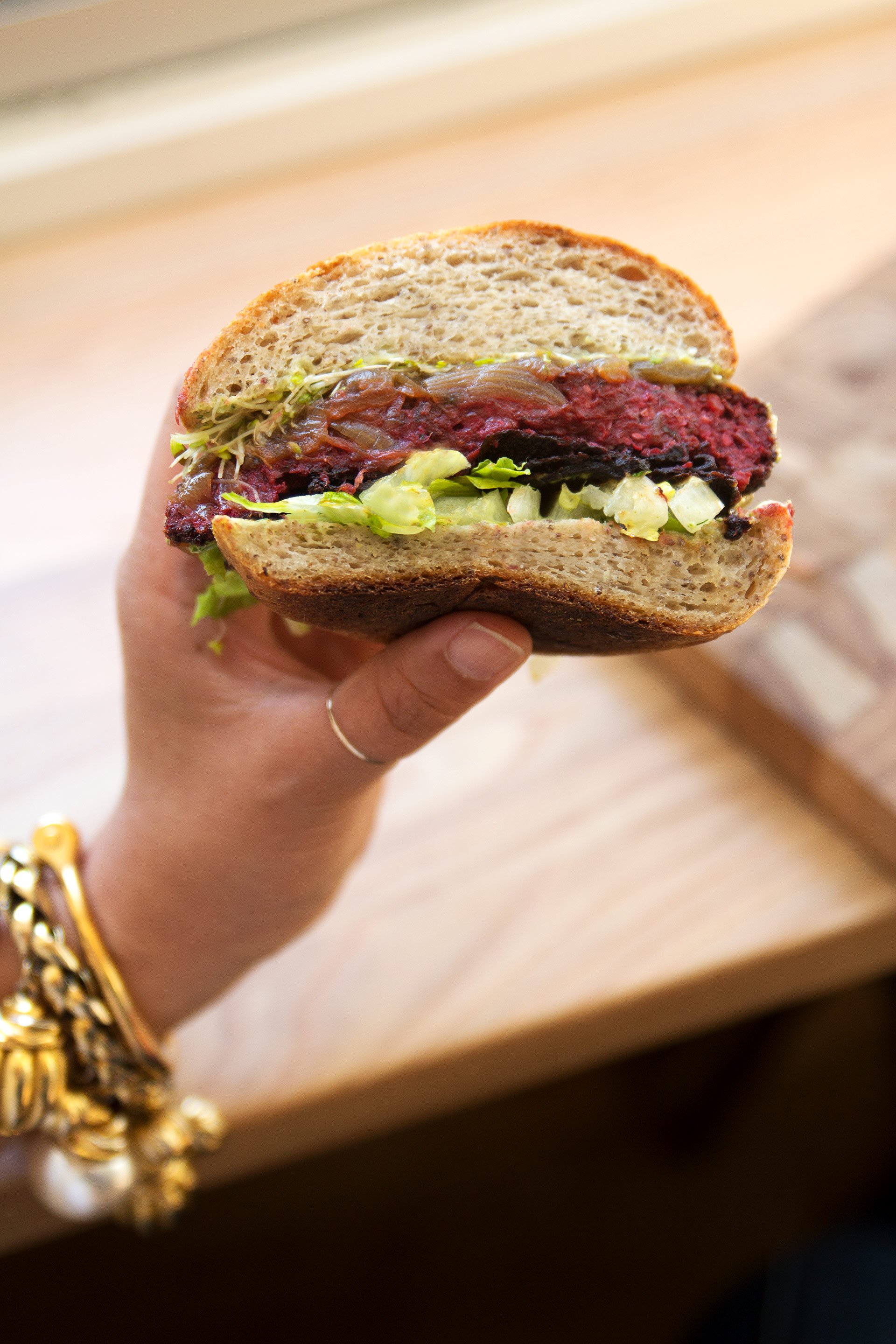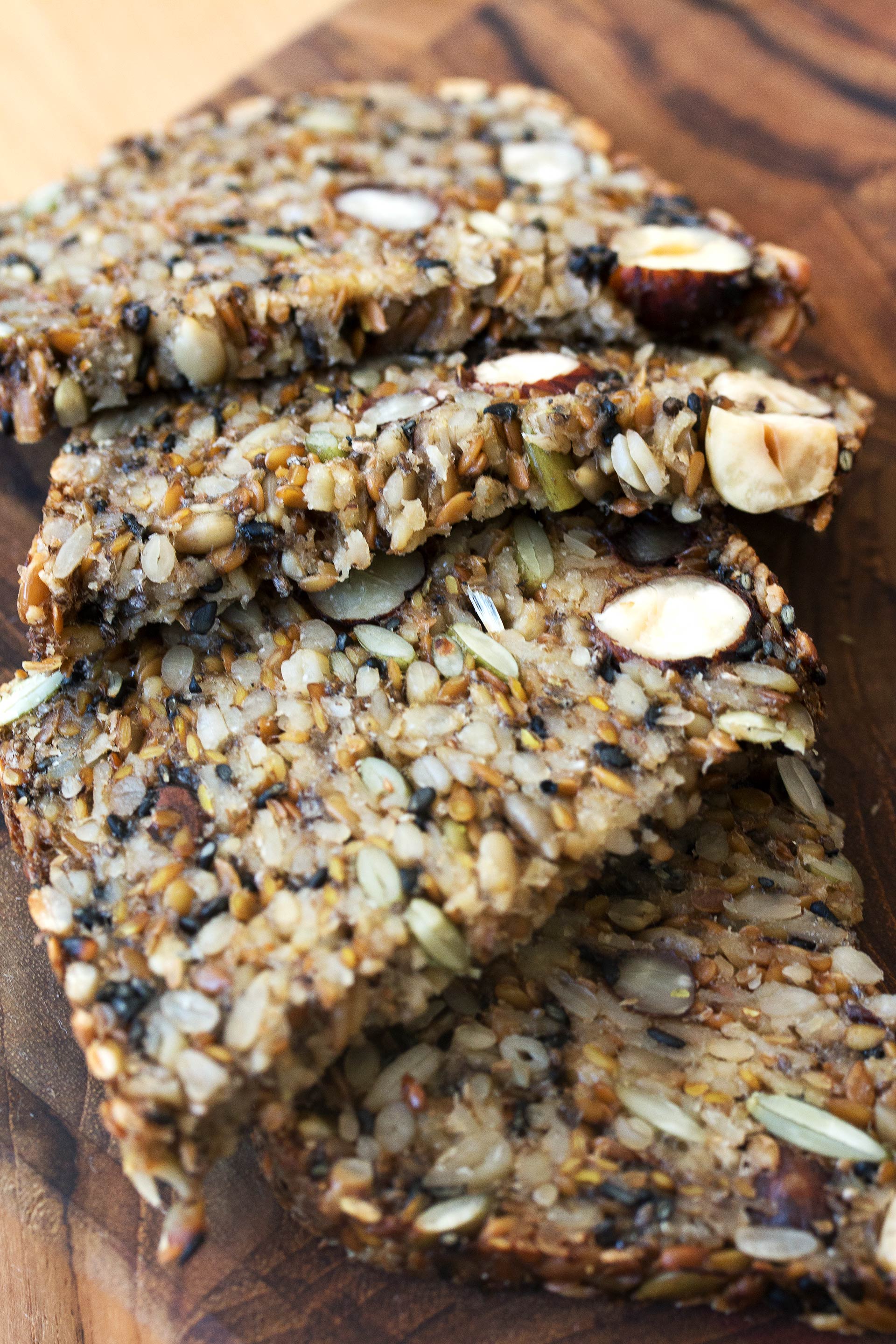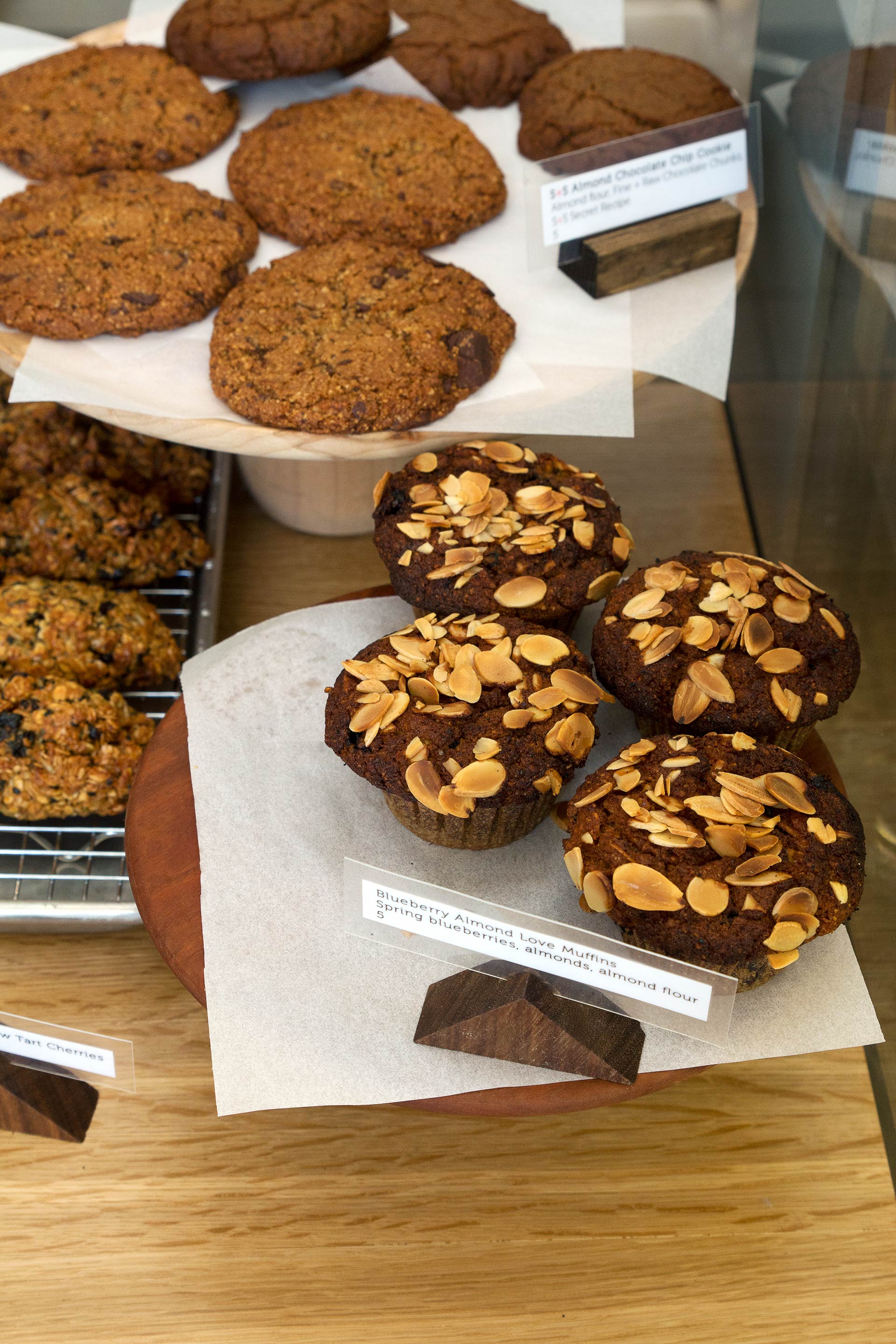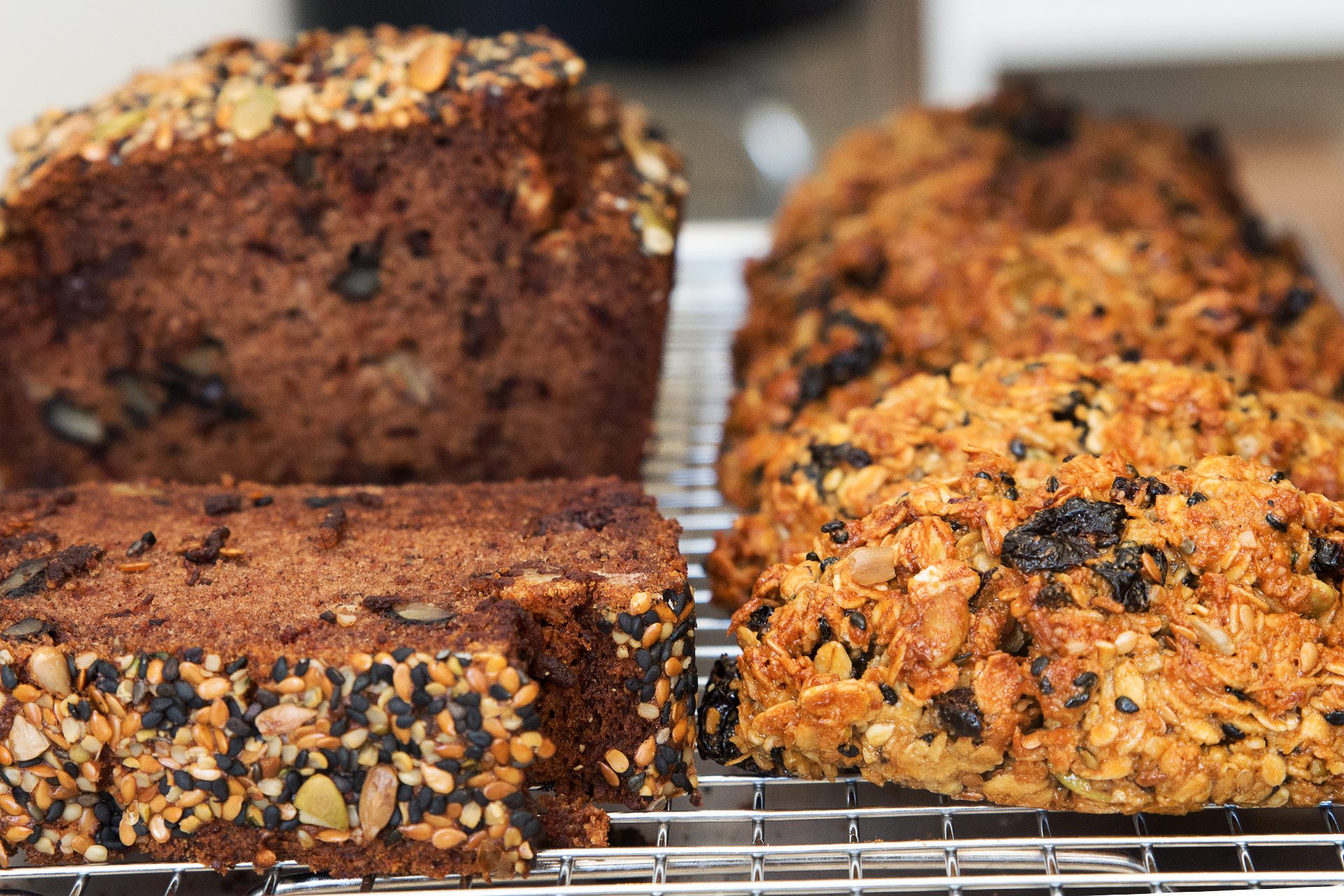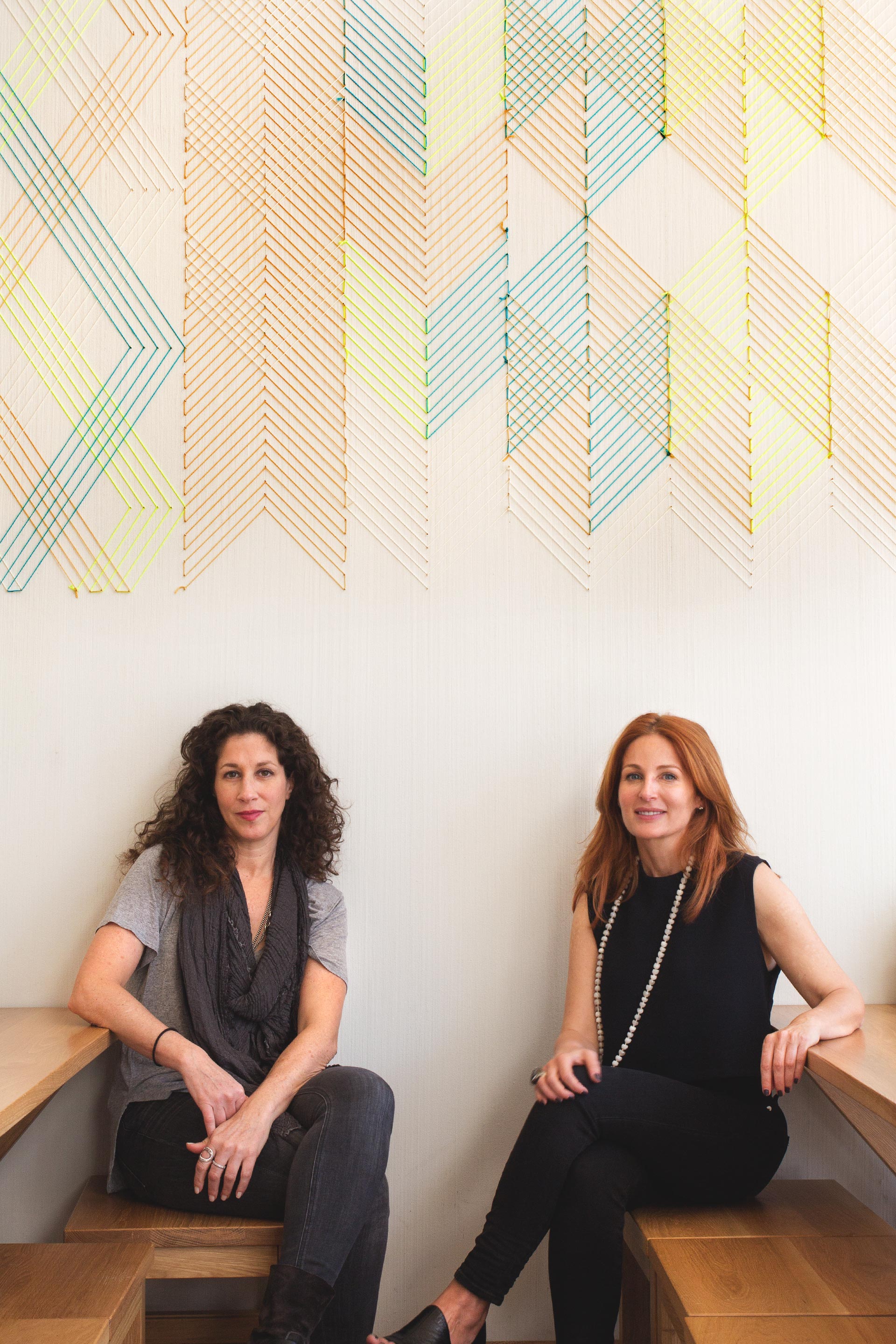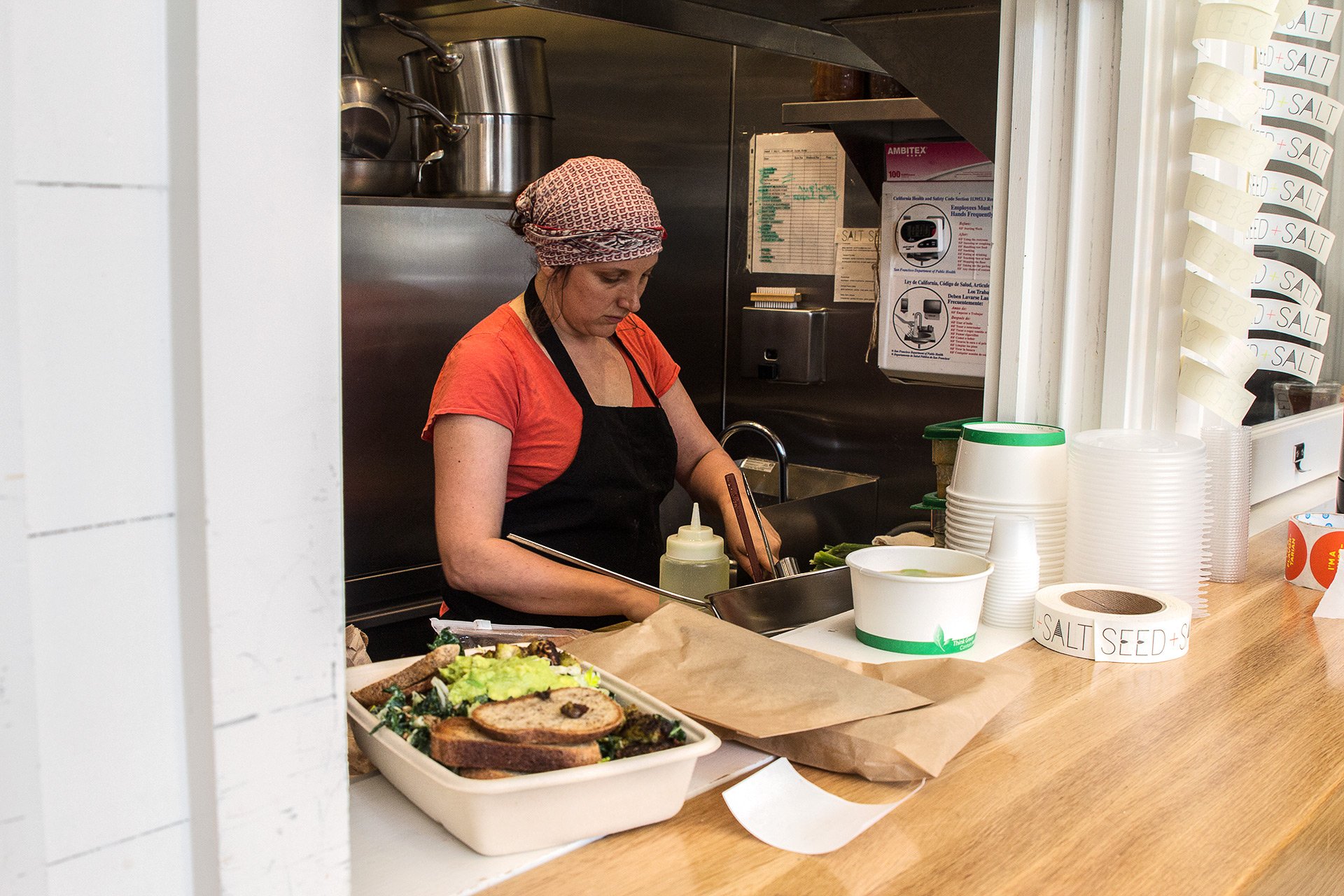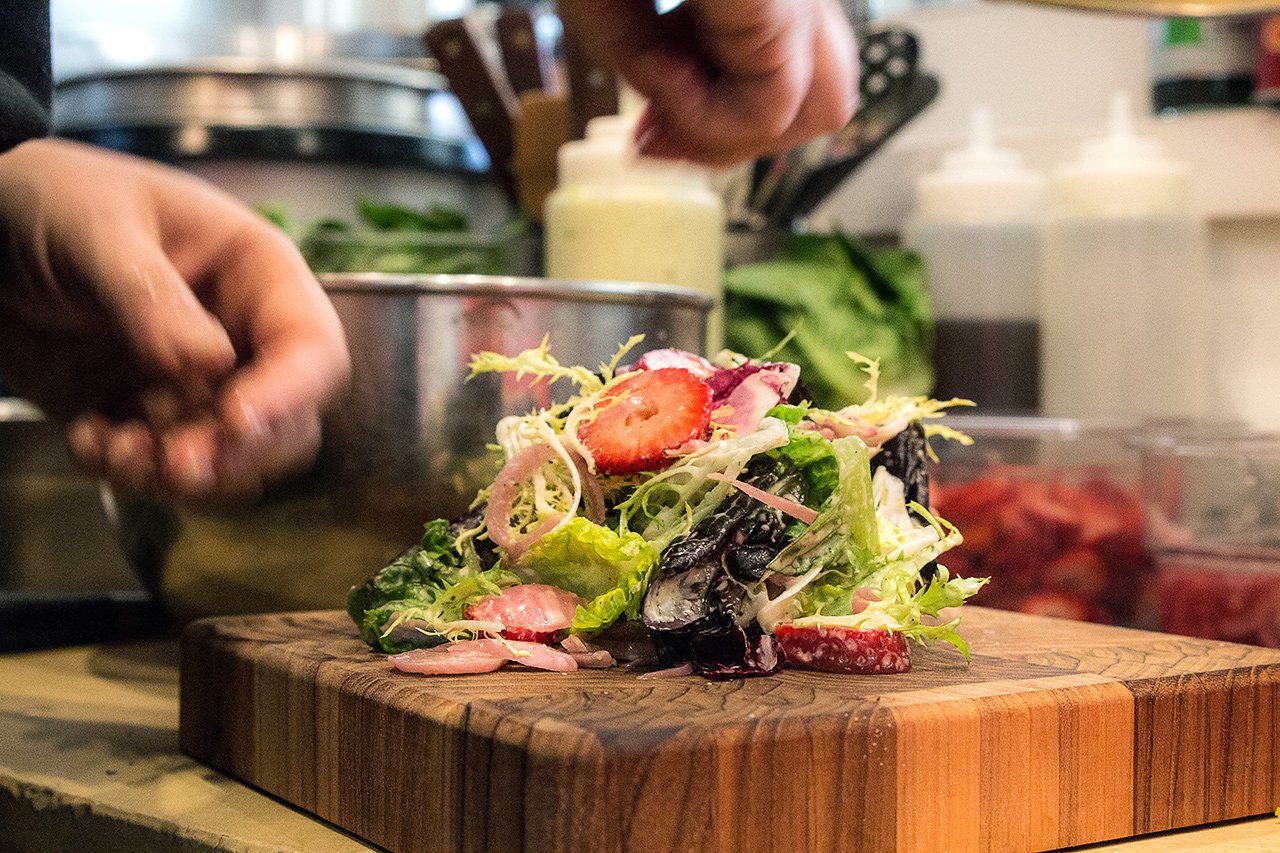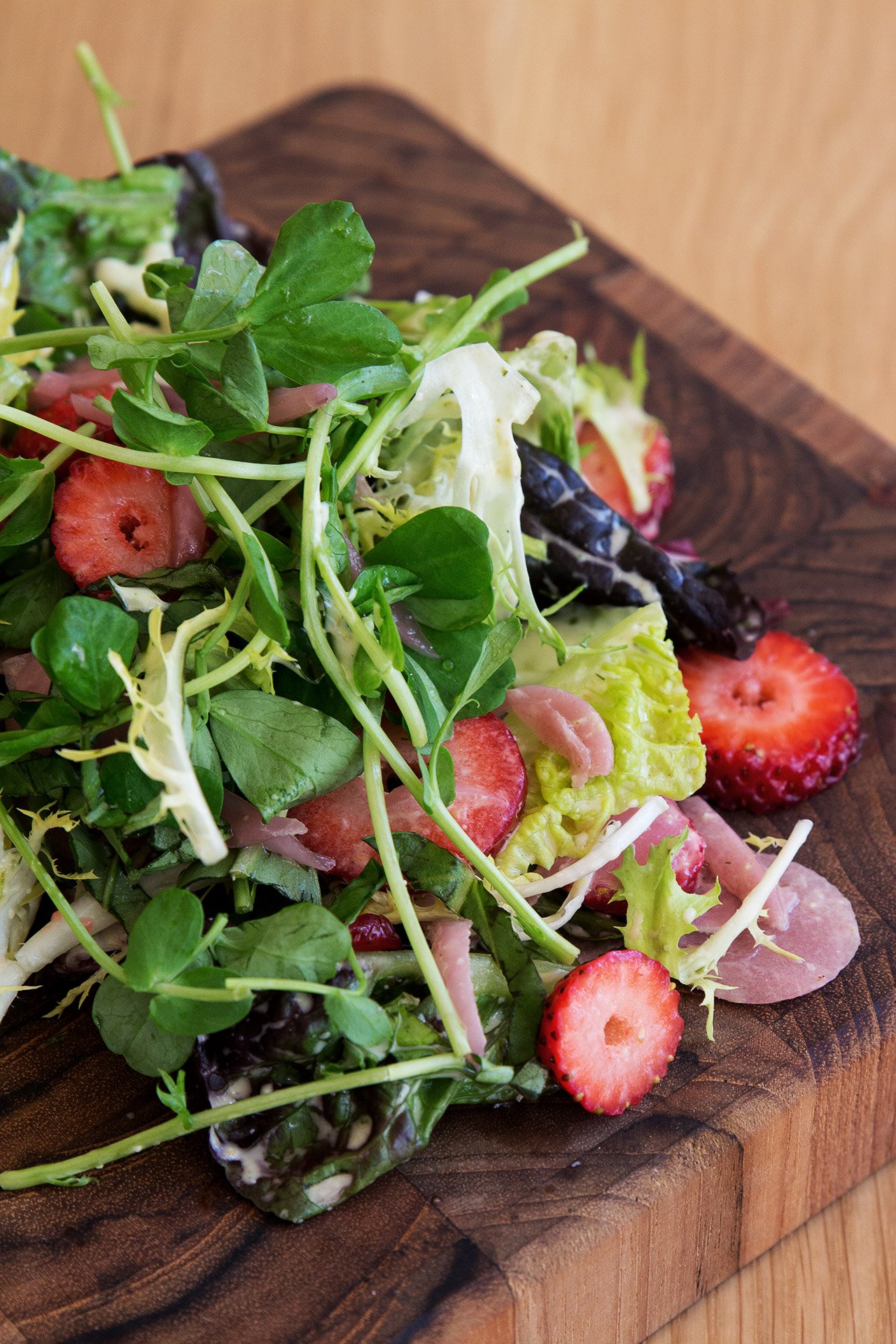 (images by HonestlyYUM)
BABY GEMS SALAD WITH STRAWBERRIES + VEGAN GREEN GODDESS DRESSING

Ingredients for green goddess dressing:

1/2 cup vegan mayo
1/4 cup vegan sour cream
 4 T green onion, all of the white and some of the green part
4 T chopped fresh flat Italian parsley
1 T chopped fresh tarragon leaves
1 T fresh dill
2 T white wine or champagne vinegar
1 T freshly-squeezed lemon juice
zest of 1 medium lemon
1 medium garlic clove, minced
1 teaspoon onion powder
1 teaspoon vegan Worcestershire sauce
1 teaspoon sea salt
pinch of freshly ground black pepper

Ingredients for pickled onions:

1 medium red onion, thinly sliced
½ cup apple cider, red wine or white wine vinegar
½ cup warm water
1 tablespoon maple or agave
1½ teaspoons sea salt

Ingredients for salad:

8 ounces strawberries, cleaned and sliced thin
1 ounces pea greens
4 – 6 heads Little Gems Lettuce

Directions:

For the dressing: Combine ingredients in a mini food processor and mix until smooth and well combined. Set aside at least 10 minutes for flavors to develop. Can be made ahead; store covered in the refrigerator until ready to use.
For the pickled onions: Combine vinegar, water, sugar, and salt in a medium bowl. Whisk together until sugar and salt is fully dissolved. Place onion in a mason jar. Pour vinegar mixture over the onions and let sit at room temperature for at least an hour. Preferably, cover jar or bowl and place in refrigerator for at least one day. Pickled onions will last for a few weeks stored in the refrigerator.
Slice the strawberries into paper thin slices using a very sharp knife.
To serve, divide lettuce among serving plates, top with strawberries, onions, and a generous drizzle of the green goddess salad dressing.
Garnish with pea shoots.