It feels good to be back. It's been a while since I've posted anything. The last month has been a freeze on all things fun, relaxing and normal as I was studying for the bar exam. With the endless days of stressful study, I thought the finish line would never come, but last week I finally took that [expletive] 3-day test. It still doesn't feel real and sometimes I have to pinch myself to realize: wow, I'm really really done with law school! So now that I've got my life back, I made a dish for my favorite meal of the day– breakfast. I know what you're thinking: savory bacon granola doesn't make any sense! But breakfast is one of those places you can really do some bold sweet-savory mixing. I'm generally a savory breakfast person (except when it comes to Todd's blueberry muffins). Basically, give me anything with a runny egg on it and I will probably love it. A savory breakfast lends itself so well to some added sweetness, like from fruit or maple syrup. This granola is that perfect balance of sweet and salty. There's a bit of maple syrup and tiny bits of bacon studded throughout. I also added flaxseed (which not only has a lovely nutty aroma but is a good source of omega 3 fat), sunflower seeds and dried apple. The granola is great as a snack, but crumbled over a runny egg . . . this may just change the way I have eggs forever.
Make sure the granola is cooled entirely before storing it in an airtight container. The granola will be good for up to 5 days. Feel free to play around with different combinations. I'm thinking of adding sesame seeds, pumpkin seeds and cranberries next time!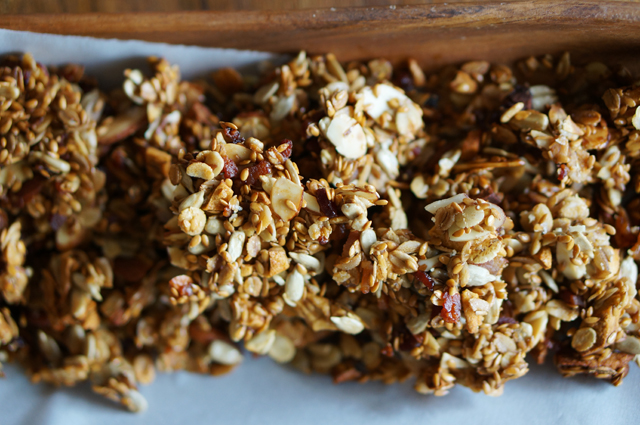 Pre heat the oven to 325 degrees. Cut the bacon into very small cubes (using a very sharp knife helps make this process easier). Sautee the bacon on medium high heat until fat begins to render and the bacon just starts to get some color. You want to under cook the bacon a bit because it will cook more in the oven. Drain the bacon on a plate lined with paper towels. Combine the oats, flax seeds, sunflower seeds, almonds, salt, and dried apple in a large bowl.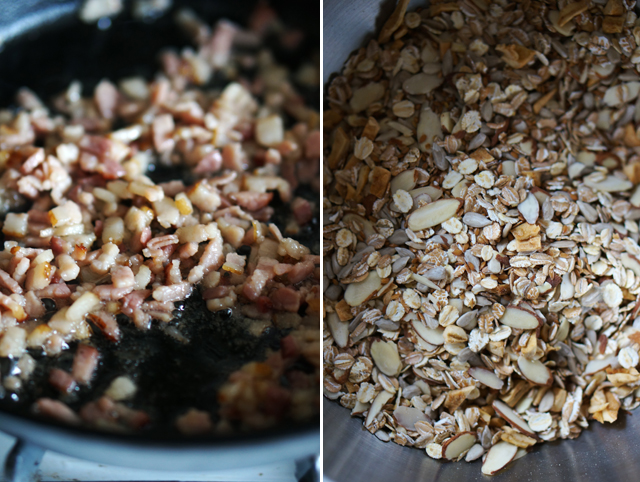 Add the bacon to the oat mixture. In a small bowl whisk the egg whites until it starts to get foamy and opaque. Add the oil and maple syrup to the oat mixture and then add the egg whites. Mix until the oats are coated evenly. Pour onto a parchment lined baking sheet.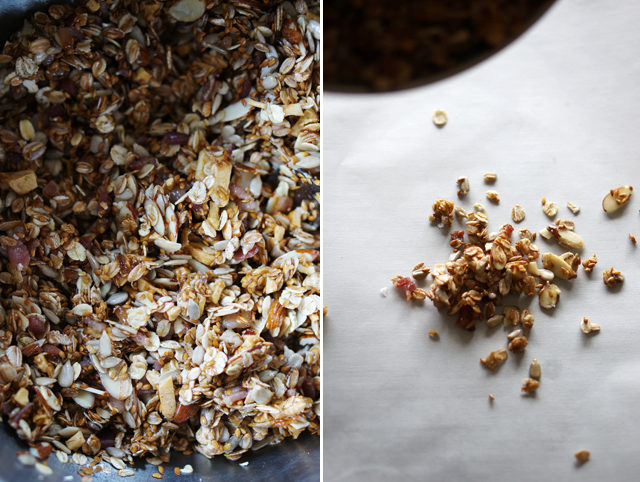 Spread out the oats in an even layer and bake for about 25 minutes until the oats are browned.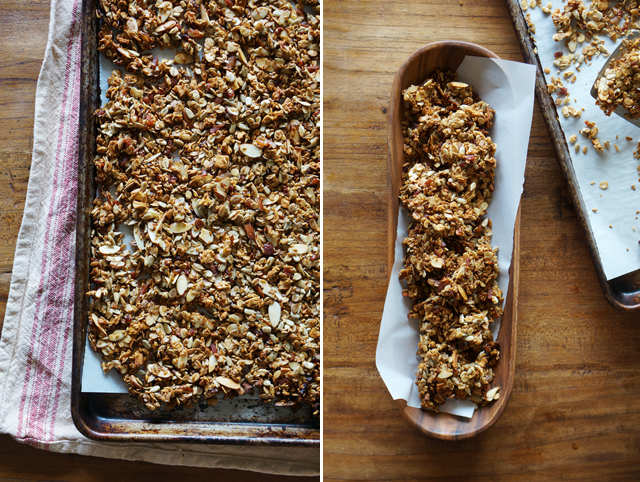 Let the granola cool entirely.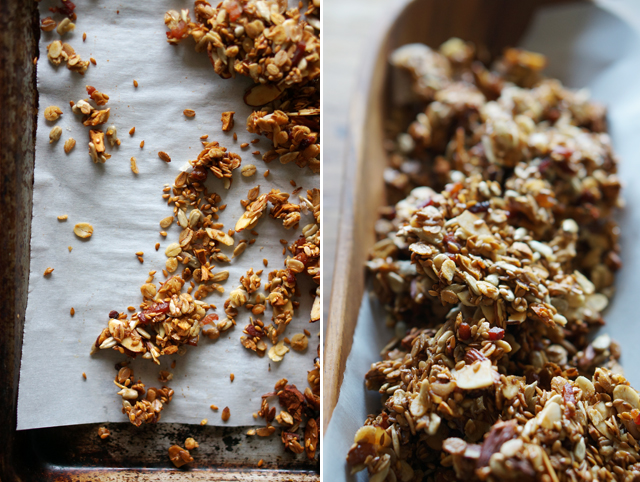 Store in airtight containers. The granola keeps for about 5 days.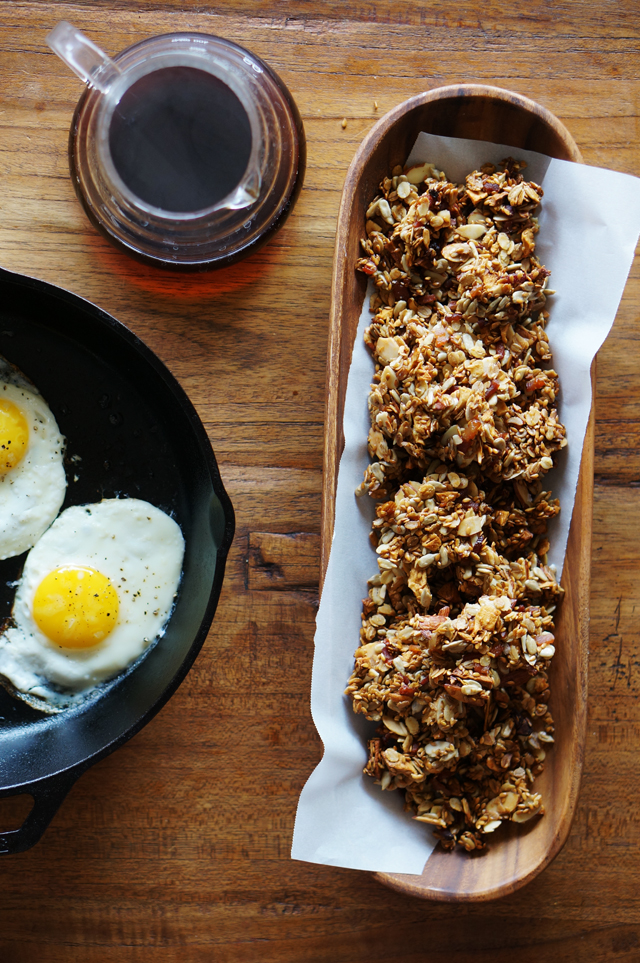 Enjoy on its own or get creative with how you use them. I crumbled the granola over some runny eggs and it was amazing!
SAVORY BACON GRANOLA

Ingredients:

1 1/4 cup of rolled oats
4 slices of thick cut bacon
1/2 cup of flax seeds
1/2 cup of sunflower seeds (unsalted)
1/2 cup of sliced almonds
1/2 cup of dried apples, diced
1/2 teaspoon of sea salt
1 egg white
1/4 cup of vegetable oil
3 tablespoons of maple syrup

Directions:

Preheat oven at 325 degrees F.
Cut bacon into small cubes and cook in a pan over medium high heat until fat renders and just begins to tan around the edges. Remove bacon from pan and drain on paper towels.
Combine oats, sunflower seeds, flax seeds, almonds, dried apple, bacon, and salt in a large bowl and toss to combine.
Whisk an egg white in a small bowl until frothy.
Add maple syrup and oil to the bowl of the oat mixture and add egg white. Toss to coat.
Pour in even layer on baking sheet lined with parchment and bake for 25 minutes until lightly browned.
Cool completely and store in an air tight container.
(images by HonestlyYUM)