I finally found a use for that melon baller that's been sitting around in the back of the drawer for years! Come on, you know it's in there. Bingsu is a popular frozen dessert in Korea, usually composed of shaved ice, and several toppings such as fruit, condensed milk, syrups, chocolate, cereal, powders, grains, etc. In fact, the word bingsu in Korean translates to shaved ice. Traditional bingsu, also called patbingsu, is made with shaved ice topped with sweet red bean paste. As you can imagine, there are now hundreds of bingsu variations. And while all delectable shaved ice concoctions are worth a try in my opinion, I've recently fallen in love with melon bingsu. So when I walked into Monterey Market last week, and the smell of fresh melons smacked me upside the head, I knew what I had to do . . . it was melon baller time!! Instead of sweetening the bingsu by drizzling with condensed milk (which often is the case), I made a sweet iced coconut milk using a little simple syrup. Top with juicy melon balls, and a scoop of coconut ice cream, and you're in business. Trust me, it's so refreshing!! Plus, you know it's finally summer when you get to eat a frozen treat out of a melon bowl. Am I right?! 🙂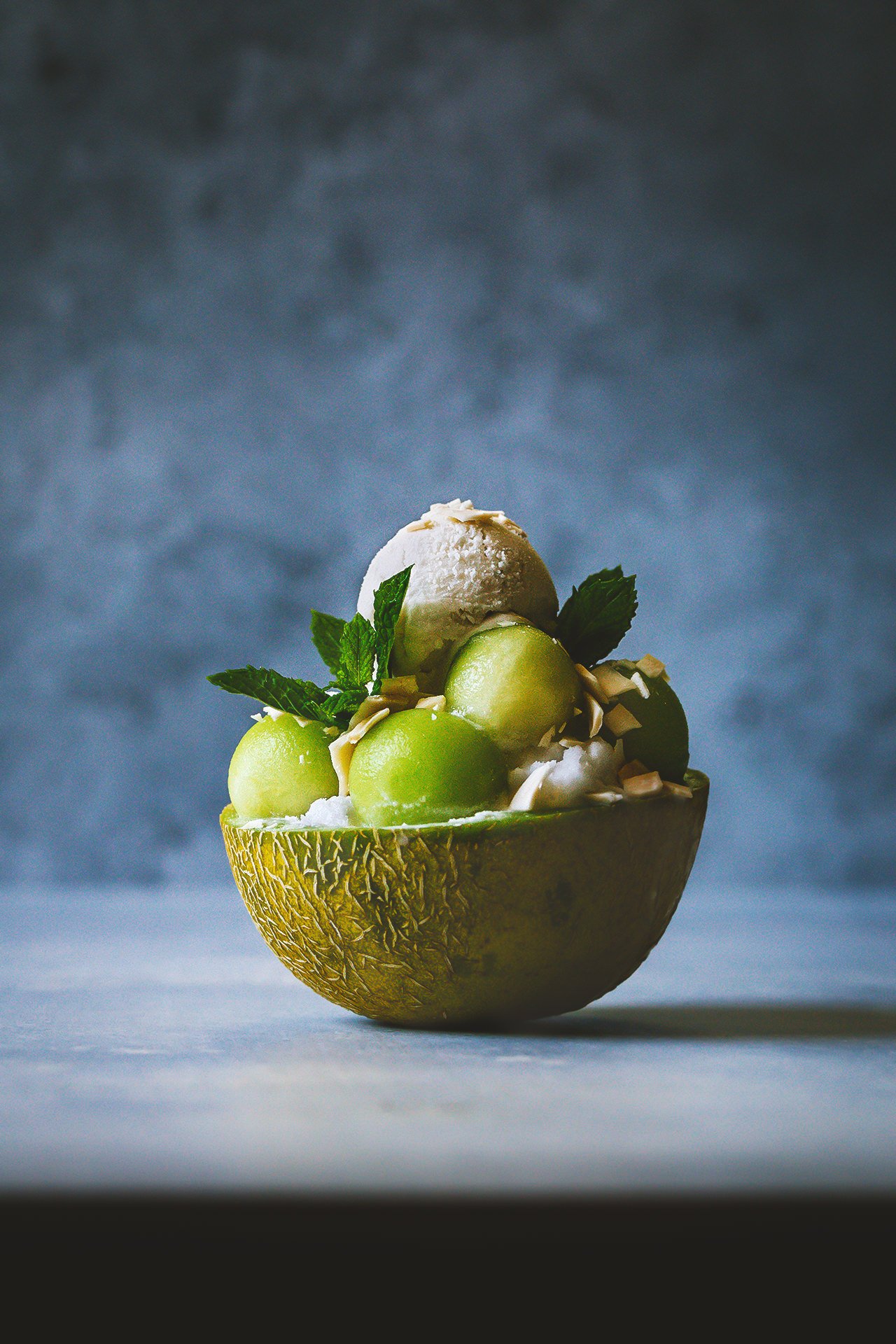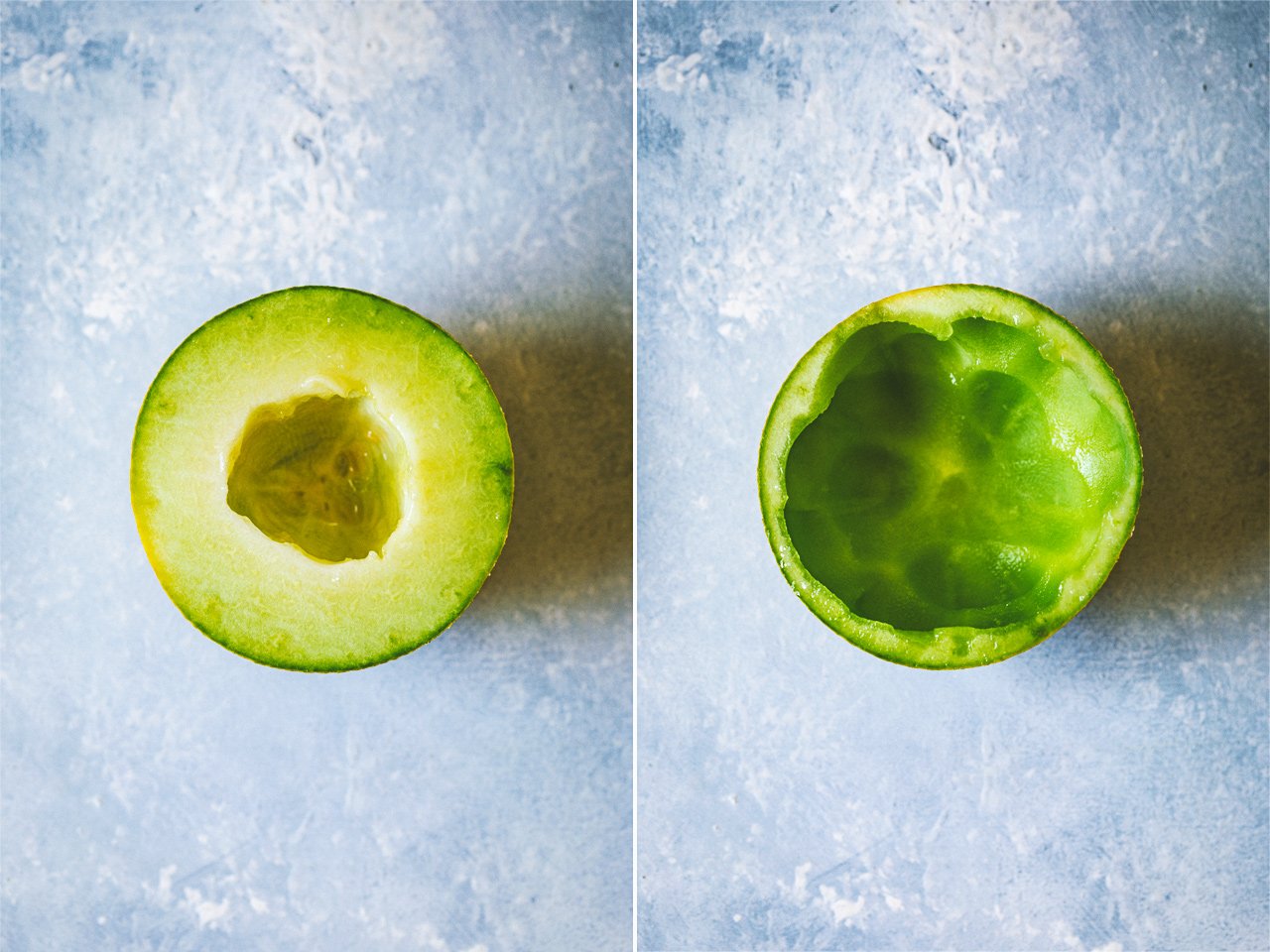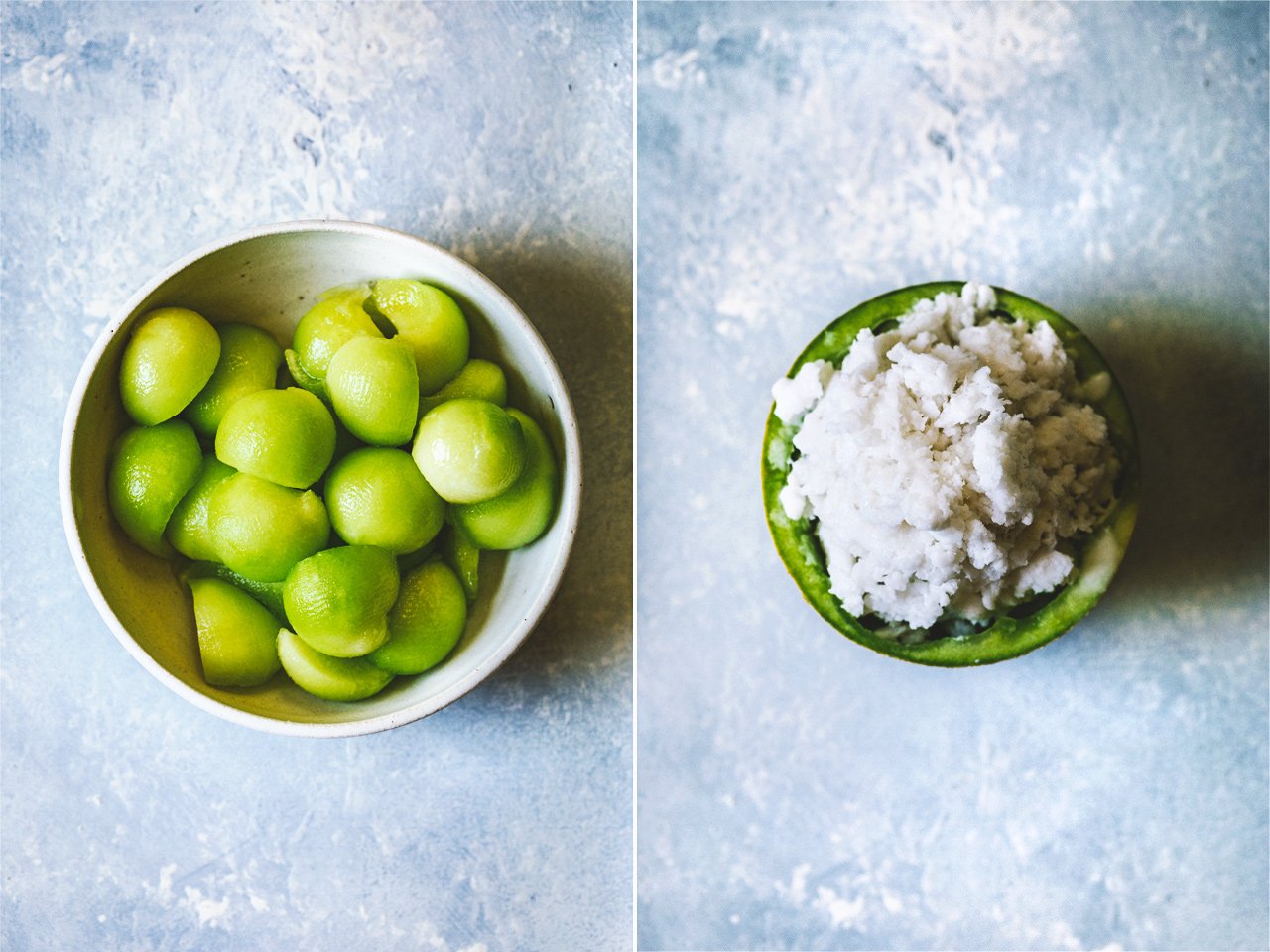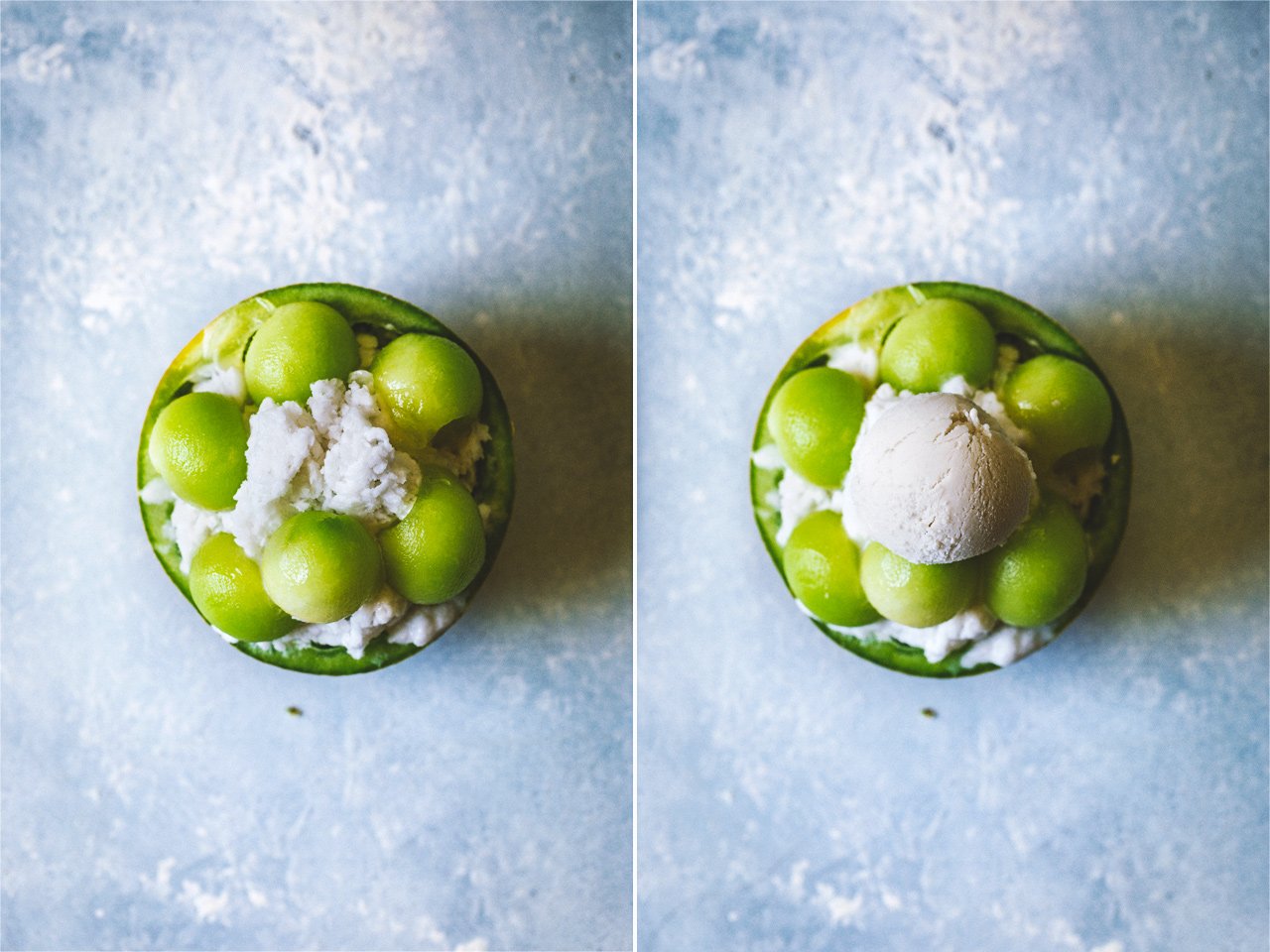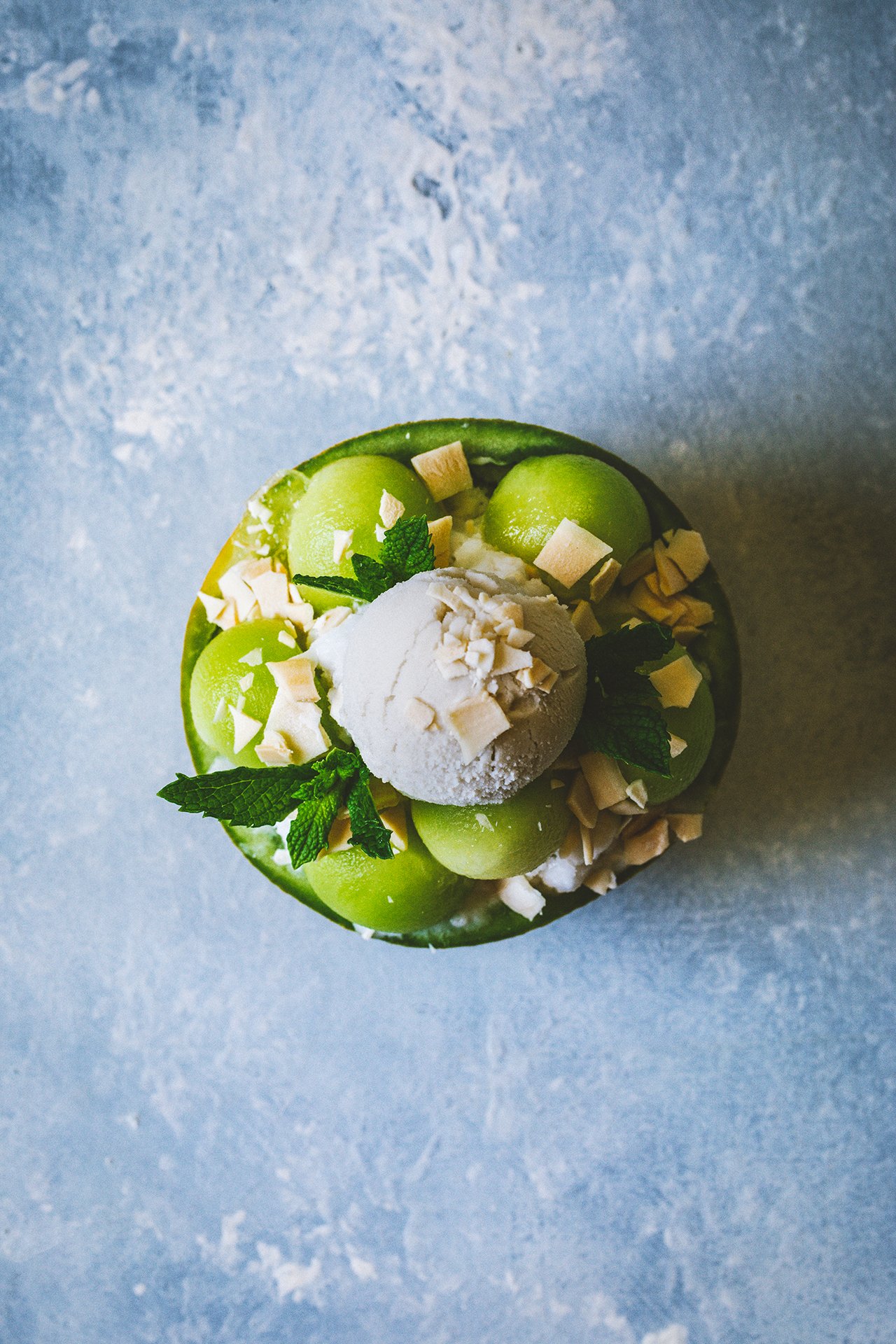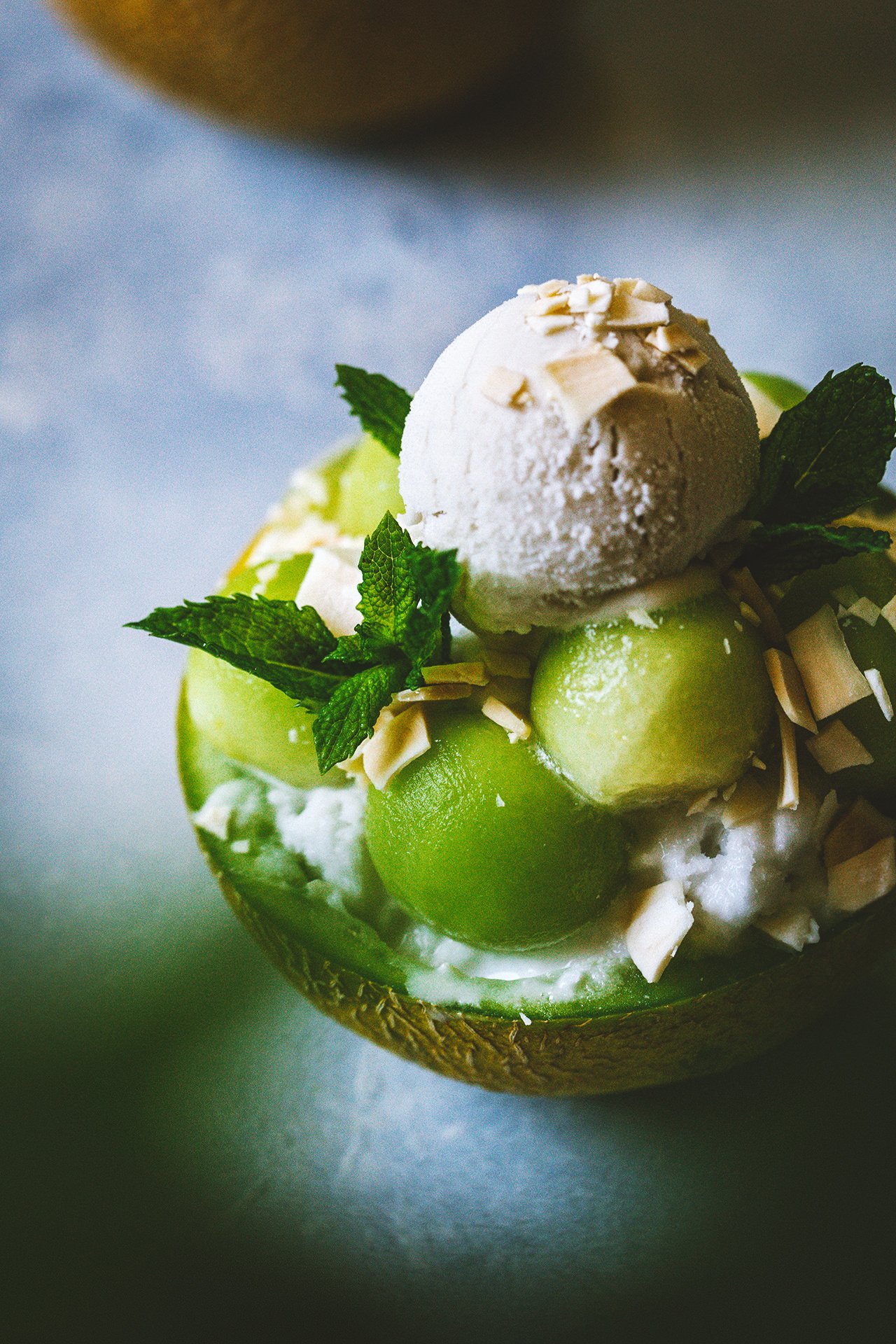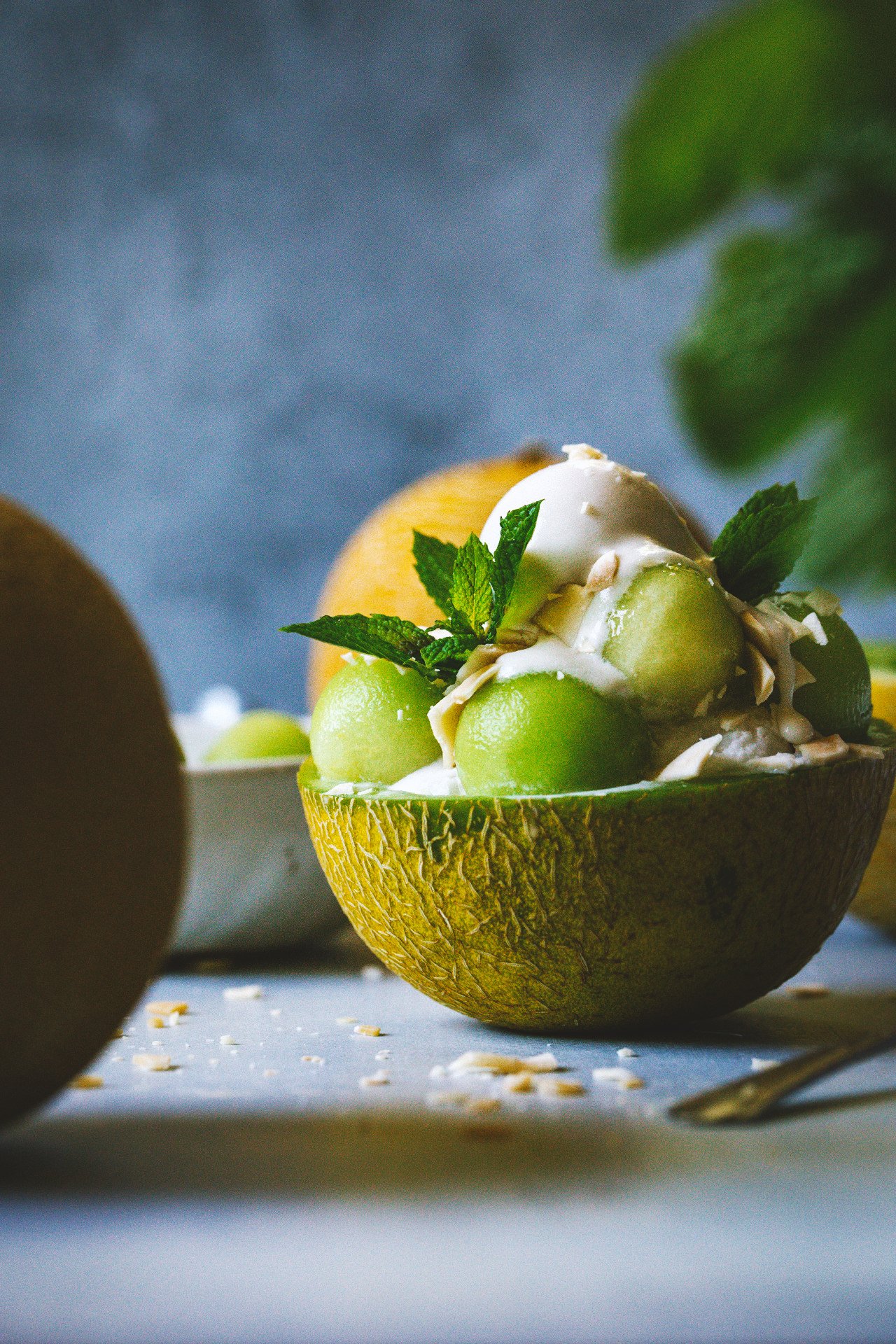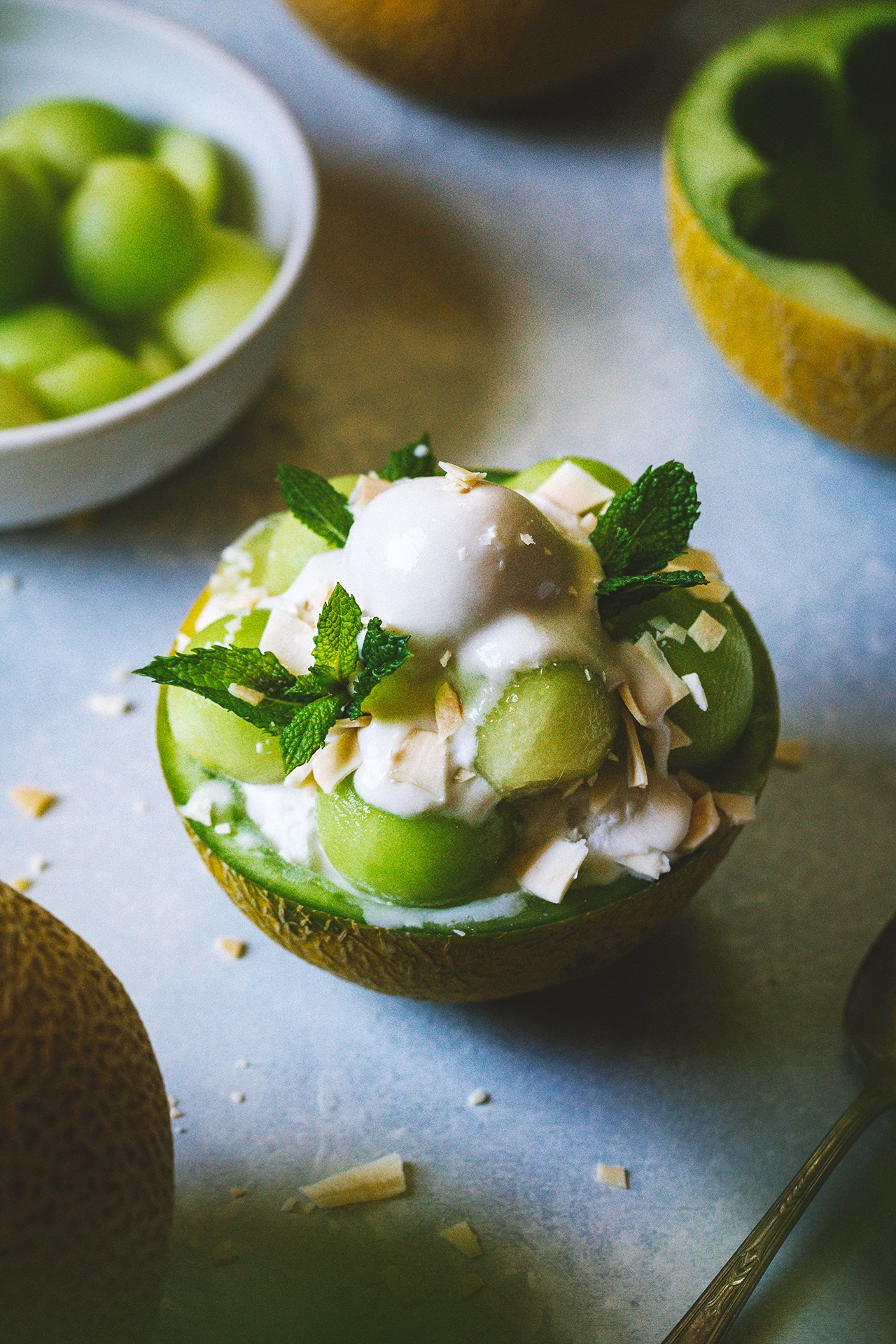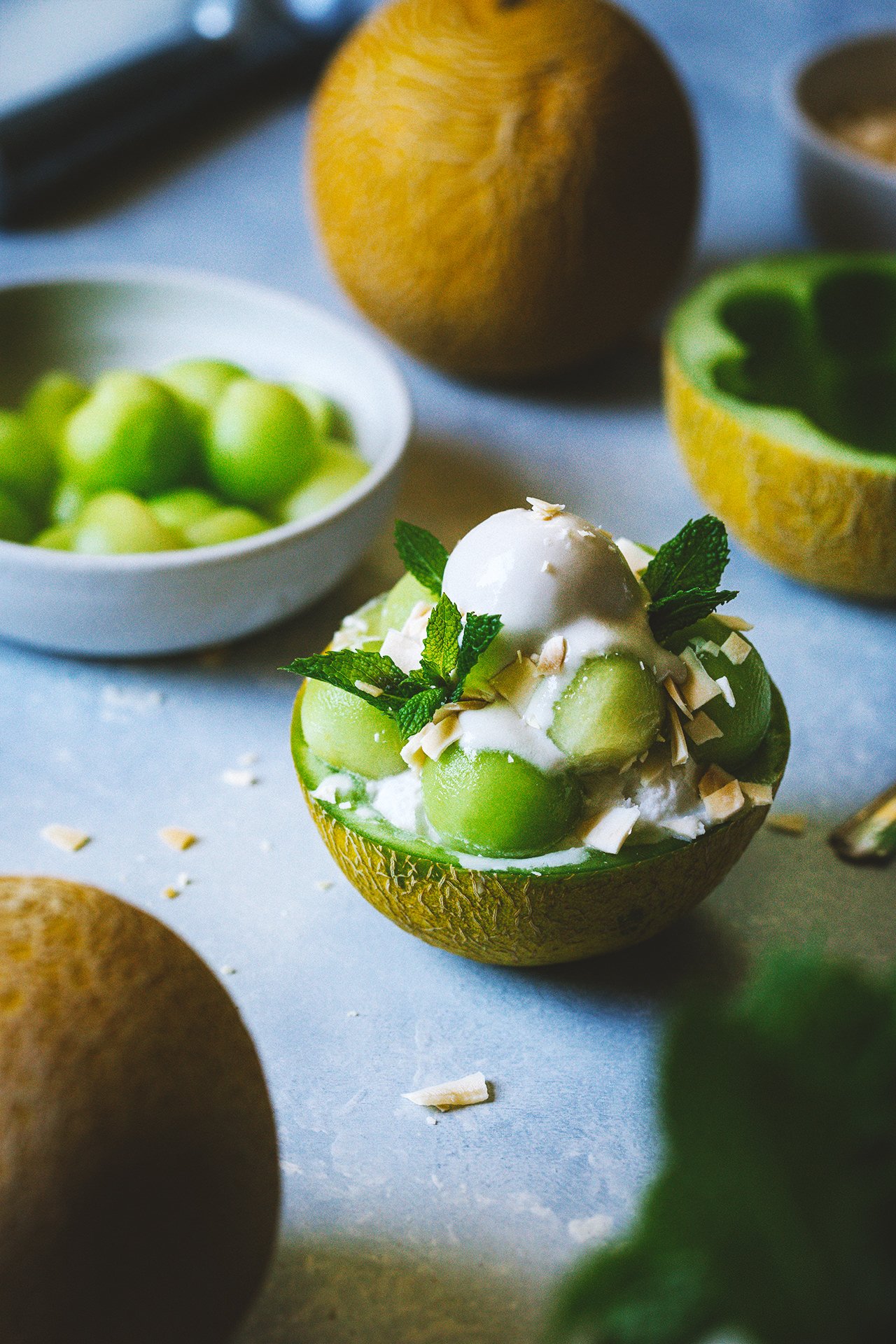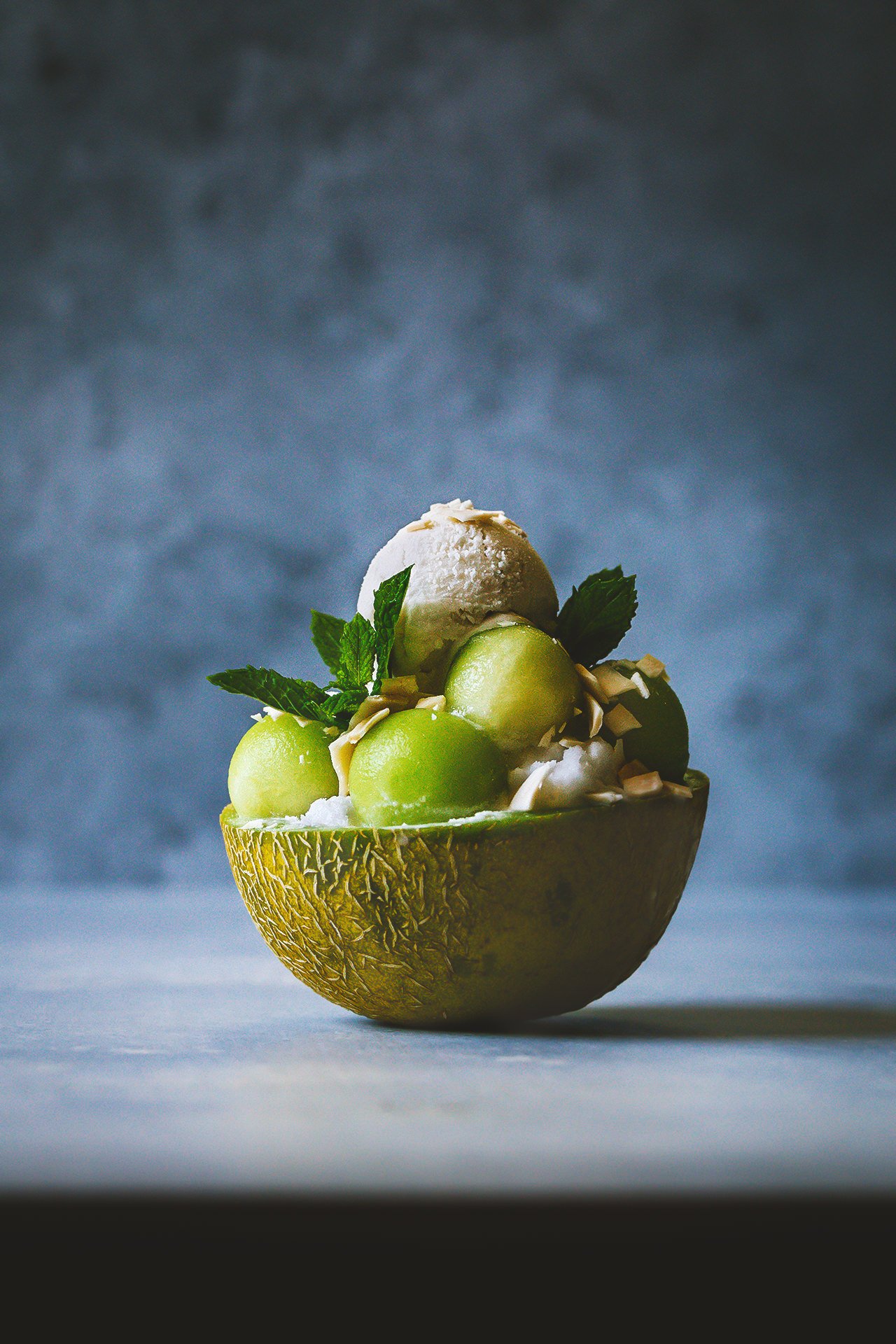 INSTRUCTIONS
Cut the melon in half, and scoop out the seeds. Use a melon baller to hollow out each melon half. Reserve the melon balls in a bowl, and place in the fridge to chill.

Fill each hollowed melon half full of iced coconut milk (see below).

Cover the iced coconut milk with the melon balls.

Top with a scoop of coconut ice cream.

Sprinkle with toasted coconut flakes for crunch, and garnish with fresh mint.
Iced Coconut Milk
The night before assembling, add coconut milk and simple syrup to a bowl and stir to combine. Transfer to a ziplock freezer bag, seal, and lay flat in the freezer overnight to freeze.

Once your melon halves have been hollowed, and you're ready to assemble the melon bingsu, remove the iced milk from the freezer, place the bag on a countertop or other flat surface, and use a rolling pin to crush up the frozen milk. Once the iced milk is all crushed, empty the bag into a bowl, and from there, begin to assemble the rest of the melon bingsu.
NOTES
The iced coconut milk needs several hours to freeze, thus I recommend preparing a day in advance if possible. If you can't find Galia melon, cantaloupe or honeydew will work great. Also, if you don't have a melon baller, you can use a spoon to core the melon, however, the final result won't be as neatly presented.
(images by HonestlyYUM)