Some of you know that Fiona has a habit of stealing my credit cards. Yep, Daddy's wallet is already one of her favorite toys! First, she'll empty the cash. Then the receipts. If I'm lucky, I'll catch her in time before anything gets shredded to bits. Lastly, she grabs the credit cards. She'll wander the whole house, a card in each hand, smiling ear to ear. I suppose it's my fault. Back before we started daycare, she and I used to spend hours at the biergarten down the block. One of the only ways I kept her content (and from eating old food off the ground) was handing over my wallet. Have at it kid! Fast forward to a few days ago at the grocery store – I'm all set to check-out at the cashier with ingredients for this very punch, I open my wallet, and low and behold . . . no cards. Awkward!! I rush home and check her favorite hiding places: under the rug in the living room, down the heating vent, and finally found them inside a pair of Audrey's shoes. She sure keeps me on my toes, that one. With all that extra running around this holiday season, I probably won't have time to get too fancy with the cocktails. I wanted to share this quick holiday punch recipe that I've been enjoying recently.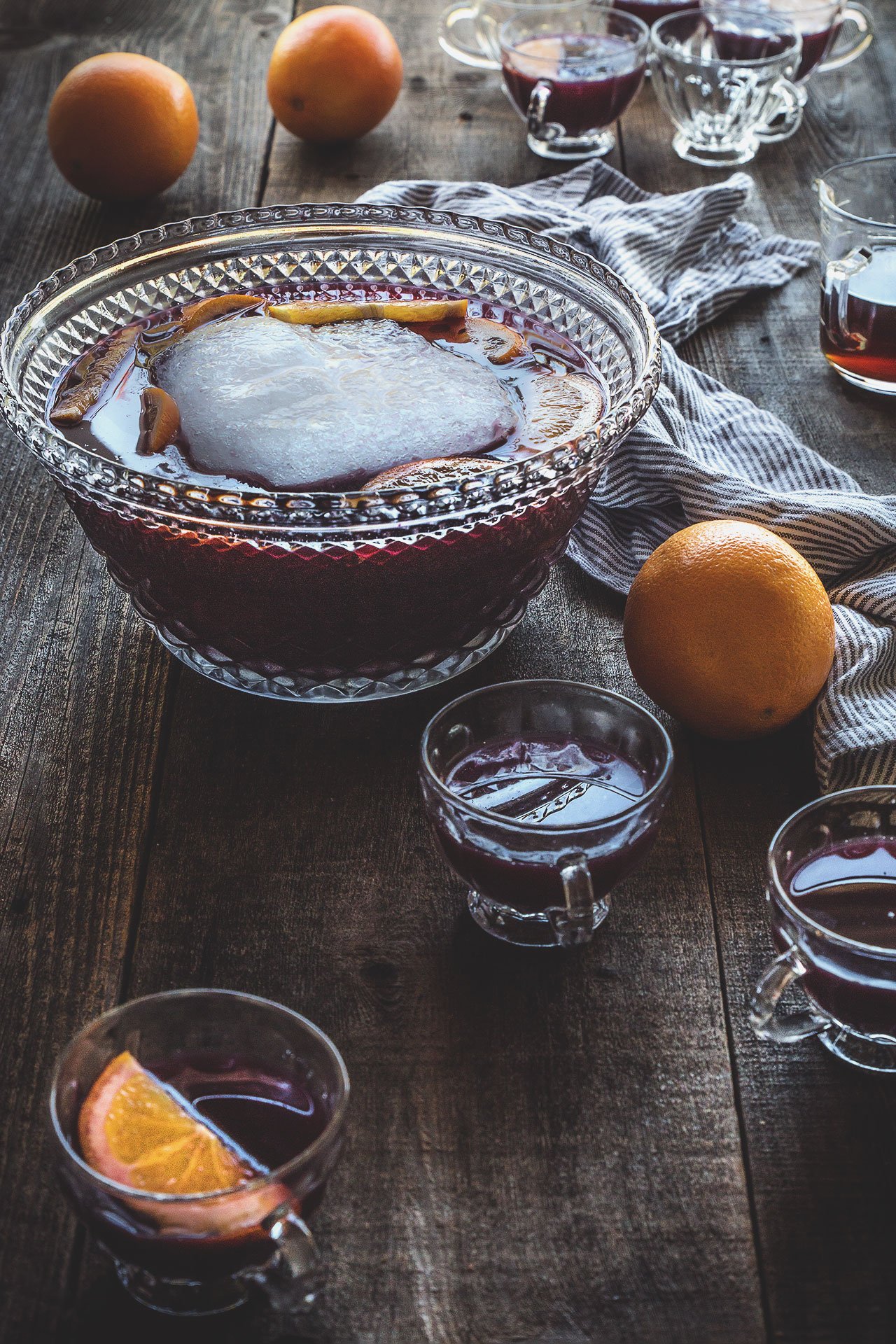 It's a Scott Beattie recipe. I've tinkered with a few things here and there – primarily decreasing proportions to suit my little family. As Scott mentions in his book, this is essentially a sangria variation. The addition of the winter spices make it just right for the holiday. There's not much prep, other than a bit of simmering. Again, easy enough to whip up on Thanksgiving morning.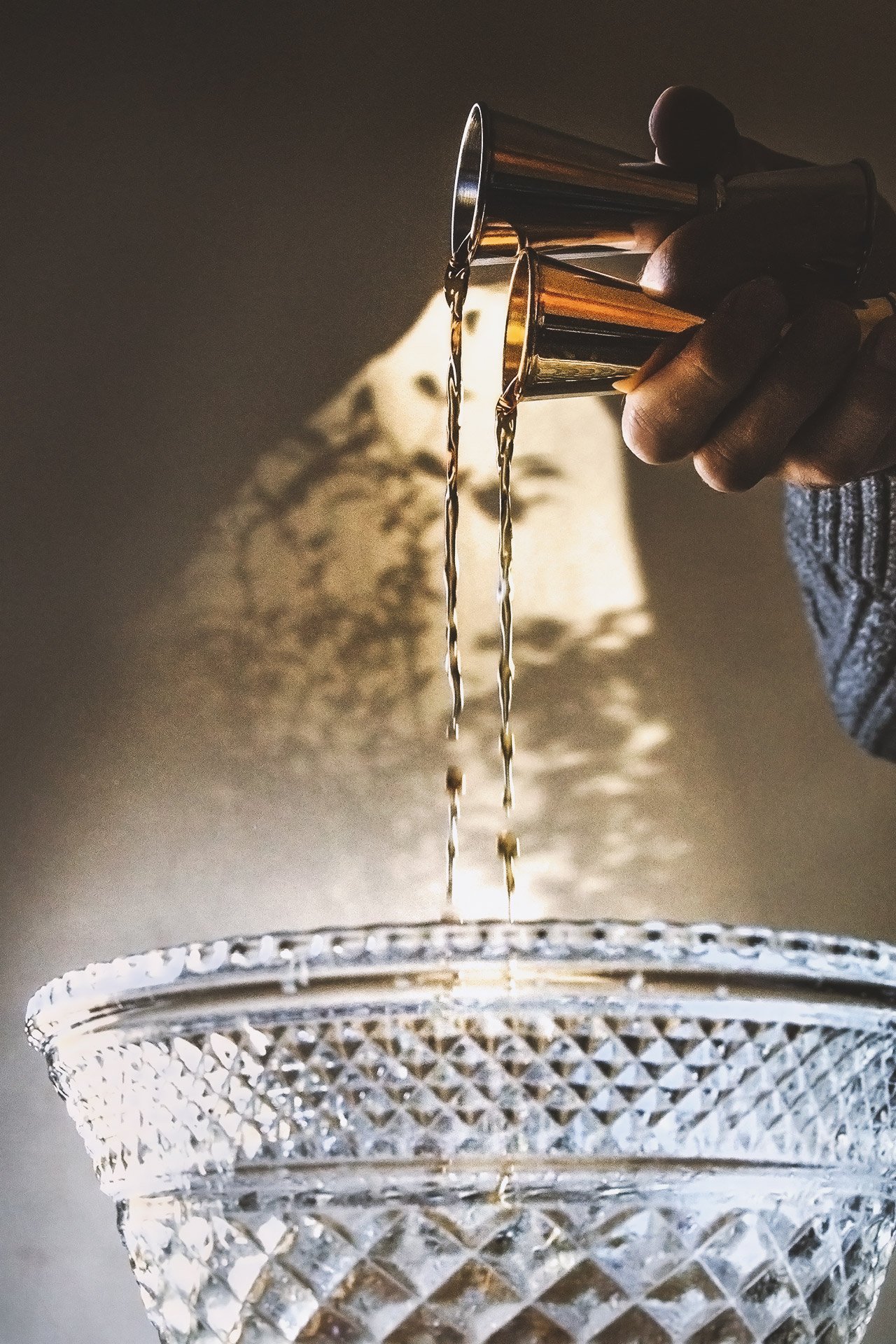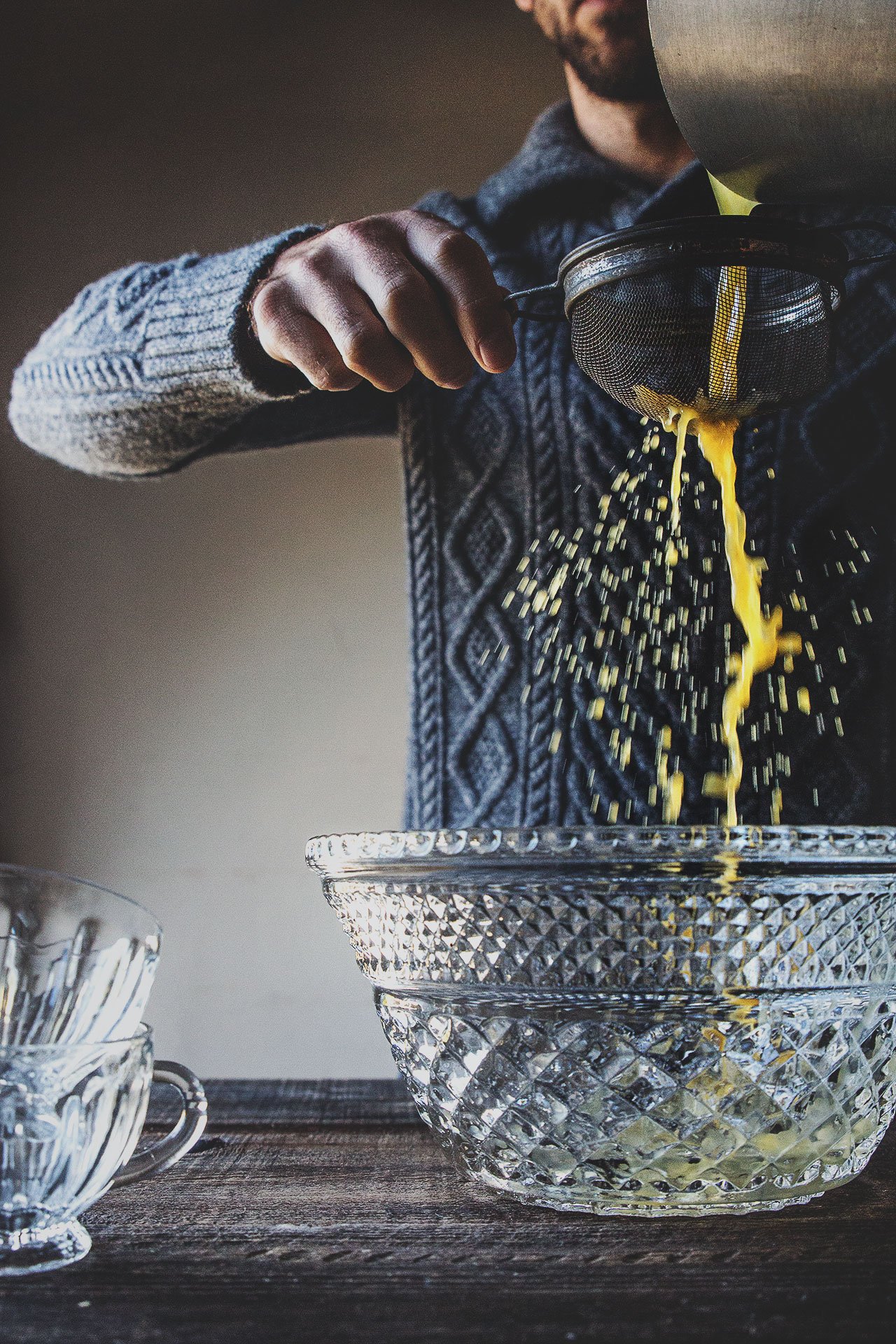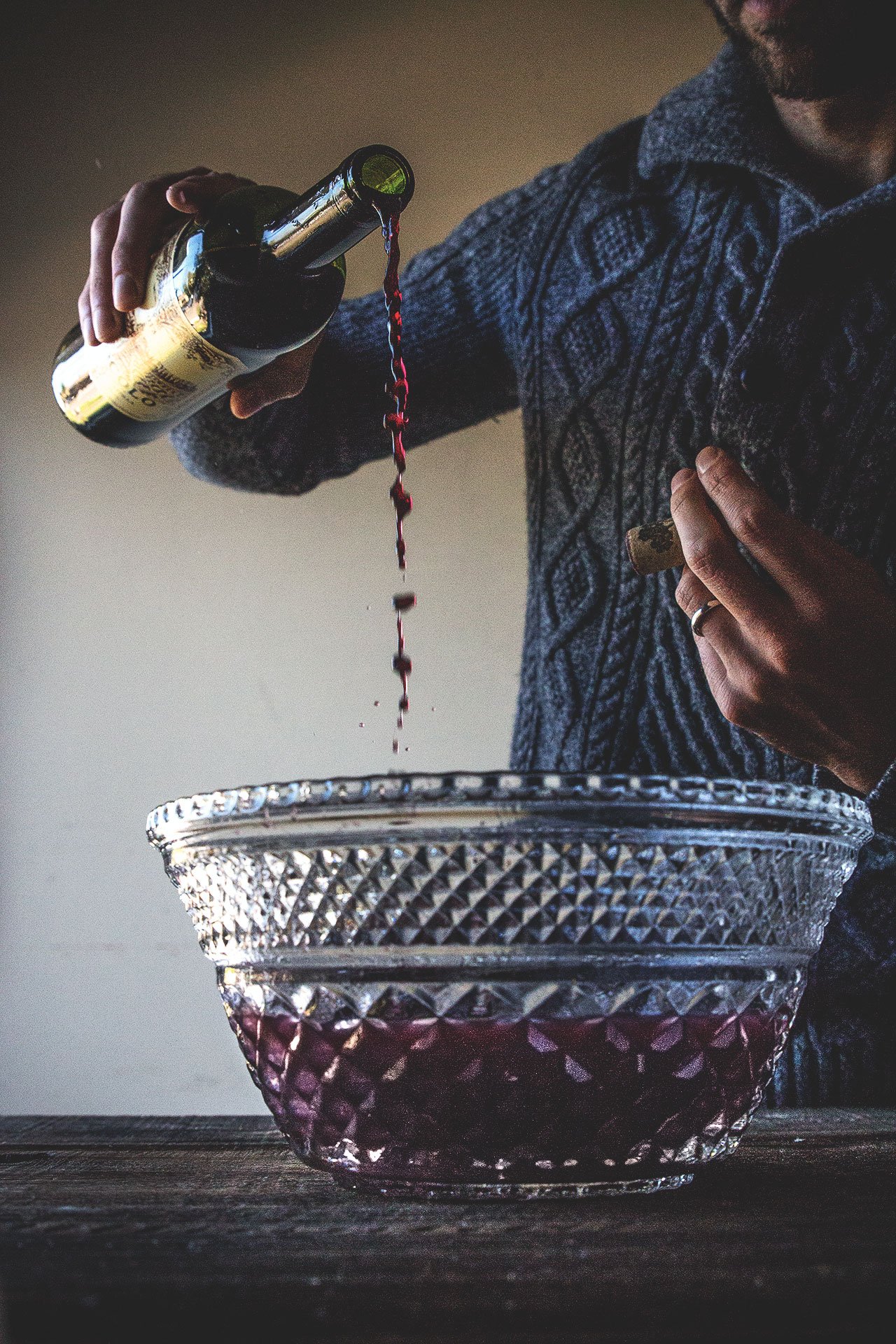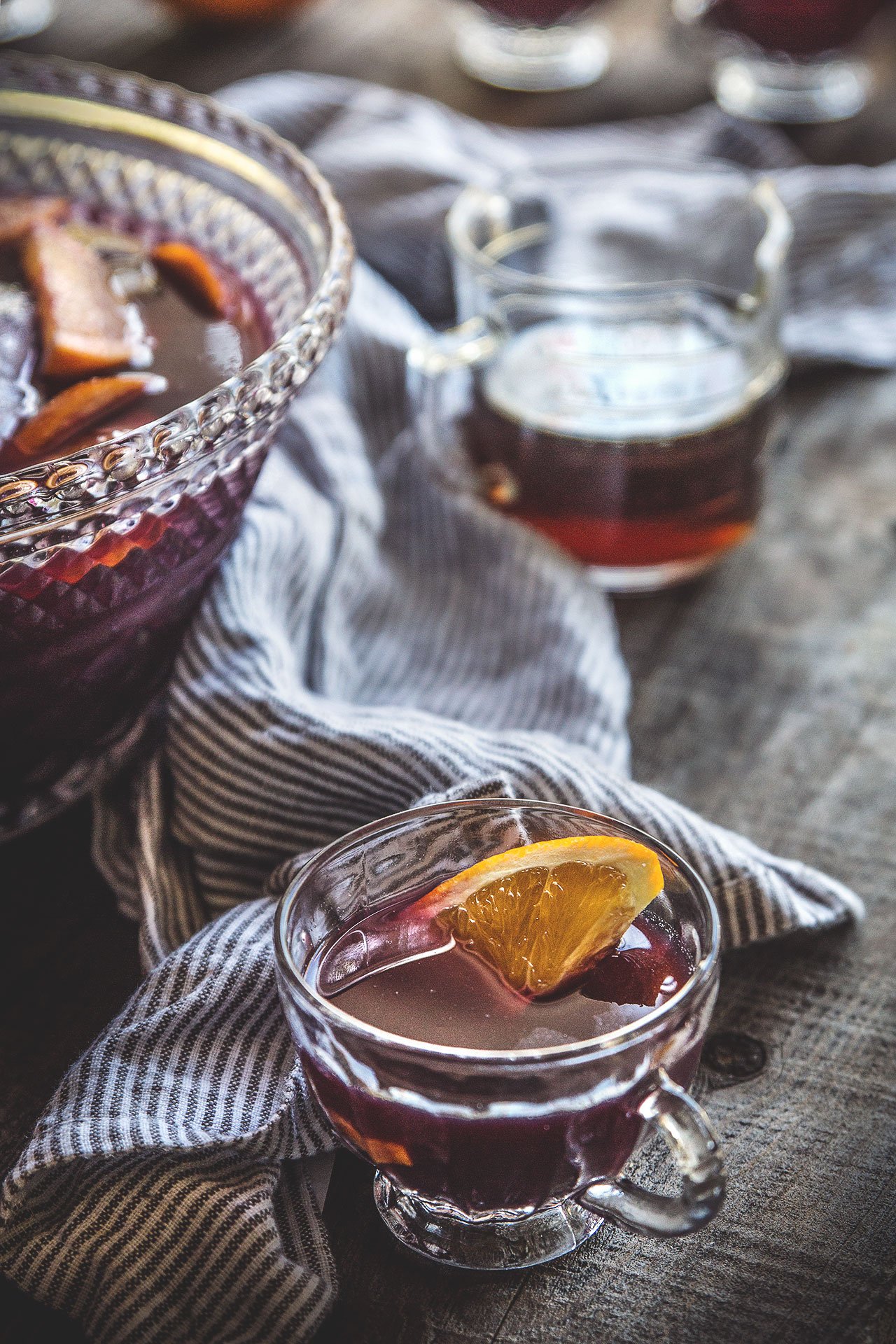 QUICK HOLIDAY PUNCH

Ingredients:

1 bottle (750 ml) dry Spanish red wine
1/4 cup dark rum
1/4 cup cognac
3/4 cup pineapple juice
3/4 cup orange juice
1 cinnamon stick
1/2 nutmeg pod
1 teaspoon allspice berries
3 cloves
5 cardamom pods
1 star anise
1 to 5 oz demerara simple syrup
oranges slices for garnish

Directions:

Crush the nutmeg and cinnamon stick into pieces and add to a medium saucepan, along with allspice, cloves, cardamom and star anise. Cook over low heat until spices become aromatic and begin to lightly smoke. Remove from heat, toss, then repeat. Do this for three minutes to get the spices nice and toasted. Continue to toss/agitate the spices as you go, making sure to not burn the spices.
Add the orange and pineapple juices. Turn up to medium heat and bring the mixture to a boil. Reduce heat to low and cook for about 20 minutes, or until the mixture reduces by one third.
Strain through a mine mesh strainer, removing the spices. Let cool to room temperature, then transfer to your punch bowl.
Add the red wine, cognac, rum, and simple syrup. I recommend adding an ounce of simple syrup at a time, tasting as you go. I like the punch just sweet enough to offset the tannins in the wine. Of course, feel free to add as much simple syrup as you like.
Place in the refrigerator to chill.
When you're ready to serve, add a large block of ice to your punch bowl. This helps keep the punch cold, with minimal dilution. The last thing you want to serve is a watery punch.
Top with orange slices and serve!
(images by HonestlyYUM; recipe adapted from Artisanal Cocktails)